For Eagle Baseball championship coach Ryan Lousteau … the familiar metaphor is the windshield and rear view mirror … the former clear and wide to see what life is offering ahead … the latter small and on the peripheral providing ever shrinking images of the past.
Enjoy the ride but only to a point.
Twice in four years Lousteau has guided St. Thomas to the pinnacle of Texas private school baseball but his almost immediate message after securing the crown is what has happened isn't important. Tomorrow is.
Yet Lousteau allowed himself to relish one final nod to the recently minted 24th state title in program history, an invitation for Eagle Baseball to be honored by the Astros during the concluding homestand of June, beginning with an escort from Minute Maid Park's VIP entrance to the field level for a two-hour up-close look of batting practice.
"The guys got to see how professionals who make millions of dollars a year go about their business. I could see the excitement in their eyes," Lousteau said.
"Being five-10 feet away makes it all seem so much more real, rather than sitting in the stands 20-30 rows up. A couple of our guys started up some conversations with some of the big leaguers … came away with some pretty cool keepsakes. How many high school players can say they were once on that field?"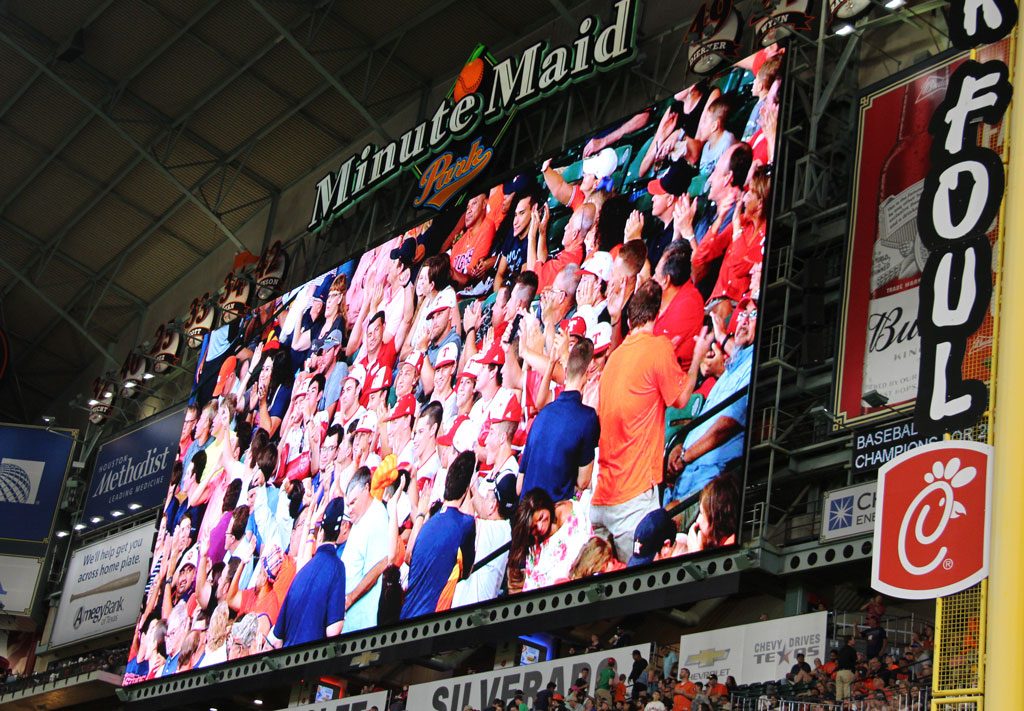 The team was then recognized by the Wednesday night crowd at the bottom of the third inning on the massive Daktronics HD video board as a triumphant group clustered in section 235.
In between were a master mix of unexpected experiences unlikely to be forgotten …
All-Greater Houston catcher Philip Matulia '18 (Louisiana Tech) absorbing a few moments of counsel from former Indians All-Star catcher and Athletics broadcaster Ray Fosse … center fielder Nick Rodriguez '17 walking out with a 34-31 maple tomahawk from A's shortstop Adam Rosales … Lousteau spending casual face time behind home plate with Astros General Manager Jeff Luhnow … and Astros President of Business Operations Reid Ryan seeking out the Eagle coaching staff to extend genuine congratulations on the latest success story.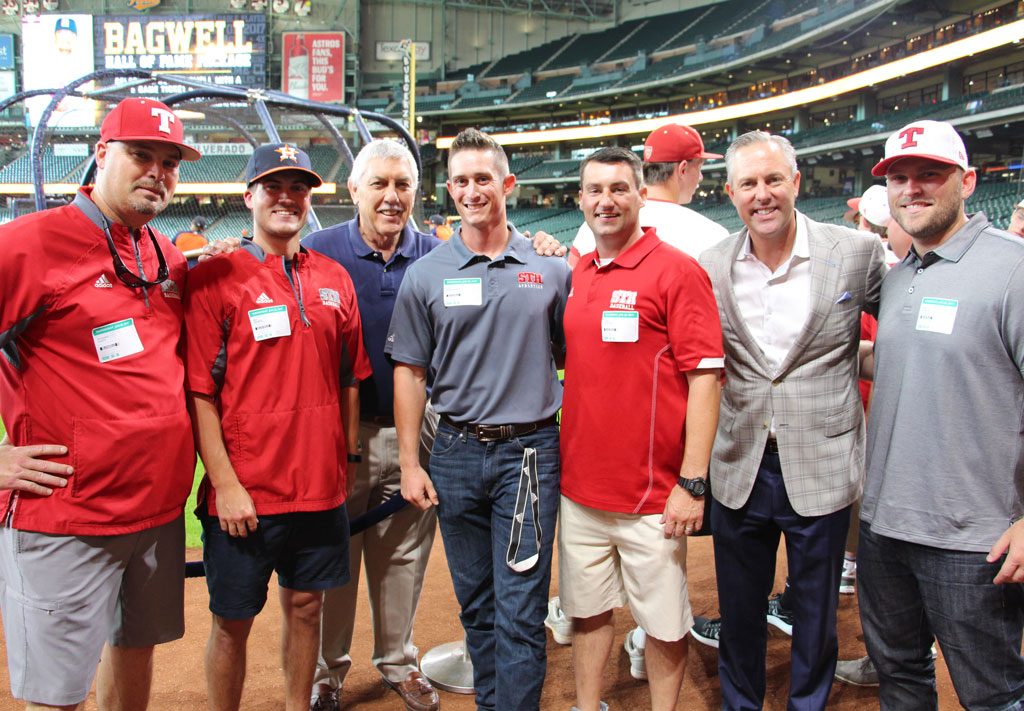 "That helps explain why this organization is now where they are (third best 80-game MLB record since 2000)," Lousteau said. "Jeff and Reid are running a major league team at the highest level and took time out of their routine for St. Thomas, to find out something about our program and thank us for coming out. It shows they have great respect for winning regardless of the level. Tremendous guys. First class organization in every sense."
The final communal for 2017 included a number of seniors who played critical roles throughout a 34-5 campaign, such as Rodriguez, all-state tournament selections Simen Borland and Colin Bear, Brandon Campos, Daniel Perkins, Nick Phan and Max Winter, all sharing a championship bond that will forever unite the group.
"That tells me that our staff and our school did their job," Lousteau said. "It meant a lot for these guys to be together, part of a team, part of St. Thomas, one last time. The seniors could have easily said, 'We're done with high school.' But we had guys who are already up at the University of Texas and Texas A&M who made a point to get to Houston in the middle of the week. That means so much to me and it demonstrates what our program is all about."
What Eagle Baseball was about in 2017 was a bullet train to the TAPPS mountain top, blitzing through six consecutive playoff victories, outscoring three opponents 68-12, capped by the five-inning 15-1 runaway over Beaumont Monsignor Kelly Catholic in the state final, one day after Owen Meaney '18 (LSU) spun a one-hit masterpiece with 12 strikeouts against Dallas Parish Episcopal while driving in the game's only run.
The celebratory scene at Concordia University Texas in Austin was deja vu all over again for faculty member and assistant coach Sean O'Neill '00 who represents the one thread tightly tying together Eagle Baseball's six most recent state crowns under three head coaches … starting in 2007 and '08 with Ken Schulte … followed by the 2010 and '11 titles orchestrated by eternal Astros icon Craig Biggio … then the 2014 thrill-o-rama post-season splash in Lousteau's first campaign as a varsity head coach … with a relentless tour de force encore three short years later.
"The common denominator is the character of our kids," O'Neill said. "We've had different levels of talent come through… some guys drafted in the higher rounds … some later on … some receive college scholarships … the overwhelming majority finishing their careers at St. Thomas. But we've always had guys who cared about the team first and that has been our bedrock. They get after it and have fun. The coaches have changed but the tradition has remained intact."
Lousteau has more than maintained that supreme standard of excellence, winning an improbable 64 of 72 games in the previous two seasons and earning the program's first-ever national ranking in 2016.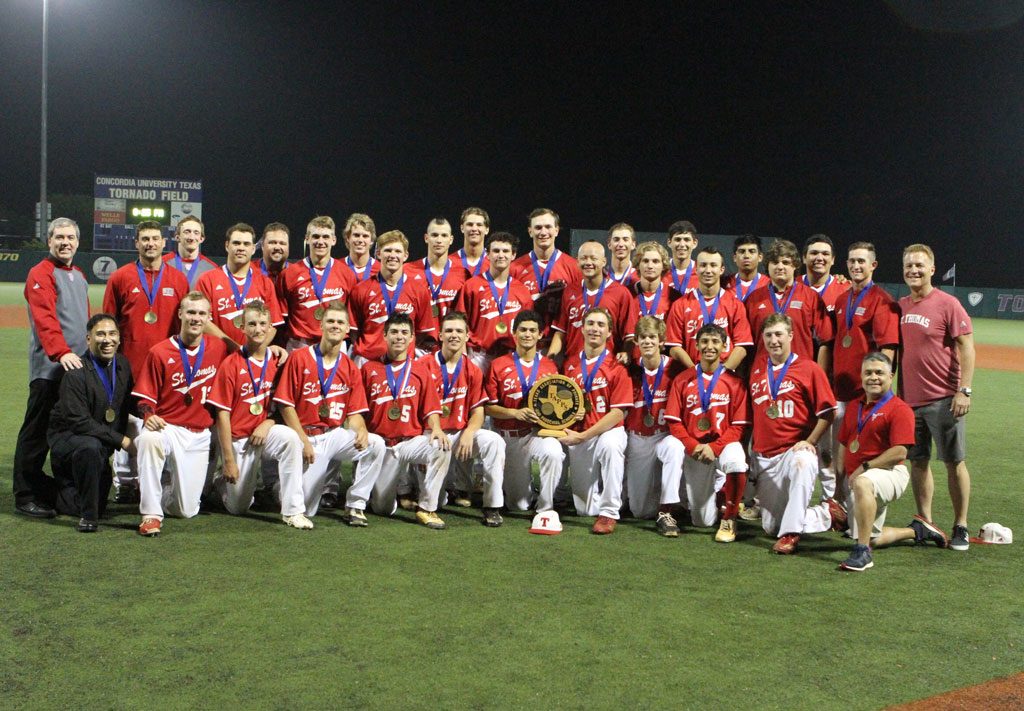 But regardless of yesterday's riches, Lousteau pushes full throttle ahead, his focus riveted on what is present in the windshield, appreciative yet unconcerned by what might be disappearing in the rear view.
"As the guys were watching the Astros take some swings I was looking at the group trying to envision what our lineup would look like next season," Lousteau said. "Who's moving on, who's returning, how will the roster fit. And I have probably done that every single day since we brought the trophy back to St. Thomas. There will be new leadership within the team, new chemistry, new players advancing to the varsity, a new challenge. We'll be ready for it."
Eagle Fight Never Dies!