Before becoming the president of the Houston Texans … and the vice-chair of the Host Committee for the recent Super Bowl 51 hosted at NRG Stadium … and receiving the 2016 Houston Business Journal Business Person of the Year … and becoming the 2016 chairman of the Greater Houston Partnership, whose board consists of 130 of the city's preeminent movers and shakers … and launching Major League Soccer's Columbus Crew as president and general manager where he was MLS Executive of the Year in 1996 and Marketing Executive of the Year in 1999 … and earning a master's of business administration at Indiana University … and graduating from Clemson University where he served as student body president and was a member of the Tigers' soccer team that captured two NCAA titles …
Before all of that … Jamey Rootes received an invaluable slice of advice just weeks into his college introduction from a savvy sophomore that made an indelible impression.  
"Jamey, don't ever let academics get in the way of a good education."
Rootes moved forward living the credo with gusto, the spirit of which led to his son attending St. Thomas where Jamey has become an ardent supporter.
In March, Rootes and Bryan Caswell '91 provided galvanizing testimonials during a campus event welcoming potential parents and students, the majority of whom form the newest members of the Eagle community representing the Class of 2021.
Rootes commanded the audience with an indomitable verve and energy that has characterized his professional ascent.
I want to commend all of you who made St. Thomas your choice, both the students and the parents.  And I say that because I know as a family we made an outstanding decision one year ago for our son Christopher.  And I was reminded of that when we were on spring break.  We sat down after one year and took inventory of the decision we made.  I'm even more convinced now than I was then that St. Thomas was the perfect selection.
And it's because of three reasons, three expectations that I believe you can comfortably anticipate.  Number one, your son will be well prepared academically moving forward.  Number two, your son will be well rounded.  And number three, your son will be well on his way to becoming a good man.
Well prepared … the academics at St. Thomas are rigorous.  He will learn how to study … learn how to test … and learn how to learn.  All critically important considerations for parents when making the college preparatory choice.  I understand that is necessary but it is not sufficient.
Look at the fine arts department at St. Thomas … the drama department … athletics … all outstanding … all among the great opportunities for students to get involved and discover their talents and strengths.  Many of those same kinds of lessons I learned at Clemson and utilize today in leading the Houston Texans.
Athletics at St. Thomas provide for outstanding quality of life for students … gathering points where Eagle pride is shared … all building friendships that last a lifetime.
Certainly the religious foundation here is important.  We wanted our son to be immersed in a spiritual guide for living, a daily affirmation of faith.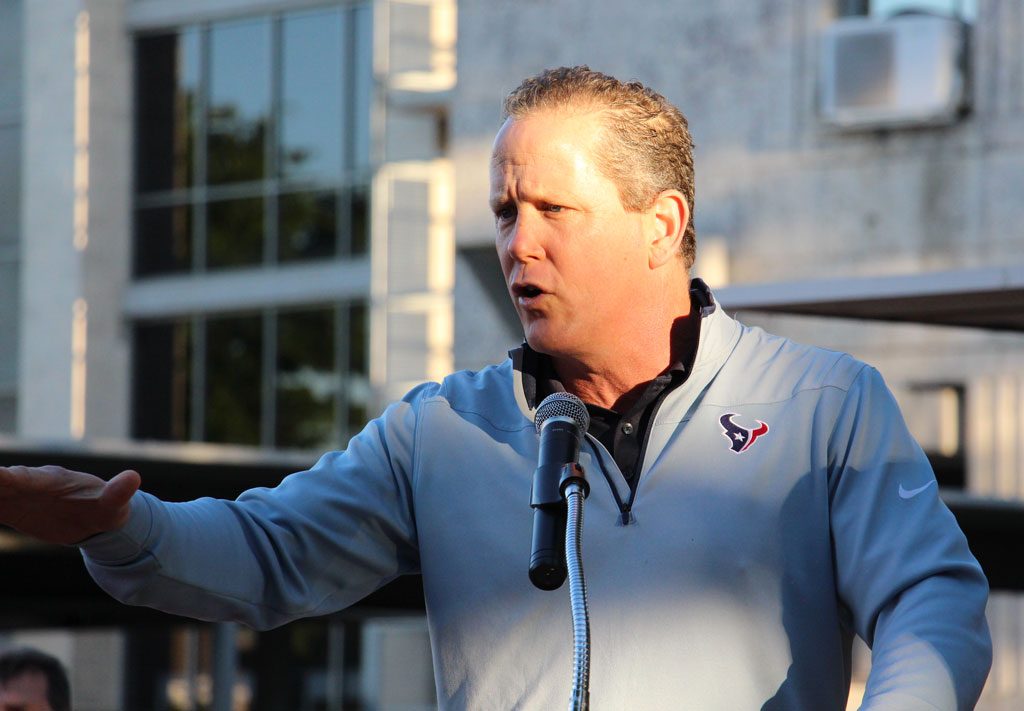 Rootes then referenced the 2017 student-inspired Round-Up as the power of a collective purpose … the long-standing St. Thomas fundraiser which generated more than $570,000 for tuition assistance … the latest astonishing financial total that has grown bigger, better and more robust for each of the last 14 years.
That amazing effort builds an incredibly diverse student body.  Students anywhere in Houston with the qualified credentials who desire this experience will not be denied based on financial needs.  And that's in large part because Eagle students are giving to their Eagle brothers.
This is what the St. Thomas Round-Up embodies  … what you do for yourself may die with you … but what you do for others lives forever.  That's what students at St. Thomas are embracing and that is what differentiates this school experience from any other in Houston.
Rootes then concluded by declaring "it's my privilege to welcome you all to the Eagle family.  And it is also my great pleasure to introduce a friend who has helped build Houston's reputation as the culinary capital of the South."
For Caswell, his latest return to campus represented more than a blast-from-the-past nostalgia spin.
The nationally renowned celebrity chef-owner was relishing the 10th anniversary of his award-winning Gulf Coast seafood-centric Reef while enjoying continued signature success with El Real Tex-Mex Café, slider joint Little Bigs, Jackson Street BBQ and 3rd Bar Oyster & Eating House at George Bush Intercontinental Airport.
Oxbow 7 is Caswell's latest concept set to debut inside the Le Meridien Hotel now occupying  the historic downtown Melrose building.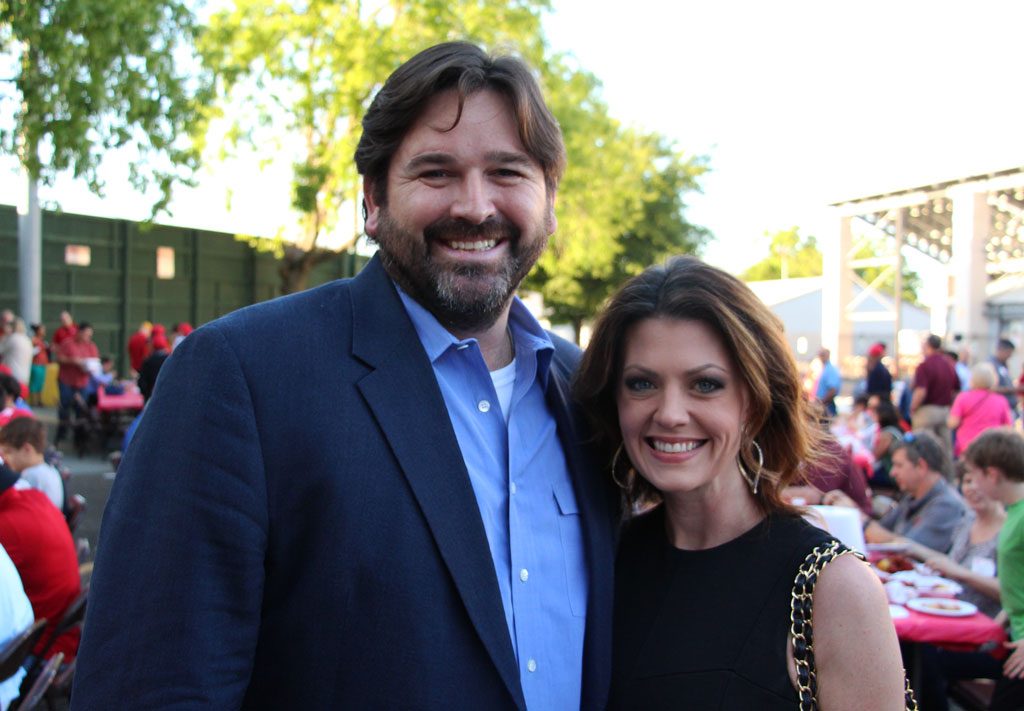 Caswell has been a finalist for a James Beard Award … acclaimed by Food & Wine magazine … and served as a pulsating personality on Food Network.  With his wife Jennifer in attendance, he genuinely and emotionally spoke from the heart when explaining how "St. Thomas forged the man I am today."
This place shapes who you are for the rest of your life.  I've been blessed throughout my career … worked in six countries across three continents … represented this city in many ways and through a wide variety of multimedia platforms.  St. Thomas gave me the skills to compete on a global level.
I wasn't a high achieving student … didn't have any real interest in academics … wasn't much of an athlete.  I just wanted to go about my day and be left alone.  But St. Thomas had other ideas.  Any other school in Houston I would have drifted to the background or fallen through the cracks.  But not here … not where you are taught goodness, discipline and knowledge … every single day.  St. Thomas refused to let me down as a person.  
One semester my only option for extra credit to pull up a failing grade was 25 hours as Casa Juan Diego (a Catholic charity providing relief for immigrants, refugees and the poor).  I learned what I never would have gathered on my own … respect for human nature … humility … the power of grace … and graciousness.  
Participating in STALCO (St. Thomas Art, Literary and Cultural Organization) was so revealing.   I can still remember the first play I saw at the Alley Theater … my first visit to the Menil Collection … being part of the Key Club.  It was all a completely different world I didn't even know existed.  By the time I graduated … my understanding for the arts … was an impact that exists to this day … a civic and holistic view that has shaped my career and life.  
Caswell then closed touching a cornerstone for the 117-year St. Thomas mission, now more alive and relevant than ever.
This Basilian education showed me the man I could be.  And more importantly, the man I should be.
Catholic.  Basilian.  Teaching Goodness, Discipline and Knowledge since 1900.