St. Thomas physics instructor Mike Lynch '94 never fully expected that a series of summer excursions would lead him to occupy a self-imposed academic island of sorts, never to be confused with the Bermuda or Barbados.
Lynch was first exposed and then inspired by an enlightening sequence of career development workshops at Columbia University which featured Modeling Instruction – Electricity and Magnetism in 2013, followed by Models of Light, and then a pair of special topic workshops each of the last two years, the most recent Modeling Instruction Leadership.
Lynch became enamored with the techniques, convinced the strategies would improve and deepen his own students' understanding of crucial concepts.  He then cultivated the skills to implement this student-centered, researched-informed, standards-based curricular.  Even if the commitment meant embarking outside conventional teaching methods, leaving him somewhat isolated 'on an island' minus tradition network teaching support.
"Modeling equips students to become learners," Lynch says.  "I don't look at my role to be a physics teacher but someone who can facilitate students taking ownership of their education and acquiring the tools to learn.  This is guiding them to an understanding.  Our AP physics scores represent how our students benefit from this technique, plus the ease in which our students transition to college courses where so many other students struggle.  All of that is not a function of anything I'm doing but what I'm allowing them to do in the classroom."
Lynch's conviction morphed into motivation to spread the wealth of his discovery.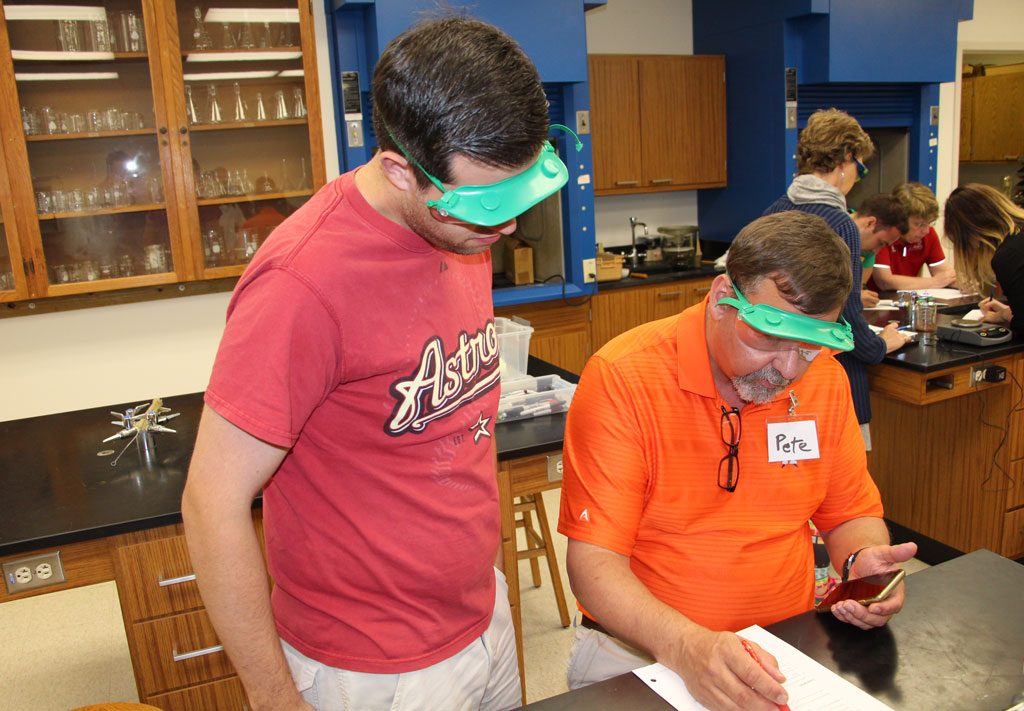 Partnering with St. Thomas faculty and administration, Lynch organized and orchestrated a two-week workshop on the St. Thomas campus, essentially the first of its kind in the Houston area, sensing a grassroots movement was primed to take off, and that no one was better qualified than teachers to provide support for other teachers.

"The workshop leaders expressed real gratitude for our facilities, and that this was the most involved group they had ever had," Lynch says.  "That's a function of a long-standing interest in this training in the Houston area without the ability to carry this out.  It's personally gratifying to play a role in creating a greater curiosity for how science actually works."
In traditional, lecture-based science classes, students are taught principles, asked to memorize formulae or mathematical equations, and then to plug in numbers and solve for the unknown on a test.
With modeling instruction, student groups carry out paradigm experiments in which they collect their own data, aligning participation in the classroom more closely to what actual scientists and researchers do in the field.  Students work collectively to represent their findings in a variety of ways, and to find a "model" that will summarize and explain the results.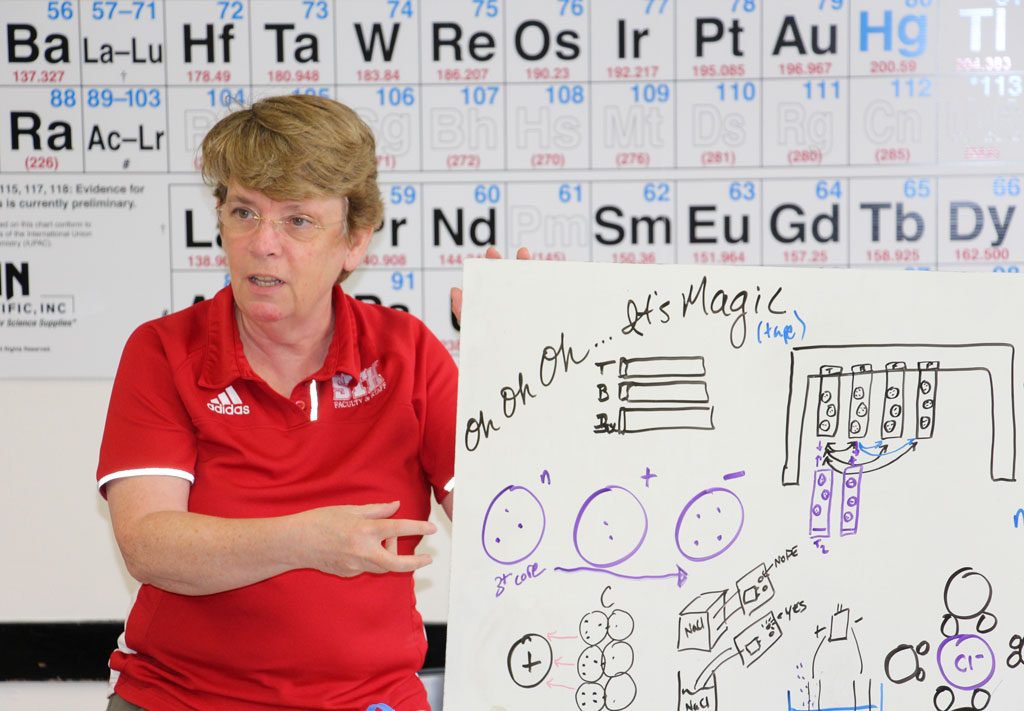 St. Thomas science faculty member Claire Conboy, PhD acknowledges that "in teaching science, we can take a lot of knowledge and understanding for granted.  Everything we know today was gained through observations which led to conclusions.  Because of the volume of information, students can flash answers without gaining the benefit of drawing those conclusions themselves.  This pedagogy strategy allows students to do the experiments and then learn from their own experience."
Conboy joined St. Thomas Science Dean Pete Nordloh, PhD and science faculty member Sean O'Neill '00 among the 35 teachers-turned-students participating in this summer's cohort.
During the workshop, some cooperative teams would propel toy cars across a laboratory table to model the relationship between distance and speed, while others measured the density of solids or minerals, and then developed diagrams to help explain their findings.  More than a dozen private, public, and charter schools were represented, including Duchesne Academy of the Sacred Heart and Tomball Concordia Lutheran, along with others from Houston ISD, Clear Creek ISD, and Cypress-Fairbanks ISD.
'These were teachers waiting for this exposure and didn't previously have the forum or opportunity," Lynch says.  "I applaud all who embraced an alternative way to reach students, and invested discretionary summer time to learn and push outside their comfort zone."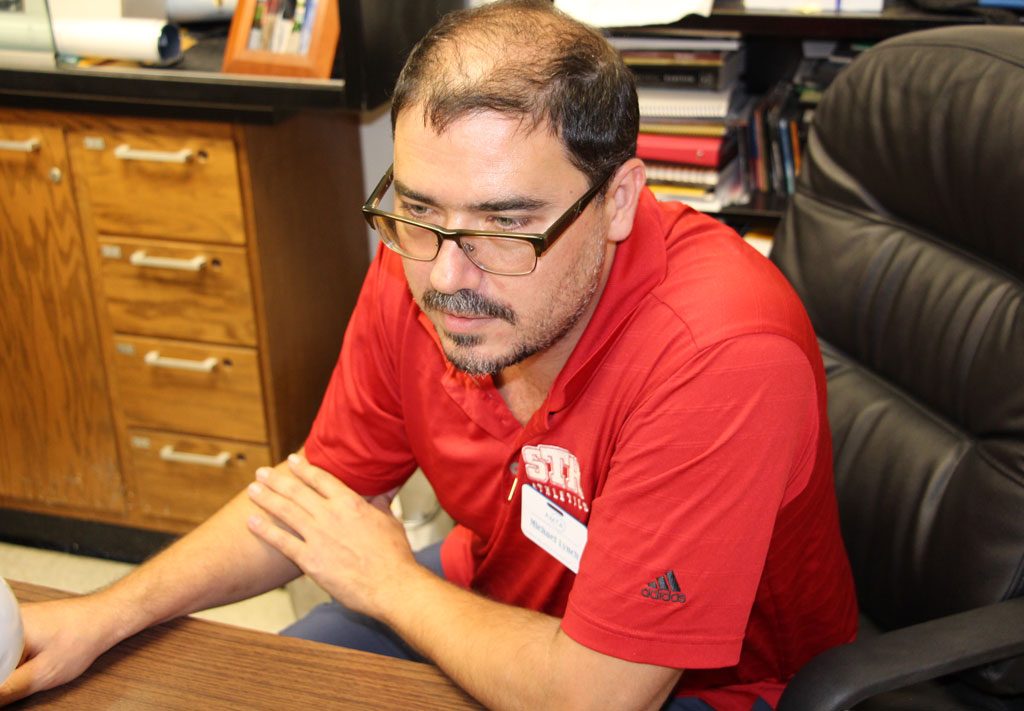 In 2015 Lynch was confident enough to convert his entire physics curriculum to inquiry based science practices and approached O'Neill to gauge his interest in following the form.
"Mike was honest.  He said the move would require some major adjustments at first because it's not what you are accustomed to," O'Neill admits.  "But I love this approach to teaching – putting the impetus on students to engage each other and show understanding, rather than generating test answers without displaying any real command or application of the material.  These two weeks in the workshop have really fortified that feeling."
Debra Hill has been with Cy-Fair ISD since 1995 and the secondary science coordinator within the Instructional Support Center since 2011.
She accompanied eight faculty members from her district, recognizing that the true value of modeling is empowering students "for critical thinking in approaching the world.  The essential skill from students emerging from science programs is the ability to analyse and manage data, make meaning of the data, and then manipulating those representations in a creative way.  That provides an adaptability to solve problems we don't even know exist yet."
Hill believes the advantage of modeling is measured across diverse high school student populations, and is perhaps even "more critical for students without the necessary background knowledge.  Disadvantaged students who may not have thinking patterns in place often times struggle.  Modeling is very specific in building the connections within brains and raising the overall capacity for cognitive skills."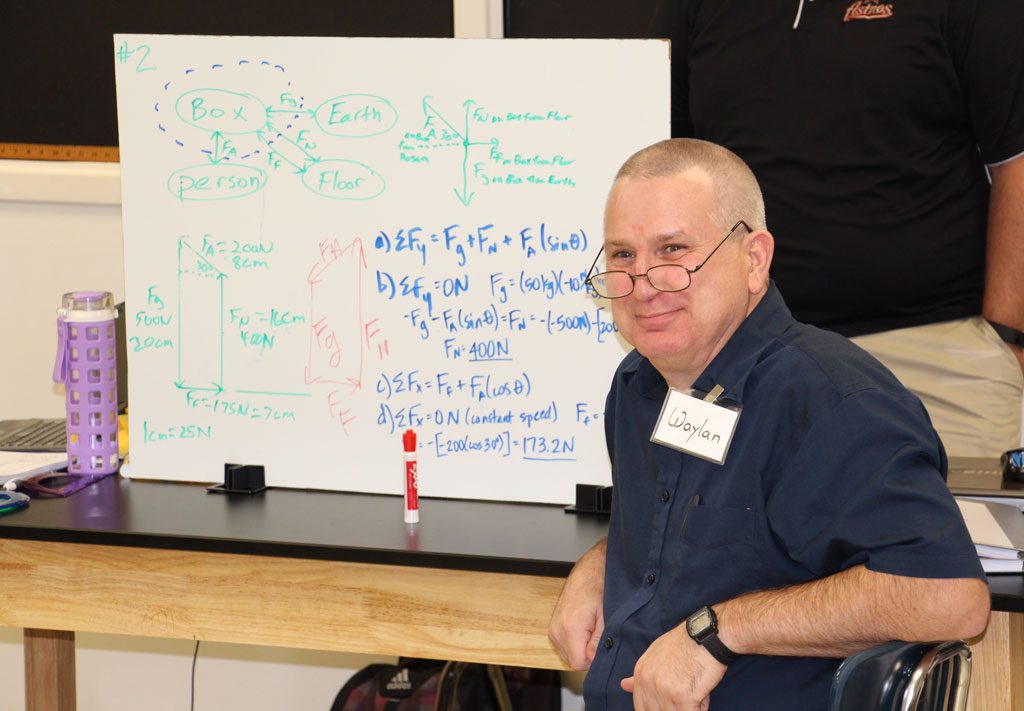 Catholic.  Basilian.  Teaching Goodness, Discipline and Knowledge since 1900.