The message igniting the 117th St. Thomas commencement celebration aroused familiar time-honored values instilled by the founding Basilian Fathers more than a century ago.
Divine connection … character-defining moments … morals never to be swayed by convenience or expediency.
But the first-time messenger brought a breakthrough penetrating presence rarely seen on this campus, both commanding and captivating while welcoming and reassuring.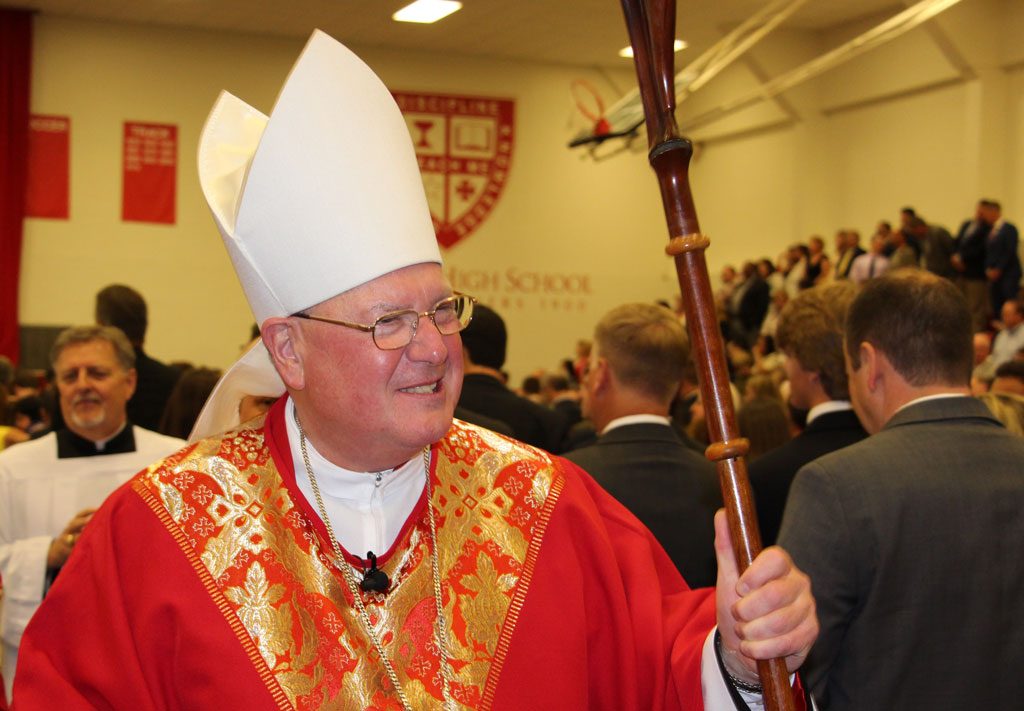 His Eminence Timothy Cardinal Dolan, Archbishop of New York, served not only as the principal celebrant of the Baccalaureate Mass, but a swirling force-of-nature spirit of passion, zeal, humanity and good humor, his one-night encounter four years in the making.
The invitation to Cardinal Dolan designed to commemorate Daniel '17 was first initiated by loyal St. Thomas supporters Melissa and Mark Dolan, whose great grandfather was the brother of the Cardinal's great grandfather.
The original intent was to arrange a visit for the 2013 Mother / Son Mass, with the Dolans informed that the Cardinal's agenda is typically filled two-three years in advance.
Undaunted, the Dolans proceeded with persistence, and a series of letters and repeated requests were eventually rewarded when the Cardinal confirmed in February his participation.
"I'll go anywhere to support Catholic education … have always held great respect for the Basilian Fathers … and I was so moved that my distant cousin (Daniel) would reach out and express his desire to have me here … how could I say no," Cardinal Dolan said.
While growing up Daniel had been vividly aware of the Cardinal's ever-rising influence and profile, and was never entirely confident the logistics would be solved before the St. Thomas experience concluded.
"All along I thought it was unlikely but worth the chance," said Daniel, who will study psychology at the University of Texas. "He doesn't really know us. Yet it shows how we are all joined through our faith no matter who we are, where we live or the place we occupy in life. Twenty minutes after he met me it was as if he had known me my entire life. Pretty special."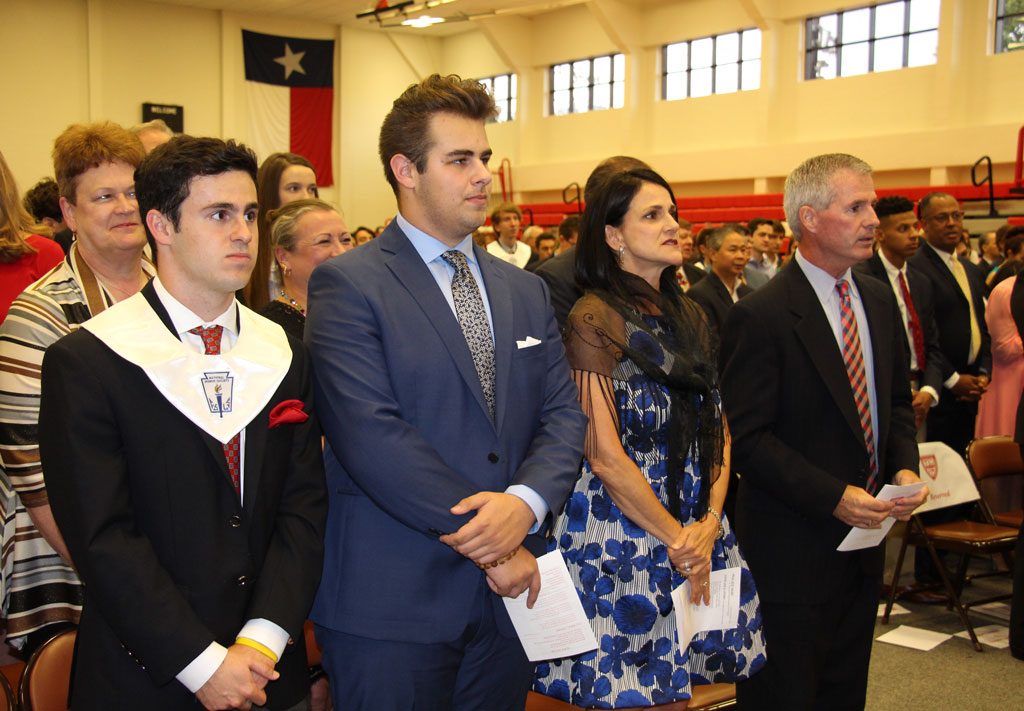 And even with heightened anticipation mounting over the years the eventual payoff for Melissa was "much more than I ever expected. He's so humble … was so interested in our family … had so many questions about us when he easily could have been the center of attention. He was honestly excited to share in our weekend. God has blessed our family beyond measure."
Friday afternoon Mark was escorted by a HPD motorcade to the Bush Intercontinental gate for a personal pickup.
"Cardinal Dolan walks off the plane and gives me a monster hug as if we were long lost friends. And we had never met," Mark said. "It was thrilling. He is such a dynamic person … tells great stories … possesses a genuine curiosity about people and their lives. And he always brings it back to Jesus Christ, just as he did with his homily. The energy in Reckling Gymnasium was amazing."
Self-deprecating and unself-conscious, Cardinal Dolan opened to the audience by declaring that "at St. Patrick's Cathedral in New York, we would call this a two-collection crowd."
He then detailed four points of emphasis in saluting the Class of 2017, beginning with congratulations for serving "as a powerful tribute to the Catholic identity in this great high school that on the eve of your graduation, you gather for the greatest prayer of all, the Holy Eucharist."
Cardinal Dolan commended parents "for the sense of sacrifice that characterized your decision to send your sons to an excellent Catholic high school … that tells them about your priorities … that education is not simply about reading, writing and arithmetic but also about religion … and learning the importance of goodness, discipline and knowledge."
Cardinal Dolan then expressed gratitude to "our Basilian Fathers who have such a deep charism for academic rigor and teaching. Thanks be to God that they remain committed to secondary Catholic education."
Finally, Cardinal Dolan weaved the Dolan family legacy into a powerful personal message that each member of the audience might absorb.
"The true way that I'm related to Daniel, Mark and Melissa is much more important than we have Irish background. What unites us in the core of our being is that we are children of God. What unites us far more than the natural blood in our veins from Cavan County is that we also have the precious blood of our Savior Jesus Christ. All of us here have been redeemed by our Lord. We are all deeply related because of our Catholic faith.
"This school is great because it's sacred responsibility is not to get these young men to college … to get them great jobs … but to get them to heaven where we'll all be united as one family.
"And as Pope St. John Paul II used to say, 'What's more important than where we're from is where we're going.'"
At the conclusion of Mass Cardinal Dolan turned Pied Piper leading assembled guests to Cemo Auditorium where he provided St. Thomas patrons a large dose of his gregarious and infectious personality which has made him a major figure in the life of New York City and beyond, visible in the national conversation of contemporary social topics, inside and out of Catholic circles.
He posed for photographs, embraced conversation, held babies as well as the collective attention of all those in his immediate vicinity.
The extended Dolans were well represented, 26 family members traveling from Boston, St. Louis, Denver and California, including Mark's brother John Dolan, who had previously worked with the Cardinal supporting various Catholic charities in New York, and attended the Cardinal's elevation in Rome in 2012.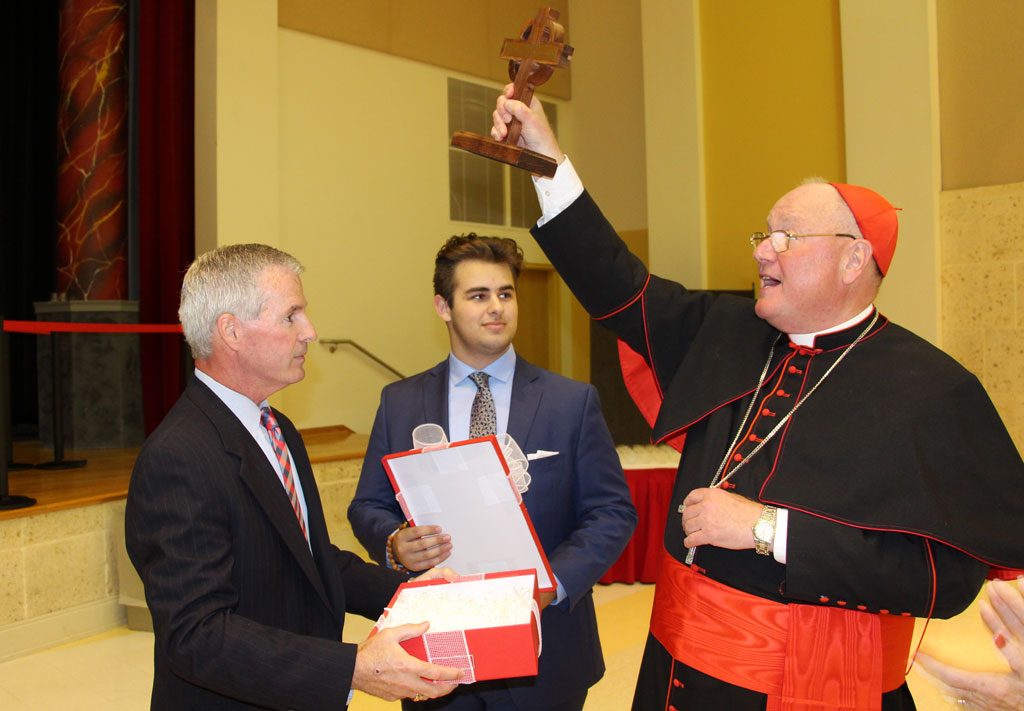 Melissa and John's nephew John '18 capped a joyous and unforgettable evening by presenting the Cardinal with his own keepsake, a hand-crafted wooden Celtic cross featuring the customary ring around the intersection of the stem and arms.
"Dolans are accustomed to having big family get-togethers, but with the Cardinal here, this takes to an entirely different level," John said. "We hear about him quite a bit. I never imagined having the opportunity to spend this kind of time with him. It's not often when someone exceeds your expectations. But that's Cardinal Dolan."
Catholic. Basilian. Teaching Goodness, Discipline and Knowledge since 1900.