HEAD COACH: Rich McGuire
1st year as head coach
3rd year in the Eagle program
2014 and 2015 TAPPS state semifinals
LOOKING BACK TO 2016
An overall lack of efficiency on third down and inconsistencies on both sides of the ball during September cost the Eagles where it impacted most, on the scoreboard, against a blue chip crucible of opponents who combined to win 21 of 23 games through the first six weeks of the season and finished a collective 39-10 for the season.
The breakthrough 51-0 verdict over Pasadena produced a season-turning victory that created momentum for the second half of the St. Thomas season.
Eagle Football recovered from that treacherous early season schedule to reset with four consecutive wins, two by shutout (and six since 2012), earned a second-place finish in TAPPS Division I District 3 and secured Granger Stadium for their opening playoff game for the sixth straight season.
But the considerable development that surfaced throughout the mid-season renaissance coupled with the former bulletproof Hotze Field home advantage where the Eagles had won 28 of their previous 30 games wasn't enough to ignite another deep postseason run.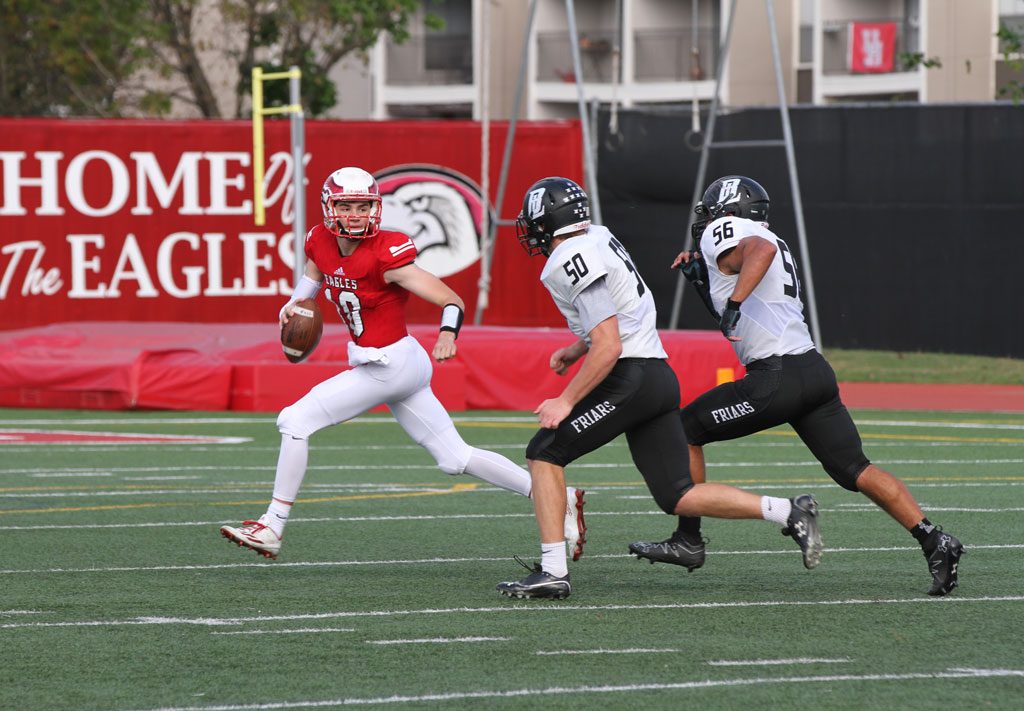 Quarterback Peyton Matocha '19 threw two first-half touchdown passes as the Eagles seized the third-period advantage against Dallas Bishop Lynch but the mojo wasn't maintained and the Eagles fell to the eventual state champions ending a streak of five consecutive postseason wins at home since 2011.
Eagle Football ended 2016 with a 5-6 record and its earliest playoff elimination since 2010 after three appearances in the state semifinals in five seasons.
LOOKING AHEAD TO 2017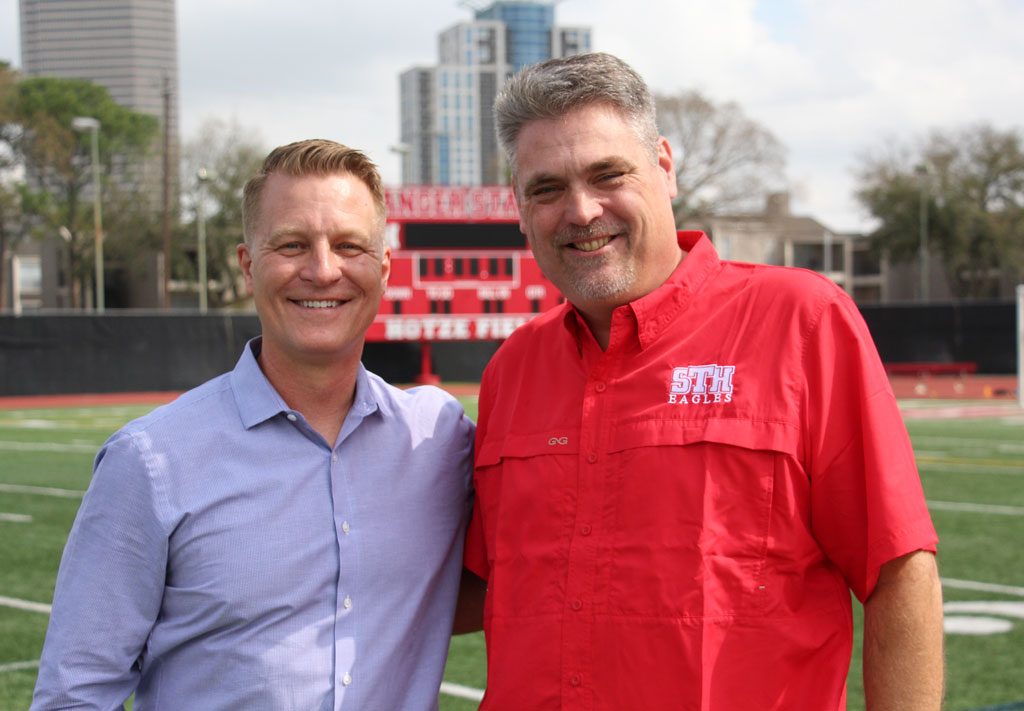 Athletic director Mike Netzel announced in February the appointment of former Eagle defensive coordinator Rich McGuire as head football coach and the promotion of former Texas A&M record-setting quarterback Jerrod Johnson to assistant head coach and offensive coordinator.
MaGuire returns to Eagle Football after one season as a defensive assistant at Katy Taylor where the Mustangs won nine games and advanced to the area round of the UIL 6A Division II playoffs.
He previously was the assistant head coach and defensive coordinator at Klein Forest for seven seasons and the head coach at Bartlesville High School (OK) from 1997-2004.
McGuire brings a clear message of how to match the program's competitive desires with 2017 realities, beginning with "a culture of accountability where the bedrock is built on hard work and hugs. What kids need is a fair and consistently high standard set by someone who advocates for them and holds them to that standard."
"We should be playing for or winning a state championship in two of the next five years," McGuire said. "That's the goal. If you don't have that mentality, then why do it."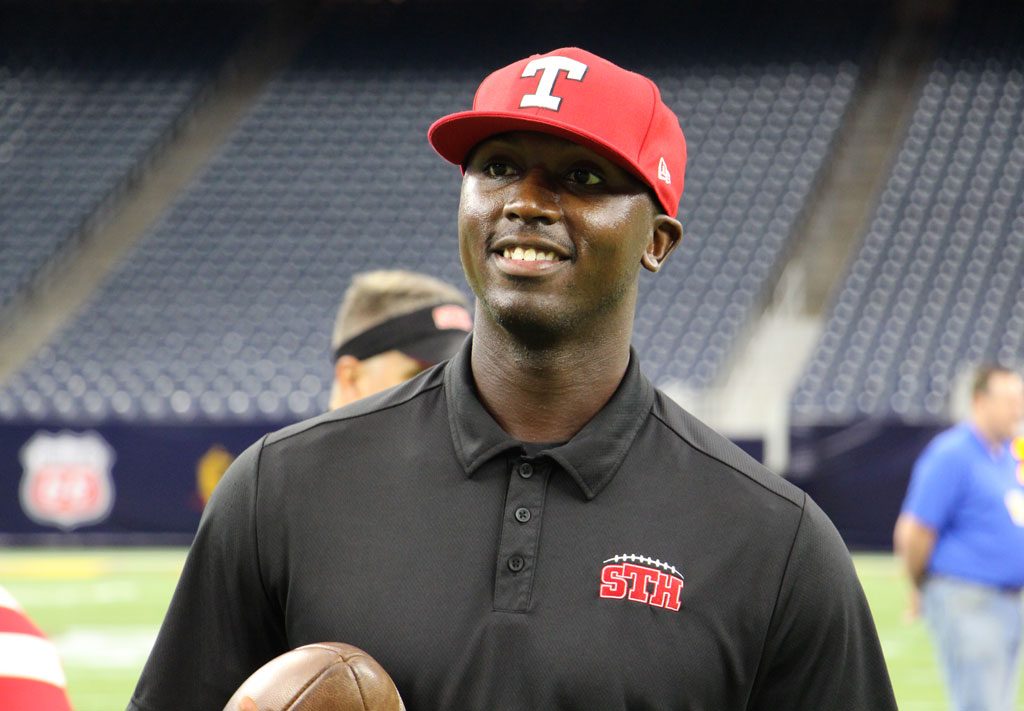 Johnson has served as a part-time coach to Eagle Football for the previous two seasons and provided significant input with an offense that averaged more than 37 points per game and generated more than 5,000 yards of total offense in 12 games in 2015.
Johnson was a three-sports star at Humble where his father Larry Johnson proved to be a powerful influence as a coach, principal and longtime educator in the Humble Independent School The family's deep football connections include brother Marquis who was named in the spring to the strength and conditioning staff of the San Francisco 49ers.
Jerrod was first encouraged by McGuire to seek an opportunity at St. Thomas two years ago and since that introduction Johnson has gained a distinct appreciation for the totality of the St. Thomas mission.
"I truly respect the values here, the emphasis on academics and molding young men," Johnson said. "And this is a really good high school football job and program … facilities, administration, support … the total package. Rich has a great understanding of that recent history, the tradition, and how to build on what is already there. For a young coach to learn and gain experience in this environment, it's exciting to think how far we can take it."
Matocha (6'4" 185 pounds) appears poised to continue his projectory after claiming the team's offensive newcomer of the year as a sophomore. He emerged from the summer's Quarterback Industrial Complex … Elite 11 combines, multiple college camps, high-level seven-on-seven passing leagues … as a fast-rising dual-threat talent. Running backs Parker Nelms '18 and Ian Wheeler '19, versatile all-purpose break-away performers who should thrive in the creative schemes concocted by Johnson.
Up front left tackle Max Banes '18 (6'5" 305) commands a starting position for the third straight season. The 2016 second-team all-state selection in 2016 is verbally committed to the University of Houston, where his father Joey stared in the offensive trenches during Jack Pardee's Run-and-Shoot pyrotechnics including the Andre Ware Heisman Trophy-winning season of 1988, and was later drafted by the Houston Oilers.
The Eagle defense is anchored by a wrecking crew of linebackers featuring 2016 first-team all-state and defensive newcomer of the year Kris Broland '18 (5'11" 200), Melvin Larkins '18 (6'2" 220) and Jackson Hanna (6'3" 220).
Defensive back Jackson Reece '18 patrols as the leader in the secondary and provides a veteran ball-hawking presence.
Eagle Fight Never Dies!