The St. Thomas student community resumed the 2017-18 academic schedule for the first time since Hurricane Harvey made landfall, pounding the Greater Houston area with unprecedented torrential rains and sweeping through a swath of southeast Texas.
Reconvening after all academic and campus activity was cancelled beginning August 25, 97% of the student population, along with faculty and staff, gathered for a prayer service to provide solace and support while resetting toward normalcy in the wake of the wettest weather event ever to hit the continental United States.
Adam Rinaldi '18 provided a scripture reading followed by passionate testimonials and observations of the ongoing ordeal from principal Aaron Dominguez '96, student body president Daniel Garcia '18, and faculty members Jennifer McDonald and Mike Lynch '94, all referencing measurable examples of charity and deliverance from those in the Eagle ranks.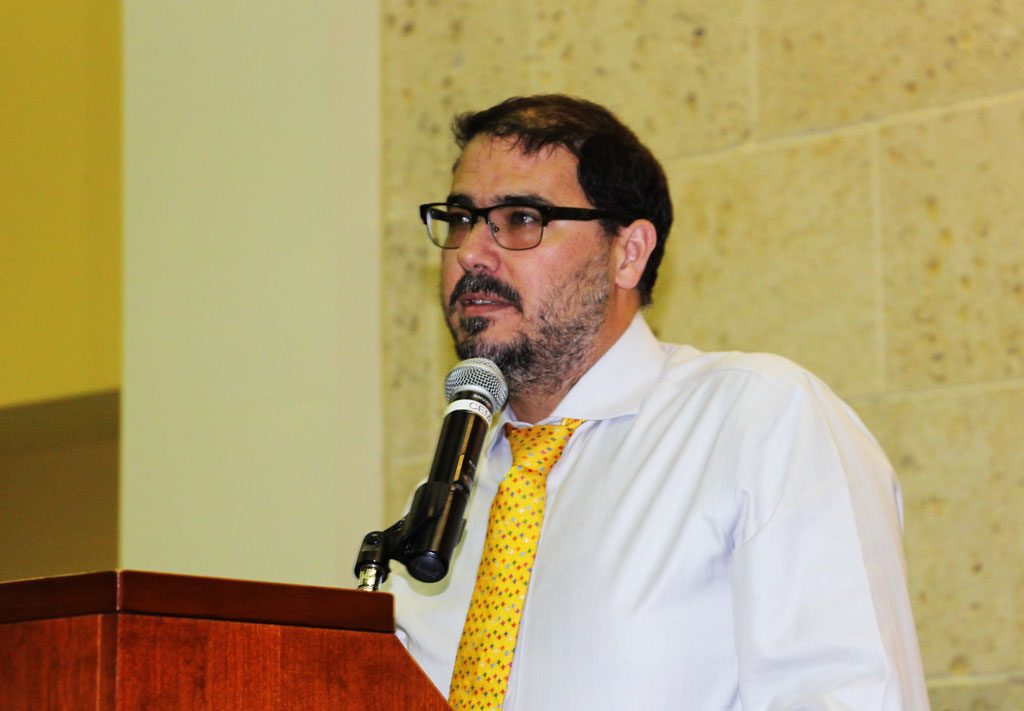 Lynch delivered a heartfelt flashback to his up close and personal encounter with the devastation that Hurricane Katrina ravaged through New Orleans in 2005, and how that deja vu experience is impacting his family as they cope with the personal consequences of flooding that pummeled their neighborhood and surrounding city.
"I'm scared (for many reasons) … scared because of what I saw in the aftermath of Hurricane Katrina … scared because of so much uncertainty in our future," Lynch said with compelling command and composure. "I'm blessed because I know everything will be okay in the end. But I'm still fearful."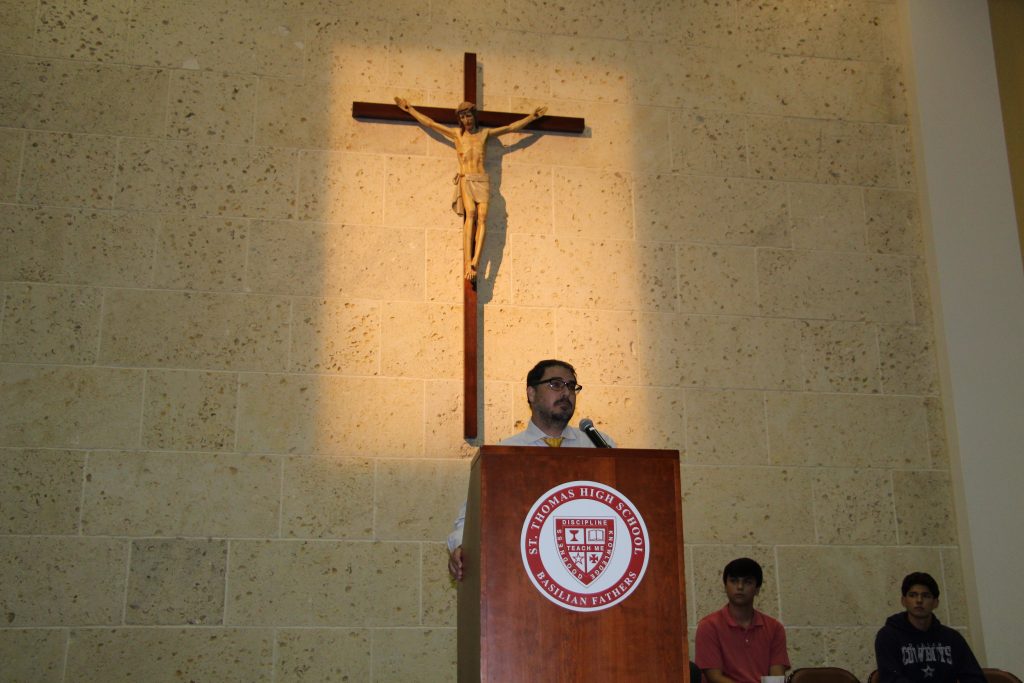 Lynch then reached out to the student audience and related that "if your own homes were damaged … your extended families experienced damage … if you're not living in your home right now … you probably are a little bit scared, too. But I've seen recovery … 12 years ago (in New Orleans) and gradually within the last week here (in Houston) … and I draw amazing strength from (the St. Thomas community) … every day of my life and particularly in times like this. Coming together. Faculty and students have come to my home and just started working.
"I cannot express to you how much I love (this group). I've been through enough in life to be willing to admit that I'm scared. You may have (Eagle) brothers who are going through really difficult times …. and they might not be in a position, like I am, to say they're afraid. But your friends are going to need you … for weeks … for months … perhaps for years. Be there for each other. Above all, this community will be there for all of us."
Catholic. Basilian. Teaching Goodness, Discipline and Knowledge since 1900.