GAME FIVE: Bob Benson '66 Stadium, San Antonio
Eagle Football 31
San Antonio Central Catholic 28
WHAT YOU NEED TO KNOW
Quarterback Peyton Matocha '19 connected with receiver Hunter Cheek '19 with an ad lib touchdown in the right corner of the end zone in the final five minutes to complete a frantic fourth-period rally on the road for the second consecutive win of the season.
TURNING POINT
After seeing Matocha's Houdini-like touchdown romp for the potential go-ahead score negated by a holding penalty, the unquestioned leader of the offense needed only three plays to push the Eagles in front for good.
From the 23-yard line, Matocha calmly moved to his right to avoid pressure and discovered a diving Cheek for the game-winning margin, 12 unanswered points in a pivotal three-minute stretch that determined the outcome.
RAPID REVIEW
Head Coach Rich McGuire
"We preach resilience every day … the ability to flush a negative play … and play the next play. Number 10 (Matocha) is really good at it. Cheek made a huge grab on that touchdown … clutch catch.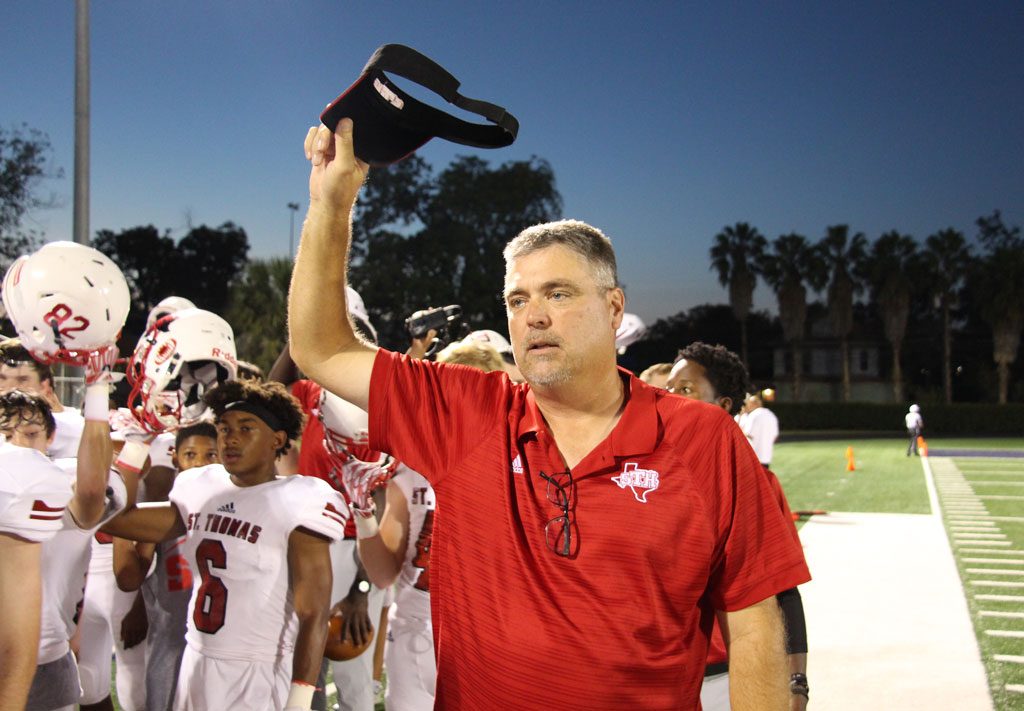 "Our defense grew up a lot tonight … really responded when they had to force stops down the stretch. Great growth for a young team. And I'm expecting that to translate to our remaining games … sophomores and juniors playing with the poise and command of juniors and seniors."
FIREBALL OF A FINALE
On a less than frightful but frenzied Friday the 13th, Eagle Football (2-3) never led until the closing moments, was gashed for a touchdown on the first snap of the fourth period to trail 28-19, and was forced to overcome not only the deficit but a series of near-crippling penalties, a blocked extra point and a first-period fumble returned for a touchdown.
Matocha provided the initial spark that quickly ignited into an inferno of momentum, a deep punt early in the period that pinned Central Catholic inside its five-yard line. The Eagles promptly cashed in on a short field when kicker Jacob Manley '18 split the uprights from 25 yards with 7:08 remaining to close the count to 28-22.
One minute later on the game clock, a crushing face-plant pounding from Jarrod Brown '19 in his career-best game, forced a fumble that rolled through the back of the end zone for a safety to shrink the score to 28-24.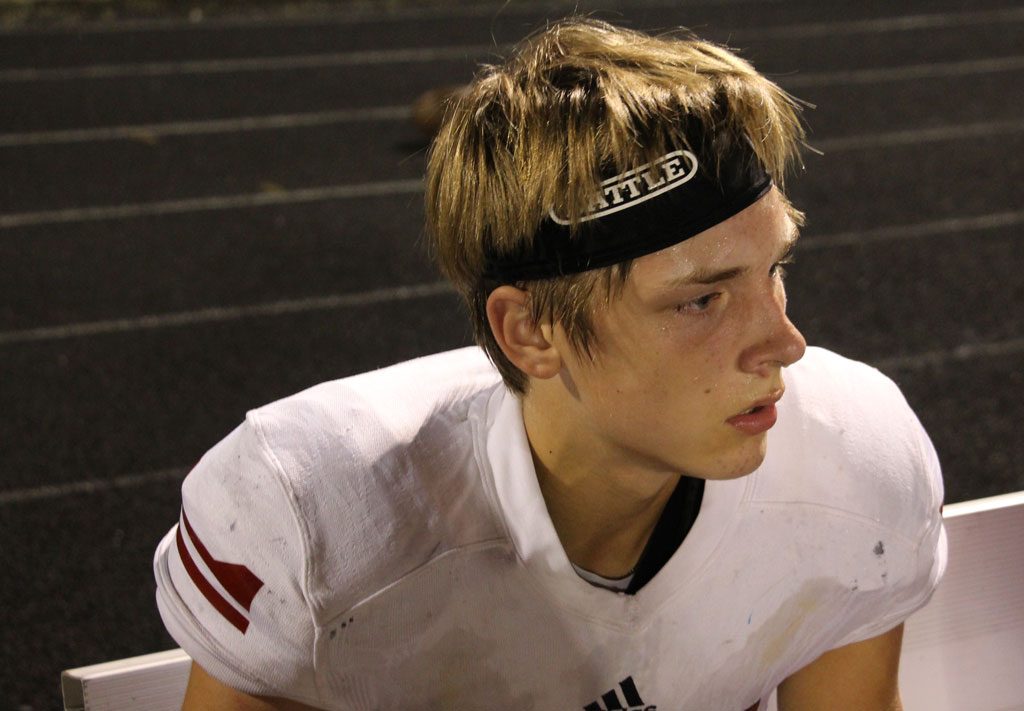 After Matocha's payoff to Cheek (above) with 4:10 remaining, safety Daniel Coco '20 erased Central Catholic's last threat with his second interception of the second half to seal the verdict.
THIS AIN'T NO DISCO, THIS AIN'T NO FOOLING AROUND
The Eagle second-half defense shoved aside Central Catholic more violently than a coup d'état led by Claude François de Malet.
On the first snap following halftime, Coco broke on an open receiver in the secondary, batted the pass up and corralled the ball on his way down to the turf for vital and eminently Instagrammable takeaway.
Eagle Football then stoned Central Catholic on its final four offensive possessions … including consecutive three-and-outs … Brown's crushing slam-dance end zone hit … and Coco's late steal near midfield to cement the outcome.
The only second-half scoring drive was fueled by a late hit on the sideline with Central Catholic backed-up into a first-and-20, followed by a pass interference penalty two plays later for a first down at the Eagle 30. (In similar fashion, the Eagles aided and abetted Central Catholic's first scoring series, flagged for roughing the kicker and a face mask penalty before a busted coverage allowed an 11-yard scoring toss.)
MORE MCGUIRE
"We have to clean up the penalties and mental mistakes. And we will. That cannot continue with the important games of the season now in front of us. That's all about discipline."
MORE MCGUIRE
"Our defensive front controlled their run in the fourth quarter. We made some adjustments with our linebackers to contain some underneath passes out of the backfield. Every single stop was critical."
NO RETREAT, NO SURRENDER
Give Matocha enough touches and he'll often turn nothing good into something special.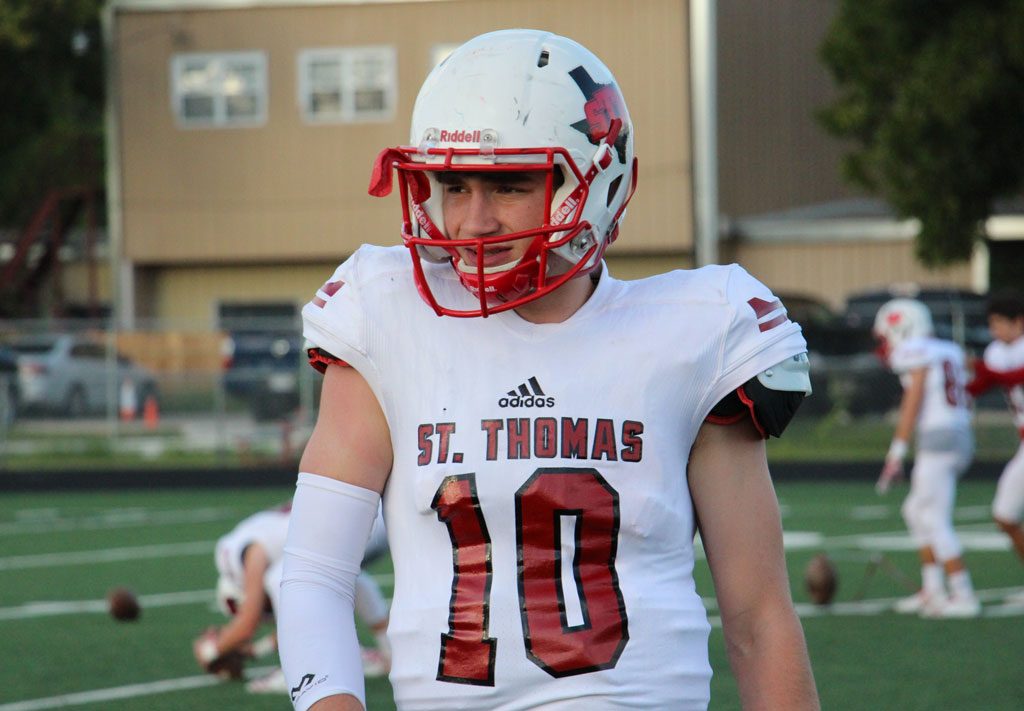 Facing third-and-12 on the first offensive series, Matocha (above) motored left against his body, fired and found Nelms streaking alone in the secondary for a 70-yard pitch-and-catch touchdown to tie the game 7-7.
On the Eagles' second scoring possession, Matocha sidestepped defenders in the backfield, escaped the collapsing pocket and bolted for 14 yards. Later he was again on the move and delivered a dart to receiver Josh Madden '19 for 17 yards to set up running back Ian Wheeler '19 for the first of his two touchdowns to draw St. Thomas within 14-13.
MORE MCGUIRE
"How we're playing as a team is encouraging as long as clean up the mistakes … get a couple more guys healthy up front … and we should be loaded. Up to this point, we've had to rely on some guys we didn't really expect to be at the varsity level. They should continue to benefit from the reps and impact our success."
FRIDAY NIGHT FIVE
Wheeler bolted for two touchdowns, from 20 yards in the second period, and then 18 yards in the third quarter finishing a 12-play 83-yard possession, to keep the Eagles within striking distance until the late-game dramatics.
Manley has delivered successful field goals in four of the five games this season.
The Eagles swept the two-year home-and-home series following a 42-13 victory in the 2016 Homecoming clash.
Central Catholic head coach Mike Santiago returned to coaching this season after a five-year hiatus from the sideline. He spent nearly four decades at the college level with 10 different schools, including North Carolina State, Texas State, McNeese State and Utah State, and head coaching seasons with Stephen F. Austin (39-27) and Incarnate Word (10-18).
Benson '66 Stadium is named for Bob Benson, the son of long-time New Orleans Saints and New Orleans Pelicans owner Tom Benson, who passed away in 1985 at the age of 37 after a battle with cancer. The stadium was named in Bob Benson's honor upon receipt of a $4 million gift from the Benson family in September 2016 that provided nearly a 100,000 square foot state-of-the-art FieldTurf Duraspine PRO system, and 72 fixtures of 1,500-watt sports lights.
ONCE UPON A TIME
St. Thomas and Central Catholic share a combined 285 years of acclaimed Catholic education in their histories. The two schools competed for the 1970 TCIL and 2001 TAPPS state football championships, plus the 1975 TCIL state basketball title, all won by Central Catholic.
STATE OF PLAY
It's October, and the wear and tear of the season can begin to show as opponents enjoy a stockpile of video to study. Tendencies have been exposed. Nothing is new anymore. And first-year head coaches and coordinators have lost whatever element of surprise.
After an off-week, the Eagles begin the stretch of the season that will define McGuire's entry Eagle campaign. The next month is all about adjustments and counter adjustments … about tweaks and creativity … about good fortune and even better depth … all with the hope that Eagle Football will Like What You See.
I'm on the road
I'm striking goal
Cause it just gets better and better and better and
I'm turning heads
Walking on the edge
It's only gonna get better, yeah
UPCOMING
Eagle Football begins district competition against Beaumont Monsignor Kelly Catholic October 27 at Hotze Field inside Granger Stadium.
The Eagles won 21 straight district games on their way to posting four straight district championships from 2012-15, all decided with title-clinching victories in the regular-season finale.
I think you're gonna like what you see
I think you're gonna like how it feels
I think you're gonna like what you see, yeah, yeah
I think you're gonna like how it feels
Better and better and better and
(Whoa) I'm feeling good
(Whoa) I'm feeling fine
I know we're gonna have a good time, good time
(Whoa) I'm on for the find
(Whoa) let's do it right
I think you're gonna like, gonna like
What you see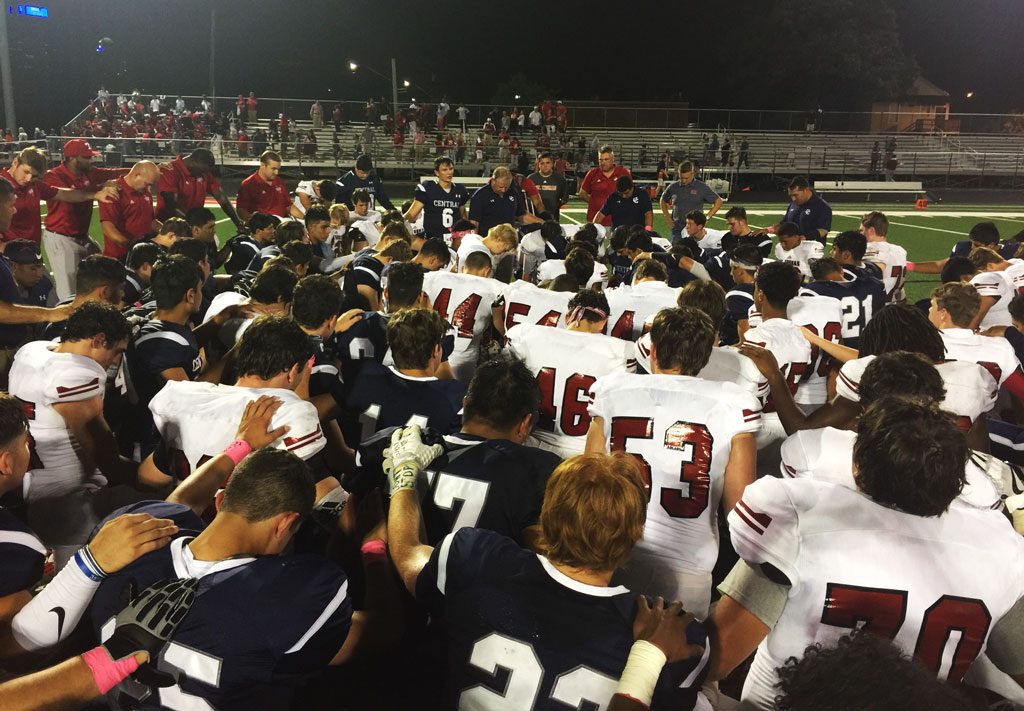 Eagle Fight Never Dies!