As the education landscape changes more rapidly than perhaps ever before, and within a society embracing a fervent demand for design, innovation and entrepreneurship, the maker-movement has exploded into the mainstream and highly regulated world of primary and secondary schools.
The St. Thomas Sixth Annual Middle School Administrators Conference, co-hosted with Duchesne Academy of the Sacred Heart and St. Agnes Academy, explored the makerspace dynamic with the intent of empowering faculties to develop universally applicable and transferable skills in concert with an established curriculum.
Ana Josephson and J.E. Johnson served as co-presenters to 35 middle school representatives meeting on the St. Thomas campus.
The co-founders of Maker Ready, a consulting and product company that has worked with hundreds of teachers nationally to bring hands-on, project-based learning into elementary classrooms, are ardent believers in the transformative effects of creative problem solving, and the ability to apply that mindset to real-world challenges.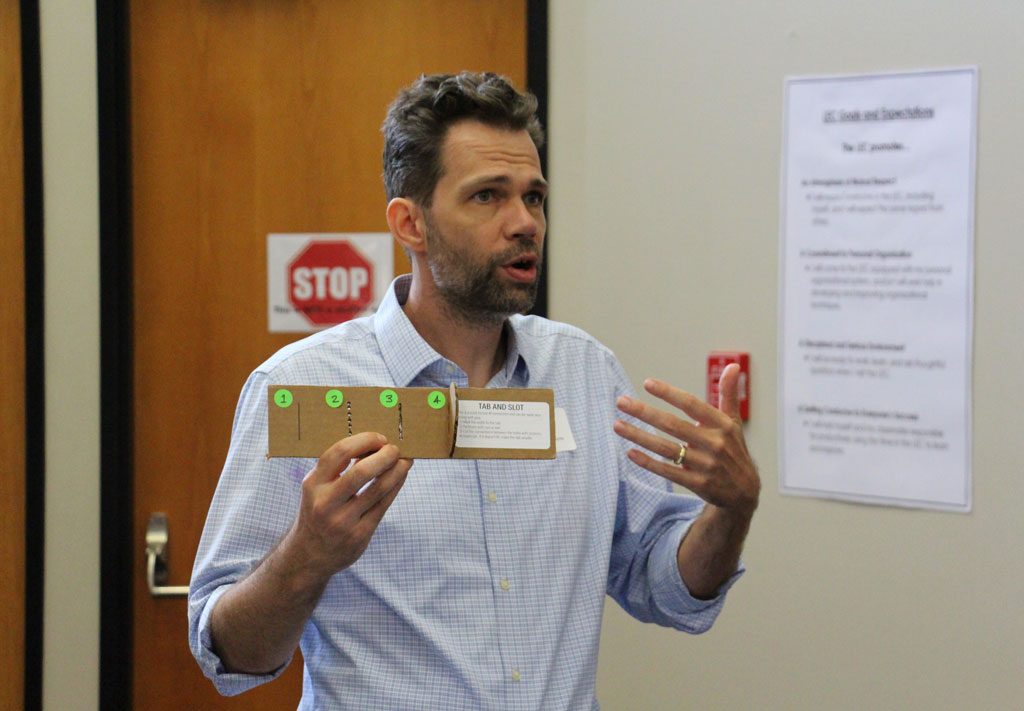 "We have are in the midst of a culture that is emphasizing this makerspace style of learning," Johnson said. "Students are developing skills for any career. Design-thinkers, inventors and entrepreneurs … the resilient who dare to take risks … maker education is the quickest way to get to that point."
Johnson is a master craftsman and faculty member at the University of Texas, where he has overseen construction of more than 100 theatrical productions and currently manages one of the nation's largest university scenic studios. He has adapted his apprentice-based approach to teach children at the DeBusk Enrichment Center for Academically Talented Scholars and the Austin Tinkering School.
Johnson sees the maker-movement "as an antidote to standardized testing, a release from that. Open-ended and creative curriculums have the potential to unlock student's brains. I struggled all through elementary school. Finally, I was given a specific project that I could feel confident about. It opened an entirely new world for me."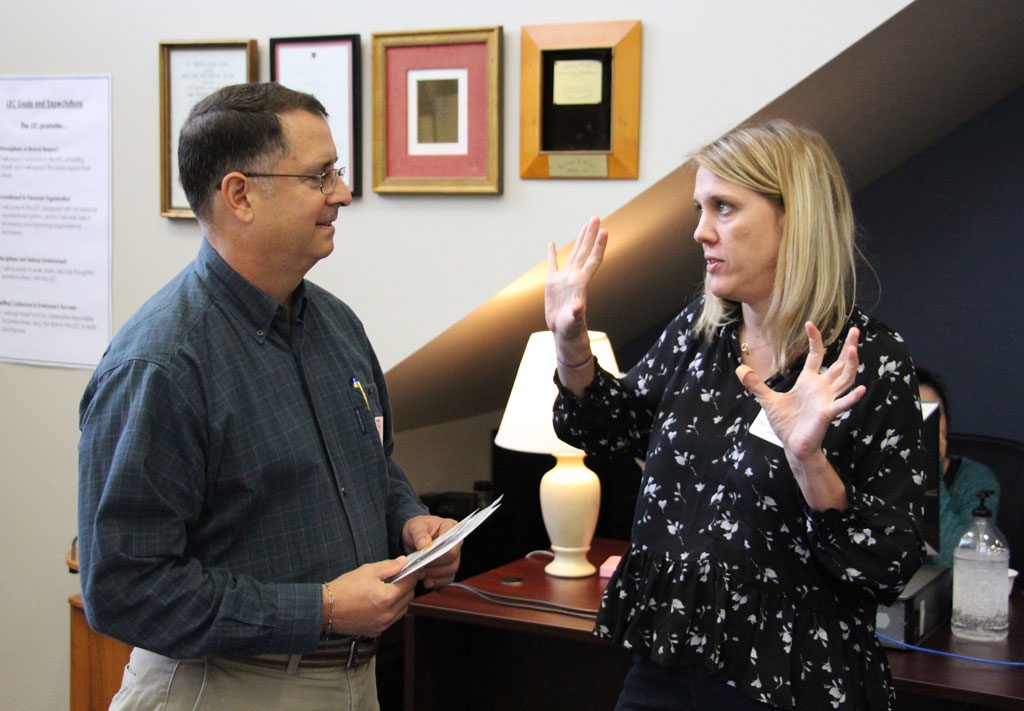 Josephson has taught science, technology, engineering, art and math for more than fifteen years. She earned a Masters in Science Education from the University of Texas at Austin and specializes in incorporating Project Based Learning across the curriculum to provide real-world experiences.
"Students today are so technologically driven. They sit for hours with phones, devices or tablets," Josephson said. "But it's human nature to create with our hands. It's in our genetic make-up. I think middle school students can be the most kinesthetic learners. They all have that wonder, plus the energy and drive. There's no question that every teacher attending this conference will leave with something they can immediately implement."
Inherent to the discussion was middle schools addressing a clear and present message echoing through virtually every corner of enterprise … whether AT&T, Google or local start-up companies … the marketplace is geared with new tools that greatly accelerate development from idea to finished product … and the remarkable number of makerspaces, fab labs, tech incubators and similar facilities are dedicated to bringing that vision of a new product to fruition, translating an idea into a tangible, marketable item.
Donald Cramp, Ed.D., the Head of Upper School for Duchesne said the takeaway for those participating in the forum is "inspiration, plain and simple. Both big picture and small budget. Start immediately so that administrators can measure the impact. (Duchesne has) robotics at the middle school level … robotics, engineering and the like at the college preparatory level … students making drones from the blueprint and flying them.
"The priority for educators moving forward is providing that balance with standards-based instruction so that when students experience high school and advance to universities, they're equally comfortable in a lecture hall, a lab, a discussion or a makerspace with the ability and confidence to thrive in any environment."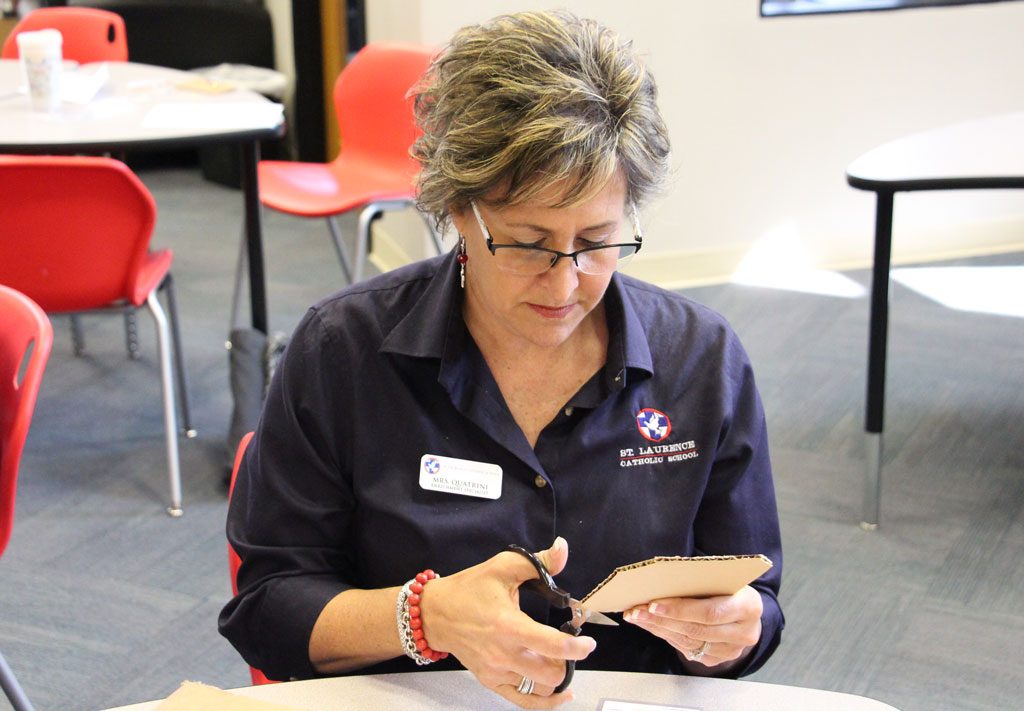 Anne Quatrini is in her third year as an enrichment specialist at St. Laurence Catholic School in Sugar Land while also enterprising a STEM (science, technology, engineering and math) lab for all students first through eighth grade.
"This conference was a great reinforcement that I'm not alone in this endeavor," Quatrini said. "Our society is changing every single day and we as teachers must adapt to develop students with critical-thinking and problem-solving skills.
"My focus is 21st-century power skills. I am all about students learning from a hands-on experience. The rote memorization isn't near enough for future success. I consider myself a maker, and my motivation is to spark that interest and curiosity in students to then carve their own path."
The annual conference is sponsored by St. Thomas Advancement and coordinated by Molly Hittinger. Previous discussions focused on such topics as …
transparency and insights to the college preparatory admissions process
supporting and motivating educators integrating new age tools and techniques into the daily curriculum
the proliferation of technology and social media changing the way educators teach and students learn
effective strategies for fueling the gaps in opportunity for students with learning differences
"We have great relationships with our middle schools," president Fr. Kevin Storey, CSB said. "There's a wealth of professional expertise who can learn from each other given the proper context. We embrace providing that arena and pushing the dialogue so that these educators might better engage and inspire their students. The feedback from year to year is that our efforts are significantly valuable."
Catholic. Basilian. Teaching Goodness, Discipline and Knowledge since 1900.