GAME 9 – Lions Stadium in Plano, TAPPS Division I Playoffs
Eagle Football 0
Prestonwood Christian Academy 42
WHAT YOU NEED TO KNOW
An injury-devastated defense minus eight starters from the season-opening week was blistered for two touchdowns in the first six minutes of the game and the Eagles (3-6) never challenged in exiting the TAPPS Division I playoffs in the first round in the first season with Rich McGuire as head coach.
TURNING POINT
PCA took advantage of 35-40 mile-per-hour winds to strike for three first-period touchdowns covering 47, 42 and 37 yards to leave Eagle Football down 21-0 and effectively decide the outcome.
RAPID REACTION
Head Coach Rich McGuire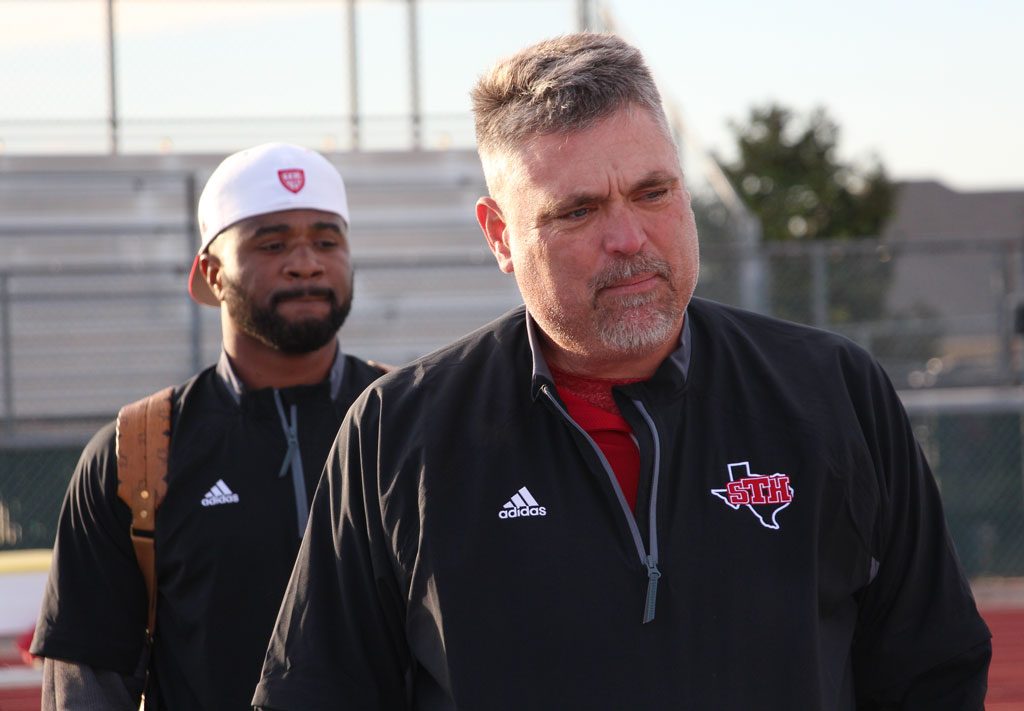 "Obviously we all wanted much more from this season and from this game, especially for our seniors. We needed some positive plays in that first period for confidence and momentum and that just didn't happen. But great admiration for our team to never giving in throughout a really challenging season. There was never an ounce of quit."
MOVING THE STICKS
The Eagles didn't generate a first down until a roughing the passer penalty on their sixth possession of the game. Quarterback Peyton Matocha '19 then scrambled for a 12-yard gain and running back Ian Wheeler '19 weaved 27 yards with a screen pass to the PCA 27-yard line for the deepest St. Thomas penetration of the game. Eagle Football then turned the ball over on downs after four straight incompletions.
Eagle Football forced two turnovers and a punt over a three-series stretch in the first half. Christopher Gentempo '19 recovered a fumble in Eagle territory and safety Daniel Coco '20 claimed a red zone interception with 4:30 remaining in the second quarter.
Thunder-foot kicker Jacob Manley '18 booted wind-aided punts for 80 and 66 yards.
The Eagles were outgained 520-112 and out-rushed 364-29 while suffering 16 tackles for losses.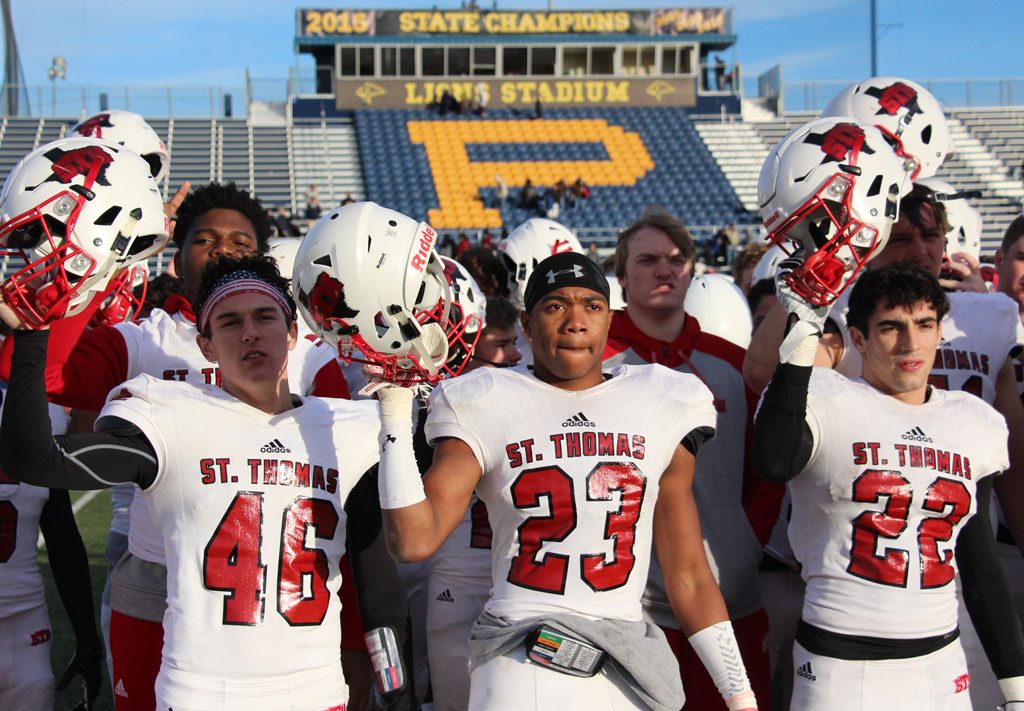 The Eagles didn't host a playoff game for the first time since 2010 and bowed out of the postseason after one defeat for the second consecutive year.
STATE OF PLAY
Despite the dip-down debut McGuire is determined in repositioning Eagle Football from the TAPPS middle class to its penthouse
The rejuvenation figures to focus on player development and the philosophy is simple … players earn everything … starts are not promised … minutes are not guaranteed … play poorly, don't hustle, get used to standing on the sideline … you have to fight for it.
Eagle Football is coming … and soon to be the real thing.
Baby I'm coming, better ready yourself
Be looking for me 'cause I'm the real thing
I know what you're used to
Well, tell them to step aside
(huh)
Baby I'm coming better ready yourself
Be looking for me 'cause I'm the real thing
And I'm coming
Baby I'm coming better ready yourself
Be looking for me 'cause I'm the real thing
MORE MCGUIRE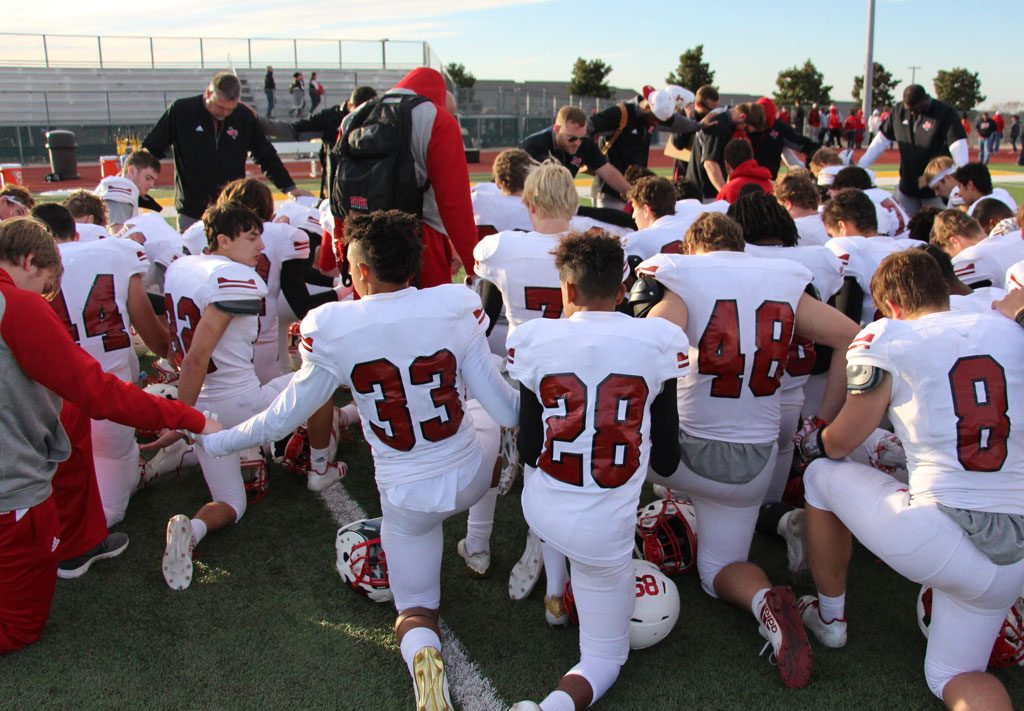 "I told the team after the game to enjoy the Thanksgiving holiday and then next season starts Monday. Champions and championships are built in the off-season when the stands are empty. As a group, we have to get bigger, faster and stronger. The core will always include really good high school players who buy into the program 100% with a great desire to not be denied, to not accept mediocrity. I have so much faith in what we're building and what can be done here. I know we want more success, I want more success and that success is coming."
Slow and sweet
That's how I sneak up on you
And when the smoke clears
Don't say I didn't warn you
(Oh) Need I inform you?
Baby I'm coming better ready yourself
Be looking for me 'cause I'm the real thing
(oh) and I'm a coming
Baby I'm coming, better ready yourself
Be looking for me 'cause I'm the real thing
(Yeah haha)
And I'm coming
Eagle Fight Never Dies!