How do you measure strength, as in the capacity of Eagle Strong?
Material strength, for example, can be defined as the ability to withstand an applied load without failure.
Houston Strong emerged as the two-word qualifier applied to the willpower of millions in the surrounding city who strive every day, and will have to continue that effort in the near and far term, to repair the damage done by the unprecedented flooding from Hurricane Harvey, the most severe rainfall event in recorded United States history that hit the Houston area hard in late August.
Eagle Strong proved to measure to the same inspiring standard of grit and resilience that has distinguished and dignified St. Thomas constituents searching to summon their own best during the worst of times.
That St. Thomas signature strength was demonstrated by the 2017 Auction & Golf Ball, a one-night event months-in-the-making that annually fortifies the St. Thomas bond and financially benefits the General Fund.
Patrons and donors gathered two months after the deluge and destruction that Harvey inflicted on their city.
But to understand Eagle Strong requires more than a simple number crunch that resulted in a rousing total of $626,000 raised on the St. Thomas campus.
The event chaired by Tina and Bradley Crawford … Caroline and Jim Hassell … and Shawn and Dominic Savarino '88 honored Masters Tournament champion and eternal Eagle icon Jackie Burke '40 with an occasion filled with community and commitment to the academic excellence and brotherhood established in Houston by the Basilian Fathers in 1900.
The philanthropy provides a core source of support for many urgent operating needs, including critical resources to support programs and initiatives that impact all of St. Thomas with the flexibility to meet new challenges.
Valuable dollars are always earmarked for the Paddles Up program which directly benefits a highly specific academic necessity.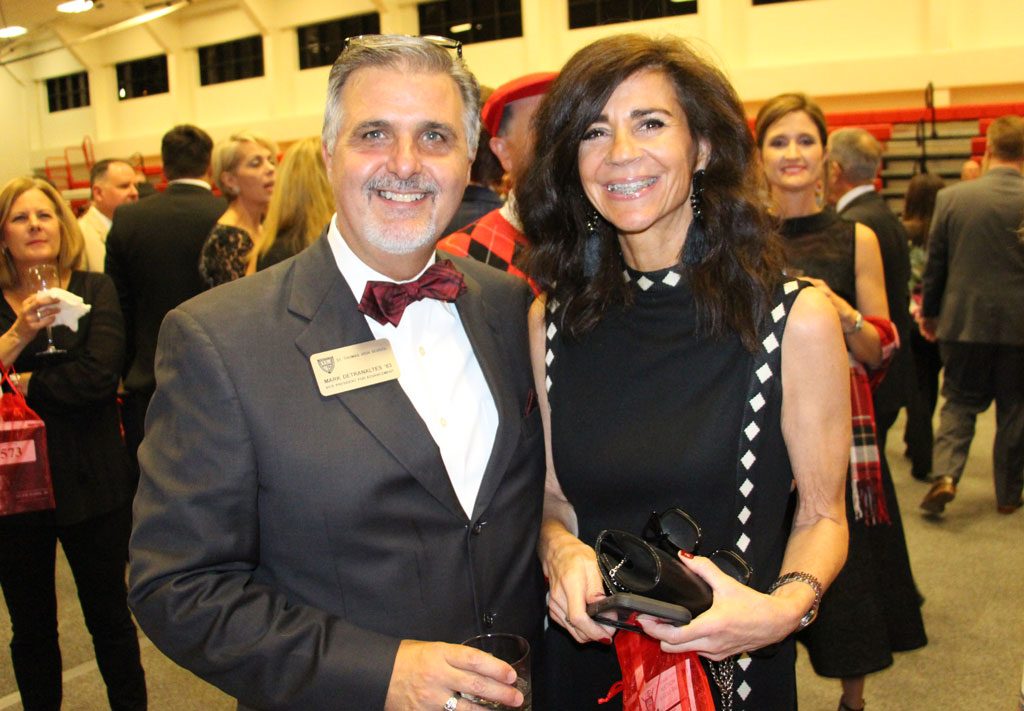 "Once again the generous efforts of our supporters will have a significant influence on the countless Eagle students, faculty and staff," vice president for advancement Mark deTranaltes '83 said. "The Basilian Fathers are extremely grateful for the dedication and devotion of so many to St. Thomas and for the numerous ways in which they contribute to the school's betterment as we move confidently forward with the Joplin Campus expansion."
Golfing immortal Burke remains a famed Eagle ambassador while contributing much to the game's rich tapestry with a flair rarely seen and never duplicated.
An original by any standard.
Most notably, the 94-year-old Burke's wit and wisdom remain hard and straight, like the drives off the tee which led to 17 tour wins and two major titles separated by a matter of months. He continues as a renowned instructor at his historic Champions Golf Club which he co-founded with friend and three-time Masters champion Jimmy Demaret in 1957.
And on a night when Burke's beloved alma mater distinguished his lifetime devotion to the game and the Basilian institution he cherishes with equal depth and measure, there was no greater authority to paint the picture of where St. Thomas has been, and what continues to serve as his Basilian bedrock.
Burke is often defiant to basking in his glory days of more than a half-century ago ("Don't be bringing yesterday forward. You can't do it."). He and wife Robin were unable to participate in the St. Thomas salute, but Janet Burke, who chaired the Auction in 2003, shared an insight into how he valued the recognition.
"I married into the Burkes (Eddie Jr. '66), and have heard and seen for years how Jackie is truly a man of St. Thomas … how he holds true to the ideals his school has stood for generations," she said. "This place is near and dear to his heart.
"Our sons are third generation St. Thomas (Trey '94 and Kevin '03 with daughter Kelly graduating from St. Agnes Academy in 1997). I have grandsons at St. Cecilia Catholic School who plan to attend. It's a tradition every bit as strong as this family itself."
During the live and lively auction in Cemo Auditorium, longtime benefactors Dona and Al Clay '61 sniped a Houston Astros game day experience including on the field access and dugout seating at Minute Maid Park, plus autograph items from American League All-Star Lance McCullers, graciously donated by the Houston Astros Foundation.
Clay's enthusiasm was fueled by a family foursome attending the World Series Game 5 thrillarama that featured innumerable tachycardic episodes spread over 10 innings and five-plus hours before third baseman Alex Bregman's base knock brought home bedlam and the winning run at 12:38 a.m. in a depth-defying 13-12 victory.
"It was absolutely off the charts … epic, epic, epic," Clay said still relishing the resounding outcome. "Went with my son Greg, my daughter Jennifer and my nephew Anthony. We lasted through all 416 pitches … were all together in one car so no one could leave. Crazy good. This (auction item) will be a great way to return and remember that night. Every time I go back to that stadium I'll remember. Anyone in Houston who was there will do the same."
Dona missed out on the Sunday night madhouse but was glued with family for "every single playoff game in front of the television. Our seven and eight-year-old granddaughters were going crazy. Just fabulous how the Astros lifted an entire city."
Johnny Mandola '94 believes (with admitted bias) that no one in the Astros fandom would have relished the team's pulsating postseason success more than his late father Frankie B. Mandola '65 who passed away in 2016, an Eagle state champion and high school All-American student-athlete later to be inducted in the STH Sports Hall of Fame. He packed his two-sport talents for Rice University and later rose as a pillar among the first families of Houston food.
Johnny followed his illustrious dad into the hospitality business more than 30 years ago and took over as general manager of Damian's Cucina Italiana in 2012.
Mandola's Catering remains the traditional St. Thomas partner for signature campus events such as the Auction, which this year delivered for Mandola a "life-affirming" quality in lockstep with what he has witnessed throughout Houston since the Harvey deluge.
"My family was spared but our (Walnut Bend) neighborhood was really rocked," Mandola said. "It was amazing to see so many people reach out to help one another … from the largest things to the smallest things … home repair to hot dogs. Everyone brought their skills. Mandola's Catering cooked burgers for 1,500 flood victims at NRG Stadium.
"That was the essence I sensed at the Auction. The room was packed with people, all have endured in some way and many are still recovering, but we all share a pride to support St. Thomas with whatever we have. We've all experienced a resiliency and relentlessness … saw it throughout our city since Harvey … saw it from the Astros throughout the playoffs … was in tears afterward … brought back so many great memories of my dad and cousins."
A wonderful distraction from the source of pain.
Medicinal.
Almost spiritual.
And in the same therapeutic vain, with so many among the Eagles put to the test, they united as one to again embrace a St. Thomas brotherhood up to the task.
For another emphatic and memorable night … bonded, whole, strong.
Houston Strong.
Eagle Strong.
Catholic. Basilian. Teaching Goodness, Discipline and Knowledge since 1900.