Man-child Max Banes '18 cannot remember a time, even as far back as when he was never quite a tiny tot when the Houston Cougars were not his household's blood-rooting interest.
"My baby book has a ticket from my first game when I was less than a year old," Banes admits.
Now measuring a robust 6'5″ and 305 pounds, a high-quality combo of sizable strength, bulk and balance with the necessary nasty to command the offensive line's pivotal left tackle position, Banes is trading one Red and White color scheme for another, making his six-month verbal commitment to UH official during the newly created early signing period for National Letters of Intent.
And to the delight of many, Banes will further a legacy at the same campus where his football playing father Joey carved notable distinction while making lifetime memories, where his mother Linda was a cheerleader and assistant in the Cougar recruiting office, where his sister Tayler will graduate in 2018 and his brother Trevor '16 is a sophomore.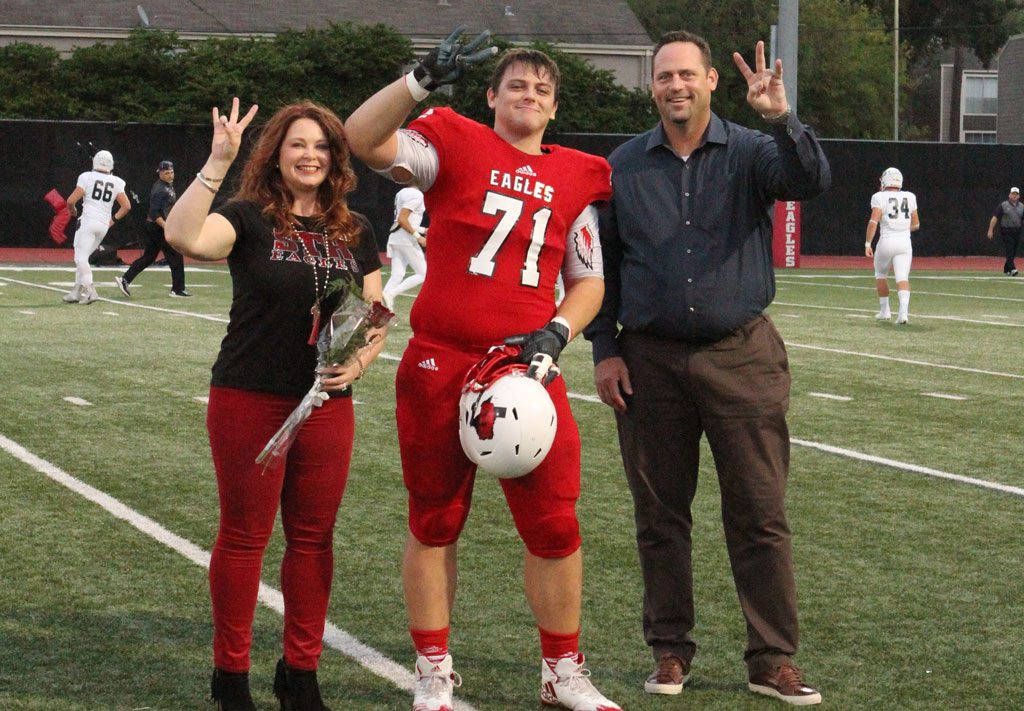 "There was so much anticipation for today … the goal for almost my entire life … to finally sign those papers … my parents sign them … to see the pride in their faces … just an awesome moment," Banes said. "I know my mom has been waiting for this since I was born. And there's also a great satisfaction for my dad."
Banes was first offered a Cougar scholarship at the end of his freshman St. Thomas season only to witness the UH head coaching carousel swirl from Kevin Sumlin to Tom Herman to Major Applewhite.
During the summer Banes and UH reaffirmed a mutual interest, and Banes then made an evaluative deep dive behind the athletic scenes.
In the midst of inspecting state of the art practice and locker room facilities, ever-expanding quality control staffs, supreme academic support, nutrition and elite performance instruction, all within the arms race to compete among top-tier college football, what proved striking for Banes was a "genuine connection" with Applewhite and offensive line coach Chris Scelfo.
"I really believe they have a sincere interest in me outside of just the football, to succeed in academics and life," Banes said. "Coach Scelfo never emphasized the family connections, only the benefits of my attending UH, and that it was what would fit me.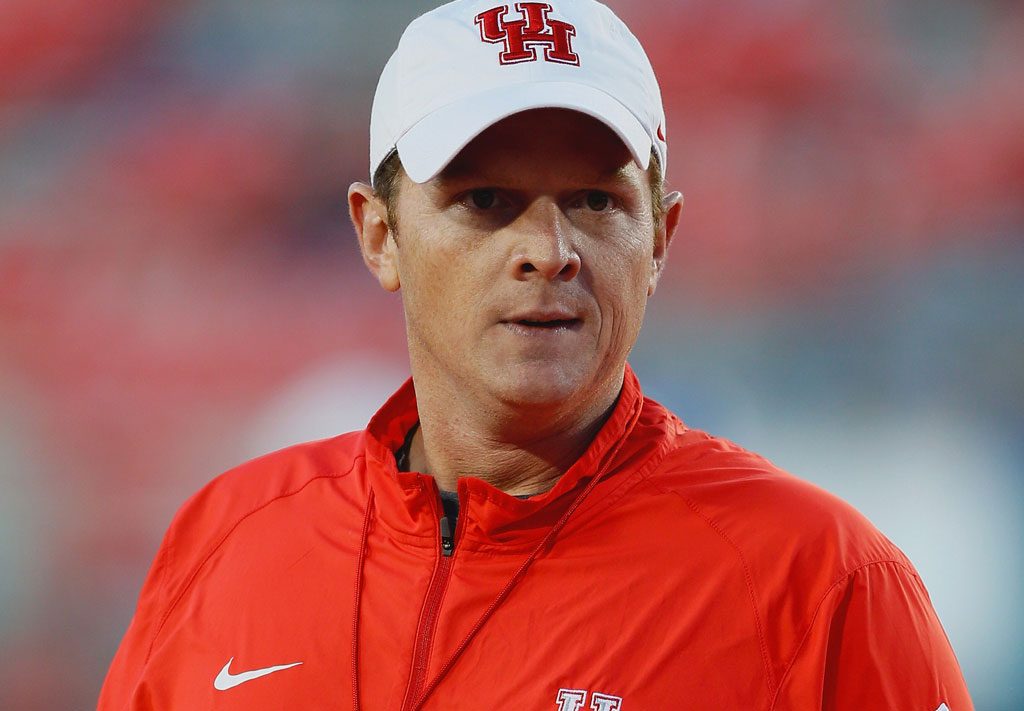 "A big emphasis from coach Applewhite was not to make a choice based on a coach because coaches change all the time. He really stressed how my network and comfort zone was already in place in Houston with my family and the St. Thomas community. Attending UH would continue building my future on that foundation. Made a lot of sense to me."
Banes was an instant Eagle varsity starter as a sophomore, earned TAPPS second team all-state as a senior and acclaim as the program's lineman of the year. He now joins the first UH recruiting class for Applewhite in the wake of his 7-4 debut season and second place in the American Athletic Conference West with an upcoming date in the Hawaii Bowl against Fresno State.
Banes the Elder was one of seven Cougars selected in the 1990 NFL Draft from that famed run-and-shoot pyrotechnics squad that shattered records and scoreboards will equal authority and audacity.
With Banes teaming with Byron Forsythe and Mike Holley in the Cougars offensive front, UH blew-up opponents for more than 600 yards a game and engineered outrageously lopsided outcomes (for the times) with more than 60 points in five of its nine victories. The aerial activities resulted in maniacal maestro quarterback Andre Ware becoming the program's first and only Heisman Trophy winner.
Banes performed in both the Hula Bowl and East-West Shrine Game, played for the Indianapolis Colts and is currently a vice president of sales for Merrill Corporation in Houston.
The next step begins today. Truly blessed for all my family and coaches that have supported and nurtured me to achieve this goal. Go COOGS!!! https://t.co/qFrP6ptoAT

— Max Banes (@MaxwellBanes) December 20, 2017
For now, no crystal ball gazing is desired by the Banes to see if the past will serve as a prelude for their next football generation at UH.
The family celebration is firmly focused on the opportunity afforded through dedication and purpose to pave a path where Max might fulfill his promise to reveal unimaginable rewards.
Eagle Fight Never Dies!