Grow as many, unite as one.
Understanding that the current student generation is inundated daily … academically, socially, personally and spiritually … with untold pressures and challenges … St. Thomas has developed a five-day orientation program for incoming freshmen during the first week of the academic year that infuses the traditions and values of the 118-year Basilian institution while creating an accepting support system that allows students to forge relationships and embody the Eagle spirit.
The learning liftoff launching 2018-19 lands in August 75 miles north of Houston at Camp Cho-Yeh outside of Livingston for Camp Aquinas.
Unplugged from electronics and technology, students will build character and brotherhood, community and culture.
And most importantly, gain an authentic understanding that a leader's greatness is found in bringing out greatness in others.
"We want to isolate our freshmen in a positive environment that is conducive to bonding and collaboration," principal Aaron Dominguez '96 said. "When you're away from the physical space of campus, away from your home, away from cell phone and mobile devices, the barriers and excuses that prevent interaction are eliminated. You equalize the playing field, so to speak. Our freshmen will discover a lot about themselves, as well as the young men they will be spending the next four years with."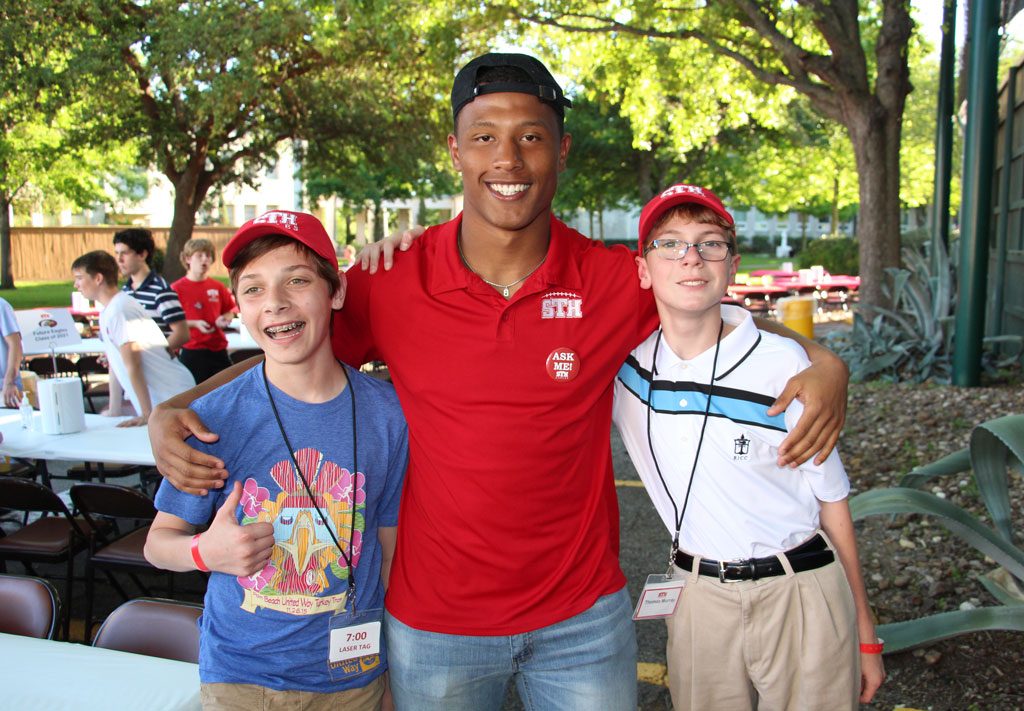 The priority in establishing Camp Aquinas is igniting and increasing personal connection, dramatically raising students to meet expectations for behavior and attaining their God-given potential.
"We have seen that not everyone who attends St. Thomas as a freshman graduates from St. Thomas," Dominguez said. "Some students lose their way for various reasons. We believe that bringing the group together before their Eagle experience begins will solidify the group, build a brotherhood and when there are inevitable challenges down the road, they will have the skills and a support group that has been established that they can utilize."
Faculty members Andrew Quittenton, Grover Green '04 and Casey Johnson '05 crafted the blueprint for Camp Aquinas at the urging of president Fr. Kevin Storey, CSB.
The intent was to infuse Catholicism and faith-based components predicated on the Basilian credo Teach Me Goodness, Discipline and Knowledge with heavy academic elements and challenging team-building activities.
Eagle students will be clustered in eight groups or 'houses' on the Camp Cho-Ye grounds named for notable St. Thomas Basilians and will gain a perspective of their lifetime commitment to the mission and their legacy within the school.
Three dozen faculty members will participate along with 40 Eagle student leaders.
The tech-free methods will encompass a range of pedagogical goals and promote a myriad of developmental benefits – better physical health and wellness, stronger relationship skills – which often lead to lower rates of depression.
But the deepest dividend of Camp Aquinas is establishing how a true Man of St. Thomas measures well beyond mastering mottos and the school's alma mater.
"Eagle Fight Never Dies! is so much more than an athletic battle cry," Dominguez said. "The words speak to the heart of St. Thomas. When our freshmen return to campus, they'll understand that they'll face adversity during the next four years because every single student does. Be prepared. This will not be easy, nor should it be. Understand you are not alone, that your peers and teachers and school are here to support you."
Quittenton believes that at the end of five days Eagle freshmen "will have the necessary bedrock beneath them to be successful contributors to their community. They'll know what the standard is, in the classroom, in the hallways, and when no one of authority may be watching. We have so many incoming students arriving from all over Houston from so many different backgrounds who don't really know the St. Thomas culture.
"We will discuss what temptations they're going to be facing … drugs, vaping, sexting … the realities of their world. They have to have the confidence to say 'no.' And at times some will make wrong decisions. But there are available resources in place to help them. The plan is for our senior leaders to continue as mentors for their freshmen throughout the academic year and reinforce what has already been established."
At the foundation of Camp Aquinas is the causal relationship between outdoor activity with increased social interaction and decreased stress and anxiety.
Students routinely learn to work more effectively in groups, better manage conflicts, cooperate in a more effective manner, take risks responsibly in a safe context and exhibit an improved comprehension of nonverbal emotional cues.
"Our freshmen are going to be pressed and pushed out of the comfort zones without question, both physically and mentally," Quittenton said. "That's the intent. And they're going to fail at times. It's not devastating to have a bad day. Figure it out. That's life. But they'll also realize they have skills they didn't necessarily know they possessed."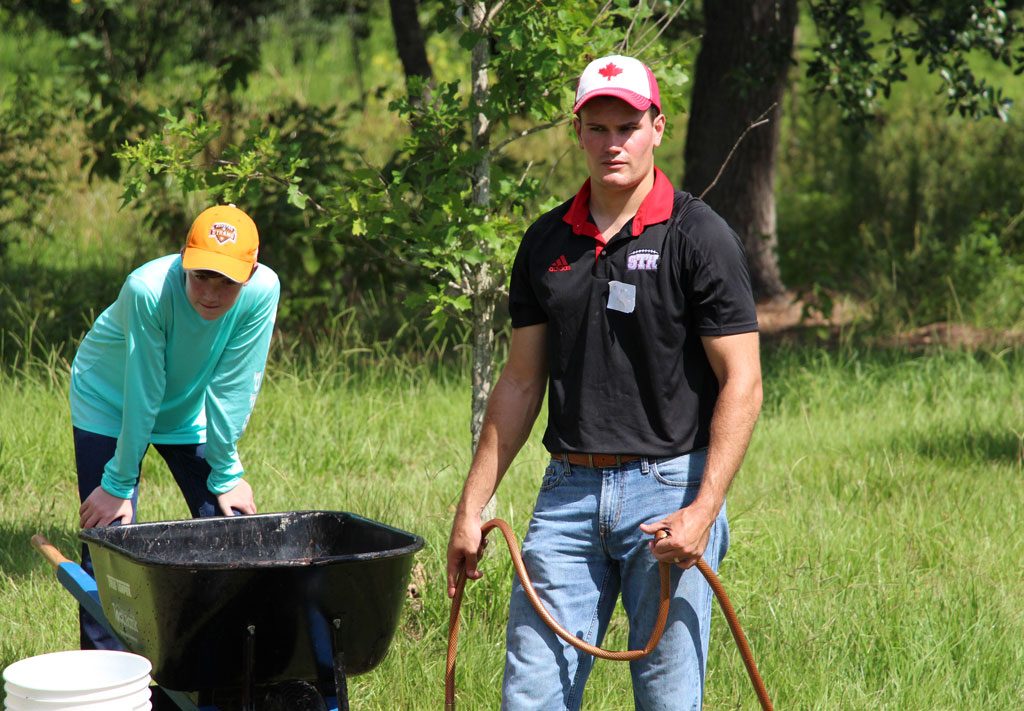 Quittenton sees Camp Aquinas as a logical extension and expansion of his experience with incoming freshmen in the two-day Camp GDK within the Summer@STH program.
During June and July 2017, Quittenton and St. Thomas Athletic Director Mike Netzel orchestrated campers through a series of alliance challenges, all entwined with a spiritual element, to better prepare them for the transition into a demanding college preparatory setting.
Particularly meaningful were community service projects with the Memorial Park Conservancy where volunteers aided the park's continuing recovery following the devastating 2011 drought and subsequent fire that wiped out nearly 50 percent of its trees.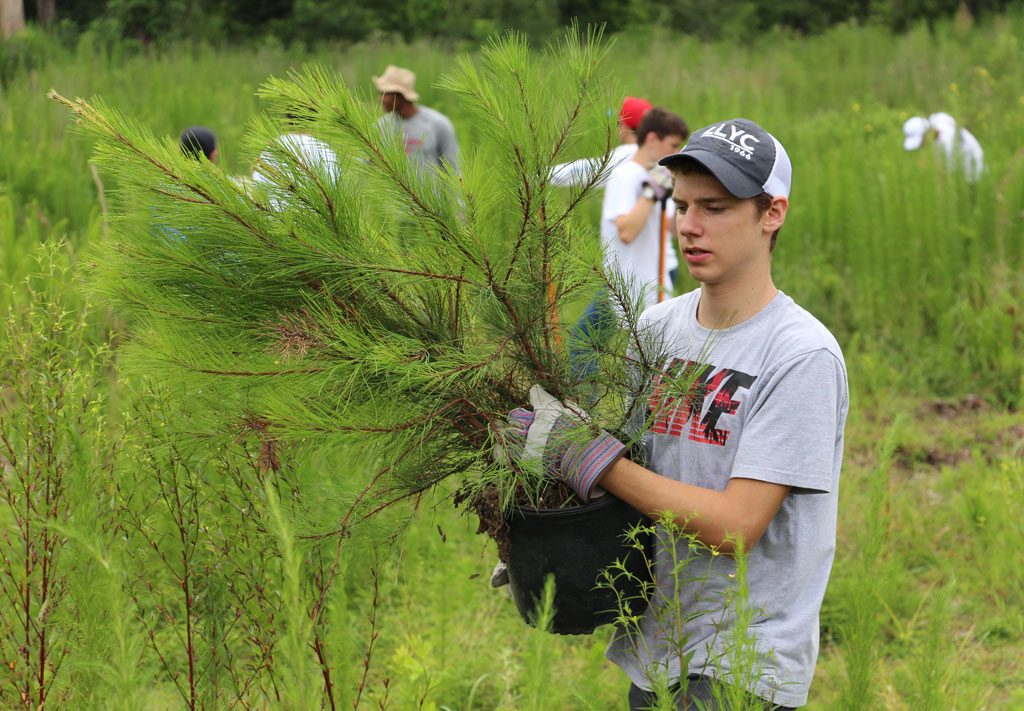 More than two dozen Eagle students worked the biocycle area within the Southside Trails system, uprooting pine seedlings designated for the Eastern Glades project.
Four weeks later, Quittenton headed a separate group transporting water by wheelbarrows and buckets for those same pine saplings, while another dozen freshmen established a one-mile fence line barrier within the Memorial Groves area to protect World War I features before ecological restoration will take place.
"That kind of experience is so much greater than simply outdoor leisure time," Quittenton said. "It helps these maturing young men become more self-sufficient and mutually reliant. They reach beyond their immediate friends and families, and bring that experience back to campus."
Being a St. Thomas student means being part of a long, proud history … of academic rigor, of ethical living, of being educated in the Catholic Basilian intellectual tradition. Camp Aquinas extends the St. Thomas obligation, the passion, the goal to provide a supportive, safe environment for students to thrive.
"There are ideas that may live within organizations for years but only emerge when the right combinations exist for them to come to fruition," Dominguez said. "Andrew, Grover and Casey were invigorated by the concept and are the catalysts. We were determined to make this happen, to provide a powerful impact on our students and community."
Grow as many, unite as one.
Catholic. Basilian. Teaching Goodness, Discipline and Knowledge since 1900.