Back at the beginning … before Matt Toomey had graded out A+ grinds and garnered a city-wide rep as Houston's coffee cognoscente … before he was founder, inspiration and director of his own specialty roaster … right around when he secured banking backing and outbound marketing tactics … and his coffee confidence was brimming that he could curate a more signature flavorful and forward customer experience … back then, his not-quite-yet enterprise simply needed … a name.
So Matt Toomey reached back to yesteryear, to his studies at St. Thomas, and retrieved riveting moments of the city's history, when Houston started as a literal and political hotbed in the nineteenth century and its livelihood depended upon cotton and commerce.
Then the first great oil gusher rocked the world and Houston was well positioned as an industrial stronghold at the genesis of the transportation and mass production age.
And Matt Toomey thought … what best described Houston at its beginning … what was synonymous with the one-industry Big Oil town drenched in subtropical humidity and get-it-now chutzpah.
Easy.
Boomtown.
Hence, Boomtown Coffee.
In less than a decade the rapid growth of Toomey's small-batch artisan endeavor isn't nearly as emphatic as the Spindletop spike. More of a journey as humble and determined as the coffee plant's own modest origins, as rich as the liquid it creates.
—
Coffee is not a plant native to the Americas.
The North African shrub originated from a plateau in Ethiopia. Its true worldwide tour began with the Turkish conquests of the Arabian Peninsula during the early 16th century, diffused quickly throughout the Ottoman Empire and then to the New World's tropical regions which revealed themselves ideal for cultivation and plantations. Central America's first coffee harvest occurred in 1726. Today, Brazil reigns as the world's most robust producer, claiming no fewer than 10 billion coffee plants.
The coffee that countless patrons sip, quaff and guzzle every morning, noon and night is actually the seed of a bitter red/purple fruit, nurtured by mother nature, infused with nutrients from the ground and the sky, harvested by hand when at its ripest, then pulped, washed, dried, graded for size and sorted, stored and packed – the world's second most valuable export by developing countries (edged out only by, you guessed it, oil).
The two best known and important species of coffee are Arabica, grown at higher altitudes and accounting for more than 60 percent of world production, and the heartier Robusta found at lower altitudes while producing more coffee per tree. Two other species which are grown on a much smaller scale are Liberica and Excelsa.
—
Toomey's personal intrigue for the brew began to percolate when he savored the aroma steaming from his grandmother's stovetop pot processing the prescribed scoops from the 32-ounce Folger's round red tin that sat in the kitchen.
"I've known that I've felt this pull to the product for a long time," Toomey says. "Just the smell from the coffee maker is capturing but it's more than nostalgic endearment. Coffee is the conduit for social engagement. There's the history of the trade. And the coffee community is much deeper and broader than most understand. The qualities I'm about are reflected in that community."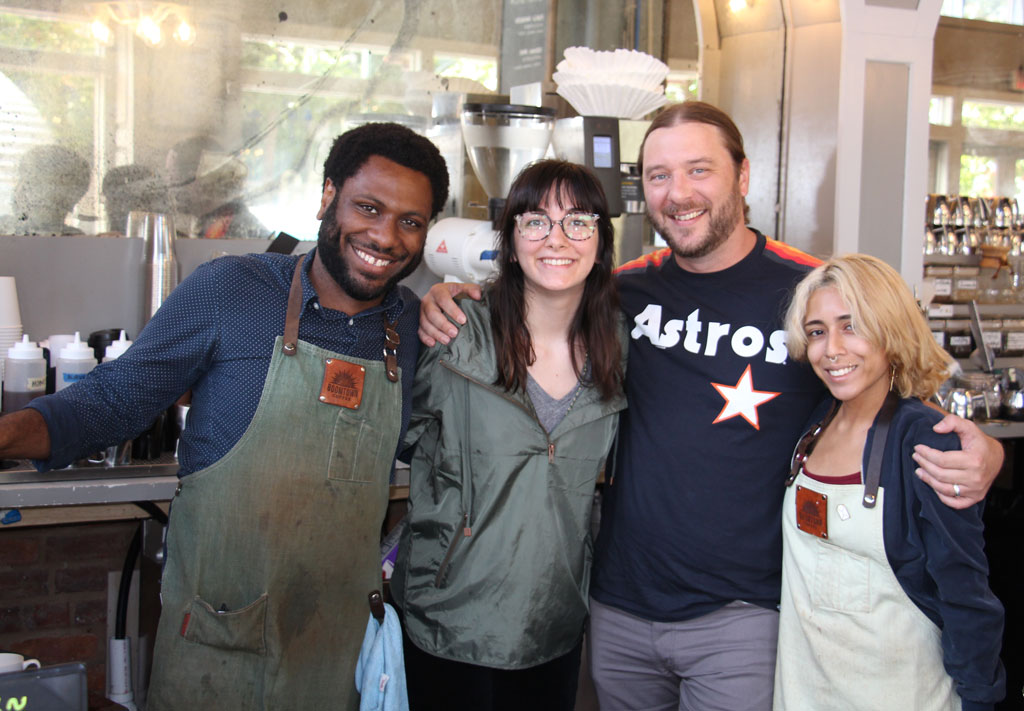 In a fiercely competitive market, Toomey's operation has enjoyed a calibrated boom by rising above and beyond a business venture. Boomtown differentiates from the pack by emphasizing the premiums – carefully if not compulsively crafted concoctions quantified for a very specific character in tango with unparalleled customer-client relationships, all grounded in a true passion for the pursuit.
Yet Toomey's most satisfying swallow of success doesn't relate to Boomtown's bulging bottom line.
"I'm a good dude … good to people … that's what means the most to me," Toomey says. "I'm not crushing with business savvy, not going to bust spreadsheets and run numbers. There have been and are some very special skilled people who provide what we need when we need it. I'm energized by creating the standard, empowering people, delegating authority, rewarding good work. In essence, being a fostering member of our growing community."
Toomey may have mastered the Kalita Wave slow-brew method and learned the decided advantages of the Modbar system, but not before admittedly bouncing through the lower tiers of the city's coffeedom laying the necessary foundation – from Toopees Coffee to Cafe Artiste to Cafe Luz. He serendipitously resisted when recruited to manage the struggling Heights Ashbury coffee house on W. 19th St., only to later buy out the business.
On March 24, 2012, Boomtown Coffee was born.
"I got there on opening day super early … dark outside … just dead on the street," Toomey remembers. "I was thinking I hope this works … doesn't look all that promising."
First impressions did indeed deceive. Although Toomey spent the majority of his first two years hunched over a 2-kilo on-site roaster creating a wide spectrum of roast profiles … some light, others full-bodied dark … every coffee and every blend hitting a sweet spot with the intent to be consumed, not revered.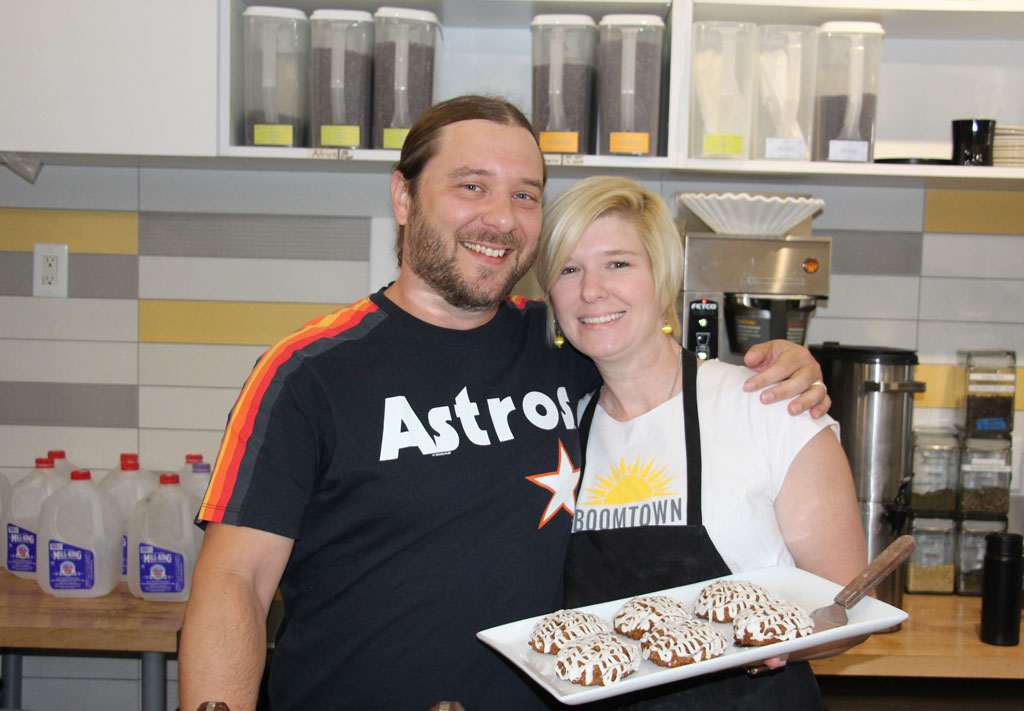 "There wasn't some sort of master plan about how we were about to be the next hot thing," Toomey says. "It was just a matter of delivering high-quality product and service. We believed we could develop commercial traction. The strategy was simply let's go and see what happens. So that's what we did."
And while Toomey was deep into the everyday detail he never lost focus on the horizon, his driving force fortified by a clear mind and calm demeanor.
"Confidence is having the humility to recognize when you're not doing something right and willing to adapt," Toomey says. "You can't be afraid or apprehensive of change. There's a right way to be wrong, and a wrong way to be wrong.
"Houston has a love for local. Being present every day is a huge factor … being connected with our regulars and greeting those who arrive the first time. And you have to be attuned and receptive for when opportunities are made available. If you're distracted by negatives you might miss something. I feel fortunate to have had some opportunities. Seized some … may have missed others."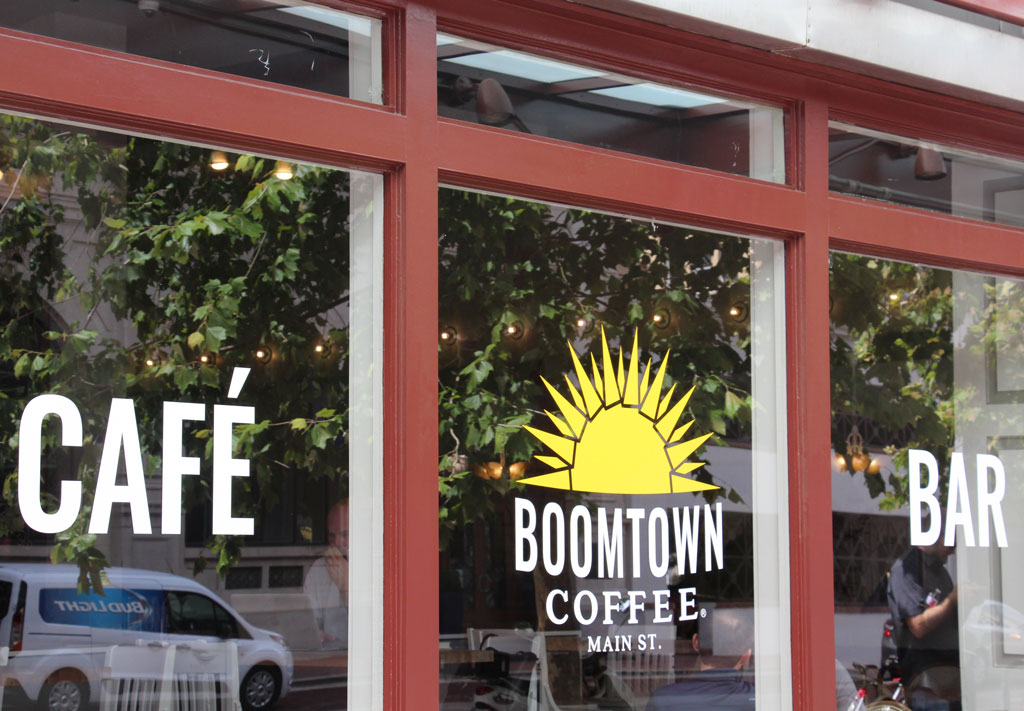 In the summer of 2014 Toomey aimed to "bring coffee downtown," teaming with The Corinthian Bar Group (Grand Prize Bar, Bad News Bar, Lei Low Bar, OKRA and Big Star Bar) to open The Honeymoon Café & Bar at the prime corner of Congress Ave. and Main St., an expansion which properly filled the void in a caffeine wasteland and included an on-site 12-kilo roaster in the shop.
Earlier this year Boomtown acquired full ownership of the downtown hotspot, renamed Boomtown Coffee Main St. Café & Bar.
"The move was exciting … definitely the time to put on the big boy pants and get serious," Toomey says. "It raised the Boomtown profile, created a larger market and a fresher market. There's a downtown vibe that fits our identity … a right mesh. And with that spotlight came more accountability, more awareness every day that everyone is responsible for representing the business well."
Boomtown has consistently featured single-origin beans bought directly from the farmer with a commitment to direct trade and sustainable sourcing. Costa Rica, Guatemala, El Salvador, Colombia, and Ethiopia – regions that promise the broadest range of roast-ability.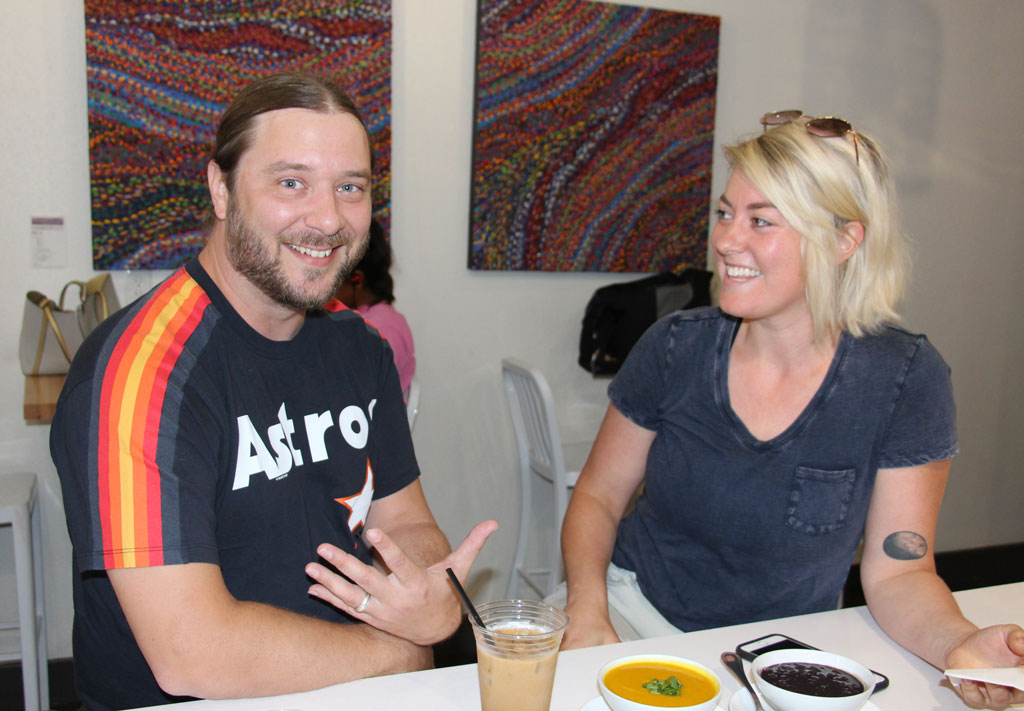 But what has also further distinguished Boomtown is a relaxed casual comfort where everyone gathers for friendly coffee craft, endless banter, luscious cappuccinos and espressos gurgling with double shots – all augmented by Toomey's zeal for life and sense of humor. Those personal traits have consistently resonated with an admiring customer and employee base, and measured invariably when the collective resolve or bank balance was tested.
Through peaks, valleys and swirls Toomey has never broken bonds with family, friends and St. Thomas.
"There wasn't a lot of money at home when I was in high school," Toomey explains. "If not for Round-Up (the renown tuition assistance program), I wouldn't have lasted. Just as important to me … there always seemed to be someone at the school who cared when you would need them most. I will always remember that … will always be a part of who I am. My son Charlie is coming up on age 11 … would love for him to be at St. Thomas."
There's another funnel of education that occupies Toomey's current business focus which centers on green coffee buying, quality control and contracts. He's actively involved in the Specialty Coffee Association (SCA), a California-based nonprofit membership encompassing every element of the coffee value chain. The shared knowledge extends from farmers to baristas and roasters to owners, setting standards and certifying professionals.
Toomey has dedicated a portion of his 5,000 square foot corporate headquarters on Hempstead Highway to serving as a space offering SCA professional development, including classes, testing and certification – the only such program in Houston.
Toomey is an Authorized SCA Trainer and certified Q-grader by the Coffee Quality Institute (essentially the coffee equivalent of a sommelier). He feels a calling to shepherd the new generation, a vision very much aligned with the Basilian tenants of goodness, discipline and knowledge.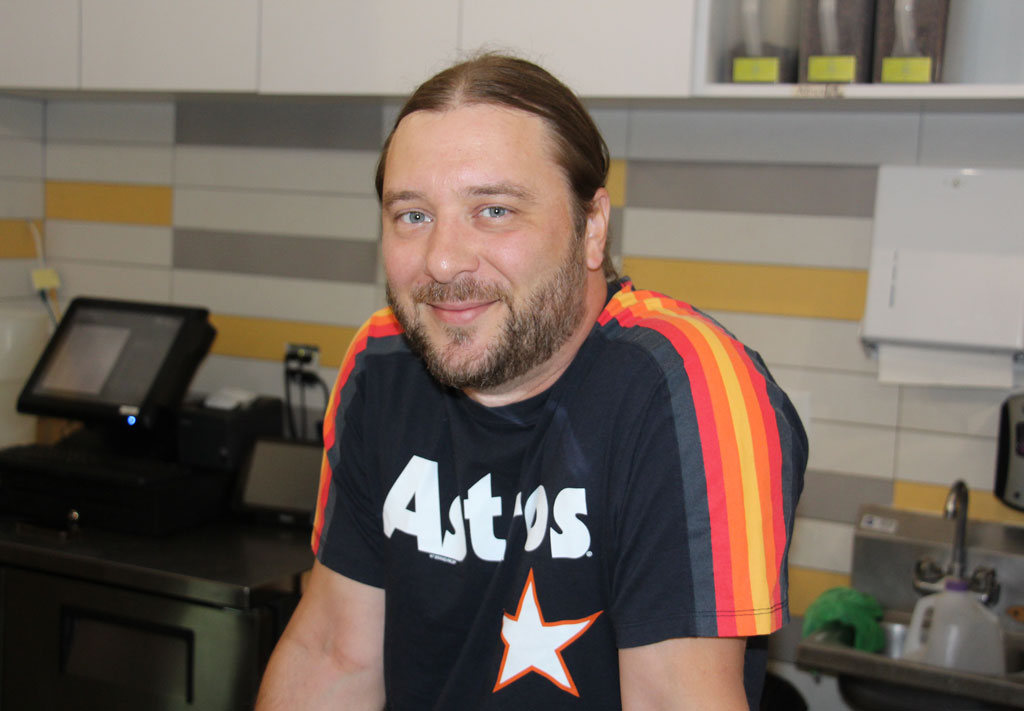 "It's a natural progression for me," Toomey says. "So many individuals have guided, mentored and facilitated my process. I intend to give back, especially for Houston coffee. There's a thirsty audience. I loved being taught, love teaching others, sharing my experience. It's the most rewarding aspect of the business for me right now. And it's a great pipeline for future talent."
It's a future where Toomey foresees St. Thomas offering a "coffee curriculum" as part of its academic inventory, including a student-operated Boomtown facility on campus which would expose Eagles to immediate and practical marketplace skills and business dynamics, plus geography, botany, agronomy and all the many links which unify the heritage and people in a global trade. Toomey would suggest all proceeds benefit Round-Up.
Preserving cultures. Crop to cup. Generation to the next.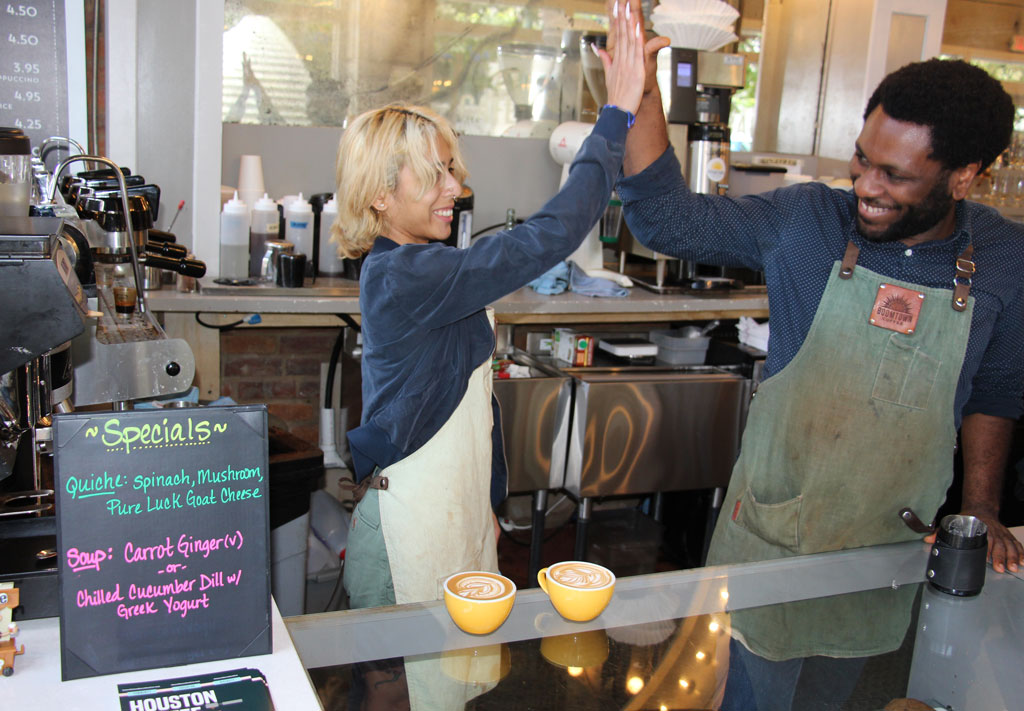 Catholic. Basilian. Teaching Goodness, Discipline and Knowledge since 1900.