Eagle Football assistant coach and former two-sport sensation at Humble High School before becoming a record-smashing quarterback at Texas A&M tackles a speed round of questions.

This summer you participated in first American Flag Football League competition featured on the NFL Network.  How did you get involved?

"Last year I was part of a mock concept to test the viability as a competition and television product.  The organizers liked what they saw and I was asked to return. Tons of fun. Anyone who has played in the backyard or in the street or at the rec center can relate."
In the first full season, your slinging for Team Ocho captained by Chad (Ochocinco) Johnson … racked 371 yards and four touchdowns leading into the semifinals of a tournament that paid $1 million to the winner.  Did Ochocinco ever return to the huddle and not yap that he was wide open?

"Never.  Not a single time.  But that's all receivers.  Maybe worse in flag because everyone but the center is eligible.  No different than third-grade recess. You get used to it.

"I actually played with Ocho in Montreal (of the Canadian Football League) and he's much different than the extreme public persona.  Reserved even at times on the field. Genuinely down to earth … good teammate … and absolutely loves and cares about the game."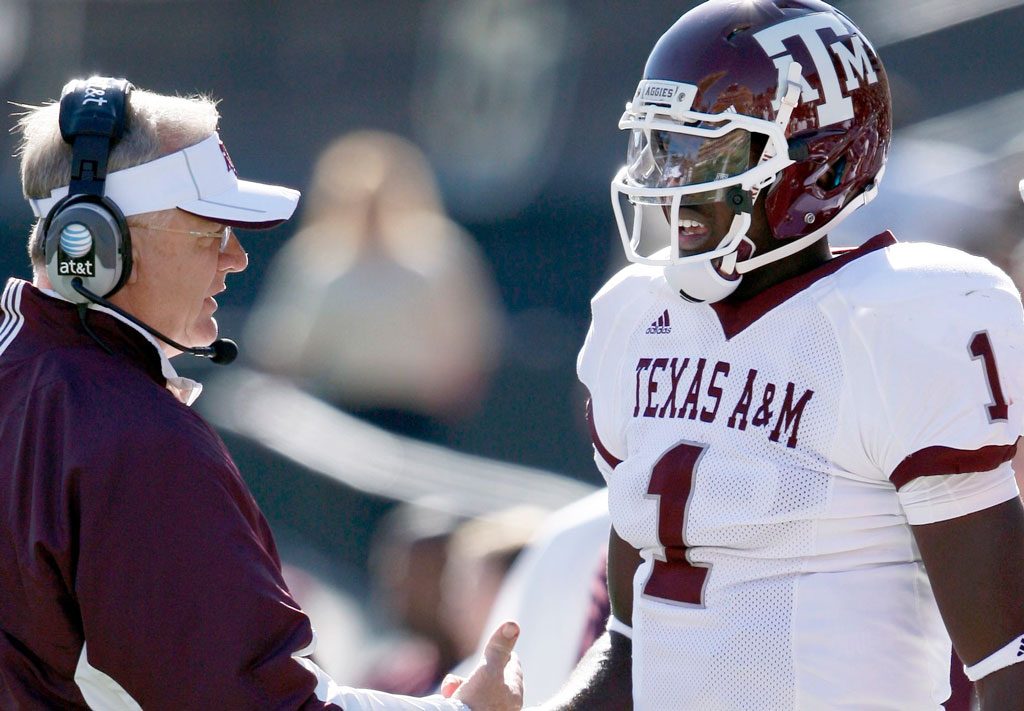 In your career at  A&M and various NFL training camps, who was the most outrageously talented teammate regardless of reputation?
"I've got three.  Von Miller at A&M.  The proverbial freak and you've seen what he's done with the Broncos.  Michael Goodson at A&M was an absolute pure football athlete … could play running back, receiver, cornerback … whatever he wanted to do anywhere on the field … just line up and go.  And Antonio Brown with the Steelers. Have never seen a receiver accelerate at full speed at any distance and make one cut and be out of his break. Insane. "

NFL game situation, quarterbacking a drive and facing third-and-12 from midfield.  What unfolds from the time you hear the play in your helmet from the sideline?

"I get Trey right, three jet, dancer, z comeback, kill, four paint.  It's formation, protection, the routes.  Kill identifies a predetermined audible to four paint.

"Trey is three receivers to the left, one to the right.  Dancer is four verticals into quadrants to evenly distribute the field.

"On first sound.  Break the huddle, the first look is to see how many safeties … that reveals backend coverage and reduces scheme possibilities.  Then, you check the body language of the corners and outside linebackers. Again, tells you what the defense won't do.

"The ball is snapped.  With two safeties, the progression is inside seam, then outside seam, and the running back.  That takes about three seconds, three-and-a-half with a really good offensive line. And you're never stationary in the pocket … always feeling pressure … sliding … finding space to move while reading the play.  In essence, you departmentalize and eliminate until you find one guy and deliver one ball. While someone is trying to hit you. With a purpose."

What's the one thing about playing quarterback that even reasonably informed rational football observers will never fully understand?

"It's all processing information in the tightest time frame.  And it's the most stimulating position in sports. Physically, mentally, emotionally … every single sensory is activated by that position."
What's the one thing about coaching in high school that even reasonably informed rational football observers will never fully understand?

"It's not about your knowledge of the game.  It's all about what you can get your players to execute consistently well.  These are teenagers … really at ground zero in terms of technique and broad knowledge … their focus can drift.  You can construct some killer game plan and 90% won't be used on Friday night. The key is to keep it simple. Coaching is not about what I know, it's all about what I can get the players to perform.  You have to tap into the physique of the player, decide how much can they absorb and execute. And then their talent becomes evident."

What's the one memorable moment from playing at A&M that will last with you forever?

"Senior Night in 2010.  I'm a second generation Aggie.  My father had passed away. I was in the tunnel next to last for introductions.  My mother and brother were waiting for me on the field where she laid my dad's jersey where he would have been standing.  I meet them and the sudden realization … this is was my goal growing up … soaking up Kyle Field one last time with 90,000 in the house … missing my father … powerful impact.  God blesses you with gifts and I think I tried to use that to the best of my ability."

What's the one memorable moment from playing at Humble that will last with you forever?

"My teammates.  Guys I grew up with starting with tee-ball at four-years-old.  My childhood best friends. We all dreamed of playing for Humble and we did at a really high level.  Sharing all those times not just in games but in practice and in the locker room and traveling. Those are still some of my closest friends.  And always will be."

What's the one memorable moment from playing basketball at Humble that will last with you forever?

"My senior year.  Home game against Kingwood.  Big district rival. They were on a state tournament streak (three consecutive years including the 2005 state title).  Our gym was packed … crazy loud … crazy hot. I played well and we won. Awesome feeling. And now that court is named after my dad (Larry Johnson Court)."

If you had bounced with hoops rather than the gridworld, how far could you have taken your career?

"I really believe I could have played professionally,  internationally if not the NBA.  Basketball was my first college scholarship offer.  I played Houston Hoops (travel team AAU) with Nic Wise (Kingwood and Arizona), Mike Singletary (Kingwood and Texas Tech), Jai Lucas (Bellaire and Texas), Dariss Santee (Fort Bend Marshall and Nevada Las Vegas), Pierre Beasley (Westfield and Rice football).  We competed all over the United States and won. My freshman year (at A&M) I joined the team in January (2007) when they were ranked number nine in the country with (All-American) Acie Law.  I was a big guard who could shoot with range, slash from the wing. I chose football because I believed I had a better chance to be dominant in that sport.  Not one single regret. I made the right decision."
Catholic. Basilian. Teaching Goodness, Discipline and Knowledge since 1900.