Blazek Skucius '20 raced to a top-10 finish while Travis Enochs '20, Nicholas Chandler '20 and Joseph Romero '22 all contributed sizzling times to pace Eagle Cross Country to a second-place result at the TAPPS 6A State Championships at the Cottonwood Creek Golf Course in Waco.
St. Thomas placed four runners in the top 25 to decidedly distance themselves from the field, scoring 96 points behind San Antonio Antonian College Prep.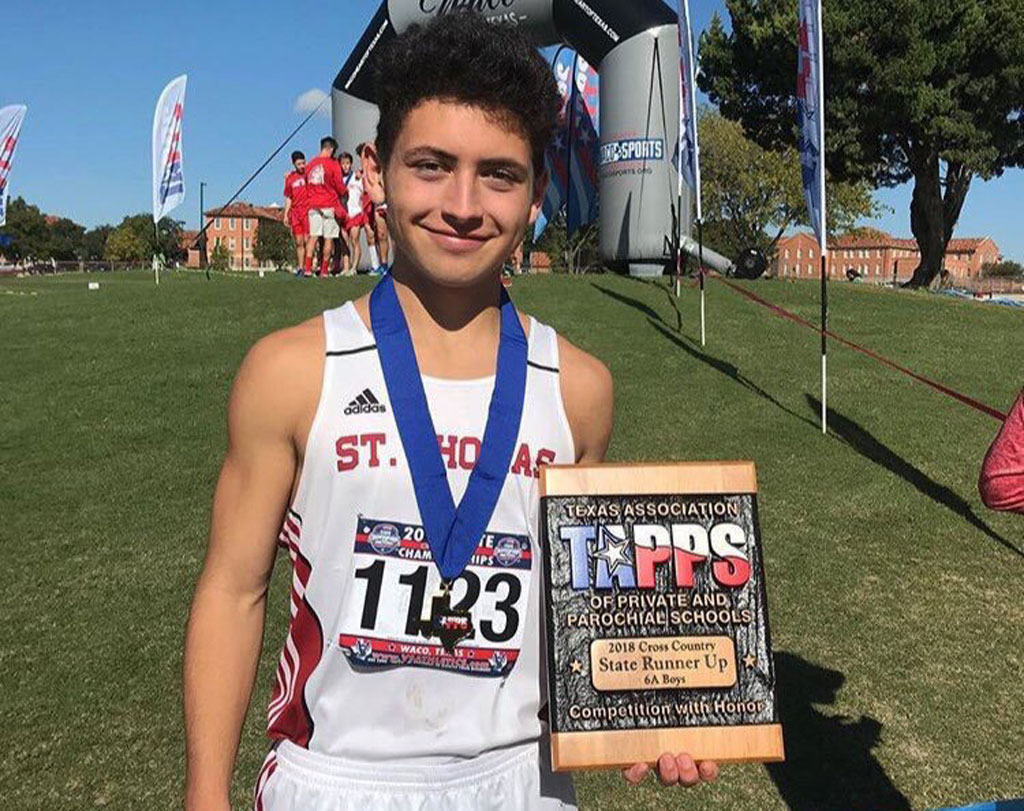 Skucius was timed over the 5,000-meter course in 17:32.1 for 10th place, followed by Enochs in 17:40.8 for 14th, Chandler in 17:44.2 for 16th and Romero in 17:53.5 for 22nd.
Isaiah Garza '20 (18:19.5) and Kenneth Van Doren '19 (18:44.2) added solid performances.
"These races are by nature, unpredictable, so you really have to go out and prepare for anything," head coach Nathan Labus said. "When we came down to it, we were strong and that's what it takes to push for a state championship. You have to have great emotional control, stay calm and cool. We have an outstanding team, a group who all think that way, to seize the moment every time we have an opportunity and make the most of it."
Previously Skucius, Enochs, Chandler and Romero surged to the top to dominate the district championship sweeping the four-top places at Spring Creek Park in Tomball.  Skucius outraced the 5,000-meter field in 16:50.95 followed by Enochs (16:52.86), Chandler (17:23.22) and Romero (17:31.31) as the Eagles easily separated from runner-up St. Pius X, The Village, St. John XXIII and Tomball Concordia Lutheran.
The latest state results concluded a commanding season in the 14th campaign for Labus who has been associated with the program for a near quarter century.
Enochs delivered a top-10 finish that pushed the Eagles to a ninth-place result at the prestigious Friday Night Lights 4K event hosted by The Woodlands in August. Skucius (14:20) and Emilio Castaneda '21 (14:20.9) added top-30 places among more than 225 runners.
The Enochs-Skucius tag-team then produced the top-two Eagle times in a pair of impressive runner-up team results, first the Houston Christian Dave Jentzen Invitational, then the Houston Baptist Cross Country Carnival where St. Thomas out-performed a field filled with UIL 6A programs.
The Eagles opened the campaign taking third place at the 10th Annual IWA Invitational behind Skucius (seventh), Enochs (14th) and Castaneda (15th), and later won the 5K St. Thomas Episcopal Invitational behind a 1-2-3 takeover from Enochs (17:43.13), Skucius (17:51.50) and Chander (18:16.27).
Eagle Fight Never Dies!