St. Thomas language dean Danny Hernandez '08 tackles a speed round of questions.
Your family relocated to Houston in 1994 from Los Angeles when you were four years old to start what has become the city's Arandas Bakery brand. How great is it growing up with an endless supply of empanadas, orejas, cookies and cakes?
"Honestly, when you're surrounded by sweets every day the attraction tends to pale. The temptation to overindulge really wasn't there."
Your parents Jesus and Maria Elena still manage the original franchise on Beechnut St. and Gessner Rd. You and your brother Ricky (class of 2001) worked the bakery through your St. Thomas years. How often are you allowed to call in sick when mom and dad are the bosses?
"Not often. When I earned my drivers license I became the delivery boy. It wasn't the typical high school weekend routine but the hours definitely taught me a responsibility and work ethic that I carry today."
You're an unabashed lifetime Dodgers fan and were not the least bit swayed by your city's allegiance in last year's World Series. How much grief did you absorb especially given the ultimate outcome?
"I got it in large doses. I let it be known whom I was pulling for. The students see Dodger gear in my classroom. My screensaver is Dodger Stadium. But if it's not my guys taking the title at least it was the Astros who came out on top. This season (losing to the Red Sox in five games) was much more painful to accept."
You graduated from the University of San Diego studying Spanish and theology. Calibrate the difficulty of earning a four-year degree when the campus provides panoramic views of the Pacific Ocean.
"The beach came calling every day. My roommate was a surfer dude right out of central casting … blond hair, swim trucks and flips flops. He was grossly disappointed when I moved in as a freshman and didn't have the Stetson, cowboy boots and extra large belt buckle. He wondered where was the accent. He took me surfing early on and I never went back … a memorable experience that I never wished to repeat."
Your next stop was bight lights, big city.  Well, Brooklyn, for a teaching position with Jesuit Prep in the shadows of Prospect Heights and then graduate school at Boston College. How did you somehow some way survive life with the Jesuits and live to tell?
"Not terribly difficult given the surroundings. I lived in Bed-Stuy (Bedford-Stuyvesant, neighborhood home once to Jay-Z, Norah Jones, Bobby Fischer, Tracy Morgan, Mos Def and assorted acclaimed hoopsters) in a brownstone on a street that rolls right out of a movie scene. The neighborhood is in transition … gentrification … updated housing, walkable streets, express subway lines to Manhattan. It's now maybe the next Park Slope and Williamsburg.
"Great food and great times in Boston despite a record snowfall my first year and one of the coldest winters on record. The snow was stacked so high they created a tunnel covering the sidewalk. They ran out of places to plow so they dumped snow into Boston Harbor which was illegal but they had no choice."
So from West Coast to East Coast back to Gulf Coast but the travel lust has continued. Central America, Europe, South Africa, Morocco, the Bahamas among wide-ranging itineraries. What's the ab fab fave destination?
"Istanbul, Turkey. I've been there three times … the latest two summers ago in 2016 with my college and New York roommate Naveed Fazal (class of 2008). We stopped for three nights on the way to Moscow and St. Petersburg, Russia. I find the culture … the food … the history … the people fascinating and intriguing."
You've witnessed four World Cups up close and personal – Japan in 2002, Germany in 2006, South Africa in 2010 and Brazil in 2014. What's the takeaway moment other than Mexico never escaping the Round of 16?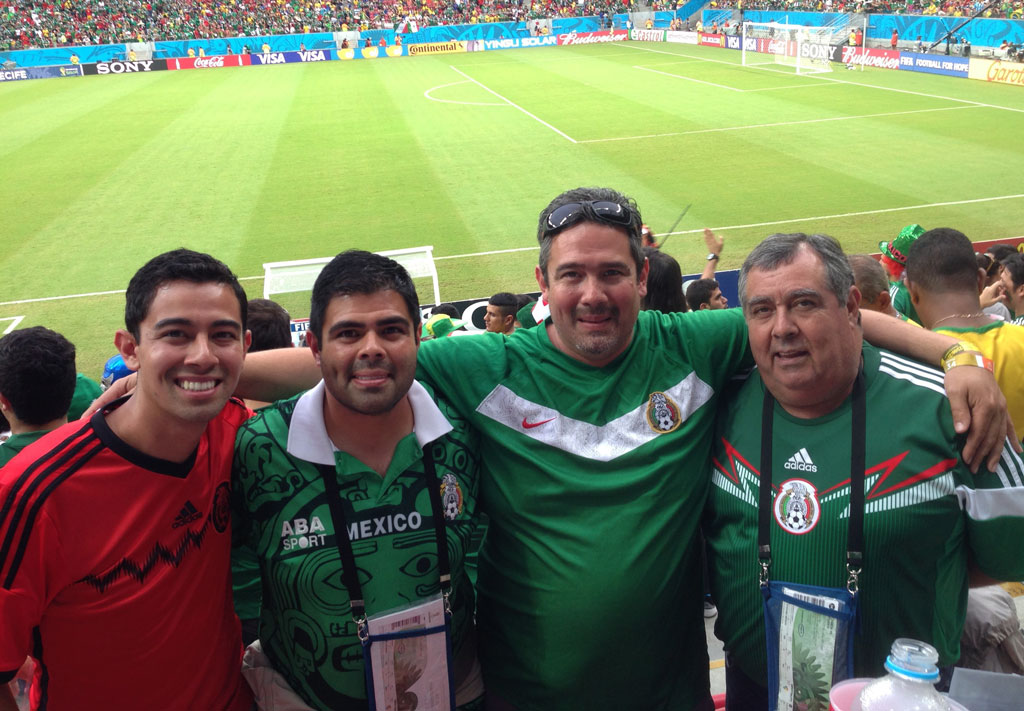 "In a group of four and losing my father in Brazil. We were to meet at our seats. The game started. He's not there. We had cell phones but they weren't active. We begin to search among the throng. Finally, I spot him one section over from ours … same row … sitting by himself enjoying the game while we were frantically tracking him. And Mexico lost to Uruguay 1-0."
In 2012 you completed the Camino de Santiago or Way of St. James, one of the most prominent and profound pilgrimages that dates to the Middle Ages. What has remained impactful about that experience?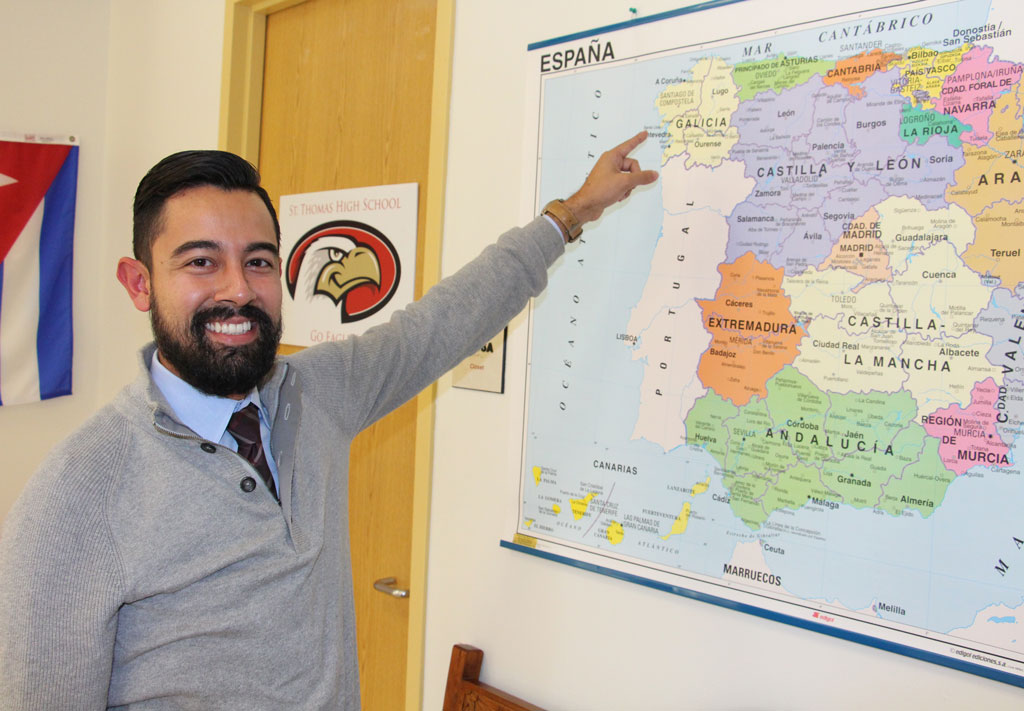 "It's 500 miles over 33 days … various terrain and elevation carrying a 25-30 pound pack … starting in the French Pyrenees to the cathedral in Galicia in northwestern Spain believed to be the final resting place of the apostle St. James. I went with two college friends almost at the spur of the moment . It's remarkable the array of people you encounter on the route … a vice president from Miami … a California highway patrolman … all walks of life and faith. You gain an understanding that people and the struggles we all encounter are not that different."
St. Thomas is your second teaching position. You're also assisting Nathan Labus in Eagle Cross Country, your coach in high school not so long ago. What do you remember from those 6:00 a.m. wake-ups way back when Fr. Kevin Storey would also run with the pack?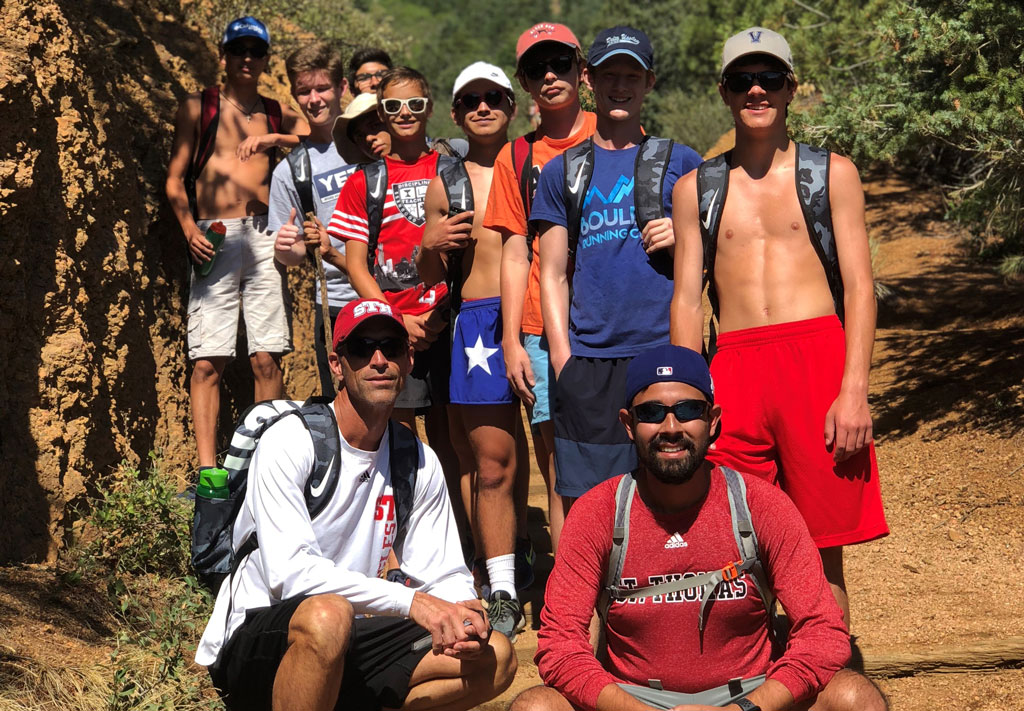 "Coach Labus hasn't changed at all … still calm, chill, down to earth. I found it interesting this summer on our Colorado trip that he saw himself as not a strong demonstrative motivator. I believe his personality is actually a strength given the nature of runners and the sport. It's not about loud confrontational tactics.
"Father Storey has also remained intact as a person … upbeat, optimistic, confident. Except that he doesn't show any more for the miles … blames his knees but I know he's slowing down. Just kidding. Mostly."
You own a Porsche. When I think Porsche, I think 911. Or Boxster. Maybe Carrera GT. Always faster than advisable. I think Tom Cruise in Risky Business.  I don't think SUV crossover. What's up with the Macan?
"It's more practical than a sports car. Perhaps urban focused. I like SUVs and had a friend who knew the general manager at the dealership. The terms were favorable … too hard to say no. I was living at home with my parents (in 2016) saving money to buy a house. I bought a car. A Porsche. The first car I have ever owned. And now I have the house, too."
So as an incentive to your Spanish students, if they break the necessary academic threshold, you'll of course allow them to take the Macan for a healthy stretch along the Hardy Tollway providing they keep the Ferris Bueller antics to a minimum.  And before you respond, yes, that was a second early 1980s flashback of teenage hijinks through American suburbia.
"Of course. Not happening."
Catholic. Basilian. Teaching Goodness, Discipline and Knowledge since 1900.