In the summer of 2017, Josh Wolf '19 was prepped for an elite California baseball tournament playing for a Prospects National team filled with high caliber hotshots from throughout Texas. He sought out the only other Houston-area representative – a long tall talent from Huffman named Brody Logsdon.
"We met at the airport. He was traveling alone and I was with my dad," Wolf says. "Brody and I started talking, built a relationship on the trip and stayed in touch. I told him about the advantages of attending St. Thomas and that he should consider making the move. He and his family looked into it.  And he did."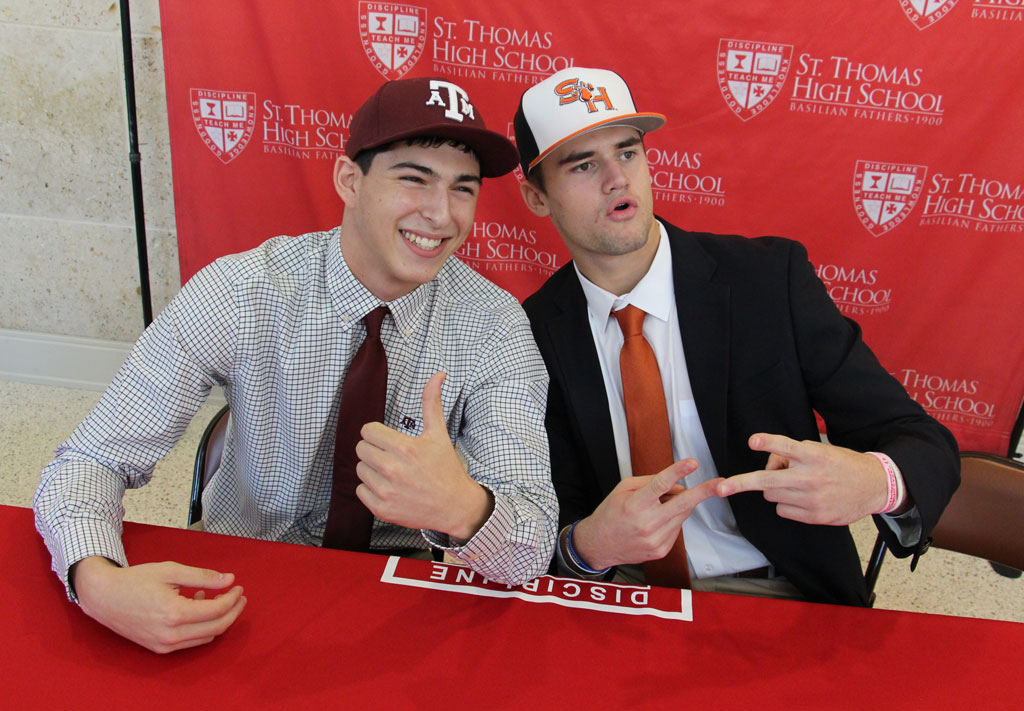 Fast forward to the second Wednesday in November 2018. Wolf and Logsdon were, in fact, Eagle teammates paired as part of the next wave, their childhood aspirations churning into reality. The two were side by side celebrated in the St. Thomas Hall of Honor on National Signing Day, brothers in arms plotting separate collegiate courses – Wolf to Texas A&M University and Logsdon to Sam Houston State University.
Wolf cemented a decision determined one year ago well before the first pitch of his junior season. Logsdon's fate took shape only in the previous few weeks during an unofficial visit to the Huntsville campus.
"There's a togetherness at Sam Houston that's difficult to describe but you feel it, an accountability that pushes players to be their best," Logsdon said. "The values in place are my values, such a great fit with the coaches and players. I've worked so hard to reach this point and it's awesome to have my family and friends here, so many who have supported me on the journey."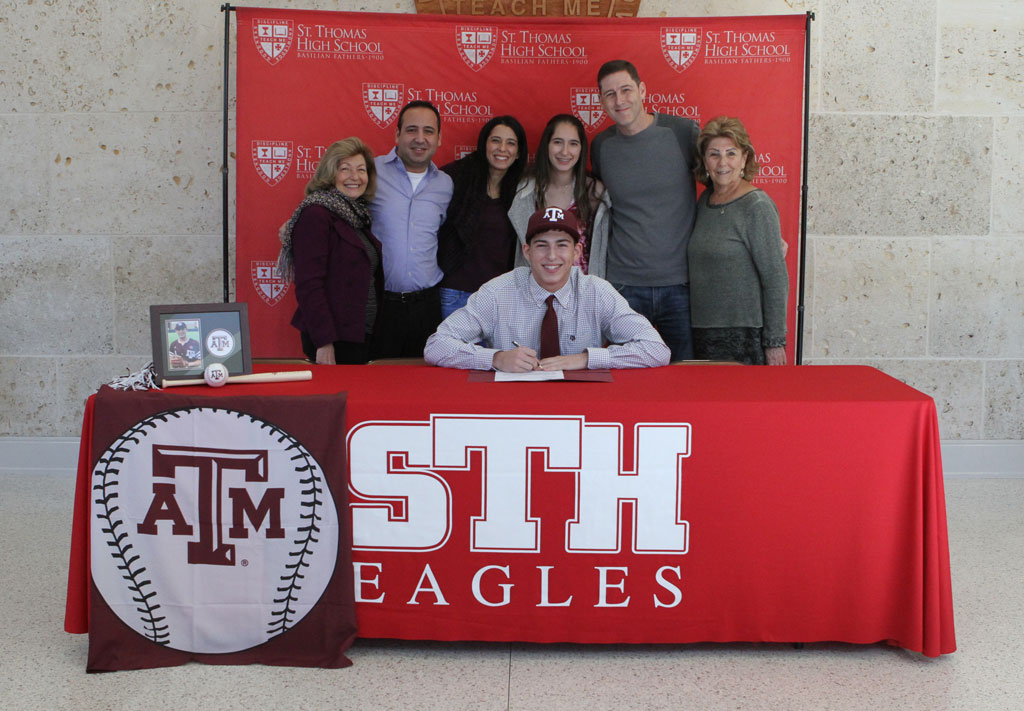 Even though Wolf confirmed a verbal pledge made to A&M in November 2017, the letter of intent pomp and circumstance was hardly anticlimactic.
"I'm very excited to officially be an Aggie," Wolf said. "It's a dream come true. The verbal is a big deal but there's nothing like putting the pen to the paper and knowing for sure. This is a tremendous thrill knowing all the hard work has paid off."
The shared distinction for the selfless Wolf and Logsdon was coupled with equal individual doses of satisfaction and exhilaration, matches of emotion underscoring the unlikely odds of a hard-throwing pitcher from inner-city Bellaire teaming late in his high school career with the multi-dimensional whiz from the northeast corner of Harris County.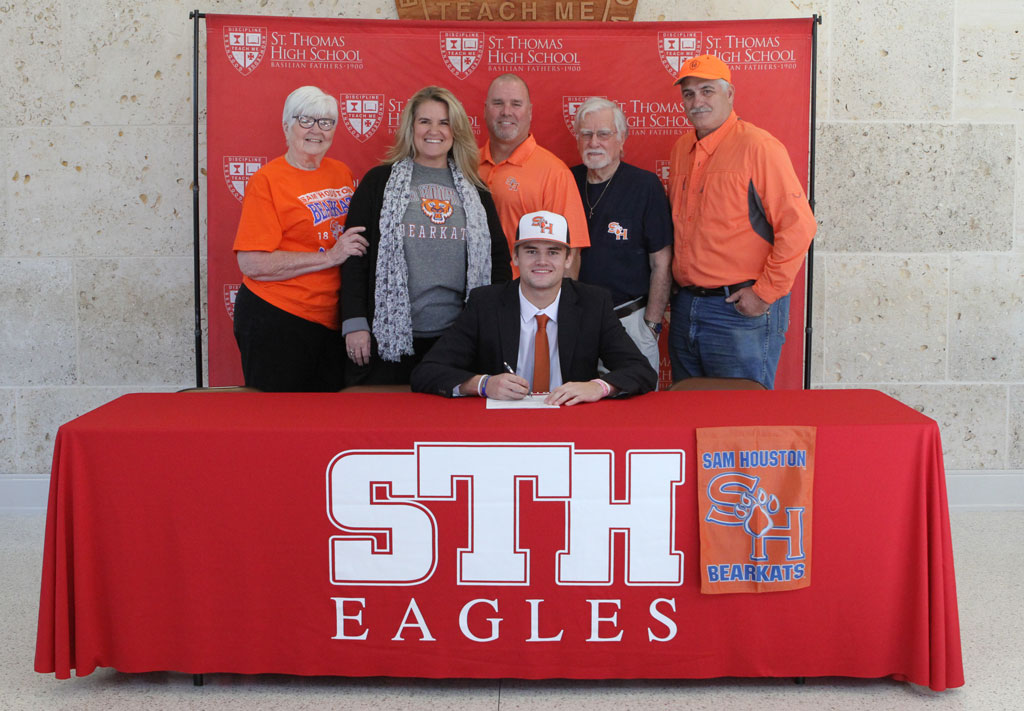 Logsdon's arrival at St. Thomas demanded he embrace the strict balance of rigorous academics and demanding athletics. The transition was not without significant family sacrifice beyond the one-hour one-way commutes. But Logsdon delivered a steadfast drive and discipline, and his acute desire for the complete student experience has paid the rightful dividends.
"I wanted to surround myself with guys who were determined to be successful, that drive to be a good student, a good teammate, a good person, a good man," Logsdon said. "It can take a toll, the early mornings and late nights. But I cannot tell you how much this means to me, not just in the classroom, not just in baseball, but I have a group of friends whom I will have forever. Coming to St. Thomas is the best move I could have made and I'll be forever thankful."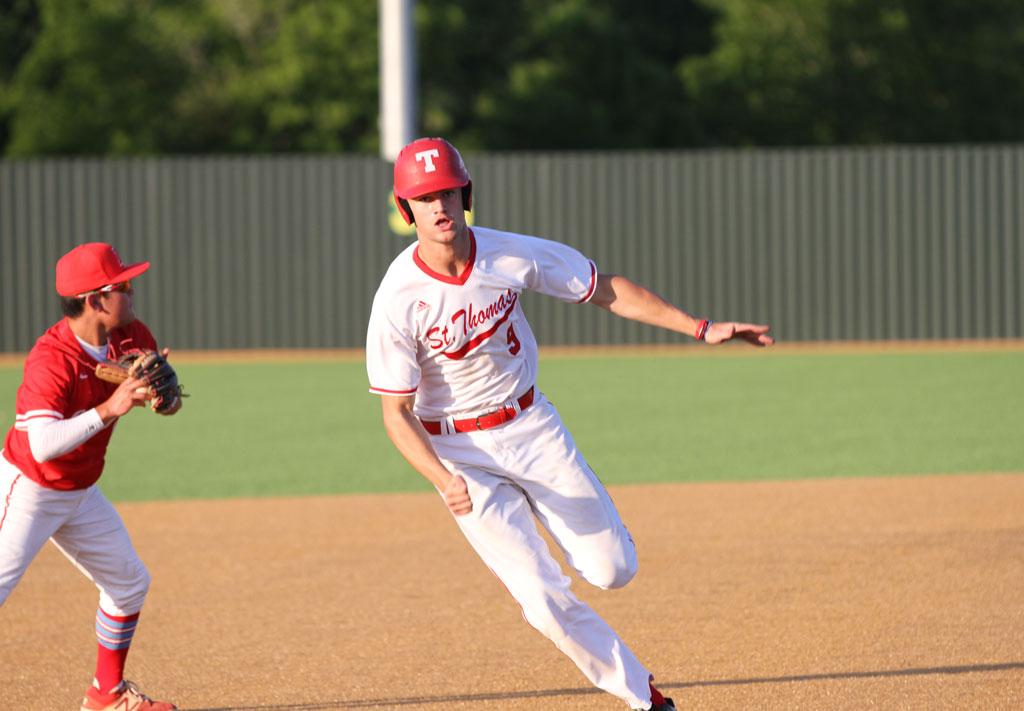 Sam Houston head coach Matt Deggs says that the 6-7 220 pound Logsdon "is a very intriguing player. You don't usually find baseball players with the combination of size and athleticism that he possesses, but there's a reason he's ranked as one of the top 150 players in the state. The kid can play and he's just now scratching the surface of his ability. Brody creates a lot of leverage and power in his swing with that frame. He's has a chance to be very dynamic for us offensively. He has plus arm strength from the outfield, is very accurate and is also 90-plus off the mound. We're incredibly excited about Brody and the intangibles that he brings."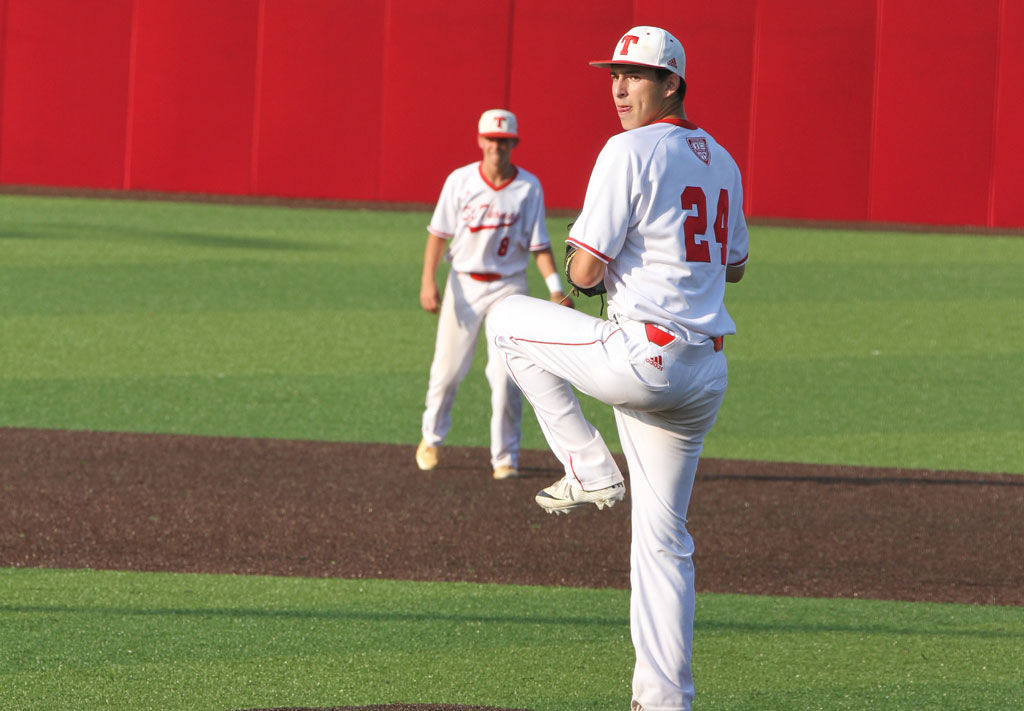 Wolf (4-1 record with a 1.06 ERA and 53 strikeouts in 39.1 innings as a junior) joins an Aggie recruiting class for 2020 listed as the No. 12 recruiting class in the country by Baseball America as the program aims to pivot within the most highly competitive conference in the country. The future competition figures to be fierce as the SEC produced the top-ranked class in 2019, owning the top spot for the eighth straight year and three of the top-five classes (LSU, Vanderbilt and Florida). The Aggies 18-player group was rated no. 7 in the nation. The Aggies signed an 18-player group rated no. 7 in the nation and then finished the 2018 campaign with a 40-22 mark, making their 34th NCAA Championship appearance overall and their 12th in a row.

A&M's recruiting coordinator Justin Seeley sees Wolf with "wipeout stuff when he is attacking the zone. The strides he has made over the last couple of years are a testament to his work habits and will to be great at his craft."
Since staking his claim for College Station Wolf has stayed staunch to a strict nutritional plan and weight room regime that has added 20 pounds to his 6-2 frame and physique that is still developing. He's pumped his velocity into the low 90s with a tighter-spinning sharper-breaking curveball that remains his payoff pitch.
During the previous two years, Wolf and Logsdon excelled in a series of summer showcase events, both earning Perfect Game All-American honors. The two were selected for the USA Baseball States Play Games in Arlington, Major League Baseball's Prospect Development Pipeline, the Texas Rangers Area Code Games and the 2018 HABCA Houston All-Star Game.
At the 17U Perfect Game World Series in July, Wolf cruised through five and a third innings, striking out eight hitters while allowing only an unearned run. By the end of the summer, he was ranked 126th overall in the 2019 class, 13th overall in the talent-rich state of Texas and among the top five recruits for A&M.
"You always have to believe you're the best out there, otherwise you're not going to succeed," Wolf said. "I have that attitude every time I have the chance. It's not often in the summer you have extended outings to show your stuff. You have to make the most of limited opportunities and ride through some adversity when times get a bit tough."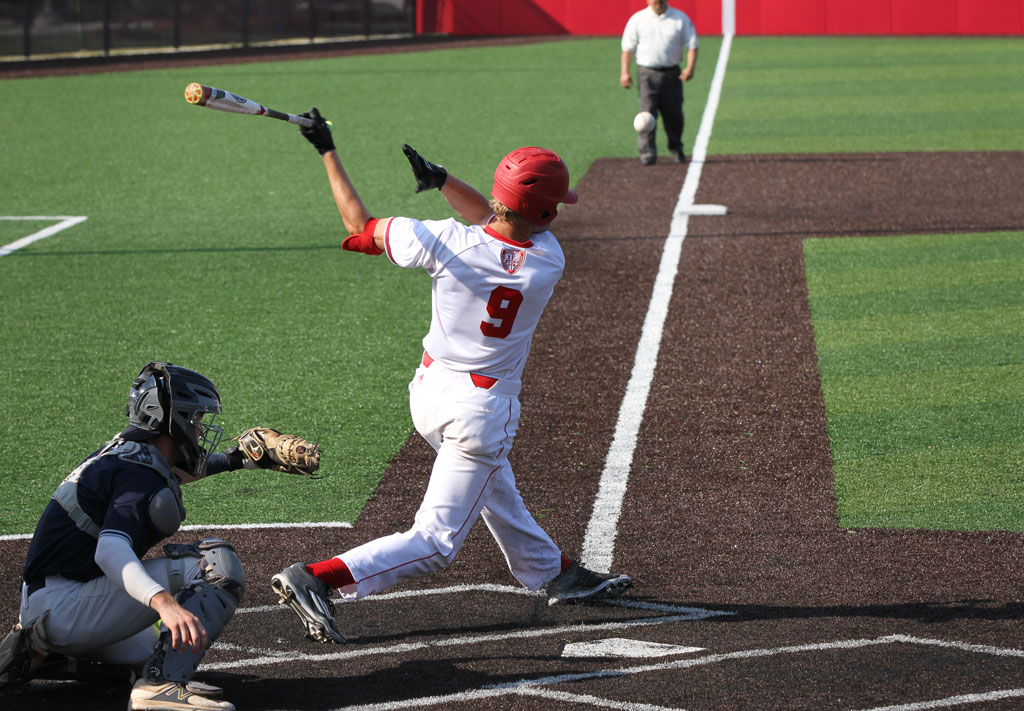 Logsdon believes the showcase experiences allowed him to "developed the proper mental approach and identify who I am as a player and who I am not. Physically I've gained strength. I've learned to focus on what you can control and let your ability play out. Consistency is the key. I always to want to leave the impression that I bring my best every single day against whomever I'm matched against."
With their immediate college baseball futures secure, Logsdon and Wolf are determined to make the most of their Eagle finales in the first go-round with new head coach Adam Massiatte. As juniors in 2018 both were key cogs in the latest in a long series of St. Thomas state championship contenders.  Logsdon drove in four runs as the late-inning playoff hero against San Antonio Antonian College Prep as Eagle Baseball vaulted to its eighth state Final Four in nine years.
Yet it's not too terribly outrageous to stare into hardball's crystal ball and see Wolf's Aggies and Logsdon's Bearkats deep in an upcoming NCAA postseason party, each side harboring diamond dreams of the College World Series. And, perhaps, the outcome will be determined by a ninth-inning two-out two-strike showdown with a particular right-hander throwing filth from the mound and a firmly riveted thunder bat at the plate with the stakes stacked to the highest.
"I'm taking him deep, no doubt," Logsdon said without a hiccup of hesitation. "Over the fence. He knows that."
Not surprisingly Wolf sees a decidedly different mano-a-mano outcome.
"Strike out right here. He's my best friend but he's not my best friend when he's in the box."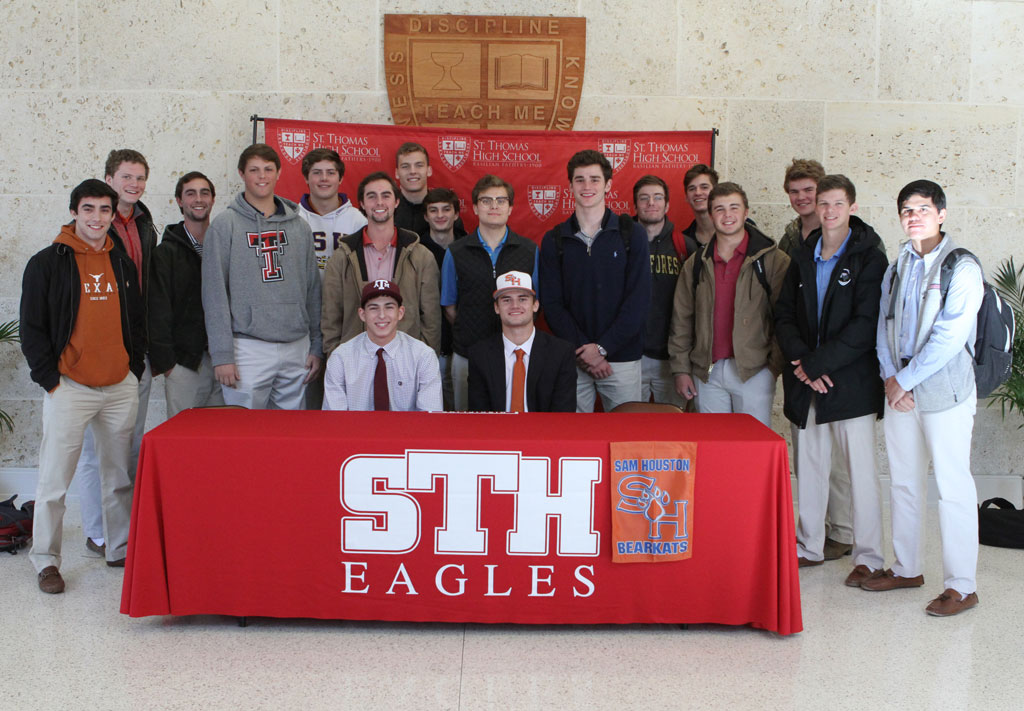 Eagle Fight Never Dies!