Peyton Matocha '19 has long performed as if born for the storm, commanding a calm in the tsunami of defensive duress essential to football's mission critical position.
As if he were somehow destined for a future in the swirl of Hurricanes.
Matocha's unquestioned inner quality became ever more valuable throughout his scintillating senior season, as the weeks passed and the yardage totals pinballed and records were erased with equal measures of poise, purpose and flamboyance.
And the collective take from college football masterminds near and far gearing for the future was not nearly as torrid as Matocha's scorching Friday night assaults.
Frigid even.
But Matocha simply sought to peer through the proper prism to ponder his potential. He never wavered and proceeded as he had through three consecutive seasons as the Eagles' starting quarterback taking direct snaps from the shotguns – survey the landscape, narrow the options and instinctively select the correct choice while in the frantic turbulence of chaos and confusion.
"Throughout this process, I believed that God had a plan for me, " Matocha says. "And I've always believed that the only person who can stop me is myself. I was never going to allow that to happen."
What did happen, just as the National Signing Day approached to cap the coast-to-coast carnival of frenzied football recruiting, was Matocha hiding in plain sight. And primed to pounce was a new coaching regime with running orders to restore a dynasty in decline.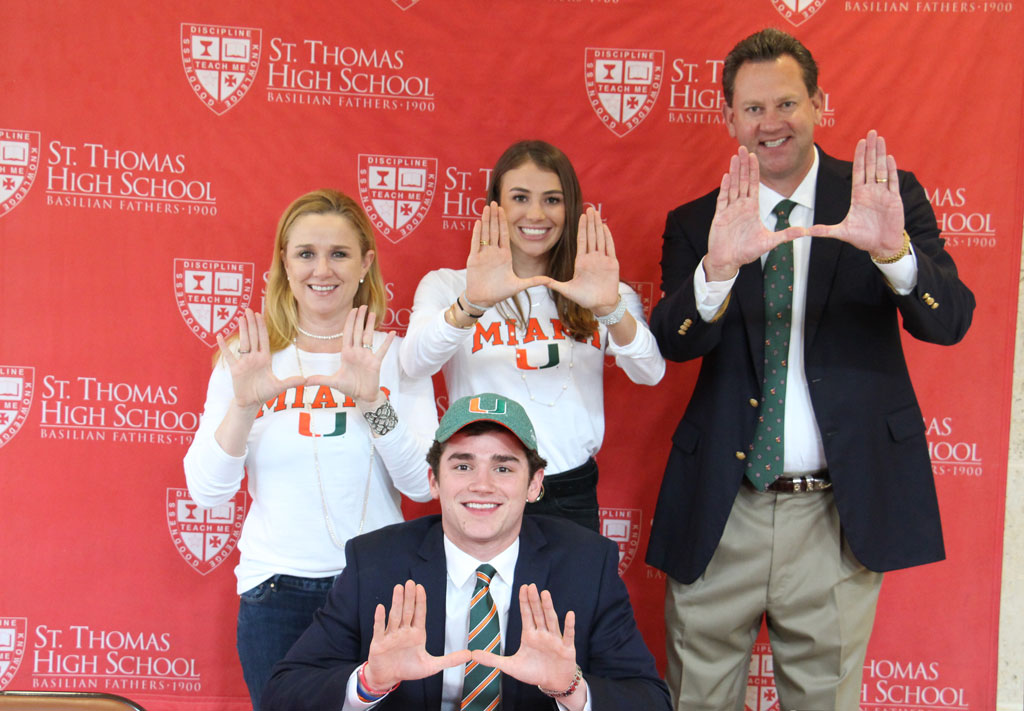 Matocha signed his National Letter of Intent with the University of Miami as the No. 24 dual-threat prospect in the 247Sports composite rankings. The mutual interest spiked two weeks after Manny Diaz was announced on December 30 as the new head coach when longtime offensive guru Dan Enos joined the staff as coordinator and quarterback coach. He spent the previous season tutoring Alabama sensation Tua Tagovailoa into the Crimson Tide's fourth consecutive College Football Playoff title game and was slotted to become the new offensive chief for Nick Saban with a deep stable of talented Tide game-breakers. Instead, Enos opted to join Diaz in a rebuild at Miami.
In mid-January Enos quickly connected with Matocha with a scholarship offer. After his official visit to Coral Gables Matocha responded with his verbal commitment to the Hurricanes.
Extremely excited to announce that I am COMMITTED to the University of Miami!! #TheU🌴 #TNM pic.twitter.com/XTRocRGRZz

— Peyton Matocha (@peyton_matocha) January 27, 2019
"As soon as (Enos) got to Miami he said I was the first guy on his board," Matocha says. "He called me right after he got the job and came to watch me throw to make sure I had what he was looking for. I guess I checked all the boxes."
The two first became acquainted when Matocha participated as a St. Thomas sophomore in summer camps at the University of Arkansas when Enos was the offensive coordinator. Matocha is intrigued by more than two decades of elite college coaching experience with skill position players. From 2015-17 Enos' offenses set Razorback school records masterminding under Bret Bielema with quarterbacks Brandon and Austin Allen. Enos also mentored NFL veterans Drew Stanton and Brian Hoyer while an assistant at his alma mater Michigan St.
"I'm so excited to get to Miami and compete," Matocha says. "And if I'm not the one playing, the guy who is will get pushed hard. That's who I am as a person and that's the kind of leadership I hope to bring."
Matocha is astutely aware that Enos routinely adjusts his approach to flexibly fit the personnel and owns a renown reputation for improving a quarterback's preparation and precision – drops, feet, eyes, recognition, motion, delivery, efficiency.
"There is not a better developer of quarterbacks in the country to help me get to where I want to be," Matocha said. "There's no doubt I'll be pushed in a way I never have before given the quality of players already in that program. I can't wait to get started."
Lone Star State ➡️ 🏝#WelcomeToTheU, @peyton_matocha! pic.twitter.com/Jb97J8bPGZ

— Canes Football (@CanesFootball) February 6, 2019
Matocha heads to the once college football kingpin aiming to recapture the halcyon years of Jimmy Johnson, Dennis Erickson and the early millennium. The 'Canes struggled with quarterback play throughout a disappointing 7-6 season in 2018 – ranked No. 104 in total offense of 129 FBS teams and 112th in passing.
In the modern game, the quarterback is all-important. Diaz sees Matocha as a perfect fit as the most vital presence on the field where it's more than just throwing and catching and winning games.  It's chemistry and leadership, and comfort and cohesiveness. It's directing the show and lighting motivational fires.
"(Peyton) was absolutely dominant his senior year," Diaz says. "He comes from a very athletic family. He's a (two-time TAPPS state champion) high jumper. When you look at the intangibles of how we want to build our quarterback room … he's smart, tough, loves ball, wants to think the game out. He will really re-shape the position here at Miami."
Matocha's staggering senior send-off is summed up as jaw-droppingly impressive and unprecedented in St. Thomas history – a single-season school-record 3,697 passing yards with 35 touchdowns plus 787 rushing yards and 14 more scores.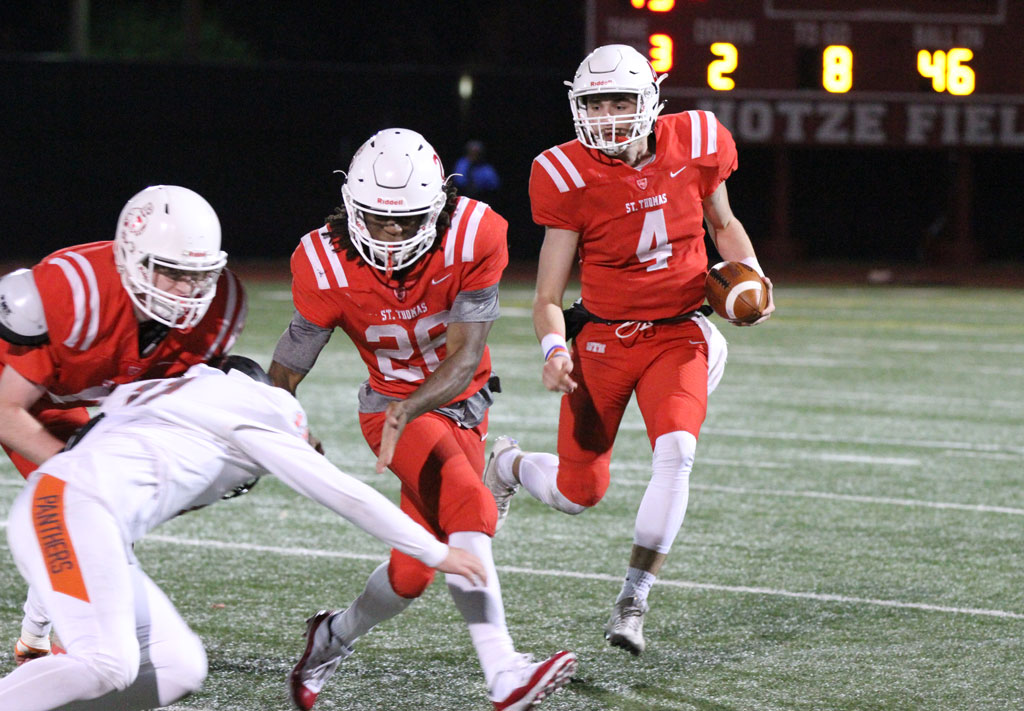 And Matocha was never more majestic than in his 33rd consecutive start and final regular-season home game with the stakes stacked highest against generational rival St. Pius X. His primo performance fronting a full orchestra of versatile game-changers ranks among the best and brightest in the friendly hatred series – 416 yards and seven jaw-dropping touchdowns. The pyrotechnics included four scores in a whirlwind third quarter when Eagle Football seized control and rallied for a stunning 52-49 shootout that reclaimed the district championship, a fifth in seven years.
Throughout the campaign, with execution as surgical as it was explosive, Matocha played majordomo to a crew who proved to be difference-makers in different moments.
The offensive onslaught included:
435 yards and four touchdowns in a 52-32 scoring spree against Plano John Paul II that produced the first St. Thomas playoff victory since 2015
326 yards and four touchdowns that closed the season and his career in a 42-35 defeat against the Dallas Bishop Lynch in the TAPPS 6A regional final
489 total yards and eight touchdowns against Kinkaid
573 total yards and six touchdowns against UIL Needville
362 total yards and three touchdowns against UIL China Spring
445 total yards and four touchdowns in the 28-21 win at UIL Stafford
384 total yards and four touchdowns in the 42-27 victory at Tomball Concordia Lutheran to launch the district race
At season's end, Matocha had incited a raucous Eagle resurgence, a revival tour that posted the first St. Thomas playoff victory since 2015.  All while rocking a robust 42 points per game. The final high school salute was recognition by the Touchdown Club of Houston as the private school co-Offensive Player of the Year.
And now for Matocha is the move to Miami. Peyton the realist understands the next path to stardom, let alone starting, can be circuitous, and college prep pedigree does not necessarily correlate with campus gridworld success. But he advances undaunted while still humble and hungry, confident in applying his full fixed focus on the future, the next stage in continuing his career however that opportunity best presents itself.
"I truly appreciate my family and the coaches for all their sacrifices that have helped me reach this position," Matocha says. "I'm blessed. I couldn't ask for a better situation."
Eagle Fight Never Dies!