This article originally appeared June 2018.  
The ultimate test of any academic institution is the quality and character of its graduates.
Honors student Chase Shanley '18 proved exemplary in leadership excellence and academic distinction throughout his St. Thomas career, and now aims to apply his skills and direct his desires to duty, honor and country at The Citadel.
Shanley graciously accepted a four-year academic award worth nearly $170,000 to attend The Military College of South Carolina through the Army's Reserve Officer Training Corps (ROTC) scholarship program.
"The Army brotherhood is a chance to prove my strengths as a leader and serve the United States," Shanley says. "This is the greatest country in the world. We are all so privileged to live here. And for me, there's such a sense of pride every time I see the flag, what that represents and what I hope to protect."
The Citadel was founded in 1842, and through three different centuries graduates have answered the call to serve.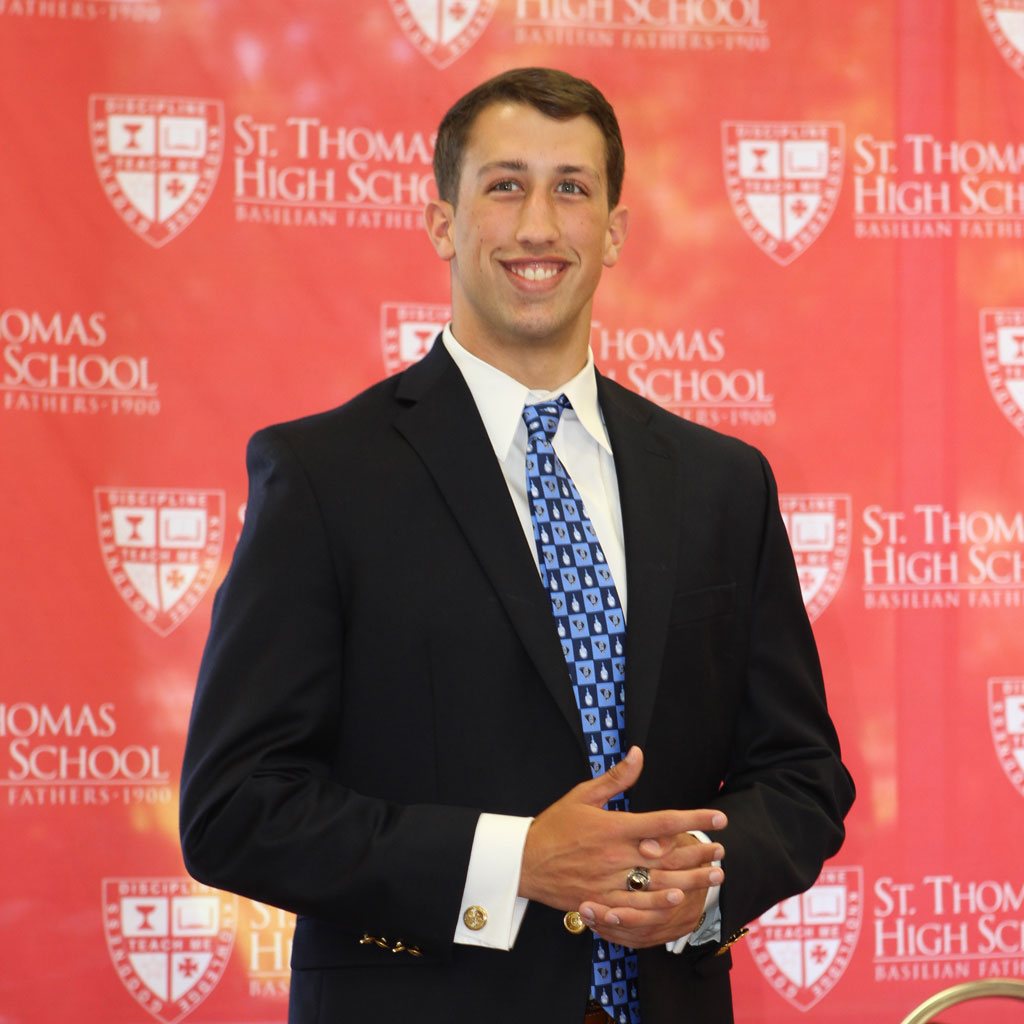 Shanley fully expects to be among the approximately 30 percent of each class which historically earns commissions to become military officers upon graduation.
Shanley is entering The Citadel in the midst of unprecedented growth and acclaim, including the 2007 MacArthur Award as the best large college ROTC program in the East.
For seven consecutive years, The Citadel has earned the title of no. 1 Public College in the South offering up to a master's degree from U.S. News & World Report.
In lockstep with a growing focus on global learning and diverse study abroad programs was the college's most ambitious fundraising effort completed to celebrate its 175-year anniversary – a record-breaking total of more than $250 million to enhance the cadet experience, intellectual excellence, athletics, facilities and strategic growth, including nearly $20 million into academic endowment.
Shanley is particularly intrigued by the recent launch of the Swain Department of Nursing and the opportunity to train as an undergraduate at a wide variety of Army hospitals through the United States or Germany.
[CLICK HERE FOR THE EAGLES' NEST SPRING 2018]
First Shanley readies for the trials immediately on his horizon … the drills, the physical demands, the mental exhaustion. And what could be best described as the esprit de corps that those who enter The Citadel have come to expect for generations.
"The camaraderie among the cadets is very similar to what we experienced at St. Thomas," Shanley says. "We challenged each other … hyped each other … and when it was time we had each other's backs to get through tough times."
All branches of the United States military are represented on The Citadel campus in ROTC detachments. Personnel are an active part of the experience.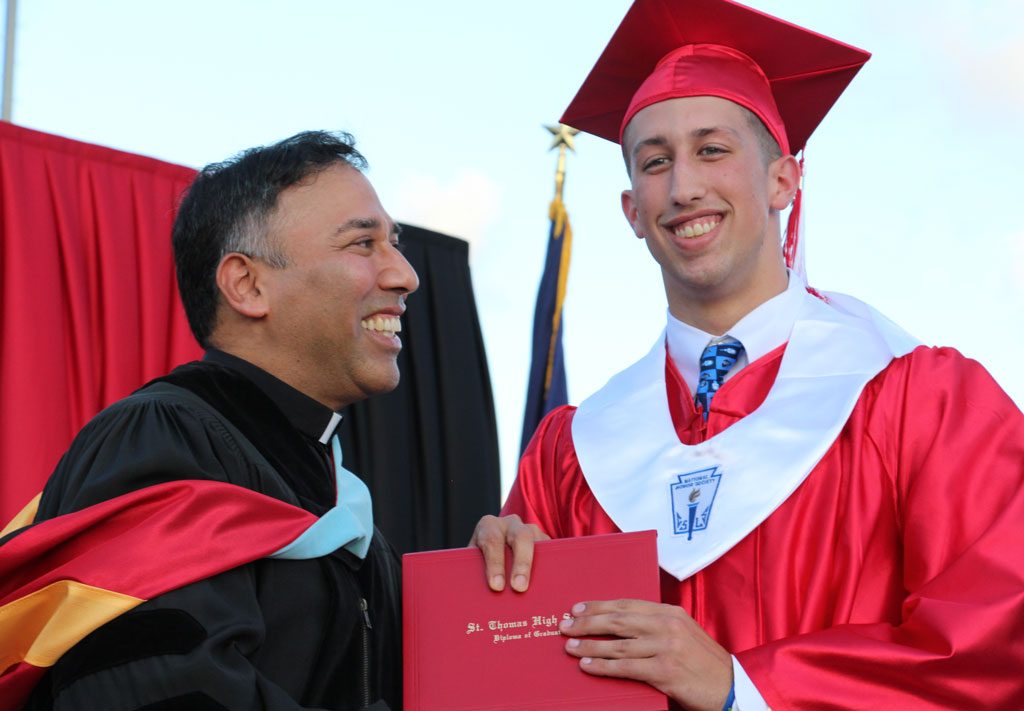 Shanley believes he is properly prepared given his St. Thomas commitment as a commuter student from Magnolia.
"I would wake up around 5:00 a.m. … 45 miles to campus … arrive by 6:30 a.m. for breakfast and tutorial … a full day of coursework … straight to the gym for workouts and practices until late afternoon … then 45 minutes home … countless nights until 2:00 a.m. studying and preparing."
Rinse. Repeat. For four years.
"At times it was a grind but my faith in God kept me driving through the journey," Shanley says. "I knew He had a plan for me and I just had to push through it. (Campus Ministry Director) Marty Matulia and (Assistant Dean of Students) Father (James) Murphy really helped me stay close to my faith. I was confident if I just continued to put in the work, looked for the light at the end of the tunnel, never lost believing, it all would work out well. It's an amazing feeling to know what lies in front of me."
During the ROTC interview process which began early in the 2017-18 academic year, CPT Ricardo Bolanos was immediately "struck by (Chase's) staunch due diligence to his daily routine and the sacrifices required to attend and achieve at St. Thomas, as well as his Eagle Scout experience. Chase had a master plan and would not be denied. His proven leadership and his confidence really separated him from the pack."
Once Shanley was accepted into the ROTC scholarship program he more than met The Citadel's minimum requirements for prospective students – 1200 SAT (or 27 ACT) and a high school GPA of 3.2.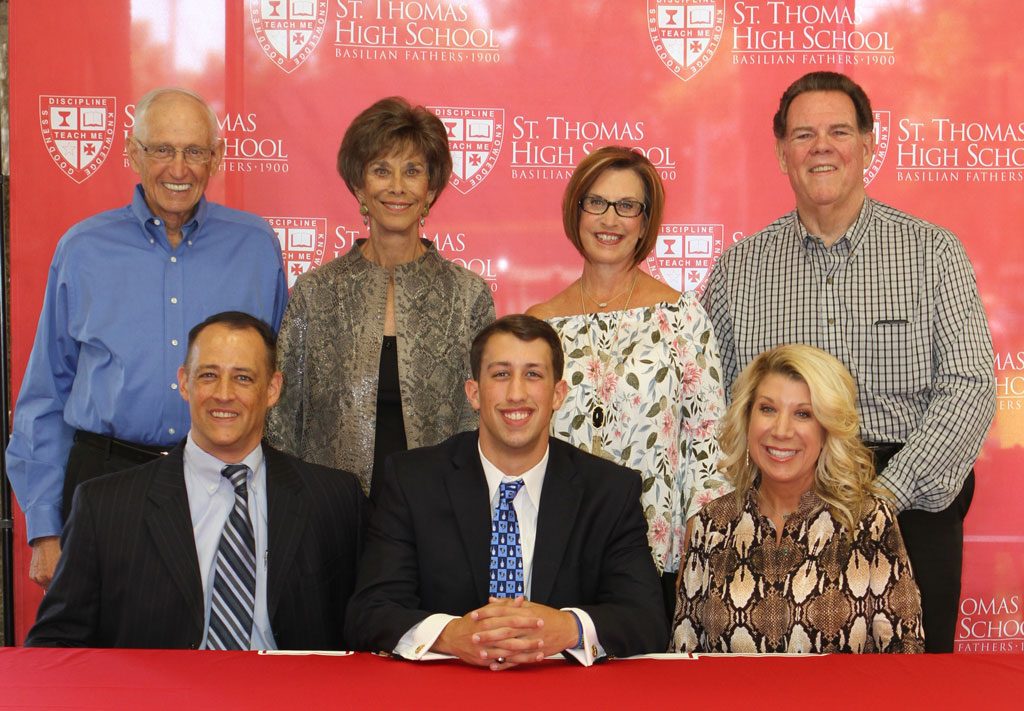 Bob Shanley has seen his son "driven to succeed from a very early age, especially with scouting. The military focus started in junior high school. And he's never wavered, always stayed focused. I understand the attraction to The Citadel. The brotherhood. The heritage. We've already benefited from a great network of families who have made us feel welcome."
Chase's mother Tabitha takes particular pride "knowing that (Chase) set his goals coming to St. Thomas as a freshman and accomplished all that he set out to do." And that along with deep determination to succeed is "compassionate and servant's heart."
For three summers Shanley volunteered at Camp Blessing in Brenham, working with special needs individuals seven-years and older with a primary diagnosis of physical, developmental or intellectual disability.
"Chase cares deeply about giving back and being a responsible citizen," Tabitha says. "It was his choice to attend St. Thomas. He recognized even as a freshman what the experience might present him if he provided his best efforts. He wanted this even knowing the demands would be considerable. And now look at the rewards."
Update:  Shanley was among the 1,082 cadets and students recognized for their academic achievements during the fall 2018 semester.  The dean's list is a recognition given to cadets and students who are registered for 12 or more semester hours and whose grade point average is 3.20 or higher.
[CLICK HERE for Senior Stories – Exclusive Navy ROTC Scholarship Sends Jack Green '18 to Wharton School]
[CLICK HERE for Senior Stories – Daniel Garcia '18 Lives Through Leadership and Inspiration]
[CLICK HERE for Senior Stories – Valedictorian Juan Castillo '18, Steadfast Determination Leads to Harvard]
Catholic. Basilian. Teaching Goodness, Discipline and Knowledge since 1900.