The demolition was near complete.
A season-long series of opponents had been reduced to a collapsed building. Just a hole surrounded by broken bricks and mortar strewn all over the road.
Eagle Soccer stepped back from this smoldering wreckage undaunted, all but undefeated, not the least bit satisfied by the most scintillating – and winningest – season in school history.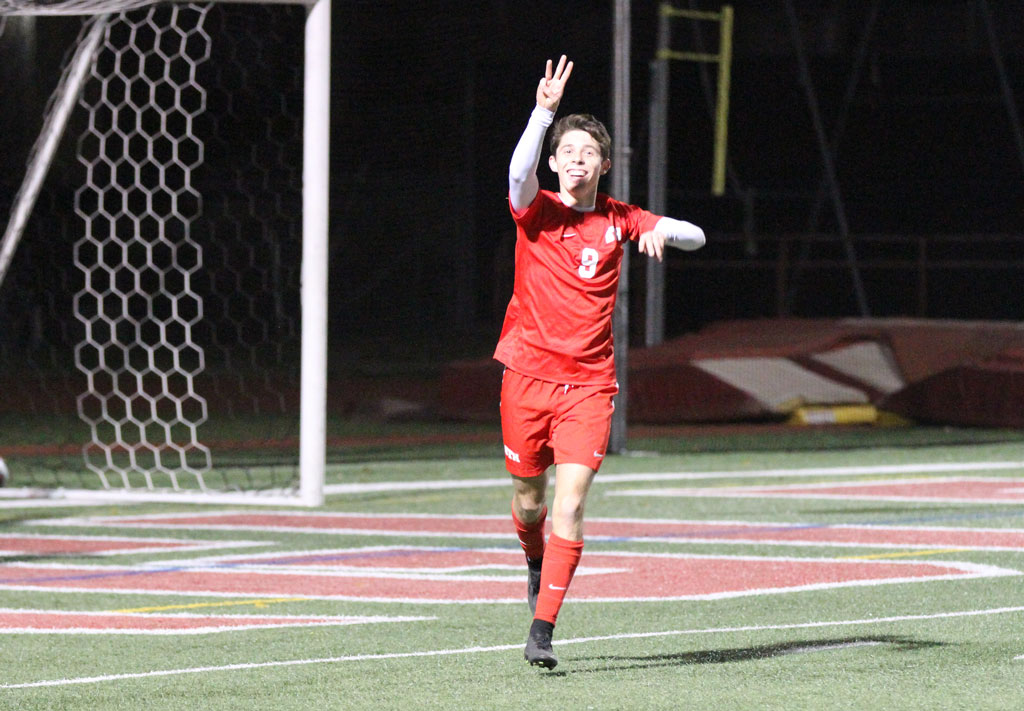 But two more had to fall to the St. Thomas wrecking ball for the young, restless and relentless Eagles to end a near four-decade pursuit of the program's second state championship.  And at the end, the pivotal final swing proved futile.  What ultimately remained bashed were the collective dreams of grandeur.
Two knocks into the TAPPS Division I tournament meant a return to the state semifinals and a deja vu redeaux dealt by two-time defending state champion San Antonio Central Catholic.  The Eagles walked back into Waco ISD Stadium with a strut and make-my-day machismo. They departed with rejection, with heartbreak, text messages and Twitter confirming a brutal reality.
Twelve months after reeling from a controversial 1-0 gut-punch in the 2018 title tilt, the soccer gods provided a cruel twist in an unmerciful encore – a crushing 2-1 verdict that left St. Thomas again tantalizingly short of the elusive throne.  The worst Eagle defeats since Hercules slew the foul beast who ate Prometheus' liver every day.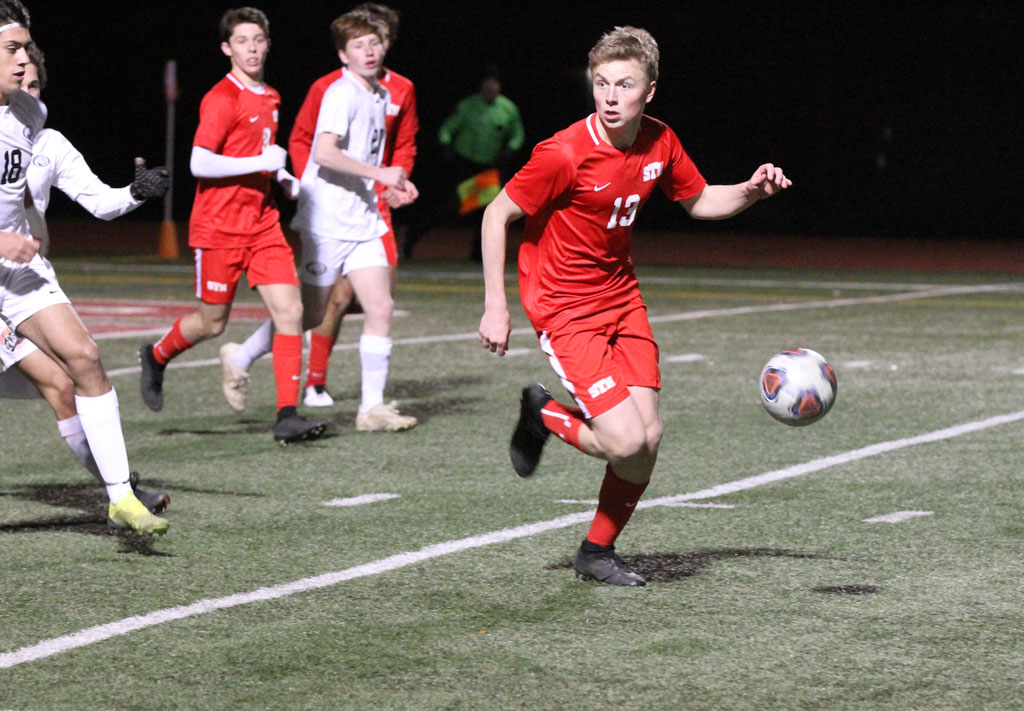 The quest for the best opened at Hotze Field inside Granger Stadium where Eagle Soccer blasted generational rival St. Pius X 3-0 to open the postseason behind two goals from midfielder Paul Langemeier '20 and a solo shot from deluxe defender Zach Blice '19 (verbal Jacksonville University of the Atlantic Sun Conference).
The Eagles tangled with SPX for the third consecutive postseason after sweeping the district series with ease, first 4-1 on the road in mid-December before slinging a 7-1 sledgehammer on Senior Night. In 2018, St. Thomas enjoyed a cathartic 4-0 knockout in the state semifinals to complete a three-game season sweep of the series and avenged a 2-1 defeat in the regional round of the 2017 playoffs.
Next, Eagle Soccer squeezed past San Antonio Antonian College Prep 2-1 at Wildcat Stadium in Temple. Leading scorers Alex Rivero '20 and Pablo Tager '21 cashed the goals for a 2-0 lead that proved to be enough to advance.
Head coach Kenny Martin '01 rightfully expected from the outset a third consecutive season of championship contending kicks. What crystallized boggled the mind and bordered on the absurd.  The Eagles staged a shock and awe regular season of 23-2-2, scorching 112 goals while allowing a scant 13.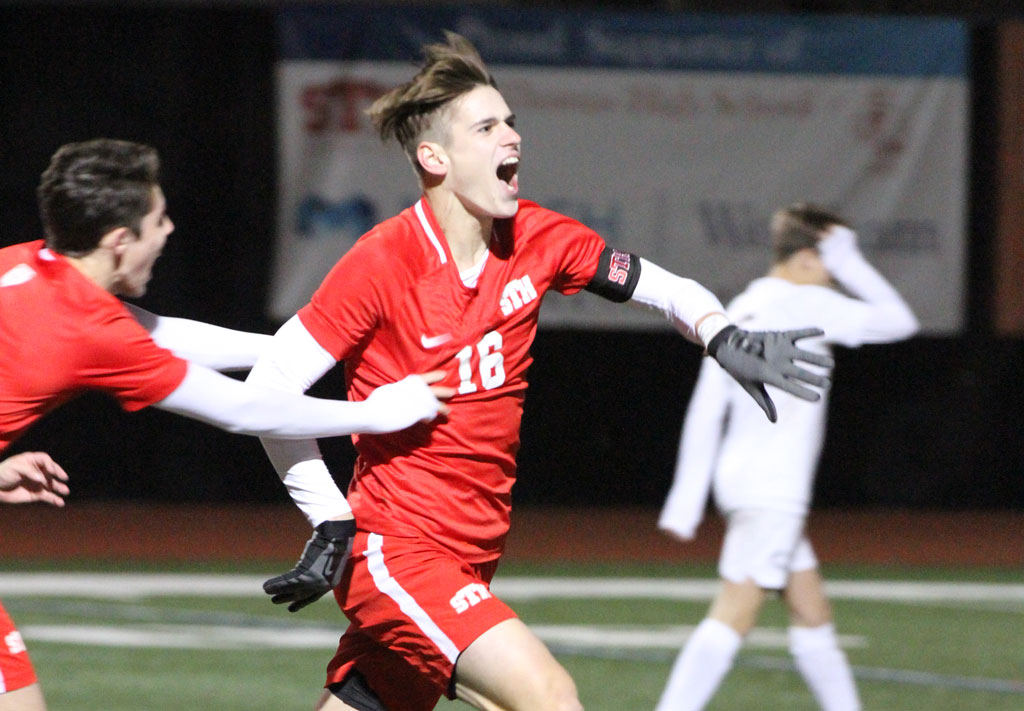 In the district, the St. Thomas opposition made slightly less noise than a Burmese cat lying down on a bed of cashmere – four goals during the Eagles outrageous 12-0 rampage to the title while they racked 62. After the second of only two regular-season setbacks, the Red & White ripped and roared for 14 straight victories in a 66-4 onslaught.
And perhaps most stunningly, until the season's less than grand finale, the Eagles did not trail except for a double dose of 3-0 defeats, first to El Paso Cathedral in the Houston High School Showcase in late November and then at Marble Falls January 4 in the Temple Tournament.
Repeat – never trailed in 27 games.
The only other blemishes were 1-1 ties with John Cooper in the second game out of the gate and Barbers Hill.
"We played fast with precision and that was a dangerous combination," Martin says. "We moved the ball and attacked decisively. Teams just could not match our level of excellence. We were balanced and no one was selfish. Winning was all that mattered with this group.  Our guys developed so much chemistry and experience last season (reaching the state final) and that absolutely carried over into 2019. Everything clicked from the first game. But not in our final game."
Alex Rivero '20 and Pablo Tager '21 provided the tag-team high octane. Riverso emerged to become the program's single-season scoring king with 38 goals and 84 points while Tager found the net 22 times.  But Martin is convinced the internal combustion was ignited by four-year standout Blice '19, a 2018 Chronicle All-Greater Houston selection.
"When Zach was on … and that meant he was orchestrating and communicating with full command from the back line and everyone was in concert … we were unstoppable," Martin says.
Santiago Labarthe '22 more than filled the void left by 2018 scoring ace Julian Zanovello '18. The shift allowed Martin to tweak his midfield into a more lethal unit with Nico Prioli '21 and David Steffes '20. Jack Schell '19 emerged as a significant x-factor when he opted into the program for a senior season to replace the dynamic Diego Garcia '18. The pairing with Blice proved brilliant.
"No one tested those two. They were in tandem as if they had played together for four years," Martin says.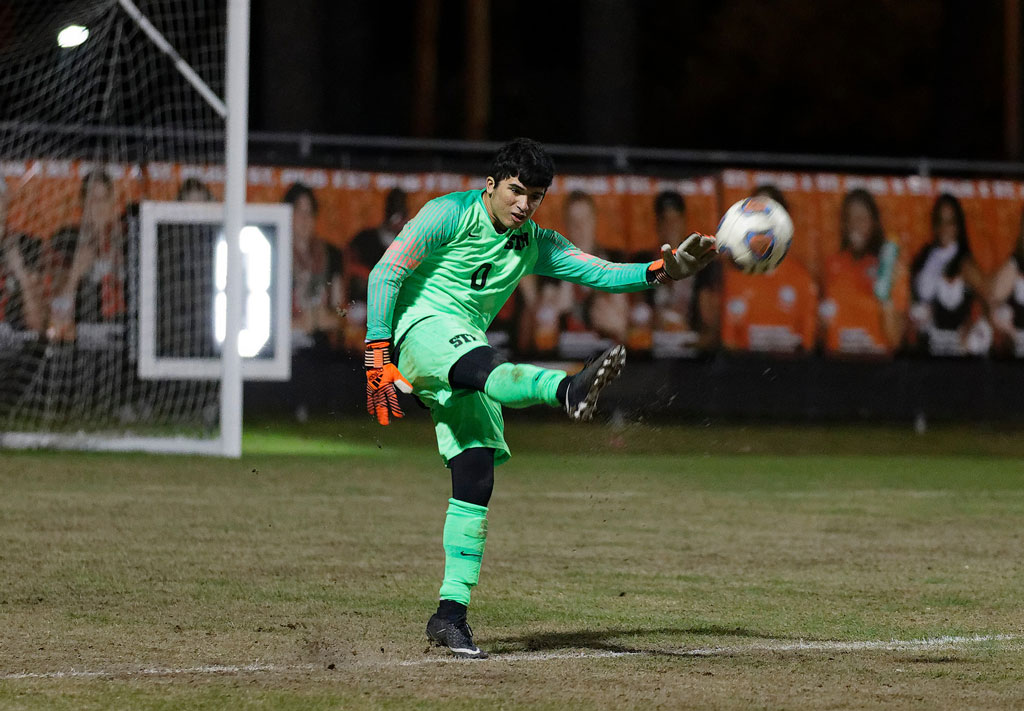 Robert Vara '20 gave the Eagles a more than effective replacement for the production if not genius of keeper supreme Jacob Manley '18. Vara forced a deprivation scoring diet less satisfying than keto – 11 strikes in 22 games before the state tournament.
"Robert didn't have some of the same physical attributes as Jacob but he made all the saves he needed to make," Martin says. "He wasn't bombarded in many of those wipeouts but he was a skilled shot blocker."
Martin was in his 18th year with Eagle Soccer and eighth as head honcho, the mastermind behind a three-season trifecta that produced 63 wins and only 12 losses in 82 games.
In 2018, the Eagles cruised to a 22-5-2 record crashing the postseason Final Four and claiming the district crown, both for the first time since 2008. They scaled a victory plateau no previous St. Thomas team had ever reached. Manley was routinely sensational including three consecutive playoff shutouts. Yet the hopes of state championship glory were dashed in the setback to Central Catholic.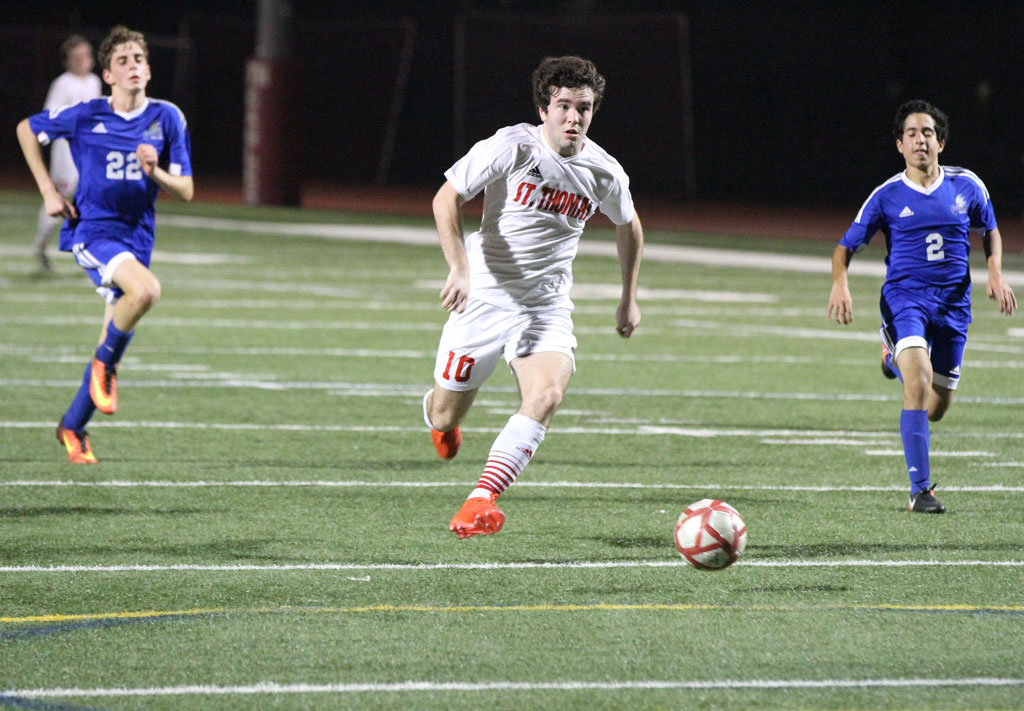 In 2017, Martin welcomed newcomer extraordinaire Rory Hogan '17 from the Houston Dynamo Academy for a one-and-done with Eagle Soccer. The magical box-to-box midfielder immediately teamed with forwards Matthew Leal '17 and Jesus Toscano '17 to form a ferocious three, all equally capable of a moment of mastery.
The Eagles bolted fast and furious to launch the season dropping only two of their first 15 games, only to absorb the deeply disappointing regional final defeat to SPX that left them done at 16-4-3.
"I don't know of many programs in Texas that have had this kind of run," Martin says. "That's special even without the state title. Insane success really."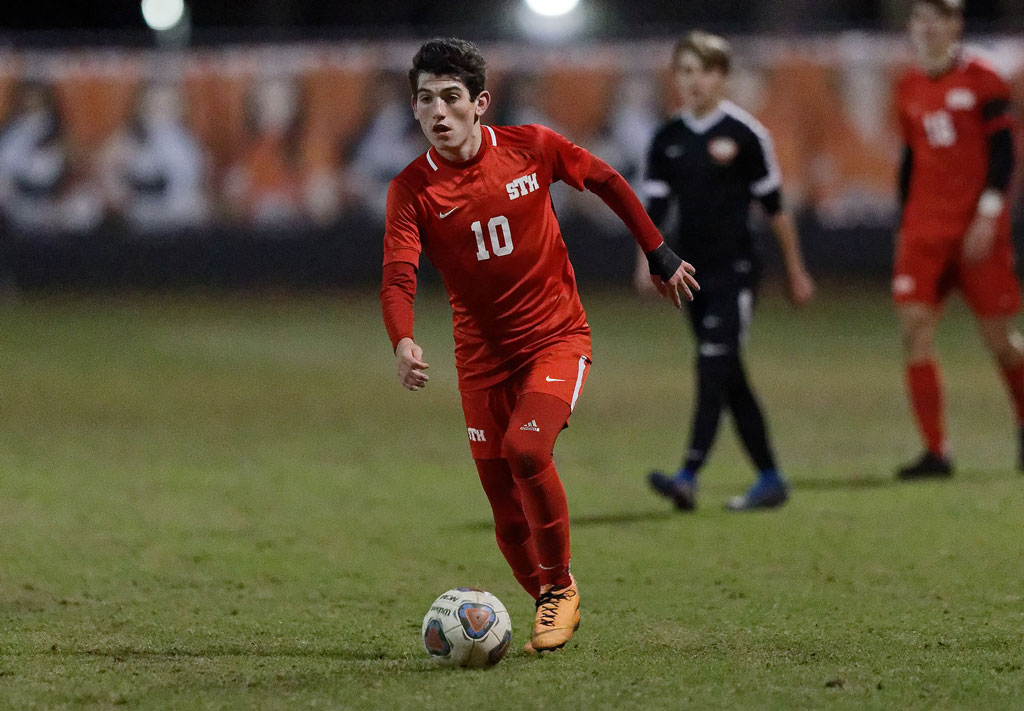 But the lurking questions hovering over the Eagles during their almost four-month bulletproof spree were could they dodge scud-like damage in search of their holy grail? Could St. Thomas emerge as the evasive big kahuna for the first time since 1981 and deliver most when its collective identity and season would be fully defined and determined?
"There was no fear within the group," Martin says. "We welcomed the challenge. Our confidence was absolute until the very end. We understood what was at stake and the focus required. It was not a great ending to what was otherwise a fantastic season."
One – as in 1981 – remains Eagle Soccer's loneliest number.
Eagle Fight Never Dies!