Select Eagle scholars are again aiming for the stars in an effort to outdistance elite students from across the United States.
For the second time in four years, St. Thomas occupies an exclusive orbit – advancing two groups to compete at the Team America Rocketry Challenge (TARC) National Final, the world's largest student rocket contest.
Seniors Brandon Jackson, Daniel Bixby, Ethan Hunter, James Morgan, Joseph Lauckner and Jacob Matthews return to the National Fly-Off after soaring as freshmen in 2016.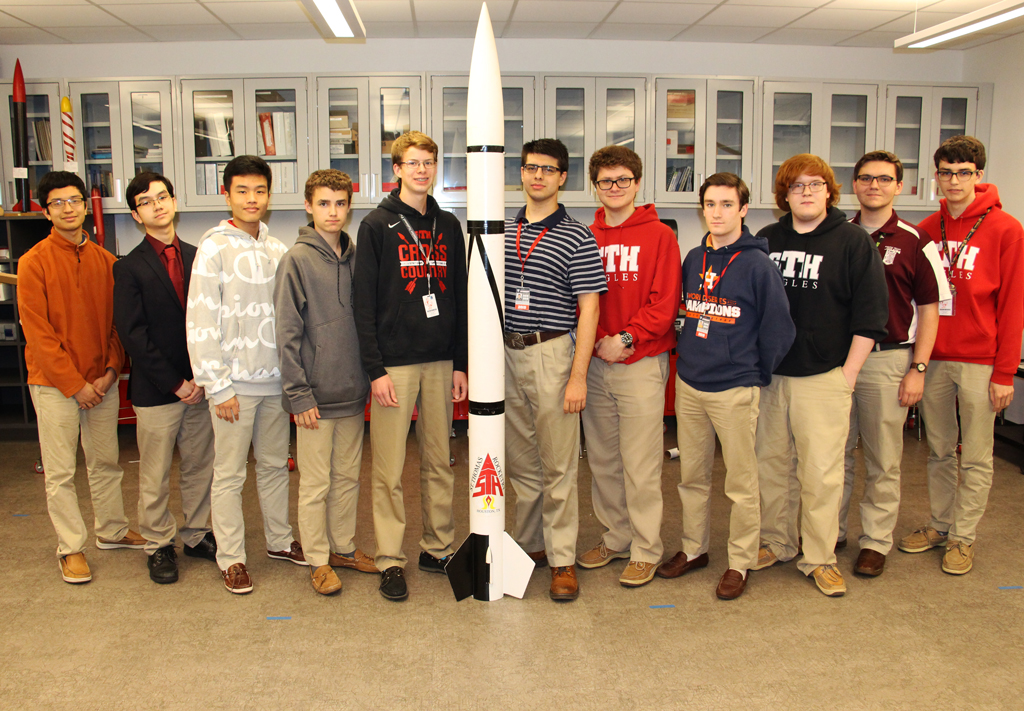 First-timers David Torres, Thanh-Vinh McColloster, Peter Zhong, Drew Caver and Mark Cheek represent the Class of 2022 in a showcase that encourages engagement in science, technology, engineering and math (STEM) activities.
Faculty member Dr. Ed Marintsch has infused expertise and inspiration into St. Thomas Rocketry for nearly two decades, his passion fueling a consistent St. Thomas lift to aspiring heights vying for valuable scholarships and national acclaim. And in 2019 St. Thomas is one of only two institutions in Houston and 13 in Texas to successfully navigate to the national final, and one of but two schools in the state to qualify more than one team.
Marintsch learned long ago that clustering his teams according to class creates a particular brand of camaraderie and leads to greater investment. He
partnered this year with faculty colleague Dr. Pete Nordloh for the first time in mentoring Eagle scholars through months of preparation, designing, building and testing to meet rigorous parameters set by the contest's sponsors, the Aerospace Industries Association and National Association of Rocketry.
"This senior group was more laid back but you would expect that after three years in the program," Marintsch said. "They put out a rocket right away … more simple than creative … but simple usually works well."
Nordloh believes the "freshmen were hooked from the start … embraced the process … delved into the computer models. Then, once they got away from the simulators and actually started launching their interest really spiked. Of the two groups, they had a larger hurdle qualifying for a variety of reasons but they got it done."
The contest rules and scoring parameters change every cycle to summon ingenuity and encourage a fresh approach to execution.
The strict protocols for the 17th annual event were to design, build and fly a rocket with precise weight, length and impulse restrictions themed around the upcoming 50th anniversary of the Apollo 11 moon landing. The mission required carrying three raw eggs in a capsule to an altitude of 856 feet and return it to the ground with the payload intact within 43-46 seconds.
"The rockets had to separate and individually land safely … had to use at least two parachutes," Marintsch said. "The three eggs represented the three astronauts (Neil Armstrong, Buzz Aldrin and Michael Collins). The altitude of 856 feet … the central standard time Armstrong walked on the moon in July 1969."
The TARC competition is judged on a point basis with the goal of finishing with the lowest score possible. Teams gain one point for each foot that they deviate from the goal and four points for each second if they over/under-shoot the time window.
St. Thomas conducted testing and qualifying at Johnson Space Center over five consecutive Saturdays in February and March to emerge among the 100 entries for TARC from more than 800 schools representing nearly every state and Washington, D.C.
"(The seniors) did all three of our qualifications on the same day," Jackson said. "The conditions varied considerably from launch to launch. You always have to adjust for the obvious variables such as wind, humidity and temperature which can change considerably in a matter of hours. Then we had to allow for the powerful engines and relatively low target height without too much added weight."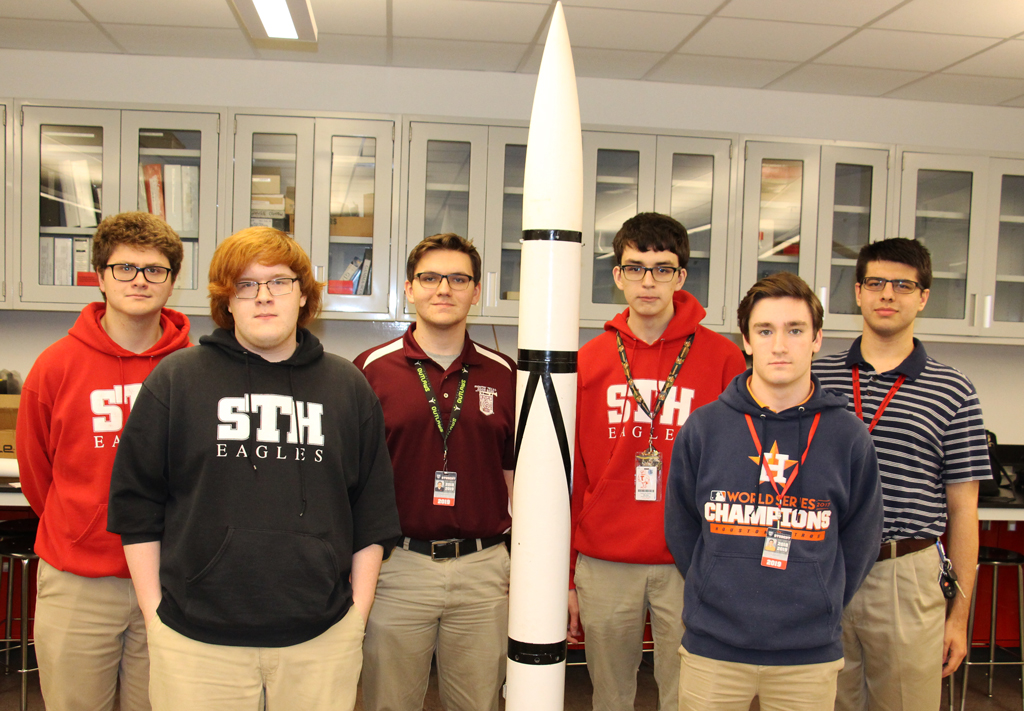 Because of conflicts with the 2019 commencement exercises, Jackson will operate as the lone Eagle senior at the national final taking place May 18 outside of Washington, D.C. Ample rewards await the winner – an all-expenses-paid trip to the Paris Air Show in 2019, along with the chance to represent the United States at the International Rocketry Challenge against teams from France, Japan and the United Kingdom. A pool of more than $100,000 in cash and prizes is shared by the top 10 teams.
At the end of the academic year, Marintsch concludes a distinguished tenure of more than three decades in the St. Thomas science department. His rocketry teams reached TARC 10 times in 17 years, an event that originally began as a celebration of the 100th anniversary of the Wright Brothers first flight and quickly morphed through overwhelming demand into an annual exercise to promote future scientists and engineers.
In 2005, St. Thomas finished 13th at nationals and its fifth-place result in 2009 enabled the team to work on a year-long student initiative with NASA.
Nordloh sees St. Thomas returning to the National Fly-Off as "a home run in Ed's last at bat."
Marintsch humbly accepts inner pride that his rocketeers have consistently demonstrated to the country how "they can problem-solve by working together as a team and using their knowledge of science, technology, engineering and mathematics. There was, of course, some disappointment when we missed out the last couple of years. You try to analyze what you did wrong but the reality is not everyone makes the grade. To step out with two teams this year is as good as you can get. Now we'll see how much we have left."
Catholic. Basilian. Teaching Goodness, Discipline and Knowledge since 1900.