There is one road that will always remain the same.  It's familiar. It's comfortable. And its destination is somewhere never quite left.  
For former Eagles, distant and near, it's the road home, their home at 4500 Memorial Drive.
And for five luminaries a return in May carried the greatest recognition afforded a St. Thomas scholar-athlete – enshrinement into the institution's prestigious Sports Hall of Fame.
The latest inductees along with the triumphant 1964 Eagle Football state champions were remembered and revered at a vibrant and supportive ceremony in Cemo Auditorium.
Alphabetically, the 2019 honorees were:
1964 TCIL State Football Champions
defeated highly favored Dallas Jesuit 26-12 to earn program's first state title since 1953
commanding 11-1 season that included 34-0 over Strake Jesuit, 40-0 over St. Pius X, 35-0 over Mount Carmel, 29-0 over Marian, 21-6 over La Porte and 33-7 over Beaumont Kelly in bi-district, a rematch after 41-0 to open the season
set Eagle records for both most points in a season with 338 and fewest allowed with 37
outscored district opponents 138-0
coached by St. Thomas Sports Hall of Famers Joe McDonald '02 and Burr Davis '02
nearly two dozen members offered scholarships to extend their careers at the collegiate level
launched a decade of dominance that included three consecutive state crowns, five in six years and eight in 10 seasons
David Benesh '66
pitched Eagle Baseball to consecutive state championships in 1965 and '66, and the 1966 American Legion state title
two-sport scholar-athlete earning five varsity letters in baseball and basketball while a member of the St. Thomas Club for scholars who maintained a minimum 4.0 grade point average for seven consecutive semesters
selected by the St. Louis Cardinals in the 1966 MLB Draft but accepted a scholarship to Texas A&M with legendary head coach Tom Chandler
named 1969 All-Southwest Conference with teammates Bob Long and Dave Elmendorf while leading the Aggies in wins, complete games and a 2.01 earned run average
in 1970, led the Aggies in appearances with future Los Angeles Dodger Doug Rau
selected again by the Cardinals in the 1970 MLB Draft
earned his Bachelor's in mathematics and then a Master's of statistics in 1972
significant professional distinction with Texas Instruments, Mostek and several companies founded with partners and associates
passed June 23, 2017 at age 69 of natural causes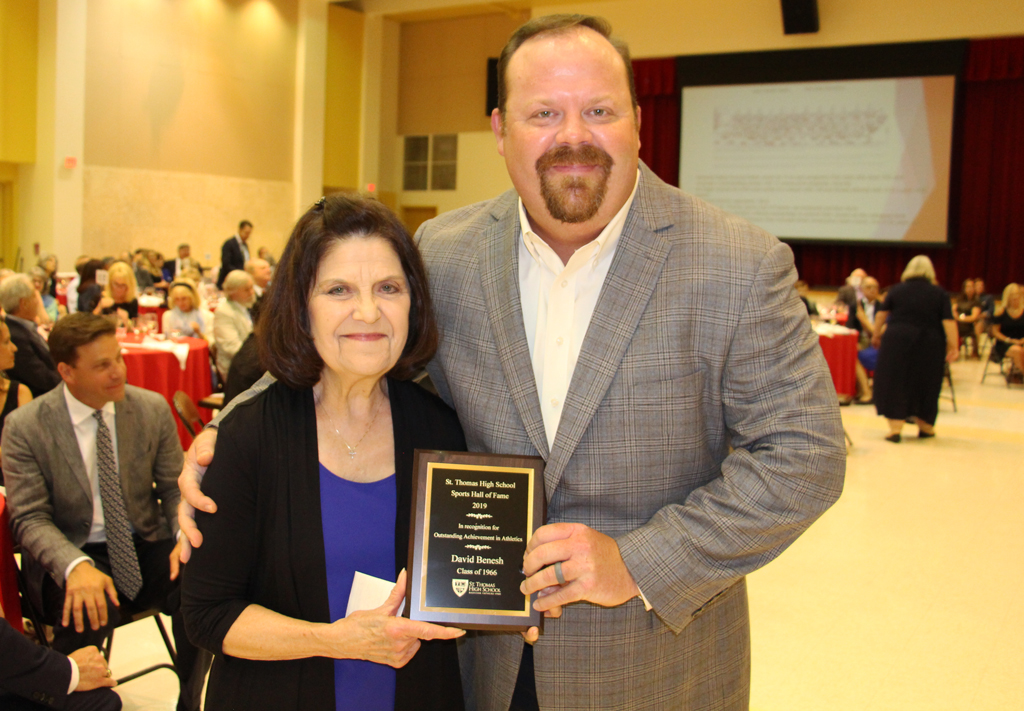 Benesh was represented by his wife Frances and his son Andrew.
Jerry Koch '67
versatile multi-sport scholar-athlete who contributed to the 1966 and '67 state football champions and the 1967 state basketball finalists
accepted a football scholarship to attend University of Texas at El Paso
led Miner freshman in receptions and touchdown passes
graduated with a degree in engineering
a registered professional engineer who excelled for nearly 50 years in the construction business in Houston, Baltimore and Washington, D.C.
active participant in professional organizations such as ASHRAE and ISPE
currently a senior engineer for JE Dunn Construction in Houston
active member serving the St. Thomas Alumni Board and St. Cyril of Alexandria Catholic Church where he has conducted pre-Cana marriage seminars and led Eucharistic service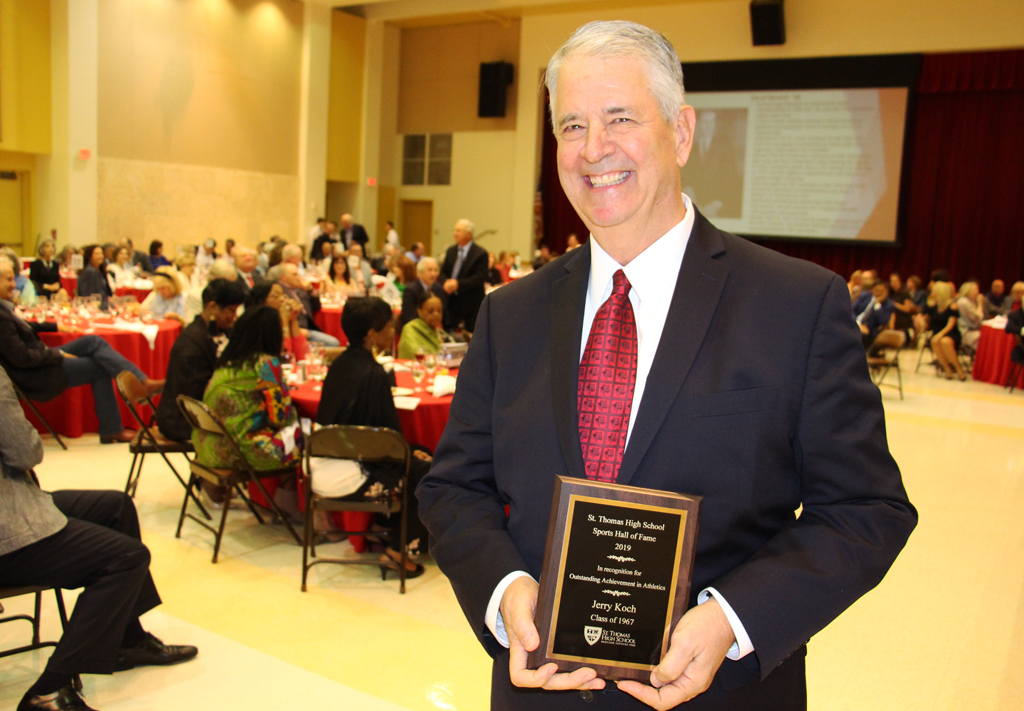 St. Thomas is not the only thing in all of our lives but it is the best thing in all of our lives.  And when we return to campus for whatever reason, we feel that love. My best friends to this day are my Eagle teammates and classmates.  We've embraced each other's wives. The athletic experience is memorable but there's so much more … the love, the friendships, the grace of Jesus Christ … that's what rides out front.  
We followed that 1964 team … had to rebuild … quarterback came back from injury … had a big late season surge … won a game on penetrations … repeated as state champs (in 1965) … just a blessed year.
Jack Laurenzo '68
two-time all-state selection gaining more than 3,000 rushing yards for Eagle Football
named 1967 honorable mention all-american by the Chicago

News World
valuable impact presence for 1965 and '66 state champions
four-time all-state contributor to Eagle Track and Field and two-year letterman for Eagle Baseball
nine-time varsity letterman while member of the St. Thomas Club for scholars who maintained a minimum 4.0 grade point average for seven consecutive semesters
accepted football scholarship to Rice University, then transferred after two years to Boston College where the Eagles finished 9-2 in 1971
accepted fellowship to study in the Department of Urban Studies and City Planning at the Massachusetts Institute of Technology
collaborated with his mother, Ninfa Laurenzo, brother Roland '65 and sister Phyllis Mandola in establishing iconic Ninfa's restaurants brand
currently a senior executive with broadline food distributor Jake's Finer Foods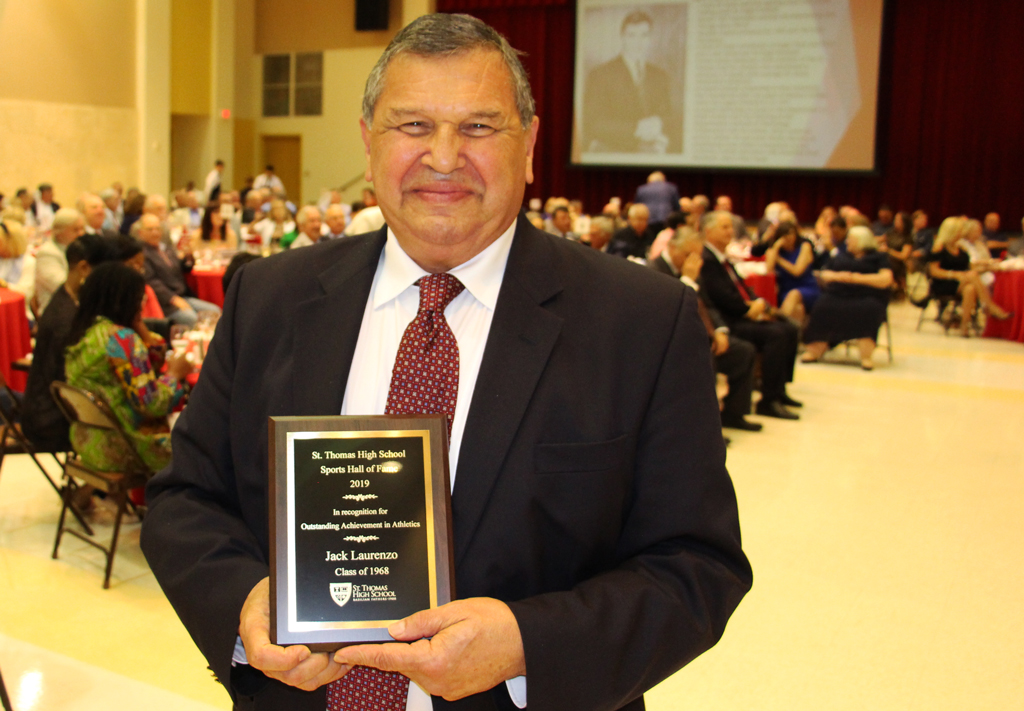 I was so enthralled with St. Thomas growing up … inspired by watching by brother Roland play.  I went to my father and told me I wanted to go nowhere else. He said, 'Improve your grades (at then downtown Annunciation Catholic School, the oldest parish in Houston). ' My first true goal in life was to go to school here. And I'm sure if I gone to another high school I wouldn't have been afforded the opportunities I was able to foster through St. Thomas.
I was the only sophomore on our state baseball championship team (1966) … hit the big time … very intimidating to be surrounded by such tremendous talent and very committed teammates who embraced me as a member of the team.  I wouldn't trade those times for anything in the world.
Some of the greatest gifts I have are the friendships I have  from my years here. Who would have thought these relationships would last so long.  It's such a great bonus in our lives that we have all managed to stay together.
André Mathews '85
electrifying two-time two-way all-state performer and two-year team captain for state champion Eagle Football in 1983-84
named TCIL Offensive Player of the Year in 1983 when he gained more than 1,600 yards rushing
named all-state in 1983 and '84 as both a running back and defensive back
three-year letterman for Eagle Baseball
accepted scholarship to Howard University with College Football Hall of Fame head coach Willie Jeffries
immediate defensive difference-maker at Howard where he helped lead the program to its first Mid-Eastern Atlantic Conference championship and a 9-1 record in 1987
earned his BBA in finance, master's in education from Texas Southern and is completing his Ph.D in education
owns more than 30 distinguished years as an acclaimed  superintendent, principal and academic administer in the Greater Houston area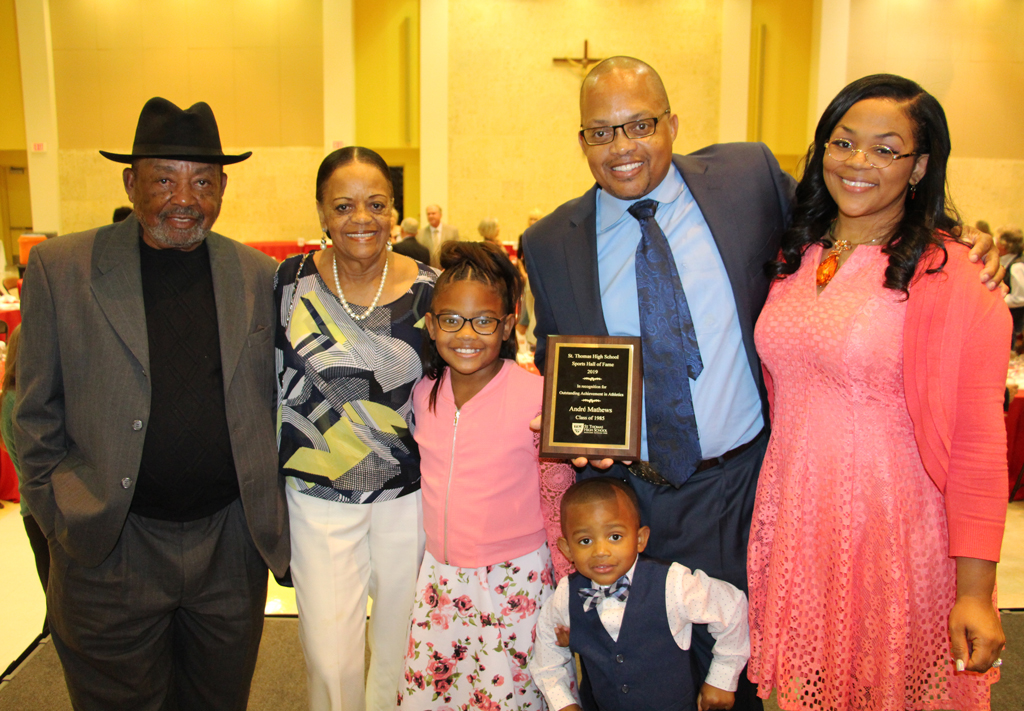 This is for my family and friends … cannot say enough about you … wouldn't be here without you.  It was that love that I took into education … that teach me goodness, discipline and knowledge that was instilled in me so much.  It's how I live … what I breathe … who I am. It was started here at St. Thomas … taught me perseverance … learned how to sacrifice … to focus on more than myself … most importantly learned how to be a good teammate.  
To this Eagle family … thank you.  You gave me an opportunity … not just as a student but to become a person who represents that Basilian motto.  As you can see at this stage in my life, I'm still embracing the knowledge but I'm trying to spread it with the goodness and representing the discipline.  
And I can't say enough about coach (Jim) Schwarzbach (class of 1955 and Sports Hall of Fame member 2001).  I can't say enough and for those of you who know him … I for sure can't say what he said (laughter).
J.J. Savarino '94
dynamic three-sport scholar-athlete who earned eight varsity letters within Eagle Athletics
three-time all-state Eagle Baseball performer who contributed to four consecutive state championships
established a school record in 1992 for most stolen bases in a season
three-year letterman for Eagle Basketball and participated in two state tournaments
versatile four-year letterman at Rice University with College Baseball Hall of Fame and national championship head coach Wayne Graham
career .300 hitter and teamed with Lance Berkman and Matt Anderson in 1997 on first-ever Rice team to advance to the College World Series
ardent professional career in technology sales and marketing
creative director and co-founder of Pijn TV, a digital platform that communicates unique insights about emerging technologies
founder of Vendor Vines, LLC
lives in Austin with his wife Sara and two children, Julian and Rose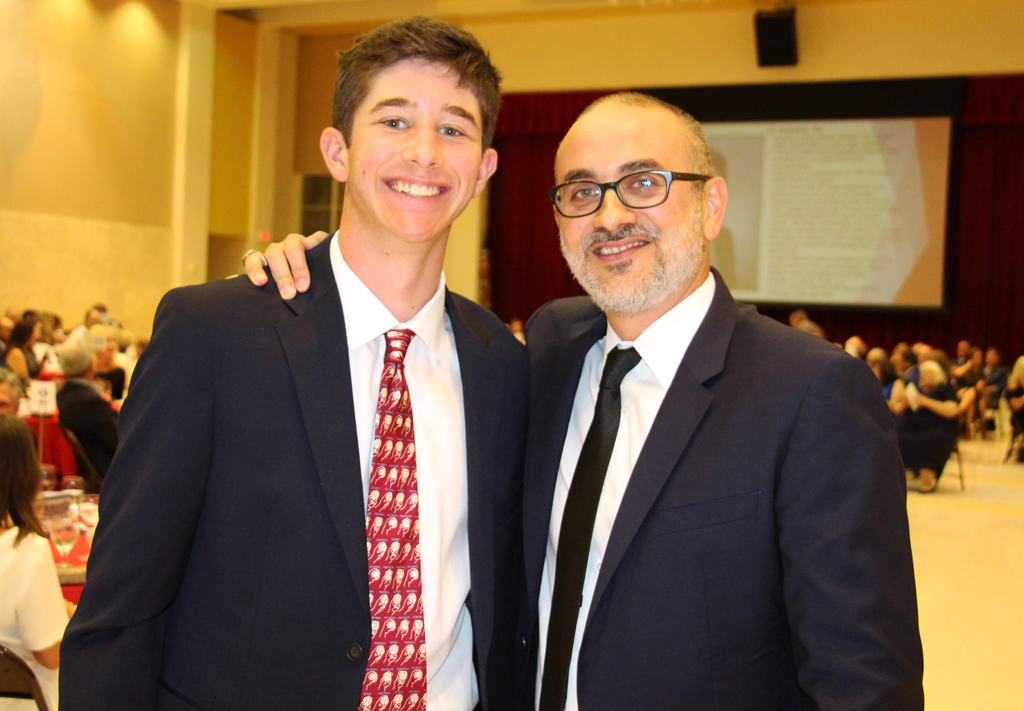 Savarino was introduced by his nephew, 2019 salutatorian and two-sport scholar-athlete Tuscan, a member of the 2019 TAPPS state swimming champions.
This is an opportunity for me to express my deep appreciation for all those who invested so much of their time into my athletic career and development as a person.  This is a validation that hard work is worth it and how fantastic this Eagle community is.
What has stuck with me the most from my years at St. Thomas is so much more than the winning.  It's the relationships … the camaraderie. Those are lasting throughout my life. As a high school and college student you often don't have the awareness and understanding of how coaches influence you in real time.  And just as often you don't agree with what they're saying or how they're trying to get the most of your abilities. But with time comes perspective and I have great appreciation for their efforts … the mentors who helped mold me and form the values I hold today.  It was all forged on these fields and in these hallways and in these classrooms. I cherish that impact every day … the network that has benefited me in my career and throughout my life.
The St. Thomas Sports Hall of Fame was established by the Alumni Association in 1998 to commemorate exceptional Eagle athletic accomplishment while celebrating lifelong excellence consistent with the Basilian motto of Teach Me Goodness, Discipline and Knowledge.
The Class of 2019 joins Richard Kristinik '57, Andrew Locke '03, Jeff McCurry '88, Keavin McDonald '73, Kelly McDonald '78 and Remon Smith '84 from the Class of 2018 …
Rick Apolskis '85, Rick Azios '69, John Braniff '59, Tom Brown '65, Dick Kirtley '57, Danny Newman '75, and John Pizzitola '62 from the Class of 2017 …
Brandon Caraway '96, John Fisher '74, Marcus (Marc) Jankowski '70, Roland Laurenzo '65, Del Leatherwood '73, Steve Martin '67, Bill Sage '61, Tim Staples '54, Michael Young '66, Larry (Zinny) Zientek '66 and the legendary undefeated 1939 St. Thomas Football Team from the Class of 2016 …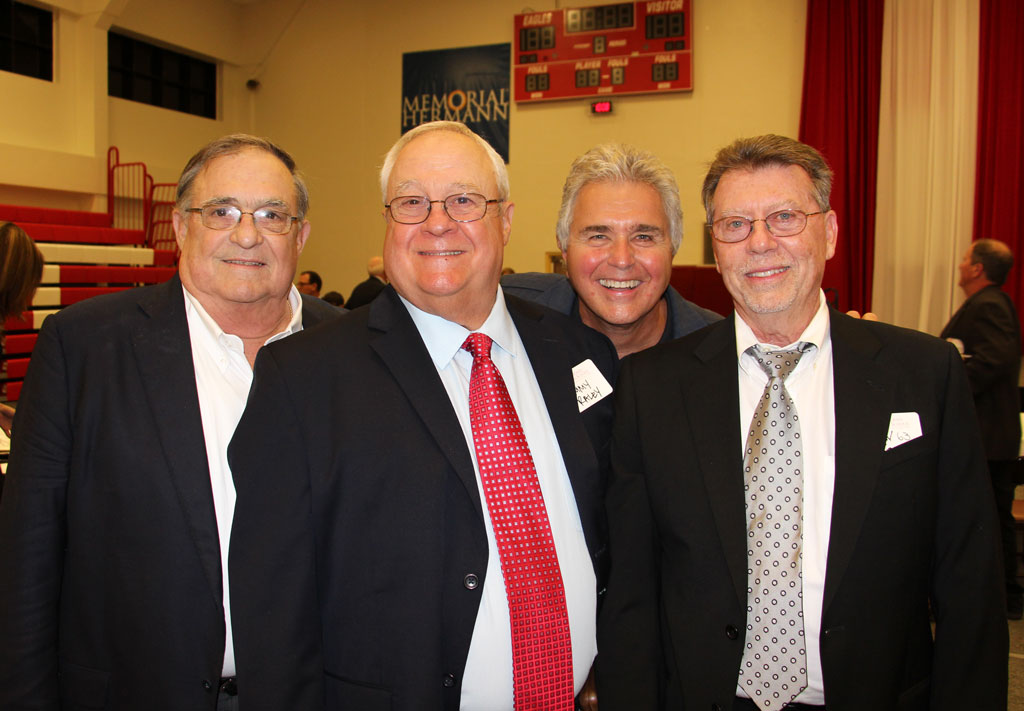 and Bernard (Nardy) DeGeorge, Jr. '63, Gary Martin '69, George Mehaffey '53, Mike Mulvihill '56, Ted Nowak '70, Jerry Pizzitola '60, Jimmy Raley '65, Bradley Smith '88, Billy Welu '50 and Mark Yokubaitis '70 from the Class of 2015 as the most recent inductees … increasing the overall membership to 71 individual Eagles.
Eagle Fight Never Dies!