The hard-charging hardballing Biggios – Cavan '13 and Conor '11, Craig, Patty and Quinn – were bonded again, swirling in a diamond daze far removed from when the two brothers tag-teamed at Fr. Wilson Field for Eagle state championships nearly a decade ago with their forever Astros icon dad as the bench boss.
Then the collective dugout dreams were for a scene that would one day shift to a stage resembling Minute Maid Park, identical to the weekend affair in June with an out-of-towner celebrating a grand homecoming in the very venue where he routinely watched up close and personal as a youngster his father's Hall of Fame identity in the making.
Biggio the Younger, a freshly minted Toronto Blue Jay, three weeks to the day marking his legacy major league debut, his rousing return to Houston in the midst of Father's Day weekend.  The rightfully aligned cosmos would command no other way. With mom, dad, siblings, family and friends all dizzy and relishing in his wake. With St. Thomas President Fr. James Murphy, CSB extending the Eagle connections and bellowing the Canadian national anthem Saturday afternoon.
Cue the Disney cameras.
Blue Jay no. 8 quickly stepped into the batter's box to lead off.  He flashed the patented Biggio two handed-finish swing that propelled Craig to 3,060 career hits, the swing that for 20 years prompted chants echoing throughout the rafters of the Astrodome and then the downtown pleasure palace.  
BIG-GI-O! BIG-GI-O! BIG-GI-O!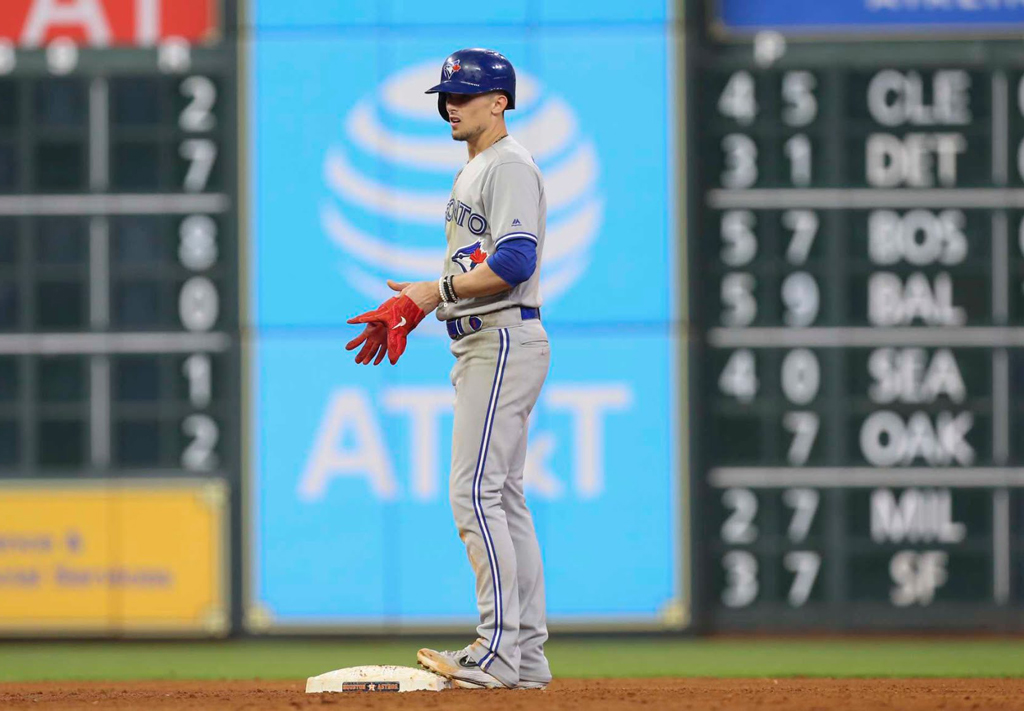 The similar but low-wattage response for Cavan was not nearly as thundering nor unanimous. After striking out his first two at-bats against Gerrit Cole, Biggio connected with a pitch in the fifth inning and drove it off the wall in center field for his first career double driving home the only two Blue Jays runs of the game.
Biggio the Elder could only simmer in satisfaction. He has scrutinized Cavan seemingly through every pivot since the playgrounds from the vantage point of father, face of the franchise, St. Thomas coach, scout, talent evaluator, mentor, confidant – arming him with a low-maintenance left-handed batting stroke designed to sustain consistency. Nowhere in the arsenal, not once, the hint of self-indulgence, rather the continued joy of one who still plays with the insouciance of a child in a pickup game.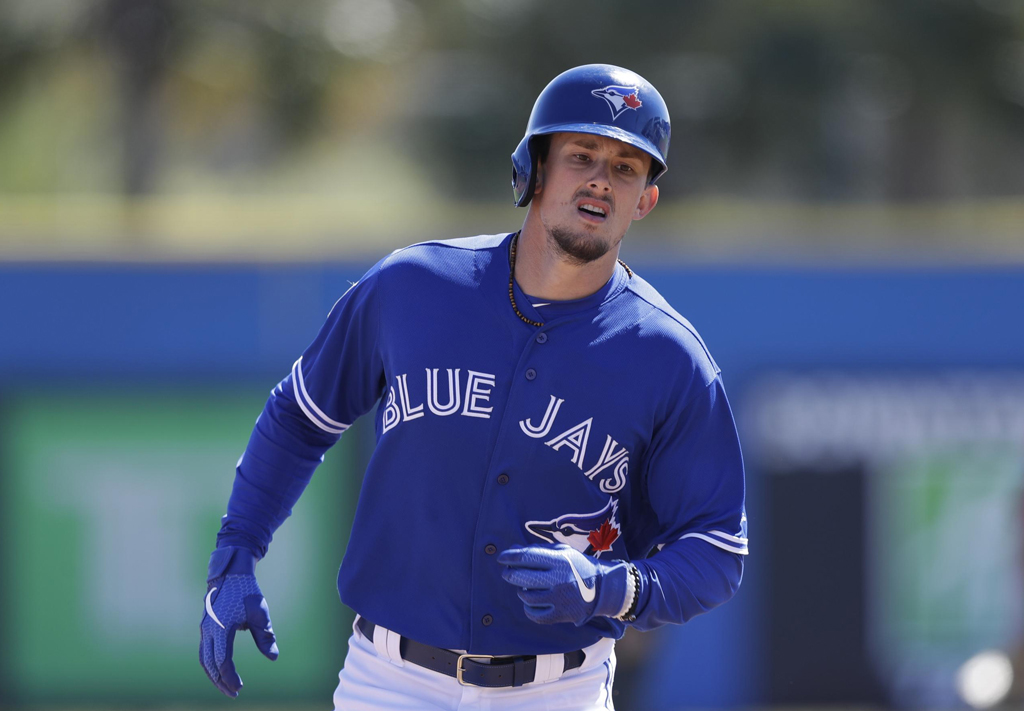 Biggio projects as a prominent prospect. He primarily patrols second base but started moonlighting this year as an outfielder while tearing up Triple-A pitching.  His power paired with versatility, baseball IQ and instincts demanded a late May elevation to the biggest of shows.
In his first 20 games, Cavan manned second, first, right and left field.  After his three-day frenzied reunion he smashed two home runs in a Monday night defeat to the Los Angeles Angels after a two-homer bash four games prior at Baltimore.
—
Cavan has long carried that unmistakable surname with class and humility as he crafted for his big league profile.  He and Conor (who was drafted by the Astros in 2015) grew up with a batting cage in their backyard. During Astro homestands, Craig religiously picked them up from St. Vincent de Paul Catholic School and traveled straight to Minute Maid Park for the pre-game batting practice. The kids would then convene at the concrete bunker of a batting cage in the bowels of the stadium.  They would hammer off the tee and romp around the space, only retreating if an Astros bench player came to get ready for a pinch-hitting at-bat. And their attention would of course veer to the nearby bubble-screen TV when dad took turns at home plate.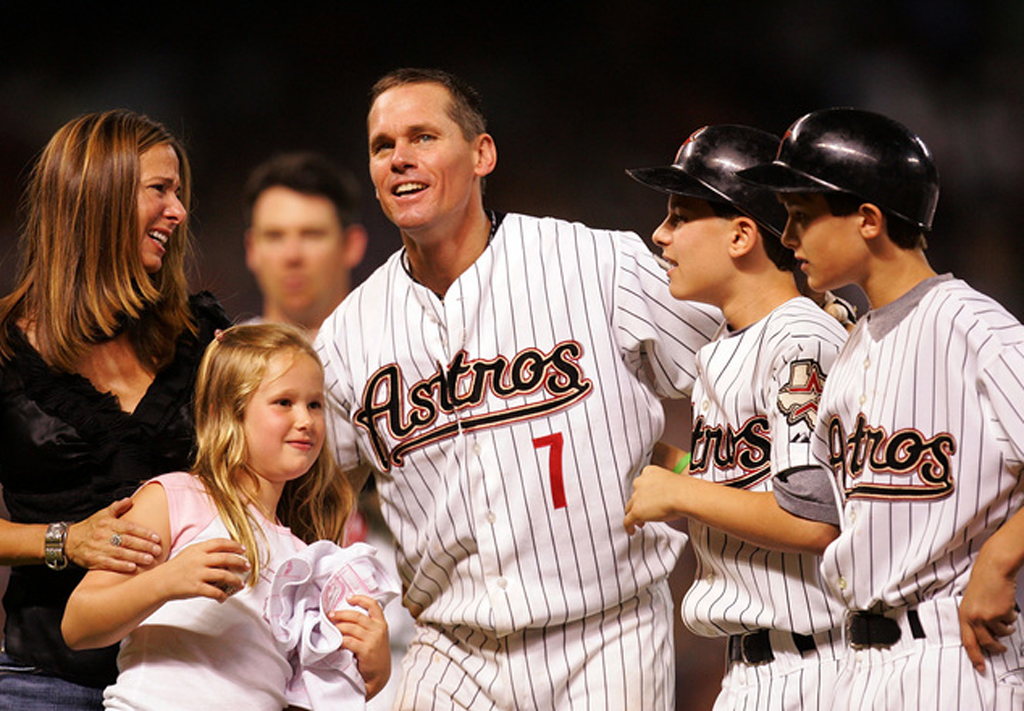 On Friday, June 29, 2007, the teenage Biggios were in the Minute Maid funhouse rocking full Astros game gear, this time joined in a prime seating section with their mother and sister among 42,537 poised for history.  That was the evening Craig joined immortals in the 3,000-hit club becoming the 27th player all-time after ripping a seventh-inning RBI single to center field off Colorado's Aaron Cook to collect his third hit of the night.
In 2015, the Biggio band was assembled in Cooperstown, New York for Craig's career coronation – the first home-grown Astro voted into the hallowed Hall of Fame.  He earned his place traveling a distinct journey that demanded the amazing transitions from catcher to second base to center field, covering three of the four up-the-middle defensive positions.  Forgotten is his seamless recovery from surgery in 2000 to repair the torn ACL and MCL ligaments of his left knee. The inevitable and ultimate salute was to a triumphant big league tenure fueled by an insatiable drive with equal devotion to family and faith.  
"Being a parent and a dad is the most important thing I'll ever do," Biggio says.
—
The Biggio brood was in full tow to Toronto when Cavan received his major league marching orders.  They were prominently positioned behind the third base dugout to witness his opening night which netted two strikeouts in three at-bats in a 6-3 loss to the San Diego Padres. More significantly, Biggio and Vladimir Guerrero Jr. became the first-ever sons of Hall of Famers to perform together on the same team.  Twenty-four hours earlier, Cavan was a Buffalo Bison in a Triple-A game in front of 7,965 at Frontier Field, home of the Rochester Red Wings.
In the Sunday afternoon series finale with the Padres, Biggio drilled a second-inning single in his seventh Blue Jay plate appearance for his breakthrough hit.  
And merely a prelim for his big bang theory two innings later.
Biggio put barrel on the ball, the balance in his feet, his hips working in sync, and blasted a towering solo smash to the right field upper levels of Rogers Centre sending a 1-2 pitch 405 feet to become the first St. Thomas Eagle to homer in the major leagues.
Cavan is progressing on pace after the Blue Jays drafted him in the fifth round in 2016 following a standout stay at Notre Dame.  His professional promise soared in 2018 when he bombed 26 home runs with 23 doubles while driving in 99 runs in 132 games. He was named the Eastern League MVP on the Double-A New Hampshire team that won the championship.
Biggio built on that success this spring with Buffalo, slashing six home runs, seven doubles, a triple and 26 RBIs for the Bisons while gloving five positions.
—
Craig grew up in Kings Park, New York, a middle-class commuter town on the north shore of Long Island.  He was a multi-sport schoolboy star, the Astros first-round selection out of Seton Hall in June 1987 and in the majors to stay a year later.  His was a legendary career marque filled with record-smashing and All-Star acclaim through 2,850 games. The guy simply would do whatever needed to be done.  Burning at the bedrock was a passion stoked by a principle supplied by his own dad, Lee.
You finish what you start.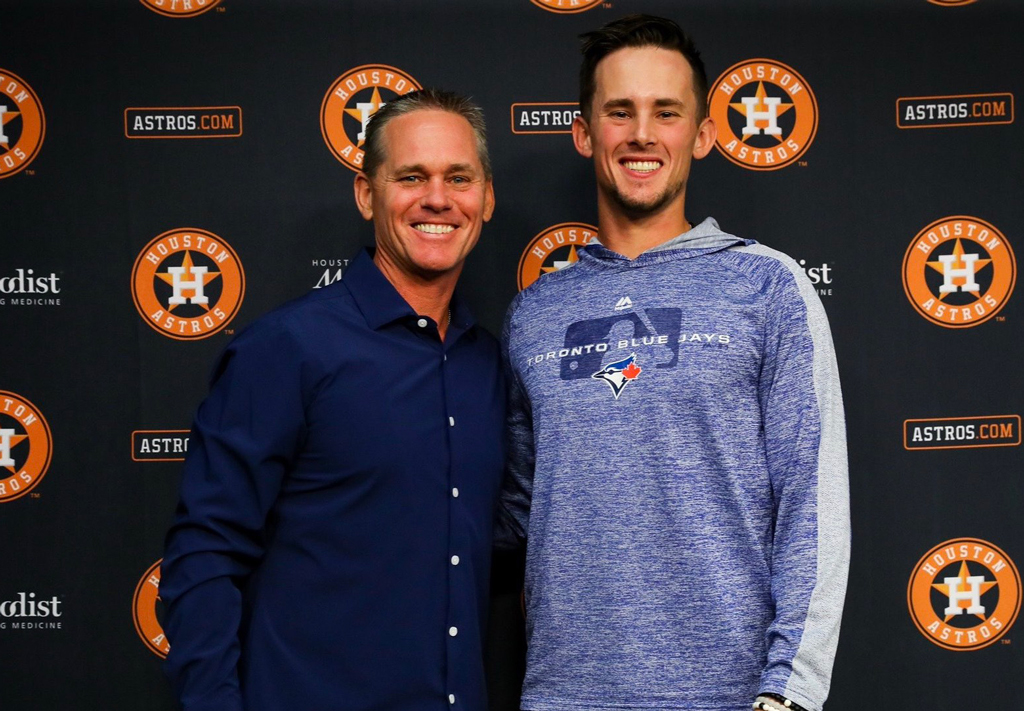 It is unusual for the son of a standout athlete to equal, much less surpass, a father's supreme accomplishments. The pressures can be enormous even with talent and deep desire prominently in play.  Cavan's encouraging Blue Jay launch could eventually forge a fantastic big league Biggio twosome. But what matters most within their souls is that the two are simply and profoundly, father and son.
Eagle Fight Never Dies!