For weeks if not months, Josh Wolf '19 has been distinctly aware that one way or another, his near and far future was about to change in life-altering ways – a confluence of tantalizing talent, exhausting work and faraway dreams harbored by millions of boys through optimistic adolescence before hard realities arrive for most of them.
But in the late evening hours of June 3 Wolf emerged from against all odds, his status confirmed through inexact science, his hard-charging predicted promise receiving the necessary seal of approval from a savvy pragmatic brain trust believing in his baseball gifts, and believing in them more than almost anyone else's.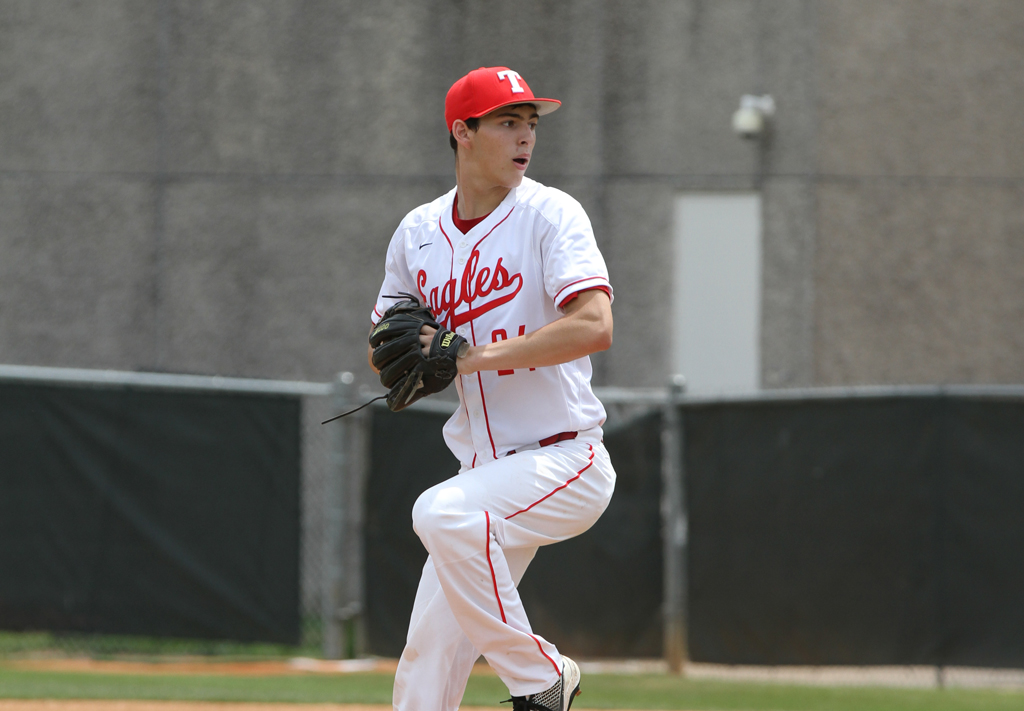 The two-time TAPPS all-state pitcher seized St. Thomas history when he was taken in the second round of the 2019 MLB Draft by the New York Mets, making Wolf the highest-selected player in the illustrious legacy of Eagle Baseball.
We've signed our 2nd round pick in this year's #MLBDraft, @Josh_wolf30! Welcome to the family. 🔶🔷 #LGM #Mets pic.twitter.com/rMLaVQ4TNU

— New York Mets (@Mets) June 19, 2019
Wolf and his representatives needed less than three weeks to officially seal a contract with a $2.15 million signing bonus. The 53rd overall selection carried a bonus slot value of $1.37 million (each pick in the first 10 rounds of the Draft has an assigned financial number). Wolf was the eighth high school arm taken after a run on pitchers began mid-way in the first round that resulted in eight grabbed in 12 picks.
The 6-foot-2 Wolf vaulted into elite consideration during the spring with an uptick in velocity to upper-90 mph with an overmatching curveball after touching 89-92 during the 2018 summer showcase circuit. He struck out 126 in 69 innings during his stellar senior season with a microscopic 1.52 ERA. And Wolf saved his most wicked for last in pitching the Eagles to their ninth state Final Four and sixth championship final in 10 years.
"An awesome few weeks for Josh, the Wolf family and St. Thomas," athletic director Mike Netzel said. "This distinction immediately places him among the most respected prospects in the game. I'm convinced he'll have nothing but success for many years … great competitor … hard worker … tremendous talent. For our school and program to have played a role in his development as a scholar-athlete over the previous four years has been extremely gratifying. We couldn't be more excited for Josh and what he has upcoming."
What MLB Pipeline says: Wolf has gotten noticeably stronger, adding at least 10 pounds to his 6-foot-2 frame, and dropped his arm slot from high three-quarters to three-quarters. Those changes have increased the velocity and movement on his fastball. … His curveball is residing in the low 80s with 12-6 break when he stays on top of it. … Though Wolf's changeup isn't as effective as his other two pitches, he'll flash some solid ones with fade and tumble. He already shows the aptitude to work both sides of the plate and all four quadrants of the strike zone. He still has room to add another 15 pounds and scouts rave about his makeup.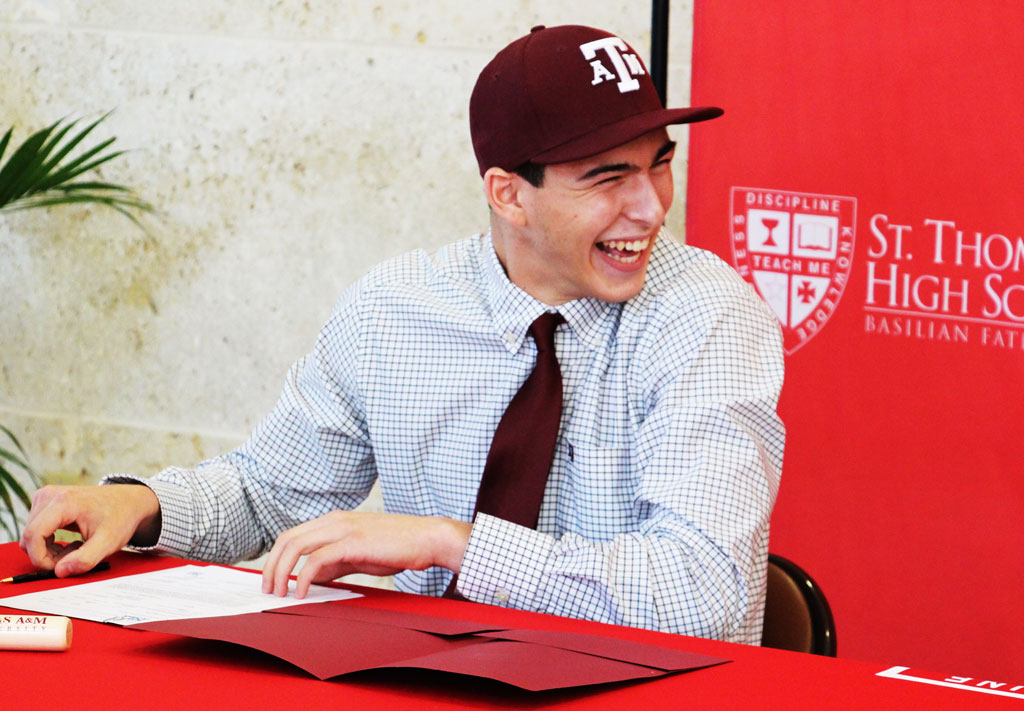 Wolf's draft night thrillarama was only two weeks and two days removed from his St. Thomas commencement exercise. In November 2017 a sudden recruiting swirl resulted in his verbal commitment to Texas A&M and Wolf confirmed his pledge on the 2018 November National Signing Day.  The Mets and vice president of scouting Tommy Tanous now acknowledge Wolf owns the skills necessary to play in the major leagues while offering the opportunity to prove he also possesses the drive to exploit them.
Wolf is entering a player development phase that is heavily weighted and influenced by pitch-tracking analytics to accentuate an individual's strength. TrackMan and the tech evolution have exploded as the unmistakable changing force in a data-intensive diamond world where four-seam fastballs and high spin rates are all the rage.  The progressive environment where seemingly every movement is critiqued through slow-motion video captured by high-speed cameras is unlocking a pitcher's lethal weapon repertoire and favors the intellectually curious athlete which perhaps plays to Wolf's advantage.
Wolf consistently buzzed throughout his senior campaign blazing in the face of radar guns and a barrage of relentless interest from the power players in the major league scouting realm – national crosscheckers, amateur scouting directors, trusted influencers.  The Mets choosing Wolf supports the credo strategically embraced by the forward-looking organizations built for sustained championship contention – pitching is the key to the kingdom.
In his grand Eagle finale, Wolf commanded a two-hit shutout with nine strikeouts to drive a 1-0 state semifinal victory over Tomball Concordia Lutheran. St. Thomas was winless in three games against TCL during the regular season.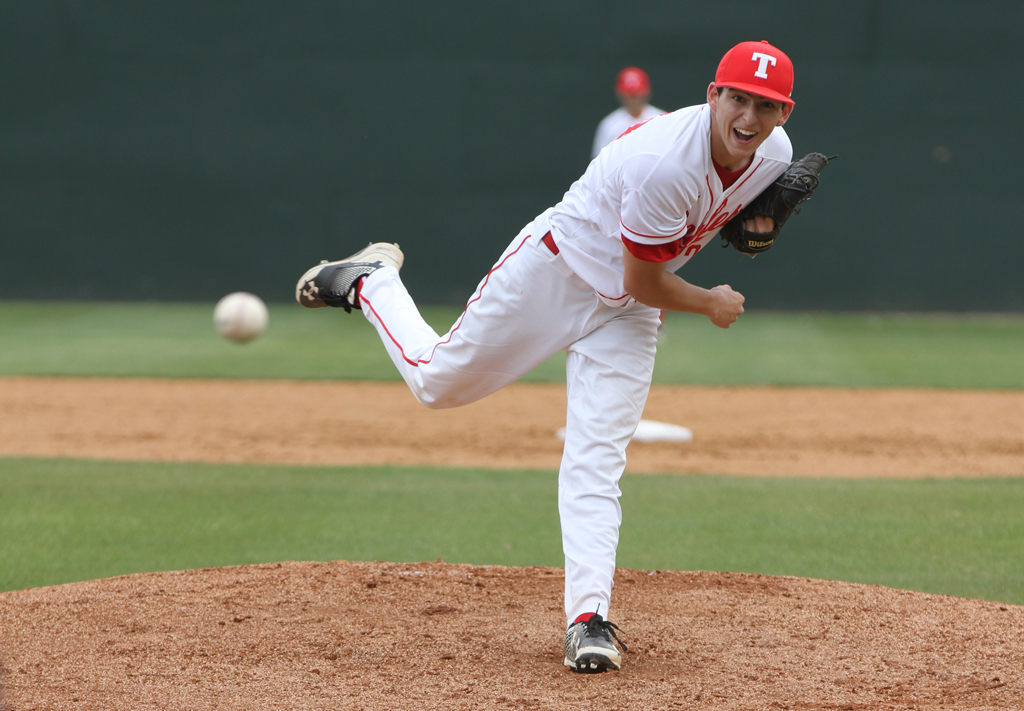 Wolf opened the state playoffs one walk away from a six-inning perfect game in a dominant 10-0 victory over Austin St. Dominic Savio at Fr. Wilson Field. He was in absolute command striking out 11 and allowing no base runners after issuing a five-pitch walk to open the game. Wolf struck out six straight batters from the second through fourth innings and then blowtorched four of the last six hitters to complete the no-hitter.
Wolf followed in the best-of-three series opener against San Antonio Antonian and pitched to within one out of his second straight complete game victory in a 4-3 verdict.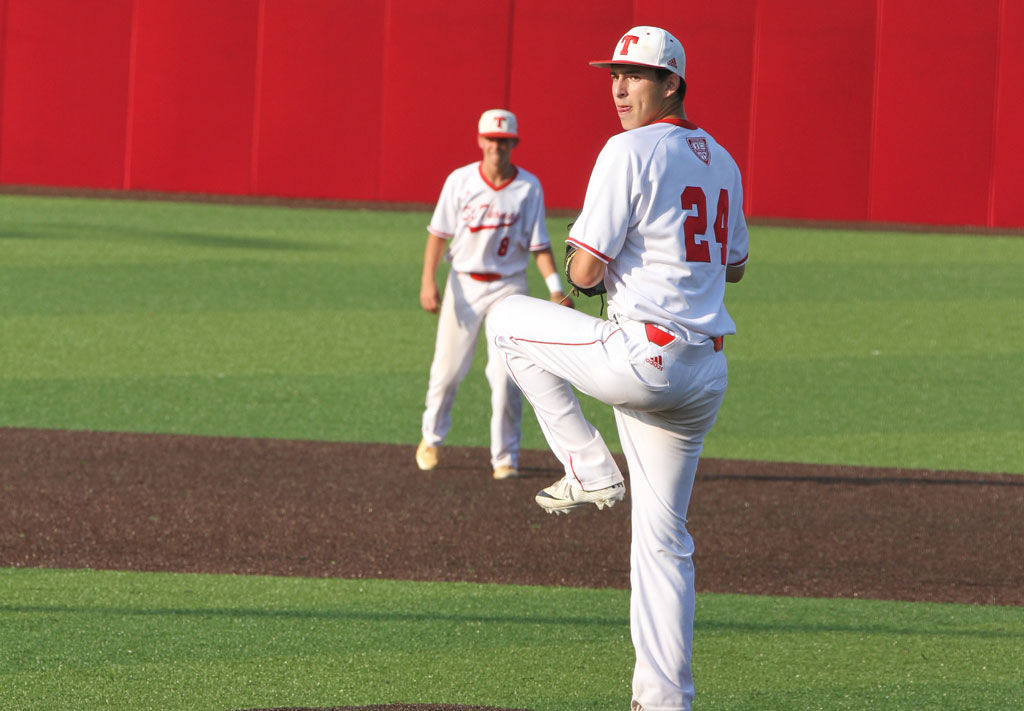 As a junior Wolf posted a 4-1 record with a 1.06 ERA and 53 strikeouts in 39 innings as Eagle Baseball reached the state semifinals.
Two-sport Eagle standout Jeff McCurry '88 was drafted by the Pittsburgh Pirates in 1989. He opted to sign with TCU and then transferred to powerhouse San Jacinto College. McCurry was selected again by the Pirates in the 14th round in 1990 and debuted with the organization five years later. He then made major league stops with the Tigers and Rockies before his career came to a close with his hometown Astros in 1995. McCurry was inducted into the St. Thomas Sports Hall of Fame in 2018.
In 2011, Patrick Leonard '11 signed directly out of St. Thomas after the Kansas City Royals tabbed him in the fifth round and 156th overall. Five years later Cavan Biggio '13 was also drafted in the fifth round (162nd) by the Toronto Blue Jays after a standout career at Notre Dame.  Biggio made his MLB debut 10 days before Wolf's selection and in his seventh big league at bat became the first Eagle to ever homer, lifting a towering drive to the right field upper levels of Rogers Centre.
Previously Eagle Baseball celebrated …
Adam Zornes '04, seventh round 2008 by the San Diego Padres from Rice University
Austin Fairchild '12, 16th round 2012 by the Royals
Conor Biggio '11, 34th round 2015 by the Astros from Notre Dame
Wolf was prized in a Draft where he shared broad connections up and down the board. Four of the first 12 picks and six first-rounders played high school baseball in Texas including Wolf's Met draft-mate Brett Baty from Lake Travis, and seven of the front 21 selections held ties to the state.
Eagle Fight Never Dies!