St. Thomas remains dedicated to transforming the minds and hearts of the Eagle community through social service and advocacy, ensuring that the Basilian mission of Teach Me Goodness, Discipline and Knowledge measures beyond mere motto, but is a stable of life.
During the launch of the 2019-20 academic year, the student body is providing valuable volunteer participation at the Houston Food Bank with each class accompanied by a sizable group of faculty members, staff and counselors. The intent is to support and challenge Eagle scholars as they encounter differences, learn what they do not yet understand, and put their faith into action to benefit others.
"What is meaningful is St. Thomas as a community seeking to make a difference in the broader Houston community," faculty member Phil Gensheimer says. "We want our students to realize there's more to their lives than what is represented on campus and in the classroom. We want them to be active in the wider world."
Eagle groups worked in multiple assembly lines, sorting incoming donated goods, filling boxes with an assortment of food basics which were then categorized and placed on pallets to aid more than 500 different relief charities through southeast Texas.
The tasks vary, but the collaborative Eagle spirit was the same, working side-by-side and gaining an awareness of food poverty and its damage to people's dignity.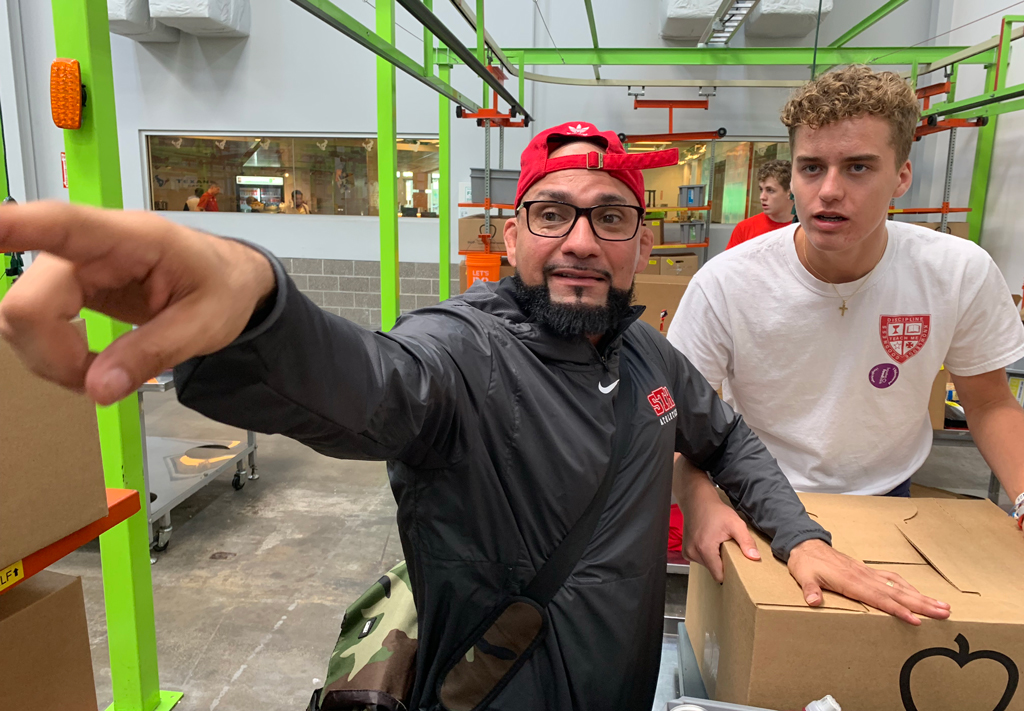 Alex Gotay is in his second year as the director of campus ministry. He believes that "a huge part of my coming to St. Thomas was this kind of dedication. I knew these young men were preparing to become future leaders, many as CEOs or with ranking job titles, and others as leaders within a church or a neighborhood or as concerned citizens. Those are roles where you find St. Thomas graduates. And I want to impress upon them this extended view of contribution beyond academic or professional advancement and have that be reflected in that future leadership.
"Believe me, there are many schools with solid reputations and when it's over for students academically, it's over. That's not St. Thomas. When our students graduate and move on with their lives, there's a connection with St. Thomas that remains. It may sound cliche but it's fact. And that connection is built from activity such as this that will leave a mark."
The active involvement with the Food Bank is the latest commitment in a long standing St. Thomas relationship with a member of the nation's largest non-governmental, domestic hunger-relief organization.
The Food Bank annually provides more than a million meals feeding more 800,000 people. Fresh produce, meat, and nonperishables are distributed through pantries, soup kitchens, senior centers and other agencies in 18 counties.  Tiffany Thompson is a Food Bank volunteer representative and estimated that the St. Thomas contribution tripled the organization's volunteer manpower during the two days.
Many within the Eagle contingent visualized who may eventually benefit from their efforts – a family with infant children, or low-income single parents, or recently arrived working immigrants. Gotay vividly reached deep into his personal history.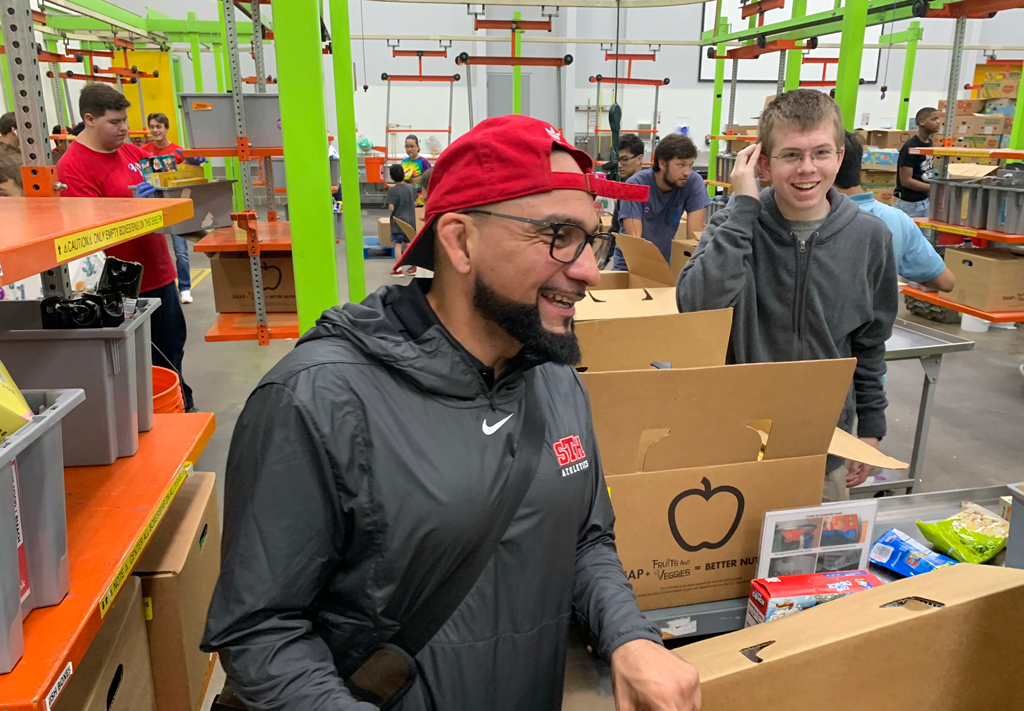 "My family was one receiving from these kinds of efforts," Gotay says. "I grew up as a military brat … bounced everywhere. Later (2001-03) I was part of the Marine Corps Recruit Depot in San Diego. I can speak first hand to the benefits of what our students and teachers are contributing to this week. It's a powerful involvement."
Gensheimer and his wife Chrissy have more than 40 years of combined teaching experience at St. Thomas. Their sons Josh '18 and Adam '21 represent the Eagle experience as students. The family routinely interacts with the Food Bank during the Thanksgiving holiday and summer months as a direct result of their exposure through St. Thomas, perhaps the supreme example of where an intentional introduction may lead.
"Last year I recognized one of the volunteers outside our group as a former St. Thomas student Chrissy and I had taught," Gensheimer says. "I came to find out he had pledged 200 hours a year to volunteerism. That's a great example of what we hope to spark in our students."
St. Thomas also begins the academic year with Camp Aquinas for incoming freshmen, prep sessions to accelerate the college selection and application process including a college essay workshop, and student visits to Texas A&M University, the University of Houston, and fellow Basilian University of St. Thomas.
But most significant is maintaining the essential Eagle tradition of meeting the needs of disadvantaged and underserved groups whether it be direct engagement, contributions, or humanitarian relief, inspired by the Basilian realization that truth about God, the world, and personal identity can only be authentically explored through relationships with others.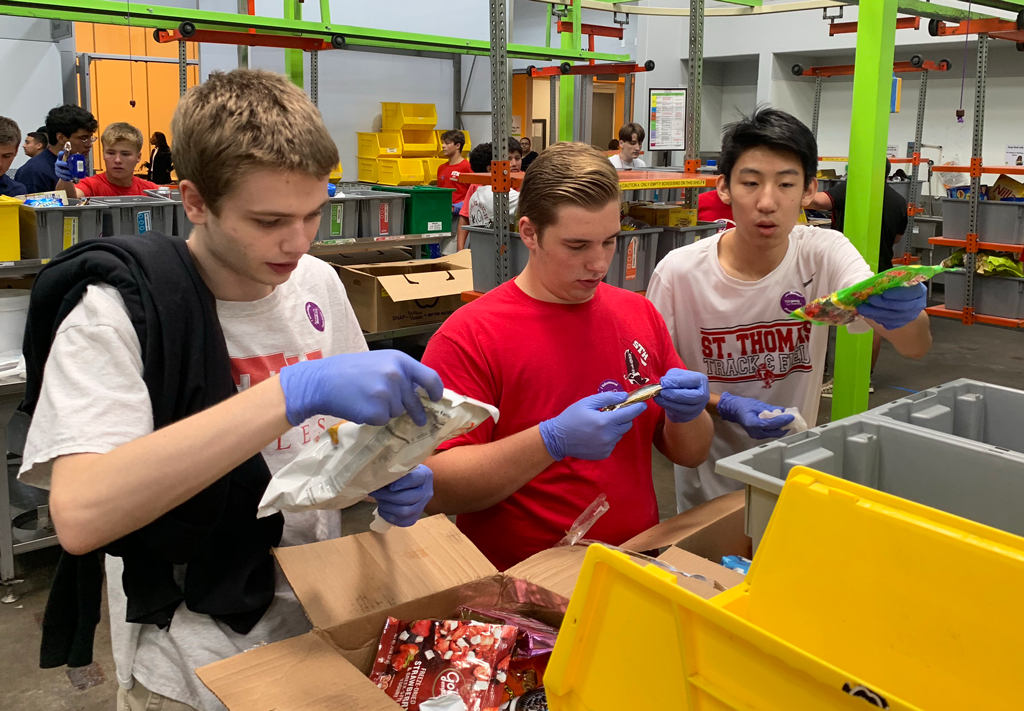 "I can't tell you how many of our students perform significant service quietly and without notoriety," Gensheimer says. "I often don't discover the depth of their efforts until graduation or when I'm asked to provide a reference letter for college admissions. And that's the true measure of service, reaching out in a humble yet meaningful way."
Catholic. Basilian. Teaching Goodness, Discipline and Knowledge since 1900.