This story was originally published in September 2015
GAME TWO – NRG STADIUM, NFL HOME OF THE HOUSTON TEXANS
Strake Jesuit (1-1) 35
Eagles (2-0) 42
WHAT YOU NEED TO KNOW
Quarterback Michael Keating '16 capped a six-touchdown extravaganza by completing an ad-lib touchdown pass to Drew Guidroz '16 in the final maniacal moments to defeat Strake Jesuit in a wild 42-35 scoring fest in front of nearly 10,000. The raucous win was the Eagles' fourth consecutive victory in the series, with three coming in the game's final six seconds, the previous two on scoring throws from Keating.
TURNING POINT
After erasing three different deficits, the Eagles drove to Strake's 10-yard-line in a 35-35 game with Keating rushing on seven straight plays 51 yards, including a 20-yard keeper from midfield just inside the 3:00 mark.
In range for a potential game-winning field goal and facing second-and-two with :16 left, coach Tim Fitzpatrick elected for one shot to the end zone and Keating turned in a masterful Manziel-like completion. He dropped back in the pocket, stepped up to avoid pressure, reversed pivot 360 degrees while maintaining his balance and eyes to the end zone, then delivered the game-deciding strike to Guidroz to finish STH's fourth consecutive touchdown series.
RAPID REVIEW
Fitzpatrick: "I'm a gambler. And I believe in our kids. I liked our chances to get the touchdown. Tons of weapons and lefty (Keating). He's a baller. Always looking to make something happen. With his ability to scramble it allows some of those routes to develop. The coverage breaks down and the receivers don't just stop and watch. They're breaking to open areas and that's what Drew did. Kudos to the kids. What a great night to be an Eagle."
Athletic Director Mike Netzel: "Without question one of the absolute best performances since I've been involved with St. Thomas (2008). This was a state championship game setting. What a response in this kind of game on this kind of stage. What a payoff for the great support in this building. When your guys commit in the off-season and summer like these guys have, when you invest, players and coaches, and you put enough in the tank, you won't quit. You won't give in. Our guys were determined to make the plays at the end that would make the difference."
CAN'T STOP, WON'T STOP
The Eagles trailed 21-14 at halftime and 28-21 at the end of the third quarter, but rallied with a 21-point fourth period, twice answering Strake touchdowns with 11-play scoring drives to tie or go ahead.
MORE FITZPATRICK
"Eagle Fight Never Dies!  It's more than words in a motto. Our guys believe that. If there's time left on the clock, we're in the game. We've been in a lot of tight situations with big stakes. We expect to answer the challenge."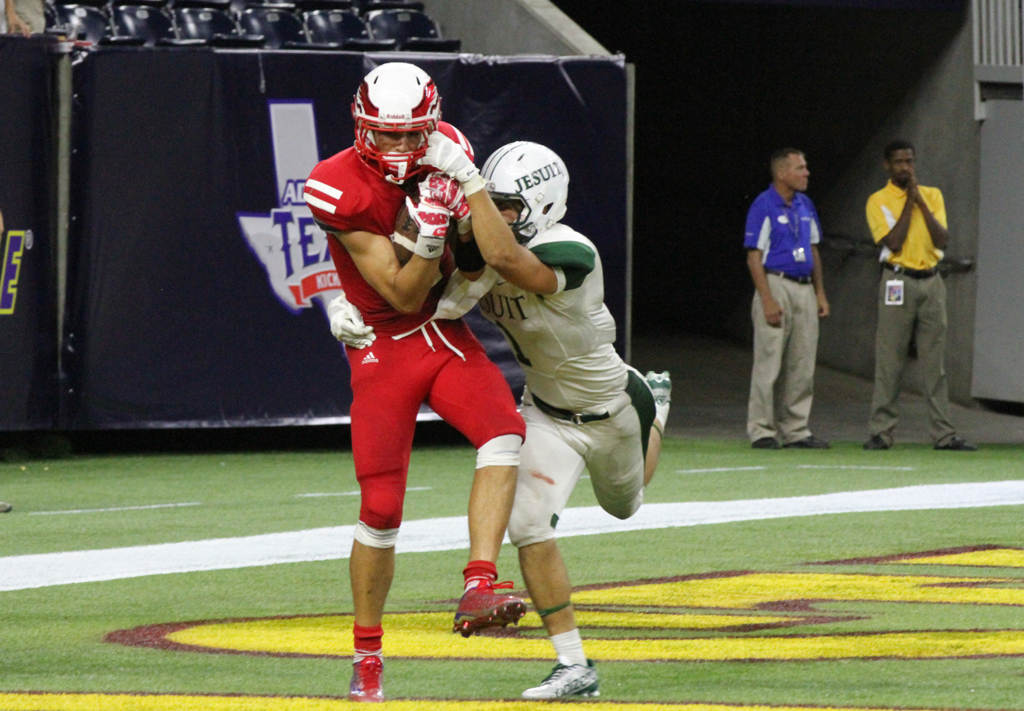 MORE FITZPATRICK
"This is what makes Texas high school football great. Such an electric atmosphere. Easy to get swallowed by the hype. It shows just how mentally tough our guys are, to get off to a solid start, lose some momentum, keep their confidence, and then perform in crunch time."
THAT'S A BINGO
During a stretch of six touchdowns in seven possessions, the Eagles took their first lead since early in the second period with a play call outside the prescribed game plan.
Offensive coordinator Keith Page noticed the Strake defensive backs committing hard to defend the punishing Eagles rushing game. He had Keating roll left in what appeared to be the latest in a series of stretch runs with receiver Landon Malouf '15 entertaining a down-the-field block before breaking alone up the left seam.
Keating rode behind the line of scrimmage to influence the Strake secondary, suddenly planted and delivered to an uncovered Malouf in stride, who raced alone 63 yards to give St. Thomas a 35-28 lead that would last for only four plays and 1:52 on the game clock.
MORE FITZPATRICK
"We had run Keating with that sweep several times. Their corner was coming up to make the play but there's no help behind him. We saw that and told Michael to sell the run and go up top. There was no one within 10 yards of (Malouf). Just the adjustments you have to make. Like chess. Set it up and checkmate."
DEJA VU, ALL OVER AGAIN
The play was reminiscent of Auburn quarterback Nick Marshall mesmerizing no. 1 Alabama in 2013 with a late throw out of a zone read option to hit Sammie Coates for the touchdown that stunned the defending national champions in a 34-28 shocker. And similar to the "Roll Left" that has lived long in Texas Longhorn lore – a delicate toss from James Brown to tight end Derek Lewis on a gutsy late-game call on fourth-and-inches at the UT 28-yard to stagger no. 3 Nebraska in the inaugural Big 12 championship game in 1996.
And it was Malouf who was the triumphant hero one year ago in the draining ticks at Crusader Stadium completing one of the most improbable escapes in Eagle football history. Malouf finished a 47-yard weaving left-to-right catch-and-run touchdown through and past four Strake defenders with :04 left to give St. Thomas a see-and-still-not-believe 11-5 victory.
THE KID WHO COULDN'T BE CORRALLED 
Keating was the catalyst for 395 of the Eagles' 472 total yards. He burned the Strake secondary for 274 yards on 20-26 with three touchdowns and bruised their front seven 28 times for 121 rushing yards and three more touchdowns.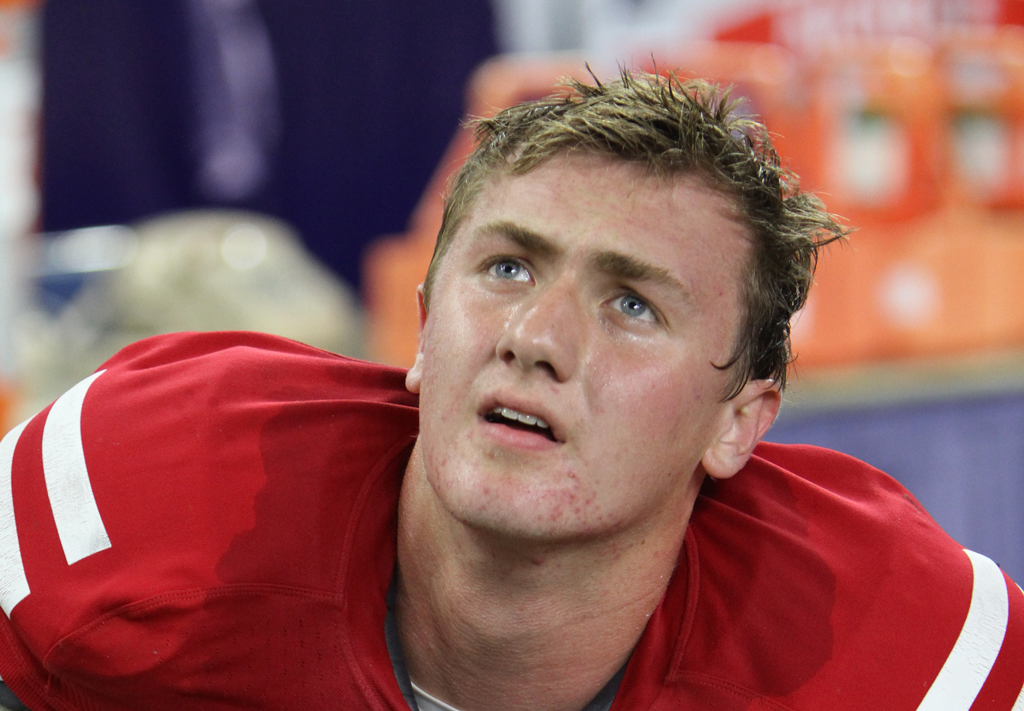 Keating's eight-yard scoring dart to Guidroz (career-best 7 catches for 137 yards) finished the Eagles' initial series when they drove just 32 yards for the game's first touchdown.
Keating orchestrated a 13-play drive midway second quarter, including consecutive completions to Guidroz worth 22 yards. The Eagles then overcame a first-and-20 at midfield, got 16-yard runs from William Heck '16 and Rowdy Hinckley '16 before Keating cashed in from short range to pull St. Thomas even at 14-14.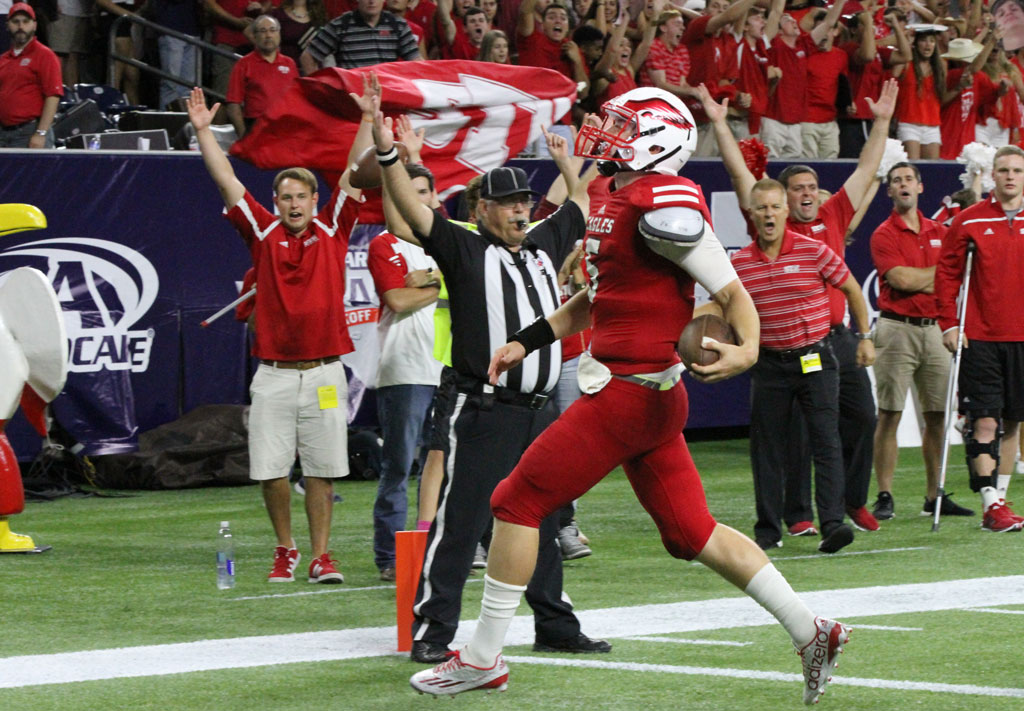 In the third period, Keating navigated a 75-yard drive, highlighted by a 22-yard pitch-and-catch with Malouf and an inside slant completion to Jhamon Ausbon '17 which resulted in a 32-yard gain after penalty yardage for spearing. With less than 10:00 remaining, Keating crashed the right side of the end zone from four yards for the game's fourth tie and 28-28.
MORE FITZPATRICK
"In the second half, Michael played with so much poise. When he didn't like what he saw in the passing game, it was tuck and go. That unpredictability makes him so dynamic."
FAST START, FURIOUS FINISH
The Eagles allowed only 19 total yards on their first four defensive possessions and appeared positioned for early control. But a sizable punt return from double-duty David Jones '16 which would have put St. Thomas one-yard away from a commanding 14-0 advantage was negated by a holding penalty.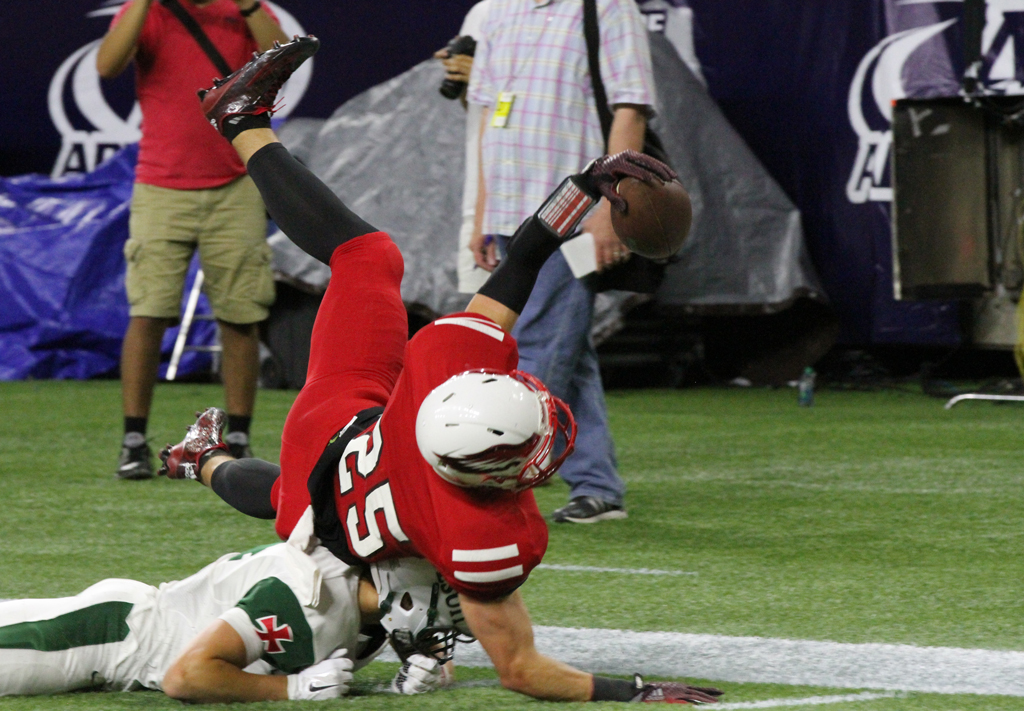 The Eagles then fumbled away the possession and eventually surrendered 21 points in the second quarter, 347 yards for the game and a game-tying 67-yard screen pass-and-run which knotted the game at 35-35 – all of which set the stage for Keating's last-tick thrillarama.
ROCKING AND ROLLING
The Eagles start the season 2-0 for the four straight year. They've now won seven straight regular-season games and 25 of their last 26, improving their record to 32-5 since Fitzpatrick was promoted to head coach in 2012.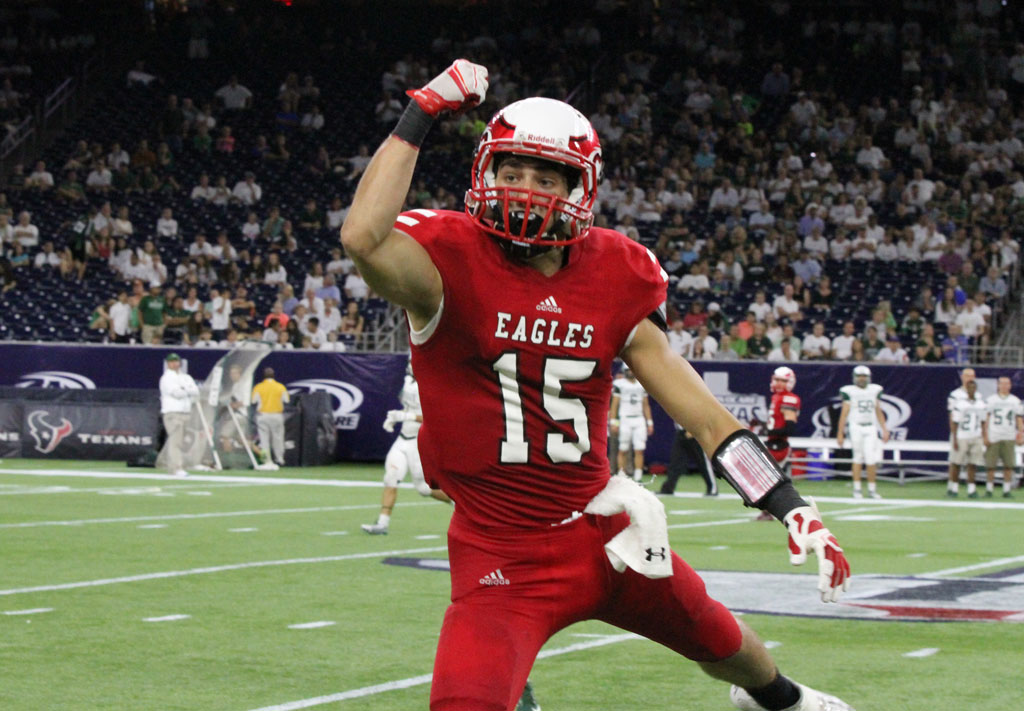 During that stretch St. Thomas is 29-2 in the regular season, 3-3 in the playoffs, 15-1 in district, 18-0 at home, 12-5 on the road with two neutral site wins over Strake (Tully Stadium in 2013).
UPCOMING
The Eagles face consecutive road tests with Santa Fe and Episcopal before hosting Angelton in the home opener at Hotze Field inside Granger Stadium where the Eagles own a 20-game win streak.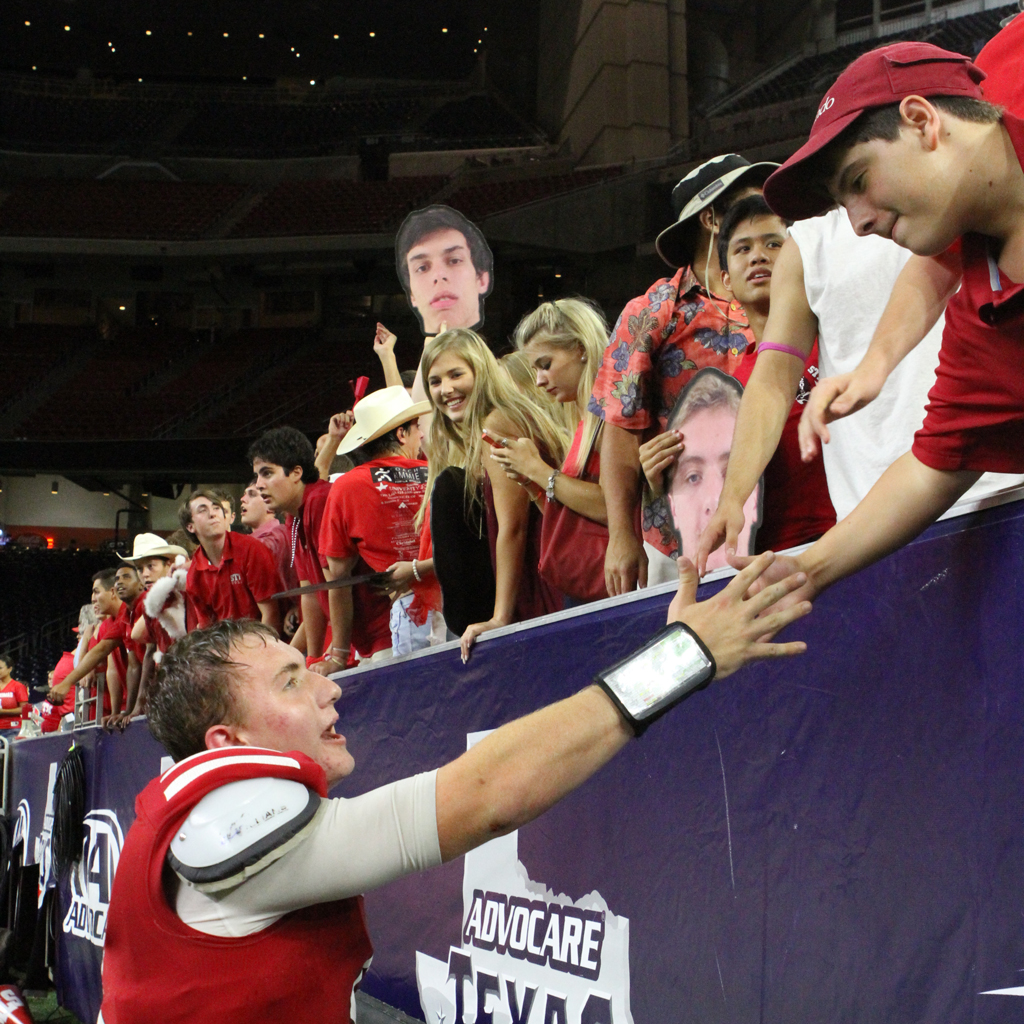 Eagle Fight Never Dies!