Deep in the heart of Houston there's a different kind of pulse.  A swagger that cannot be denied.  Eagle Football takes flight into the 2019 season.  The Red & White is ready to rumble.
To paraphrase Robert Browning, "a man's reach should exceed his GASP."
HEAD COACH: Rich McGuire
3rd year as head coach
5th year in the Eagle program
2014 and '15 TAPPS state semifinals, 2018 regional final, three district championships
Priority One is replacing the twin engines which propelled a vital resurgence as well as the highest octane season in Eagle history. Quarterback Peyton Matocha '19 (University of Miami) and running back Ian Wheeler '19 (Howard University) were in many ways the faces and driving forces of last year's outfit that reclaimed the district title and posted the program's first playoff victory since 2015 while reaching the TAPPS 6A regional finals. And now both are gone.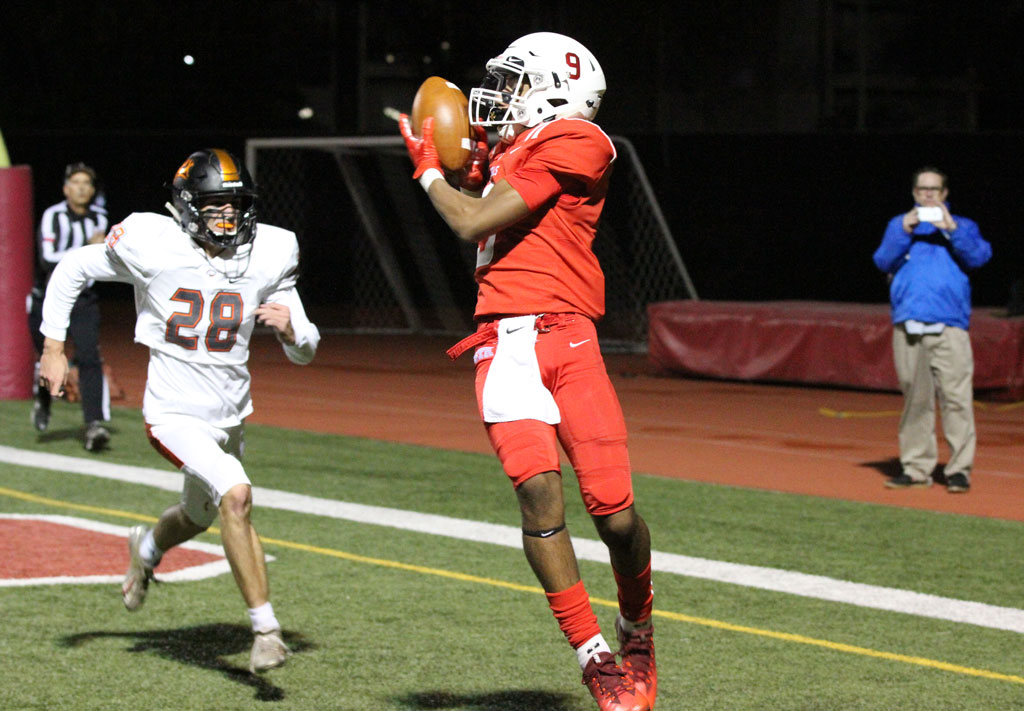 In 2018, the Eagles unleashed one of the most efficient passing-down offenses in the state with Matocha distributing the ball to an outstanding receiving corps that returns Josh Crissmon '20 (845 yards and 10 touchdowns) and Jordan Augustine '21 (738 yards and 12 scores).  No transition is seamless, but versatile dual-sport Maddox Kopp '21 appears primed to assume the quarterbacking reigns. He has the 6-5 measurables and brother bloodlines (Braden, Vanderbilt tight end … Miller, Northwestern basketball … and Anderson '19, Lamar basketball) to project a more than suitable encore for the program's all-time yardage leader.  In the long ago past are the days and Friday nights of running tailbacks around tight ends.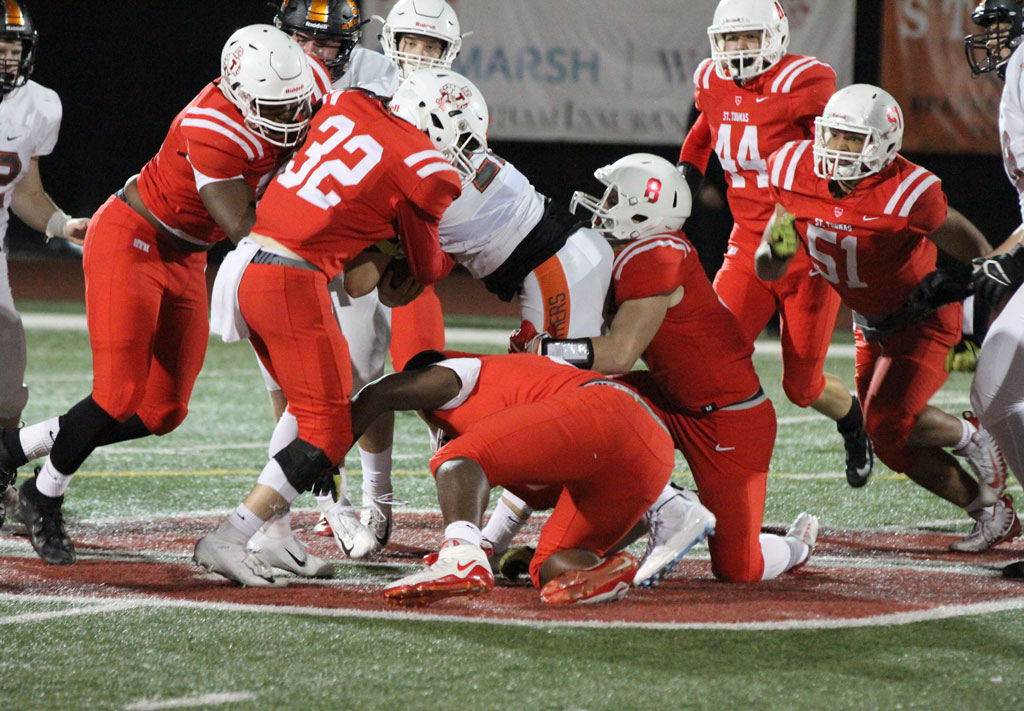 Offensive regression would apply pressure on the defense needing to rebound and resemble a unit required of a deep playoff contender. McGuire must devise a strategy to improve the havoc rate (total tackles for loss, passes defended and forced fumbles divided by total plays) and dramatically reduce explosive gains. High-level disruptors Cooper Thomas '20 (99 tackles, 51 solo) and Chidera Umeh '20 (10 tackles for loss) anchor a front seven searching for surrounding aggressive playmakers. Dual-sport and super-active All-State safety Daniel Coco '20 (74 tackles) starts for the third consecutive season and provides valuable experience in the secondary, as well as a run-stopping force.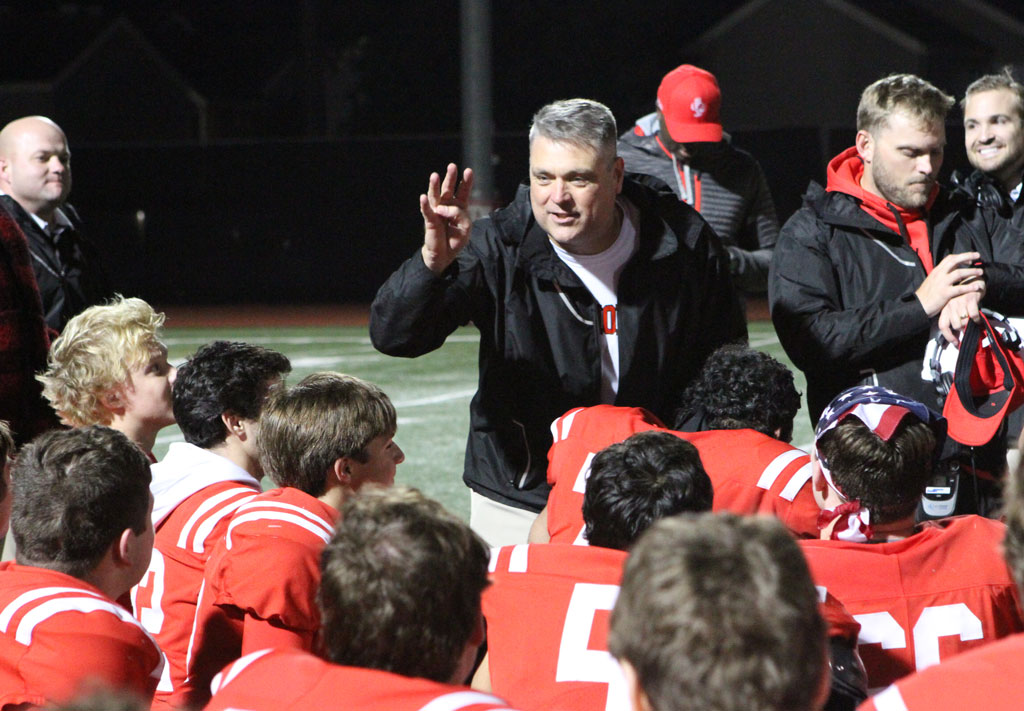 McGuire and his staff haven't yet reached the plug-and-play stage of preseason prognostication. Nor are they scared of making creative choices with their personnel, a likely key component for Eagle Football to continue the clear growth shown during last year's mid-season revival.
2019 St. Thomas Football Schedule
(Home games bolded)
Aug 30: at Strake Jesuit 7:00 p.m.
Sept 6: NEEDVILLE 7:00 p.m.
Sept 13: at Kinkaid 7:00 p.m.
Sept 20: STAFFORD 7:00 p.m.
Sept 27: CEDAR HILL TRINITY CHRISTIAN 7:00 p.m.
Oct 4: at China Spring 6:30 p.m.
Oct 11: TOMBALL CONCORDIA LUTHERAN 7:00 p.m.
Oct 18: at San Antonio Antonian College Prep 7:00 p.m.
Oct 25: San Antonio CENTRAL CATHOLIC 7:00 p.m.
Nov 1: off week
Nov 8: at St. Pius X 7:00 p.m.