The two once teamed for wins and records and state championship caliber contention. They remain united because their ties bind well after and beyond the ball.
In the early weeks of the 2020 academic year, Eagle Basketball boss Gary Hall welcomed a return from Scottie Reynolds, a revisit to their glory days in Herndon, Virginia nearly two decades ago. Fast breaking times and bonds that remain unbreakable.
"Friendship and loyalty" are the split second descriptions Hall reserves for his once sublime high school talent.
Reynolds replies that the two "don't have to stay in contact every day or every week to remain connected. There's tremendous respect between the two of us that picks right up where we last left off."
Hall follows that his coaching credo is "more than just the scoreboard. I've always believed that if we can leave this world knowing we've made an impact on someone, made a difference in someone's life, that's what matters the most. And I'm blessed to have that relationship with Scottie."
Memory preserves what otherwise is gone. And when Hall and Reynolds retreat to their collaborative times, the backward tracings are as sweet as deep wing jump shots spinning and splitting absolutely positively nothing but the bottom of the net.
"Coach Hall created a great culture for success – in basketball, in school, in life," Reynolds says. "It's all about relationships. Right now I work out every day with Ricky Lucas at 6:00 a.m. He was a senior when I was a freshman (and then continued at George Washington University and Stony Brook). We hadn't talked in years but that Herndon connection is still there. Same with coach Hall. That's why relationships last, not because you once chased state titles but because there's genuine appreciation for an individual."
Hall is in his second year reestablishing Eagle Basketball after reaching the TAPPS 6A regional final in his debut season. He acknowledges that "at Herndon, we had that 'tradition doesn't graduate' mentality. Each of our senior groups passed along what it meant to be part of that program, the responsibility of being part of that program. That's what we're building here at St. Thomas."
Herndon was and remains a tight-knit community, where the winters are long and daylight hours short, and basketball games double as defining events. They are the communal gatherings, celebrations, and indelible beacons of the region's identity.
In two stints at Herndon High School, Hall posted an overall 392-189 record with eight conference championships, one regional title, and three state tournament appearances. In the mid-2000s, Reynolds was the ultimate avatar of Herndon basketball, a sinister slasher at the point who sprinkled his influence all over the box score, a strong relentless scorer with a deep-rooted competitive streak and passion for playing the right way.
In 2006, Hall navigated Herndon to the Virginia AAA championship final while Reynolds was earning his third straight Virginia Player of the Year award. By season's end, he was among the McDonald's All-American parade alongside Kevin Durant, Ty Lawson, Greg Oden, and Mike Conley.
https://youtu.be/ie51i-eSVQo
Reynolds later earned signature All-American distinction at Villanova. History called in the 2009 East Regional final of the NCAA tournament against Pittsburgh and he aggressively answered with a three-quarter court dribble drive in the closing maniacal moments. Reynolds pierced the paint and his floater flopped through the cords with a half second to spare to push a dormant Wildcat program to its first Final Four since the 1985 national championship. In the midst of the mayhem, Reynolds and his unscripted magic was forever planted among the mad dash March Madness poster boys.
Fast forward to 2019 and Reynolds will soon depart for Greece as his professional hoopathon career extends into a second decade. His parting words of wisdom for Eagle Basketball were directed with Shark Tank clarity.
"Be in the moment, cherish the moment," Reynolds says. "You're never going to get these four years back so don't leave with regrets that you didn't try hard enough, that you didn't care enough. Push yourself to do what you hope to do, so five or 10 years from now you won't look back with regret. Concentrate on the present and the future will take care of itself."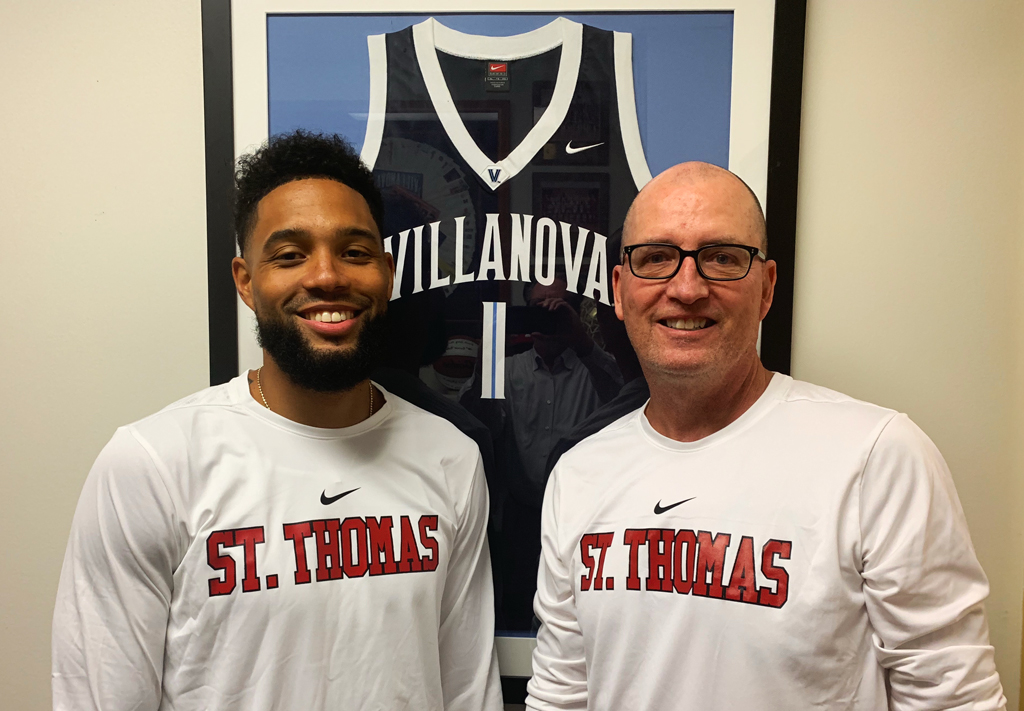 Hall relishes such sentiment, no doubt recalling that he imparted much the same advice on the high school Scottie Reynolds in Virginia.
"Scottie never received special treatment because he was a star," Hall says. "He had strong ties with people everywhere on campus because he took the time to know people by their first names. Life isn't defined by how much money you make or reaching the NBA. It's about making the most of your talents, overcoming adversity and obstacles, caring about others along the way. Very few people maximize their potential. Scottie has done that, on and off the court. That's what makes me proud – who he is as a person much more than who he is as a player. And he's a hell of a player."
Eagle Fight Never Dies!