This story was originally published in the fall of 2017.
On the evening of August 25, Hurricane Harvey made landfall in Texas as a category 4 storm, spawning a flood event on an entirely different scale than what Texas, and the United States, had before seen, soaking parts of the Greater Houston area during a four-day deluge with more than 50 inches of rain.
What the city might expect in an average year.
Twenty trillion gallons in all.
The equivalent of the entire Chesapeake Bay.
The flood damage … biblical in proportion … frightening to behold.
And as mother nature rained down, human beings rose up, the gut-wrenching paired with the truly uplifting.
The jaw-dropping efforts of individuals and organizations doing the near impossible in this political and social climate … bringing people of all races, religions, social and socioeconomic circles together in a common cause of compassion and solidarity.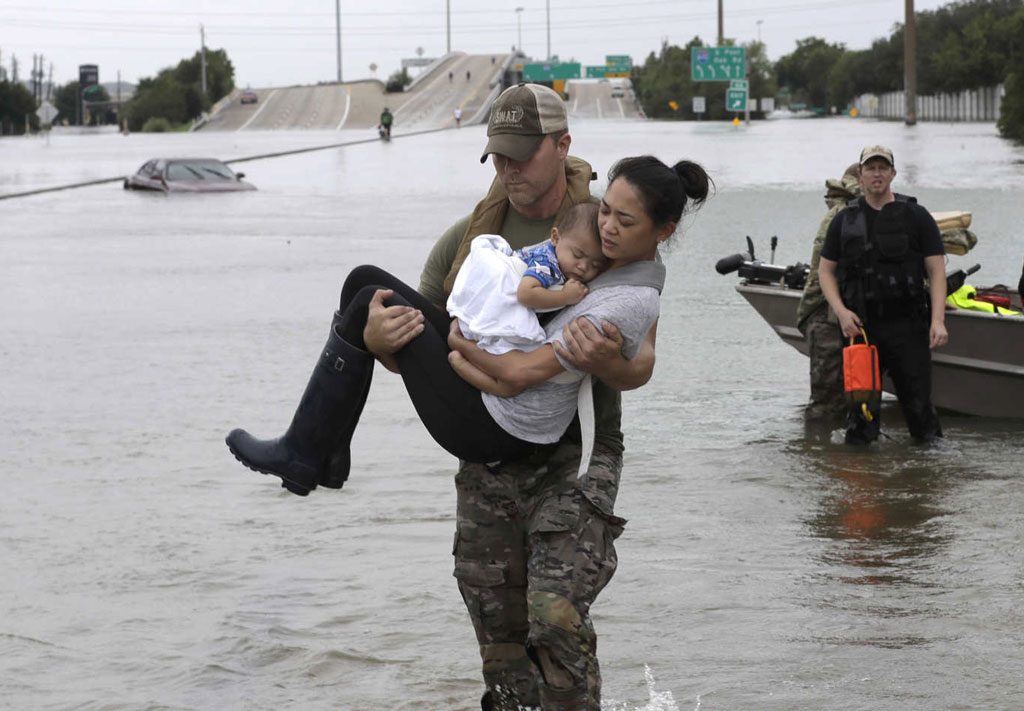 Barriers cast aside … no one left as a spectator … the human family united.
As swaths of Greater Houston and surrounding cities were under water, the extended St. Thomas community remained steadfastly united. The STHCatholic Facebook, Twitter and Instagram accounts recorded staggering traffic, spiking in the 10s of thousands in both reach and engagement, as our brotherhood relied on social media to seek support, assist those in need and remain responsive to ever-changing conditions.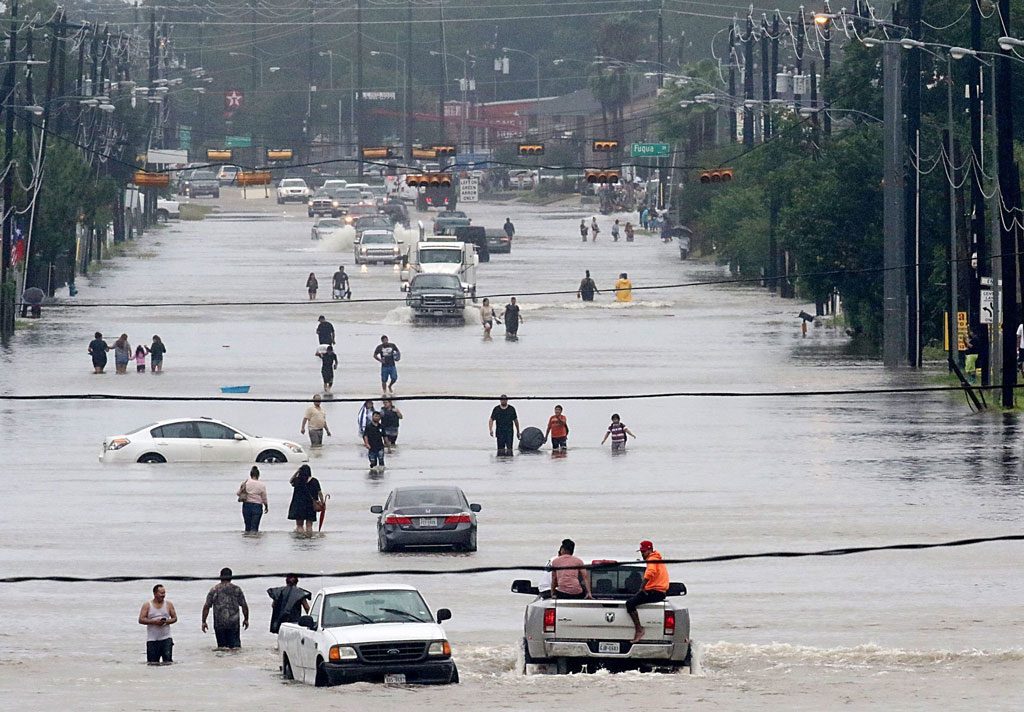 Matthew Marchetti '08 was among the thousands throughout Houston watching Harvey unfold almost in real time on digital platforms.
As colossal amounts of water gushed over a heavily populated region with poor drainage, Marchetti detected that the necessary response time from civic authorities could be compromised. He quickly enterprised an online mapping tool to track stranded residents.
Houstonharveyrescue.com allowed victims to input their location with details of their condition and cell phone numbers. A legion of rescuers accessed the website and clearly identified those in most dire need.
In the first Monday morning as Harvey stalled out over Houston, sending one band of rain after another smacking into the city, nearly 5,000 people had registered with more than 2,500 receiving some form of assistance, thanks to Marchetti's ingenuity creating one of the first open-sourced rescue missions in the United States.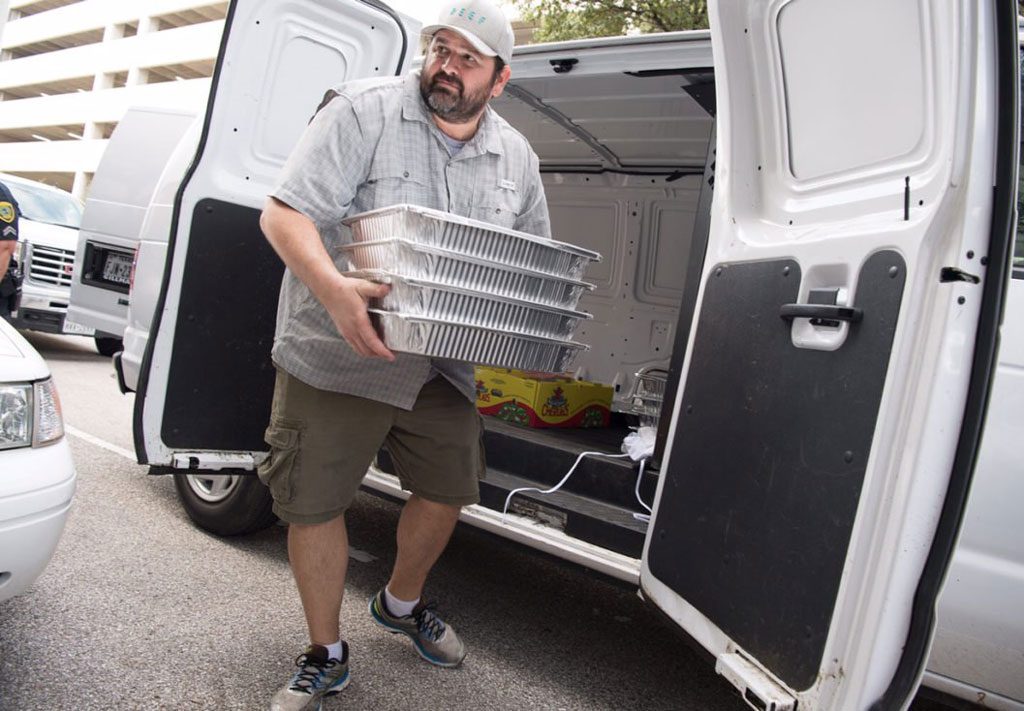 Nationally known celebrity chef Bryan Caswell '91 and his wife Jennifer couldn't open their storm-ravaged flagship Reef for customers after Harvey, but it made a perfect HQ for hurricane operations and food triage for first responders.
Caswell's team was feeding 10,000 people a day while floodwaters were still rising. "Everything that was in the restaurant was cooked and sent out," Jennifer said.
Eagle Football was scheduled to open for the fourth consecutive season against The Kinkaid School in what figured to be the St. Thomas head coaching debut for Rich McGuire.
Hurricane Harvey had a decidedly more devastating agenda.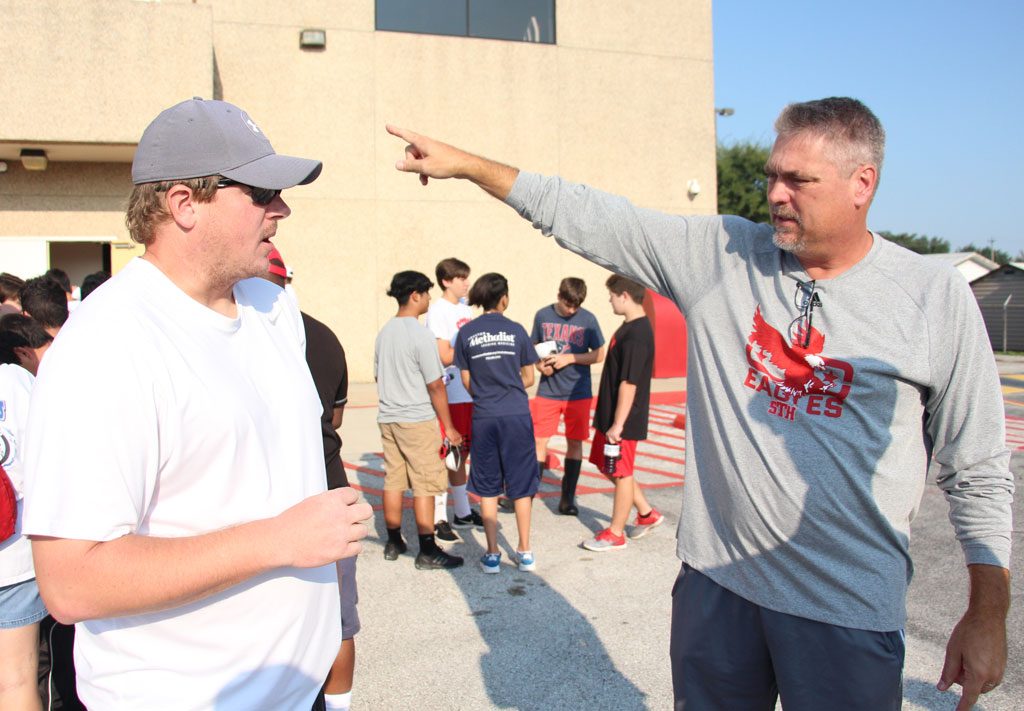 So the first adjusted game plan of McGuire's inaugural campaign was reaching out to Falcon head coach Nathan Larned and assembling more than 100 student-athletes who quickly flipped from foes to teammates, banning together to provide short-term relief to flood-crippled neighborhoods throughout the city
"I texted Nathan … obviously we couldn't play (September 1) but we could do something … a way for both of us to get a win … both start undefeated," McGuire said.
McGuire and members of his coaching staff including Ray Davis, Jerrod Johnson, Andrew Quittenton and Josh Hooten, along with athletic coordinator and head soccer coach Kenny Martin '01 and faculty member Darrell Yarbrough organized, dispatched and accompanied students on recovery missions, the worst of times bringing out the best and brightest from the Eagle community, in lockstep with their Kinkaid counterparts.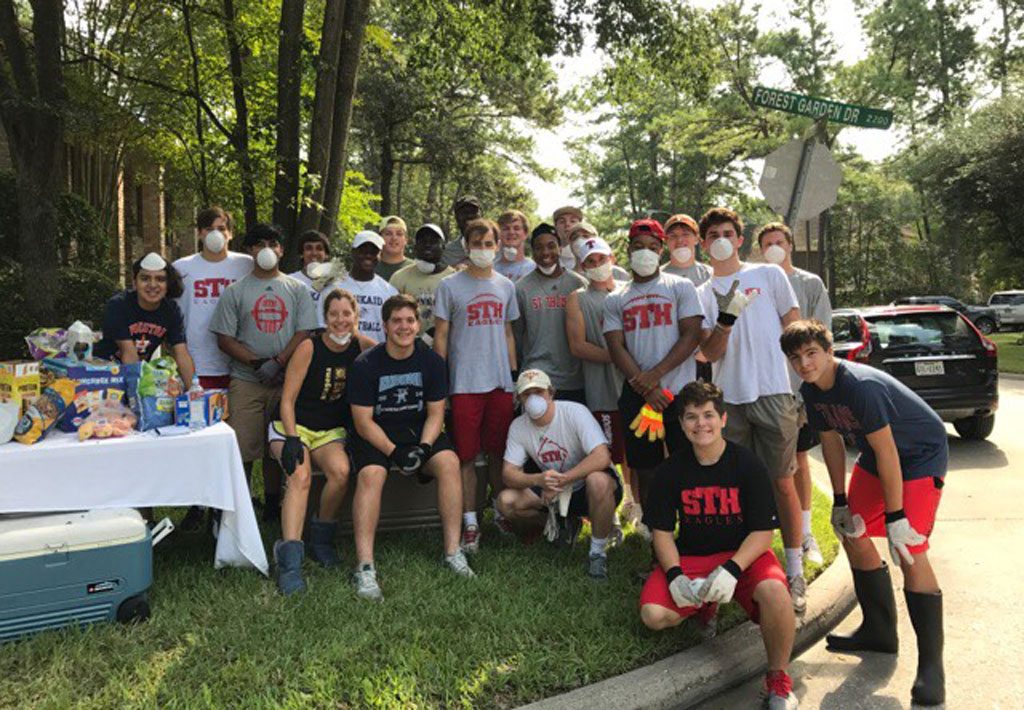 "We dispersed groups of 10-12 to various neighborhoods that were hit hard, starting with groups of Kinkaid families and St. Thomas families," McGuire said. "We determined where they were, how we could reach and assist them. We discovered that once you got to a house, you got the neighborhood, multiple homes in need. We just went door-to-door."
Previously McGuire had escorted contingents to Meyerland, again reeling from water overflowing the crested banks of Brays Bayou, and suburban Kingwood along the raging San Jacinto River.
"Shattering … beyond words … truly sad," McGuire said. "You were literally tearing out someone's life and putting it out on the curb. Furniture … carpeting … keepsakes … all up and down the block."
On the first day of September 2017, as the effects of Harvey's unmerciful entry to the Gulf Coast continued to create life-threatening havoc and destruction, rivals joined hearts for their city's greater good, delivering the message that their neighbors were not alone in the wake of an unimaginable disaster.
Following Labor Day the St. Thomas student community resumed the 2017-18 academic schedule after all academic and campus activity was canceled beginning August 25. Nearly 100% of the student population, along with faculty and staff, gathered for a prayer service to provide solace and support while resetting toward normalcy after Harvey swept through a swath of southeast Texas.
Adam Rinaldi '18 provided a scripture reading followed by passionate testimonials and observations of the ongoing ordeal from principal Aaron Dominguez '96, student body president Daniel Garcia '18, and faculty members Jennifer McDonald and Mike Lynch '94, all referencing measurable examples of charity and deliverance from those within the Eagle ranks.
Lynch delivered a heartfelt flashback to enduring the devastation that Hurricane Katrina ravaged through New Orleans in 2005, and how that deja vu experience is impacting his family as they cope with the personal consequences of flooding that pummeled their city.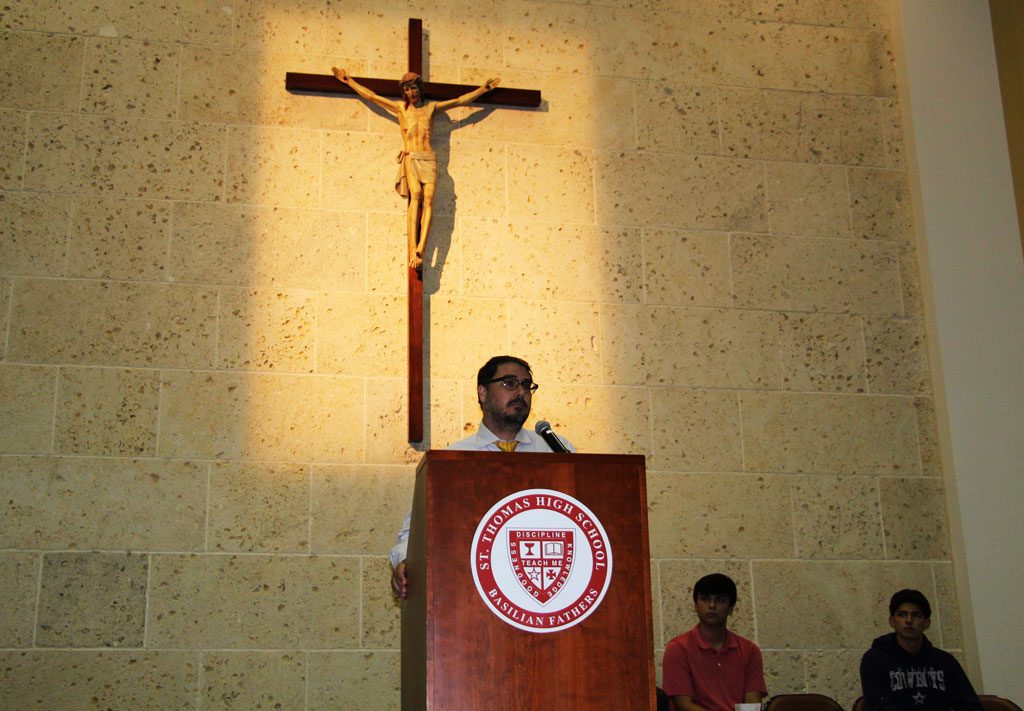 "I'm scared (for many reasons) … scared because of what I saw in the aftermath of Hurricane Katrina … scared because of so much uncertainty in our future," Lynch said with compelling command and composure. "I'm blessed because I know everything will be okay in the end. But I'm still fearful."
Lynch then reached out to the student audience and related that "if your own homes were damaged … your extended families experienced damage … if you're not living in your home right now … you probably are a little bit scared, too. But I've seen recovery … 12 years ago (in New Orleans) and gradually within the last week here (in Houston) … and I draw amazing strength from (the St. Thomas community) … every day of my life and particularly in times like this. Coming together. Faculty and students have come to my home and just started working.
"I cannot express to you how much I love (this group). I've been through enough in life to be willing to admit that I'm scared. You may have (Eagle) brothers who are going through really difficult times …. and they might not be in a position, like I am, to say they're afraid. But your friends are going to need you … for weeks … for months … perhaps for years. Be there for each other. Above all, this community will be there for all of us."
In the following week, the annual St. Thomas Founders Mass brought a large dose of symmetry to an academic year reeling from the remnants of Harvey and untold misery that inundated Houston and surrounding coastal communities.
A near two-week interruption that resulted in canceled campus activity was similar to the school's inaugural year delayed in the immediate wake of the Galveston Hurricane of 1900, to this day one of the worst recorded natural disasters ever to strike the North American continent.
The deadliest hurricane in United States history delivered a high-water mark of nearly 20 feet and wickedly high winds which destroyed a third of the city with an estimated 10,000-12,00 casualties for the entire island, nearly 20% of the population washed away.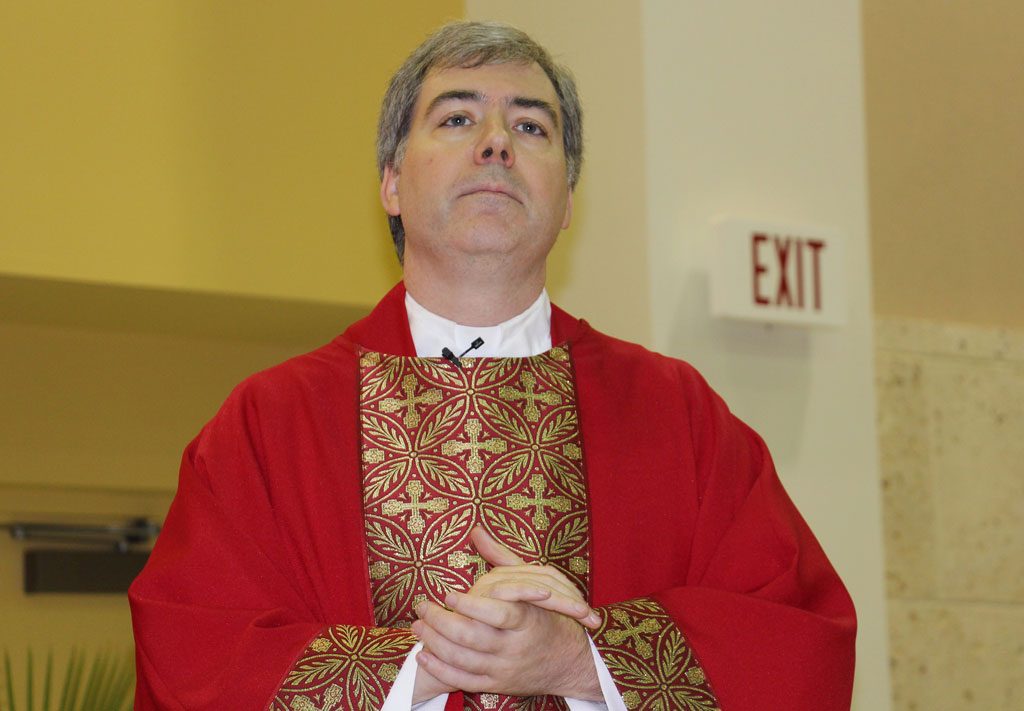 Principal celebrant and assistant dean of students Fr. James Murphy, CBS weaved a narrative that connected St. Thomas from its inception in 1900 to the present 76-year identity at 4500 Memorial Drive, punctuated by the power and influence of Father T. P. O'Rourke, CSB.
When three Basilian priests establish St. Thomas College more than a century ago, the school was originally housed in downtown Houston at Franklin Avenue and Caroline Street before moving to a location at Austin Street and Hadley, constructing the city's first College Preparatory School for boys.
In 1930, Fr. O'Rourke emerged as a visionary securing the school's future growth and strategic position, the driving force to acquire land three miles from downtown at what was then the end of Memorial Drive on the north bank of Buffalo Bayou. It would require another decade before classes would be conducted at the current address.
The first Texas-born Basilian would later initiate the land purchases for the University of St. Thomas in the Montrose, and St. Anne's Catholic Church at Westheimer Road and Shepherd Drive.
In honoring its 118th year of Houston's Basilian mission rooted in the motto derived from Psalm 119 … Teach Me Goodness, Discipline and Knowledge … Fr. Murphy explained in his homily that Fr. O'Rourke "was repeatedly asked to raise new places for Catholics to gain an education. To raise up.
"During Hurricane Harvey … as the waters rose … what we saw rising along with the waters was goodness … always at the heart of Father O'Rourke's teaching. He was known to say daily to his students … don't let them fence your goodness in. Those words reverberated through the halls of St. Thomas College downtown and became the foundation of these stones as well … don't let them fence your goodness in.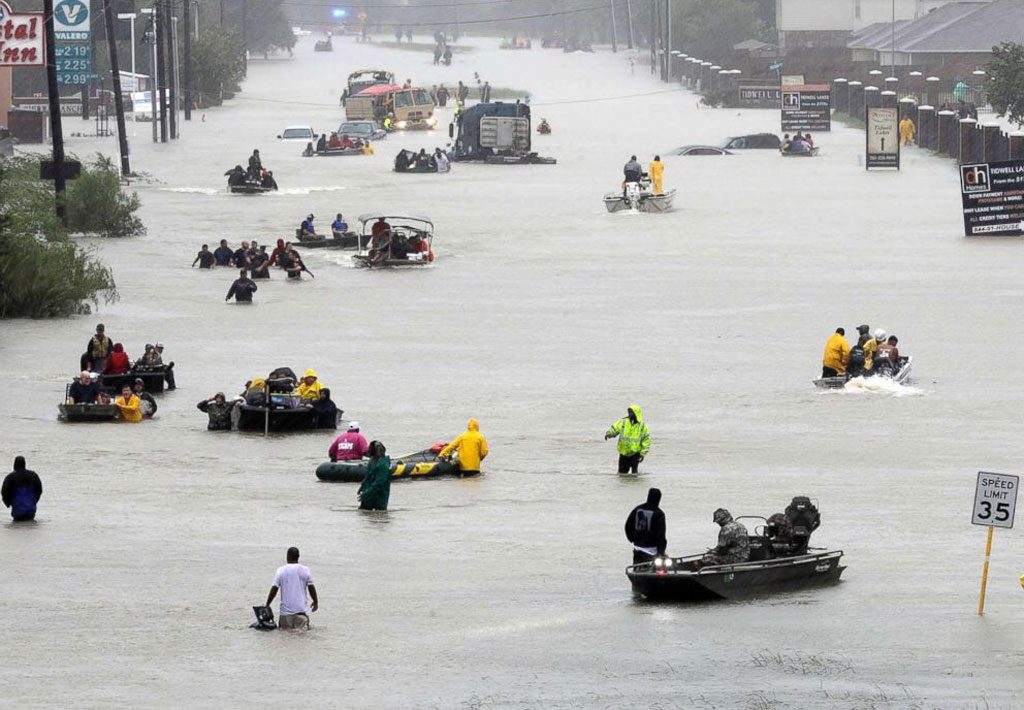 "And as the waters from Hurricane Harvey rose and destroyed … goodness could not be fenced in. Time and time again we saw the goodness of the St. Thomas community … braving the circumstances to help neighbors, classmates, faculty members and absolute strangers. Because their eyes were raised to see the needs of others.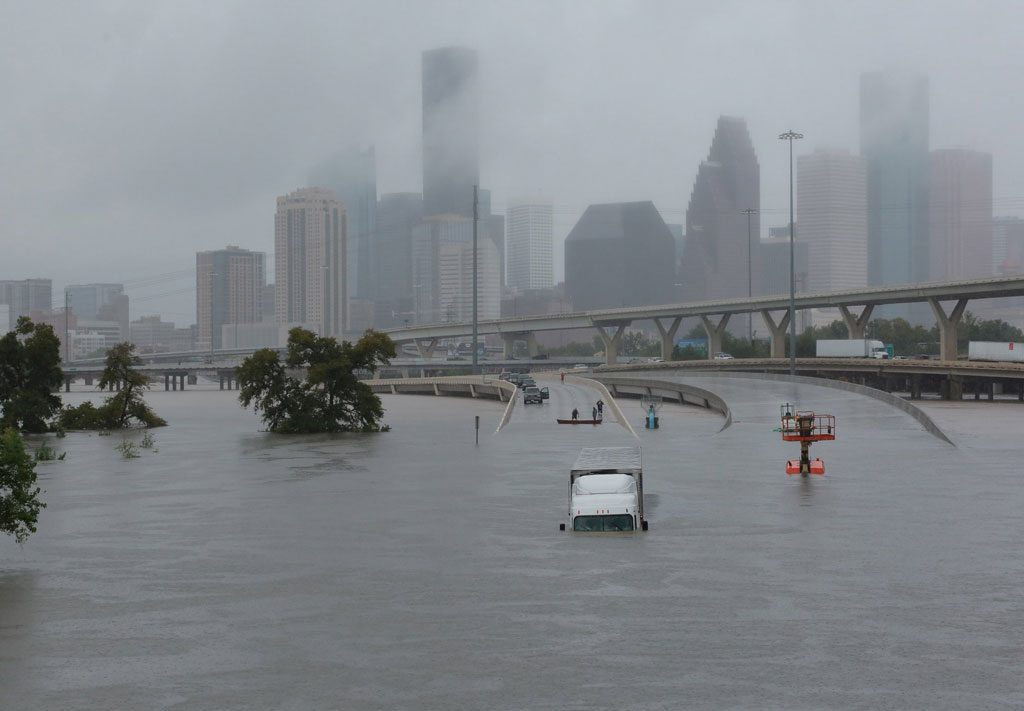 "Now comes the challenge. The waters have receded and the tendency can be to follow the water down and see only the aftermath. But we are all called to keep looking up … as our hearts may still be heavy and burdened by the flooding and destruction … keep looking up with goodness in your hearts … and the foundation of St. Thomas will become even stronger. Be the goodness that other people look up and see … then Father O'Rourke's vision of building this school at 4500 Memorial will continue to live out."
Catholic. Basilian. Teaching Goodness, Discipline and Knowledge since 1900.