COUNTDOWN TO KICKOFF
WEEK FOUR – HOTZE FIELD INSIDE GRANGER STADIUM
WHAT YOU NEED TO KNOW
Eagle Football (1-2) returns home for the annual homecoming clash hosting Stafford (0-3) September 20 in the first leg of the only two-game Granger Stadium stand of the season.
SETTING THE SCENE
Eagle Football is fresh from its first win of the season and aims to duplicate the 2018 success over Stafford when quarterback Peyton Matocha '19 (University of Miami) took part in all four Eagle touchdowns including a stunning 98-yard connection with receiver Hunter Cheek '19 (University of Incarnate Word). A suddenly resurgent defense unleashed defensive terror Max Garcia '20 and delivered drive killing sacks, game changing turnovers, and two essential fourth quarter stops in a 28-21 win.
PREVIOUS INSTALLMENT
Maddox Kopp '21 threw for 244 yards and two touchdowns, difference making receiver Cameron Bonner '21 broke lose for two deep scores and a rejuvenated wrecking crew unit rarely bent and never broke in a 27-10 road victory over Kinkaid.
The Eagles held a cosmetically close 20-10 advantage early in the fourth quarter when they took possession at their 35 yard line and decided on a "Unicorn" sighting … the play call for Kopp to connect with receiver Spencer Kryger '20 in the left flat with a lateral that caused a confused Kinkaid secondary to overcommit and allowed Bonner to escape deep for a 65 yard catch and run touchdown that effectively sealed the outcome just inside the 11 minute mark.
In an astounding reversal of fortune, the Eagles' defense fired a broadside at the Kinkaid bona fides, not allowing a Falcon offensive touchdown just one season after surrendering 70 points in the matchup. Eagle Football allowed only 172 total yards, four rushing yards, seven first downs, and a single solitary third down conversion (0-9). It was the stiffest St. Thomas defensive stand since shutting out Pasadena on the road in Week 6 of the 2016 campaign.
WEEK TWO || FIRST HALF
WEEK TWO || SECOND HALF
STATE OF PLAY
If St. Thomas is going to reach its ceiling this fall, if it's going to make an honest charge at a deep TAPPS postseason run, it's players like Kopp, Crissmon, Bonner, Coco, Garcia, offensive tackle Travis Taylor '20, linebacker Cooper Thomas '20, and defensive linemen Jackson Phillips '20 who must provide the fuel. The question is now more about the engine that must drive St. Thomas where it wants to go.
Rather than arrested development, there has been plenty of learning for the Eagles for three consecutive weeks to feel good about where this season can still go. But that's only if the offensive front continues to mature and the defensive unit maintains its attacking posture. And a collective go for the gold mentality.
A new day is dawning
Can you feel the fire?
A phoenix is rising
Higher and higher
Only way that I know
Gotta follow my soul
Go big, Go bold
Go hard and go for the gold
Can you feel the fire?
Like phoenix from the flames
Higher and higher
Every single day I get on my knees and pray
Go big, Go bold
Go for the gold
Go big, go bold
Go hard and go for the gold
So I can go for the gold
So I can go for the gold
UPCOMING
Eagle Football hosts Cedar Hill Trinity Christian as the programs engage for the third consecutive year. The visitors are forming an encore to an undefeated 2018 and back-to-back TAPPS Division II state championships.  Pro Football Hall of Famer Deion Sanders again serves as the team's offensive coordinator with his son Shedeur Sanders a four star recruit and the 13th rated pro style quarterback in the national Class of 2021 by 247Sports.com. He threw for 3,088 yards and 42 touchdowns last season.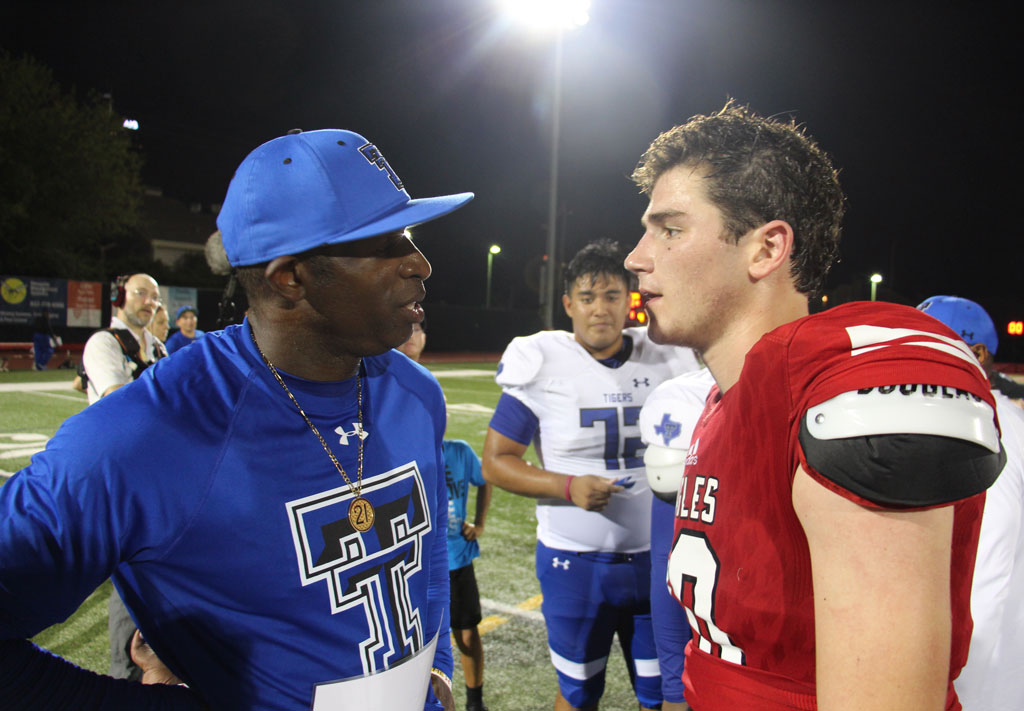 The 2017 stare-down at Hotze Field inside Granger Stadium saw three lead changes in the second half after the Eagles relinquished a 10-point advantage. Thunder-foot kicker Jacob Manley '18 had his final-play field goal attempt from 32 yards blocked to seal a 28-27 defeat.
Eagle Fight Never Dies!