The beginning 120 years ago was meager, the ascension without fanfare. A steady process that preached purpose, culture, and service rooted in the Basilian credo of Teach Me Goodness, Discipline, and Knowledge.
Now, well into the second century after its genesis, St. Thomas celebrated its legacy as a premier college preparatory experience with its annual Founder's Day Mass. President Fr. James Murphy, CSB served as the principal celebrant for an attentive campus community in Cemo Auditorium.
Since 1900, St. Thomas has served as a Catholic Basilian beacon with a thriving intellectual and moral tradition that remains the cornerstone of an esteemed academic pursuit and formation. The second oldest continuously operating private high school in Houston (to Incarnate Word Academy) is home to a vibrant array of accomplished scholars, distinguished faculty members, deeply committed professional staff, and unwavering supporters and donors.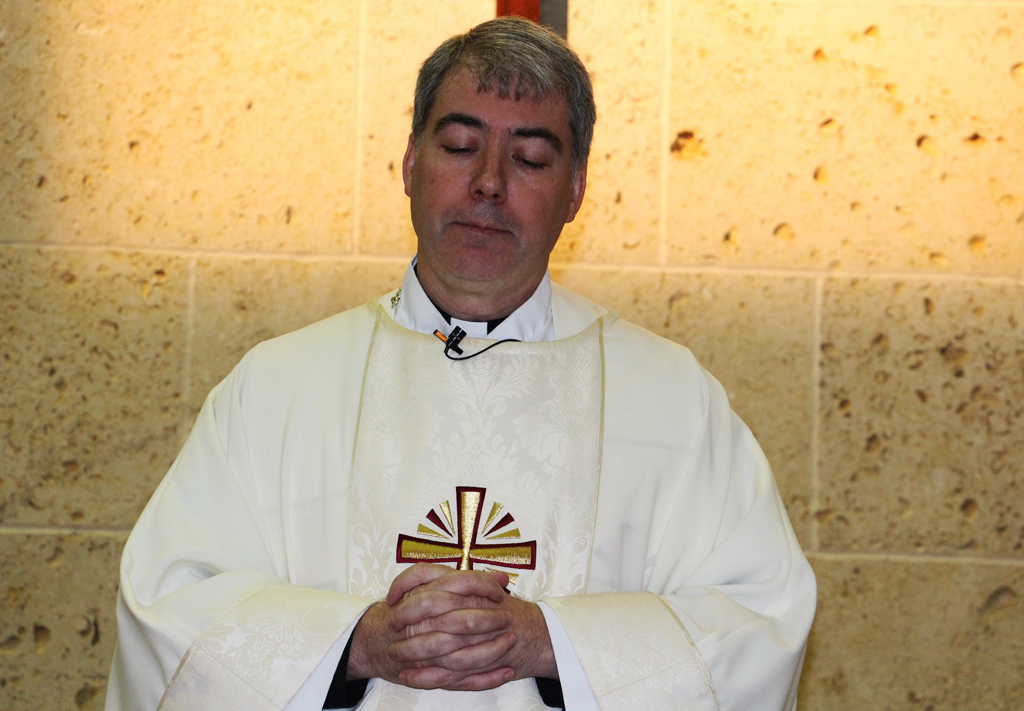 President Father Murphy delivered a compelling message through his homily that spoke to the true spirit of the distinguished position St. Thomas occupies as it continues to prepare the next generation of global citizens. He referenced several Basilian icons, including one of the school's original three patrons plus the third Eagle alumni to serve as principal – all invaluable contributors and leaders to the institution's mission grounded in a deep sense of Catholic commitment.
The very first stages of St. Thomas involved Father Victorin Marijon who was responsible for the Basilians in North American when our home was still France. He met with the bishop of Galveston in 1899 to plan for this new school that would be in Houston. The local diocese provided land downtown (at Franklin Avenue and Caroline Street). Father Nicholas Roche was the first principal. He was born in Ireland, then lived and worked on farms in Canada, and didn't start high school at St. Michael's College in Toronto until he was 21. Father Roche was the St. Thomas principal for six years and then returned to his homeland where he founded another high school.

Father Roche never knew how the seeds planted in him would grow further on in his life. Neither do we. But it is our responsibility to take those seeds and allow them to grow faithfully so that we may go out and share that example with the world. Father Walter Scott did precisely that. He was born in San Francisco, studied at St. Thomas (class of 1942) and then came back to his alma mater to teach English, theology, and theater. Some of his students later became Basilians. He was named the 17th principal of St. Thomas (in 1965) and after a three year tenure was appointed to lead St. Pius X High School (which the Basilians had taken direction) in Albuquerque, New Mexico. Father Scott planted seeds here and then was needed elsewhere.

Today our academic community plants a new seed. This is the first time we have configured our Mass with students grouped according to our house system, houses named for Basilians who have planted seeds over generations … seeds of education … seeds of goodness, discipline, and knowledge … with the exact purpose of preparing young men year after year, decade after decade, to advance and be teachers of that same goodness, discipline, and knowledge.

As we plant new seeds for this academic year, the stories told of the Basilians representing these houses … Father Roche, Father (Donald) Cooper, Father (Ronald) Schwenzer … their examples are among many that matter because of what they were taught and their decision to accept the same calling as teachers. As we celebrate our founding, we recognize that our motto speaks to each one of us, that a Man of St. Thomas embraces goodness, discipline, and knowledge because each one of us needs that.

Let this be the time that we take the seeds planted within us and make them greater by admitting our struggles and difficulties, and asking for the help of each other. And if we do that, we are honoring the work and memory of Father Roche, continuing the work of Father Scott, and honoring our work that we perform each day to live as followers of Jesus Christ.
Catholic. Basilian. Teaching Goodness, Discipline and Knowledge since 1900.