Mark Appel has long been accustomed to crowds brought about through his sublime athletic talents.
A high school pitching sensation in Northern California. A record smashing All-American at Stanford University. The Pac-12 Scholar Athlete of the Year. The glory boy of the 2013 Major League Baseball Draft.
His celebrated meteoric rise was followed by a well chronicled descent and premature exit from the game by age 26. The cheers were silenced well before he anticipated. Yet Appel has maintained a life-balance buoyed by his Christian beliefs.
So when he was welcomed into Cemo Auditorium to meet the St. Thomas chapter of Fellowship of Christian Athletes, Appel brought a ninth inning, bases loaded, 3-2 pitch-type intent, a delivery as clear and direct as if the World Series outcome was at stake.
"I pray these students will evaluate their relationships with God," Appel says. "That's the foundation – understanding who He is and His role in our lives. My faith is the most important aspect of my life, allows me to have the proper perspective. For so many in our society, their professional careers are their identity. It's driven through money, power, and prestige. A consistent theme in scripture is that God is calling us to an identity of His children, to understand first and foremost that we are members of His family."
Appel grew up in Houston harboring the boyhood big diamond dreams as early as Post Oak Little League. His father's career as an attorney with Chevron demanded to relocate the family to Danville, California when Mark was 12 years old and he soon became a pitching whiz kid at Monte Vista High School (hence his affinity for the Oakland Athletics).
Prior to the 2012 MLB Draft, Appel was projected to be taken by his once hometown Astros with the no. 1 overall selection. But general manager Jeff Luhnow and his quantitative and qualitative crew of advisors passed as speculation swirled that Appel's contract demands could become contentious. The Astros opted for a 17-year-old slugging shortstop from Puerto Rico  – Carlos Correa. Appel was later taken by the Pittsburgh Pirates at no. 8, but he rejected the financial terms and chose to return to Stanford for his senior season.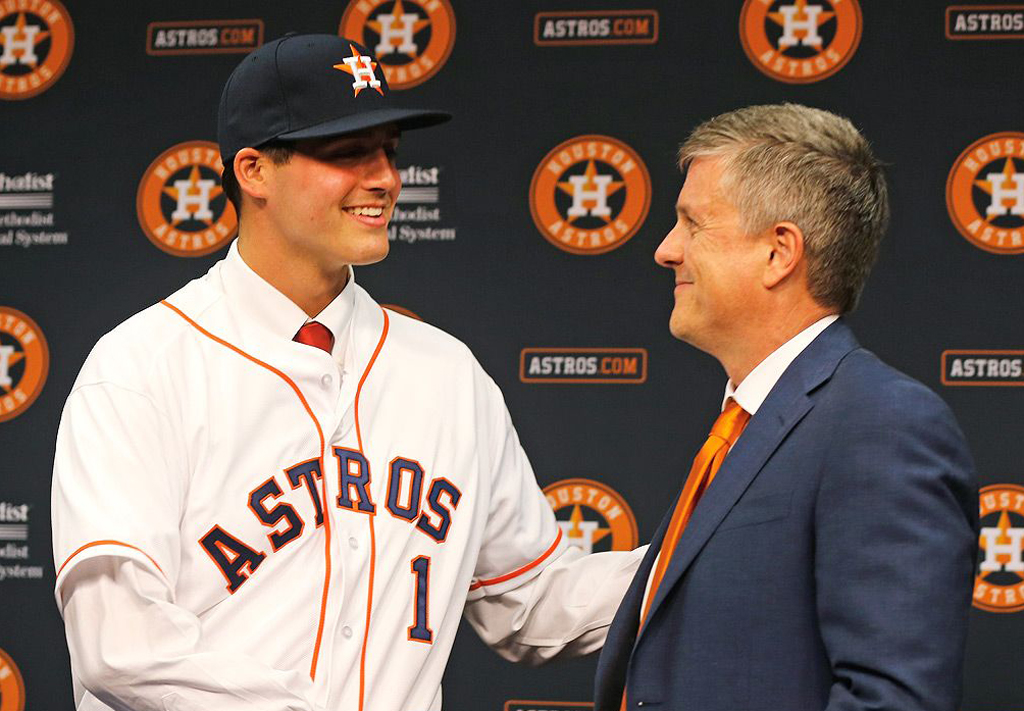 In 2013, the Astros were again operating at the top of the draft board. Granted a second chance at Appel they grabbed the 6-foot-5 right-hander fresh from finishing his four seasons with the Cardinal as the program's career strikeouts leader. He projected to be a centerpiece alongside Correa, George Springer, Jose Altuve, and Lance McCullers Jr. as stars forming the core of a potential Astros launch towards rejuvenation and championship contention.
But the expectations for Appel never intersected with reality. Injuries sabotaged his minor league development even after a 2015 trade to the Philadelphia Phillies. In November 2017, he was designated for assignment. Three months later the former can't miss kid announced an "indefinite break" from baseball. Appel stepped away from the game after five professional seasons never facing a big league batter. He was content moving forward with a Management Science & Engineering degree from Stanford and many interests beyond baseball.
Through the trials and transition, Appel has remained resilient and resolute by his faith. His authentic testimony recognizes adversity as inevitable. An uncompromising response is required, a warning all the more urgent for young adults inundated in a turbulent society and facing issues relating to mental health and vulnerability.
"There's no question that what high school students face now is significantly different from my own experience," Appel says. "They're now flooded with technology and stresses through social media that they are not prepared to handle. What hasn't changed is what God teaches, and what He has tried to show me just within the last few months is that what we allow into our minds affects our thoughts, emotions, and actions. If we can accept that concept and make an honest assessment of where we are, we can acknowledge it's not where we want to be and at least know the steps needed to improve our position."
Involving Appel was the first step by Eagle Athletic Director Mike Netzel and Campus Ministry Director Dr. Alex Gotay in establishing a new direction for FCA involvement at St. Thomas. Netzel was confident Appel's notoriety and reach from baseball would allow his witness to immediately resonate within the student ranks.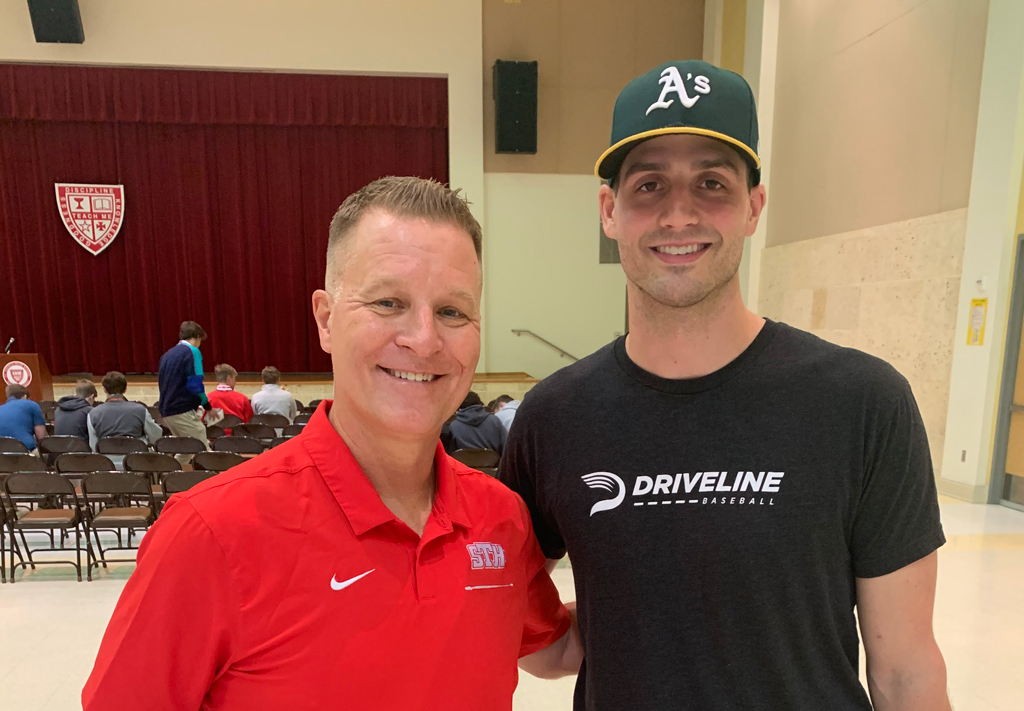 "The takeaway from Mark for our students is to be comfortable with who you are and what you're about," Netzel says. "Focus on the person God wants you to be regardless of the mob mentality. Who are you and what do you stand for? It's not a Bible verse tattooed or flashed in a Twitter bio. It's about living to that standard. I've gotten to know Mark personally in the last few years and was extremely confident he would connect with our audience in a meaningful way."
Appel is regaining his physical stability and not eliminating the possibility of a baseball comeback. He still has a boyish face and lives in the Heights where he and his business partners have debuted Ike's Love & Sandwiches. It's the first Houston location and third in Texas repping Appel's ab fab fave San Francisco-based eatery staring some of the most original, complicated, messy, satisfying concoctions on the planet with a decided dash of secret Dirty Sauce.
Regardless of where his next journey takes him, Appel moves forward with a command born of his conviction that the ultimate destination is of divine inspiration.
"What's beautiful about God is that he tells us He'll finish what He starts," Appel says. "If we have a belief in Him and are secure in that relationship, we should have no fears. It's a process that we can enjoy even in the struggles. I haven't always managed that as well as I would have liked, but I'm better now than I was five years ago."
Catholic. Basilian. Teaching Goodness, Discipline and Knowledge since 1900.