COUNTDOWN TO KICKOFF
WEEK FIVE – HOTZE FIELD INSIDE GRANGER STADIUM
WHAT YOU NEED TO KNOW
Eagle Football (2-2) hosts Cedar Hill Trinity Christian (3-1) September 27 in a showdown with the two time TAPPS Division II state champions after their undefeated romp to the 2018 title.
SETTING THE SCENE
The Eagles take a two game win streak into the third straight installment between the two programs.  Pro Football Hall of Famer Deion Sanders again serves as the Trinity Christian offensive coordinator with his son Shedeur Sanders a four star recruit and the 13th rated pro style quarterback in the national Class of 2021 by 247Sports.com. He completed 16-22 for 221 yards and three scores in the Week Four 48-7 victory over Melissa and last season threw for 3,088 yards with 42 touchdowns.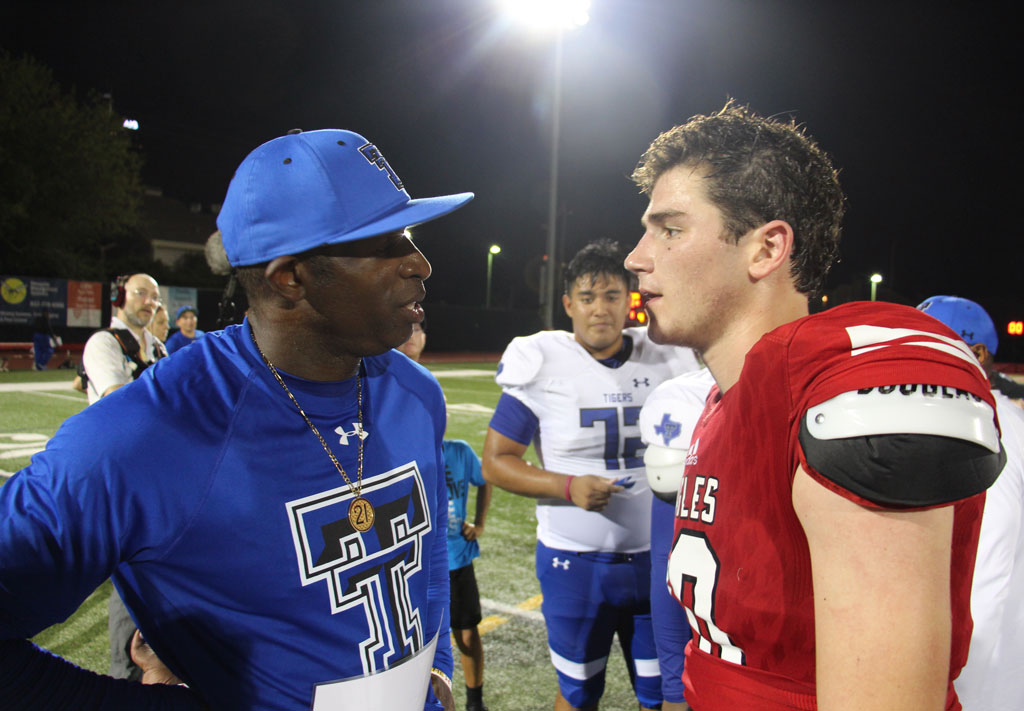 The 2017 stare-down at Hotze Field inside Granger Stadium saw three lead changes in the second half after the Eagles relinquished a 10-point advantage. Thunder-foot kicker Jacob Manley '18 had his final-play field goal attempt from 32 yards blocked to seal a 28-27 defeat.
PREVIOUS INSTALLMENT
Receiving mates Spencer Kryger '20 and Cameron Bonner '21 tag-teamed for a pitch and catch touchdown for the second consecutive week … a dramatic 52-yard score with 1:30 remaining in the game to seal a pulse pounding come from behind 28-21 homecoming win over Stafford to give the Eagles (2-2) their second straight victory.
After erasing a 21-7 halftime deficit to pull even at 21-21 midway in the fourth quarter, the Eagles took possession at their own 12-yard line with 5:16 remaining in the stanza. On second and 18 near midfield inside of two minutes, the bold play call that bordered on diabolical was "Unicorn."
It had worked to perfection for a 65-yard touchdown in the previous week to cement the 27-10 win over Kinkaid.
Kopp (25-29, 239 yards) again delivered a dart in the left flat to Kryger '20 for a lateral that caused a confused Stafford secondary to overcommit and allowed Bonner (155 yards total offense) to escape deep behind the coverage. He grabbed in stride past a single defender and angled across the field to the end zone for the game deciding score – a just reward for a revved up Red & White crowd and all the fingers likely calloused from the praying they no doubt had been doing in the waning seconds.
VENI VIDI VICIOUS
The Eagle defense turned nasty after allowing Stafford a 68-yard touchdown reception on a third and 28 sideline throw on their opening series.
St. Thomas forced two third period turnovers, an interception from Cameron McCurry '21 and a fumble recovery from Jackson Phillips '20, plus three straight three-and-out punts and the last stand stop on fourth down from their own 36-yard line to seal the outcome.
GRANDE DAME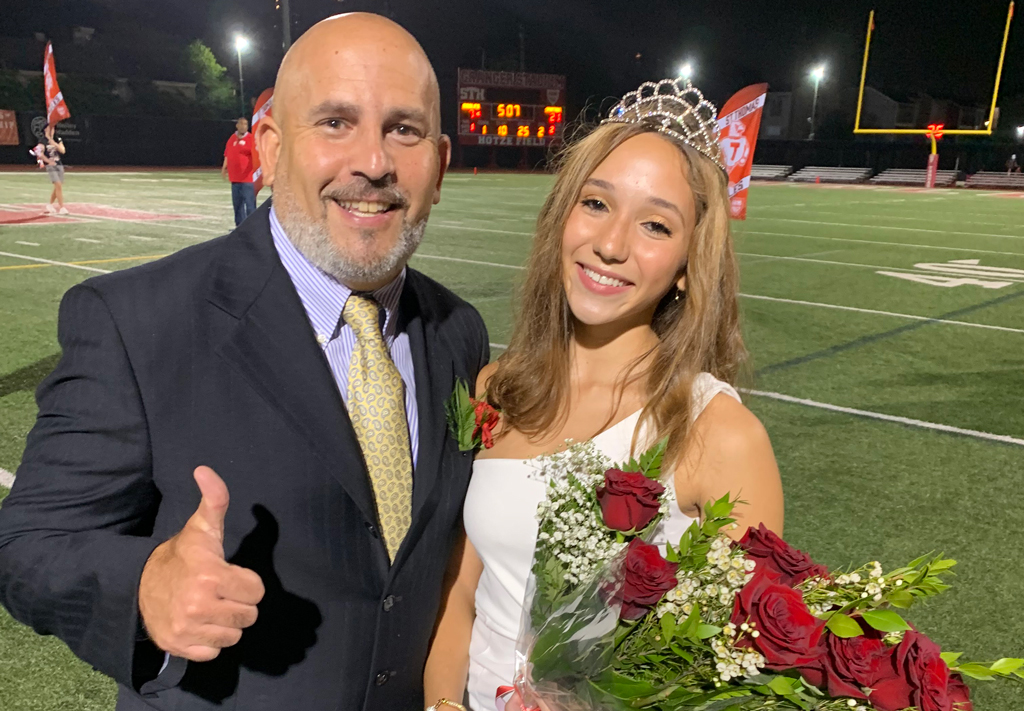 St. Thomas was proud to honor 2019 homecoming queen Alanis Meza from Incarnate Word Academy and her distinguished court – Janean Silva from St. Agnes Academy, Kellie Langeland from Duchesne Academy of the Sacred Heart, and Sophia Cantoni, Grace Fisher and Darby Brown from IWA.
WEEK TWO || FIRST HALF
WEEK TWO || SECOND HALF
MOTHER NATURE MISBEHAVING
The opening kickoff was delayed 45 minutes due to lightning in the area after days of torrential rains saturated the upper Texas Gulf Coast. Two years after the devastation of Hurricane Harvey, greater Houston was left to deal with Tropical Storm Imelda and all the wettest calendar day ever recorded in the month of September – waterlogged homes, blocked roads, and flash flooding conditions from a storm that dumped as much as 43 inches of water in some areas to become one of the wettest tropical cyclones in United States history.
STATE OF PLAY
It's dangerous to make too many sweeping generalizations off a small four-game two-win sample size. But in their second straight triumph, the Eagles settled in and emerged with all the verve and daring that the opponents lacked.
The Eagles controlled both lines of scrimmage as much with brains and leverage as they did with pure brawn. And were presented with so many chances for points they eventually found a way to capitalize. Kopp continues to evolve at quarterback after only four varsity starts with a too-blessed-to-be-stressed vibe, a too-new-to-be-nervous nonchalance that defies simple understanding.
There was no panic within the team despite the early malfunctions, a week filled with distractions, and zero on field preparation due to the chaos created by Imelda. Instead, Eagle Football relied on considerable poise, resilience, determination, and execution – a belief born in strategy as well as each other. The rush of self confidence will be mandatory against a formidable foe at Hotze Field.
Can you feel the rush
Taking over all your senses?
Can you feel the rush
Breaking down all your defenses?
Can you feel the rush
Racing with no consequences?
Can you feel the rush, rush, rush?
Can you feel it?
UPCOMING
The Eagles travel to China Spring on the first Friday of October to complete the two-year home and home set.
Eagle Fight Never Dies!