COUNTDOWN TO KICKOFF
WEEK SEVEN – HOTZE FIELD INSIDE GRANGER STADIUM
WHAT YOU NEED TO KNOW
Eagle Football (3-3) hosts Tomball Concordia Lutheran (1-4) October 11 in the 2019 district debut.
SETTING THE SCENE
St. Thomas launches the district race aiming for its second two game winning streak of the season. The Eagles have dominated the duel with TCL in recent years collecting eight wins in nine tries by a combined margin of 261-93.
Last season quarterback Peyton Matocha '19 (University of Miami) continued his season-long aerial assault with four touchdown passes while workhorse running back Ian Wheeler '19 bullied for 226 yards and two scores. Eagle Football built a commanding 28-0 edge and was never threatened in a 42-27 win.
PREVIOUS INSTALLMENT
Quarterback Maddox Kopp '21 threw for 158 yards with a touchdown strike to receiver Drake Martinez '21 late in the first half for what proved to be the margin of victory in a 14-13 win over UIL China Spring.
Running back Jaden Yeboah '21 enjoyed his career best game bruising for 71 yards and his first varsity score with an 11-yard dash in the opening quarter.
VIVA LA BAM
The spirited Eagle defense provided the best bulletproof showing since Samantha Fish.
Eagle Football shut China Spring down and out in the first half while limiting talented running back Emmanuel Abdallah to 86 yards on 20 carries. Just one week prior he gouged and tormented Argyle Liberty Christian for 554 rushing yards. Yes, 554.
Two series after the Eagle advantage was sliced to 14-7, Max Garcia '20 crushed a China Spring threat with a fourth down sack after the possession reached the St. Thomas 10-yard line.
The body slamming seal came from super active All-State safety Daniel Coco '20. His clutch interception in the final moments with China Grove on the brink of the red zone protected the final 14-13 margin and a third St. Thomas win in four games.
WEEK SIX || FIRST HALF
WEEK SIX || SECOND HALF
STATE OF PLAY
Football, at its root, is about control and the Eagles asserted it throughout their Red & White road show and a second UIL win of the season.
The commitment to their running game and their ability to summon a stifling defensive resistance at the line of scrimmage gave the Eagles the license to dictate the terms as they maintained possession time and score.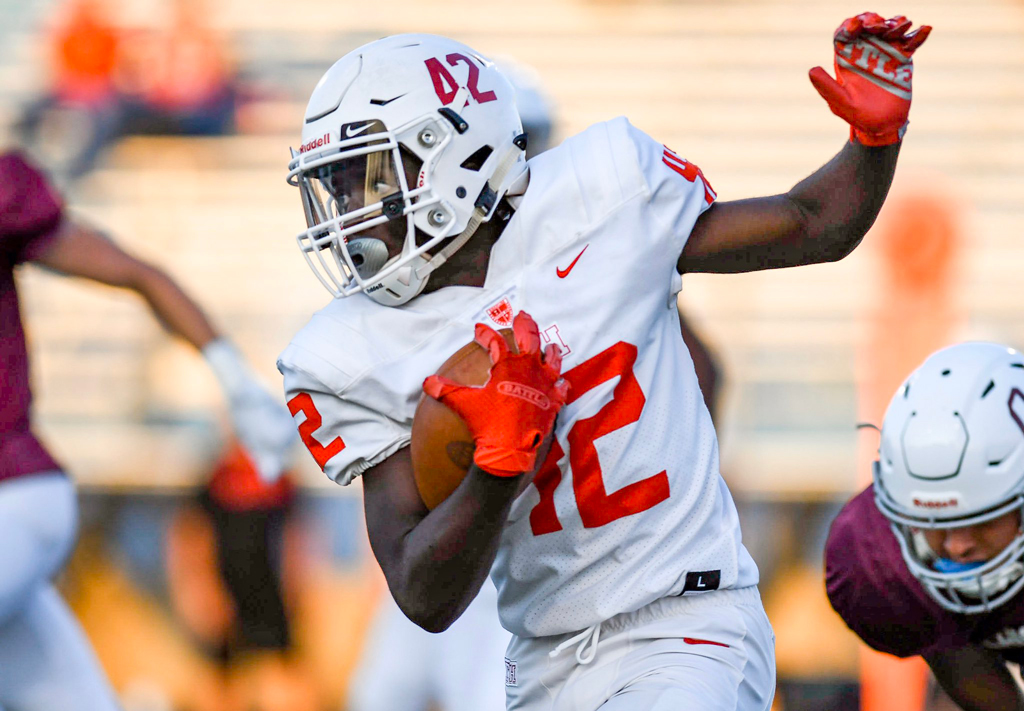 Even though Eagle Football was held scoreless in the second half they maintained a vise-like grip over the outcome and denied China Spring at the game's most pivotal points. Eagles Football determined their fate instead of being at the mercy of its opponent, such as the case just seven nights previously against two time defending TAPPS state champion Cedar Hill Trinity Christian. And now as St. Thomas enters the most defining portion of the season, establishing that essential control will likely prove the difference between critical success into the postseason and deflating defeats.
UPCOMING
The first district road game of the season will take Eagle Football to San Antonio to face Antonian College Prep.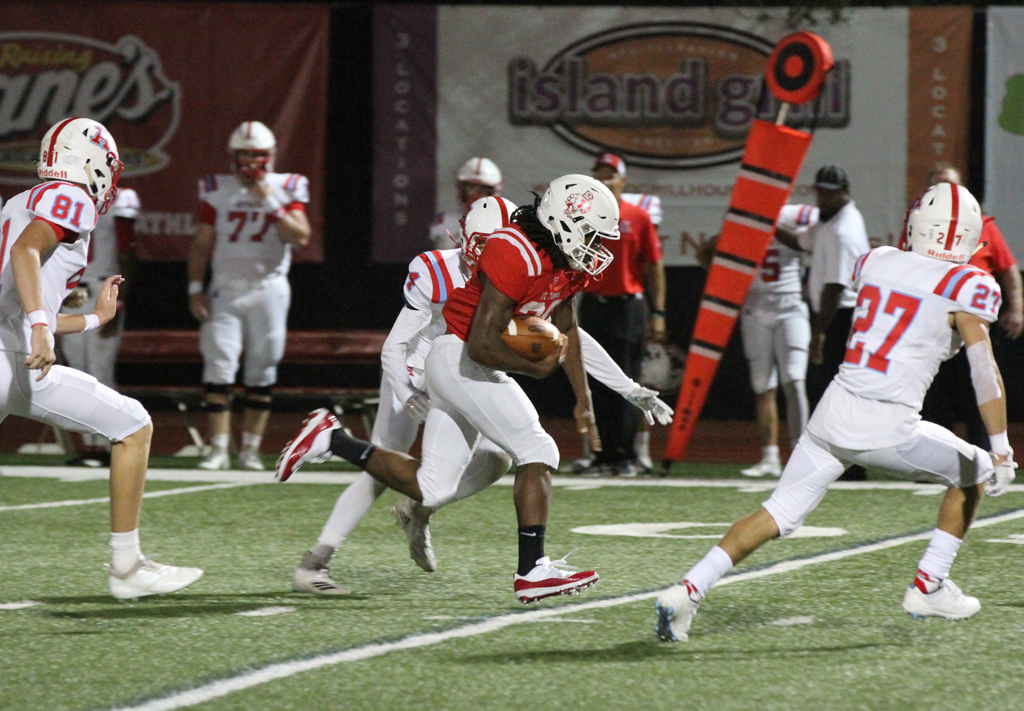 In 2018, St. Thomas secured a weather-shorted 28-14 victory with Wheeler following his career-best game with two first half touchdowns including a 62-yard jolt to the end zone to break a second period tie.
Eagle Fight Never Dies!