St. Thomas High School is proud of the young men who have been recognized by the National Merit Scholarship Corporation (NMSC) for their academic achievements. Each year over one million students compete for academic acknowledgement, scholarships and a chance at being acknowledged by this esteemed academic corporation. This year we are honored to announce that 10 of our students have been commended in the following areas: two semi-finalists, four commended scholars and four Hispanic scholars.
In early September, officials of the National Merit Scholarship Corporation (NMSC) announced the names of the 16,000 semifinalists in the 65th annual National Merit Scholarship program. Of those 16,000, two of them were St. Thomas High School Seniors, Harrison Held and Grant McCoy. These academically talented students, Harrison and Grant, have been named National Merit Semifinalists, an achievement given only to the top 1.25 percent of PSAT takers in the country.
Most of these students prepare for the exam long before taking the PSAT. "A lot of hard work and studying has gone into the process, but it all paid off in the end. Being recognized as a semifinalist is truly an honor," said Held.
While both young men are academic all-stars at St. Thomas High School, they represent the range of personalities and interests of STH students. Grant is known for his work ethic, dedication, and sense of service; Harry is known for his humility, quick wit, and hilarious sense of humor.


McCoy adds, "I'm really happy that I can put this on my resume and show colleges that I've been recognized for my academic achievements."
Next, these Seniors will compete for one of 7,600 National Merit Scholarships worth more than $31 million to be awarded next spring. Three types of Merit Scholarship awards will be offered in 2020: National Merit $2,500 scholarships, corporate-sponsored scholarships, and college-sponsored scholarships.
Fast forward one week later, about 34,000 commended students throughout the nation were recognized for their exceptional academic promise. Of those 34,000, four of these were St. Thomas High School senior students including, Grayson Drinkard, Adam Dunn, Nathan Lee, and Joseph "Wade" Swan.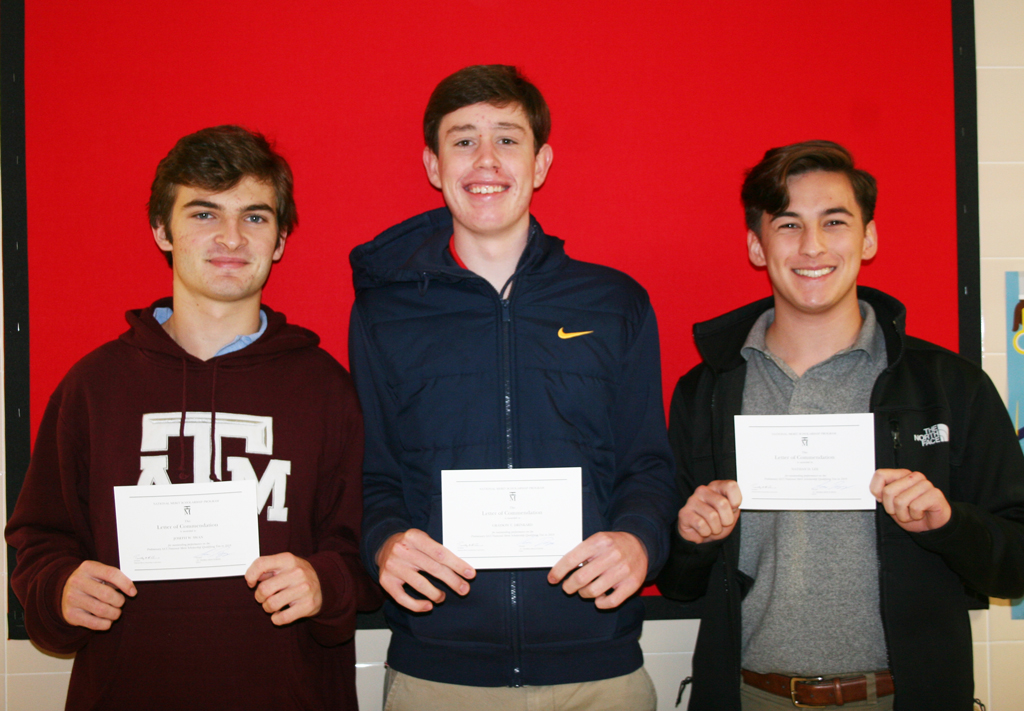 The commended students placed among the top 50,000 scorers of more than 1.5 million students who entered the 2020 competition by taking the 2018 Preliminary SAT/National Merit Scholarship Qualifying Test (PSAT/NMSQT).
These students represent a valuable national resource; recognizing their accomplishments, as well as the key role their schools play in their academic development, is vital to the advancement of educational excellence in our nation. "I think the academic institution of St. Thomas High School prepared me for the PSAT and helped me to do well by pushing me to do my very best," said Adam Dunn.
While each student brings something different to the table, all share one thing in common: their brotherhood. Whether it's motivating their peers or being determined to work hard for their goals, they continue to push themselves through and through while upholding the principles of Goodness, Discipline, and Knowledge.
In addition to working hard academically, these students have portrayed the true meaning of brotherhood as senior leaders. "Despite being involved in many different clubs at STH, Grayson makes sure that he is giving it his all whether it is in the classroom, running with the cross country boys at 5:00 am, or leading a group of freshmen though a leadership activity. Grayson continues to maintain a positive outlook" said Andrew Quintteton, Dean of Theology.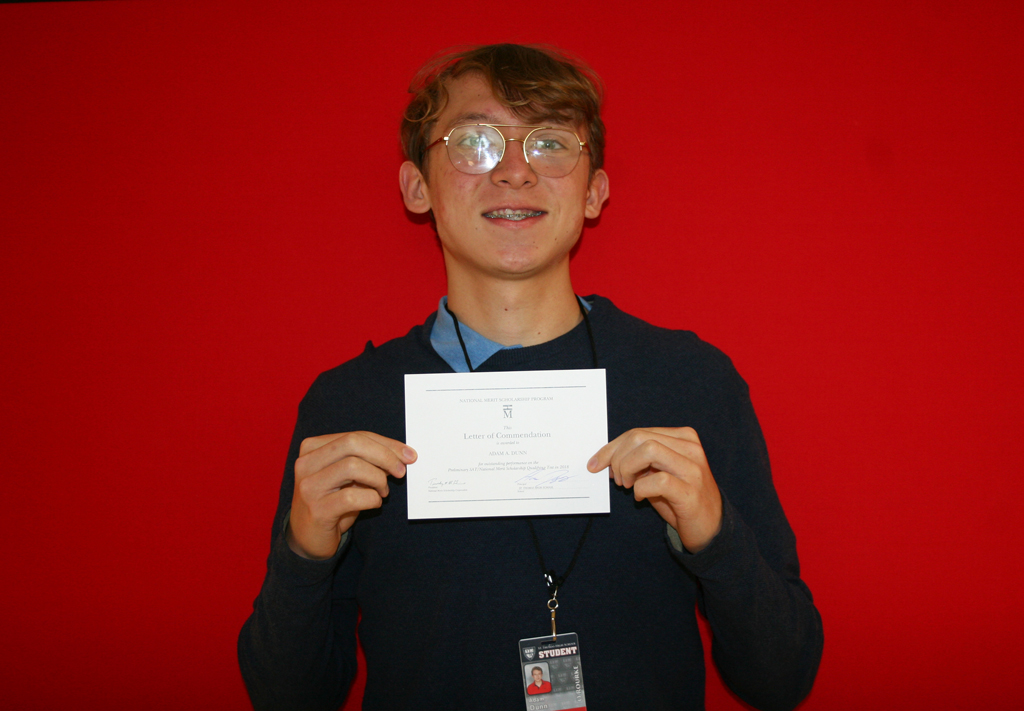 We hope that this recognition will broaden their educational opportunities and encourage them to continue their pursuit of academic success. "This is a huge honor and I look forward to putting this on my resume as I continue to apply for schools this year," said Nathan Lee.
Finally, last week, 5,000 Hispanic/Latin high school students were recognized as scholars based off their scores on the PSAT/NSQT. Of those 5,000 students, four students from St. Thomas High School were Trent Butler, Charles Boutte, Ryan Mercado, and Mason Ritchie.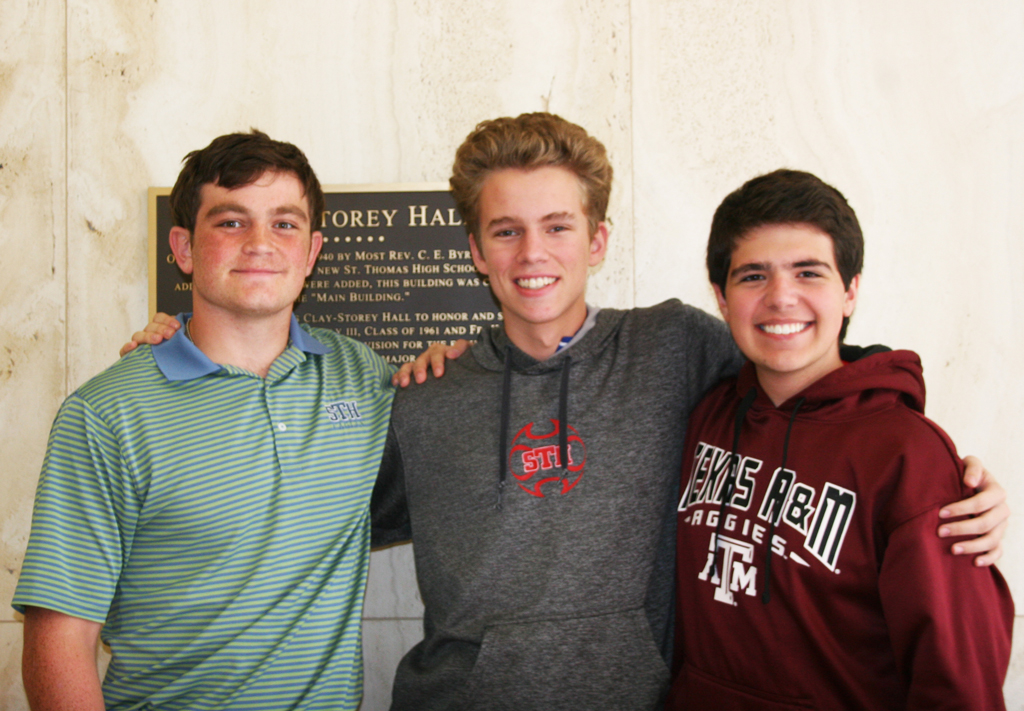 Our Hispanic National Merit Scholars met the requirements of being at least one-fourth Hispanic and/or Latino, achieving a score within the top 2.5% of all Hispanic and Latino PSAT test takers in their region, and upholding at least a 3.5 cumulative GPA midway through their junior year.
"Trent Butler is one of the most thoughtful and mature students I have ever taught. As an English student, Trent repeatedly sought to do extra, more challenging texts and writings simply because he wanted to know more. He wasn't simply after extra credit, he genuinely wanted to learn," said Will Nash, English teacher.
While the program does not award scholarship money, being recognized with this academic honor can help these students leverage their academic achievements during the college application process. "Considering that the College Board's National Hispanic Recognition Program only recognizes about 7,000 academically outstanding Hispanic/Latino high school juniors across the nation each year, our school is extremely proud of these four young men for their impressive achievement and for their outstanding representation of St. Thomas High School," said Jeffrey Tesone, School Counselor.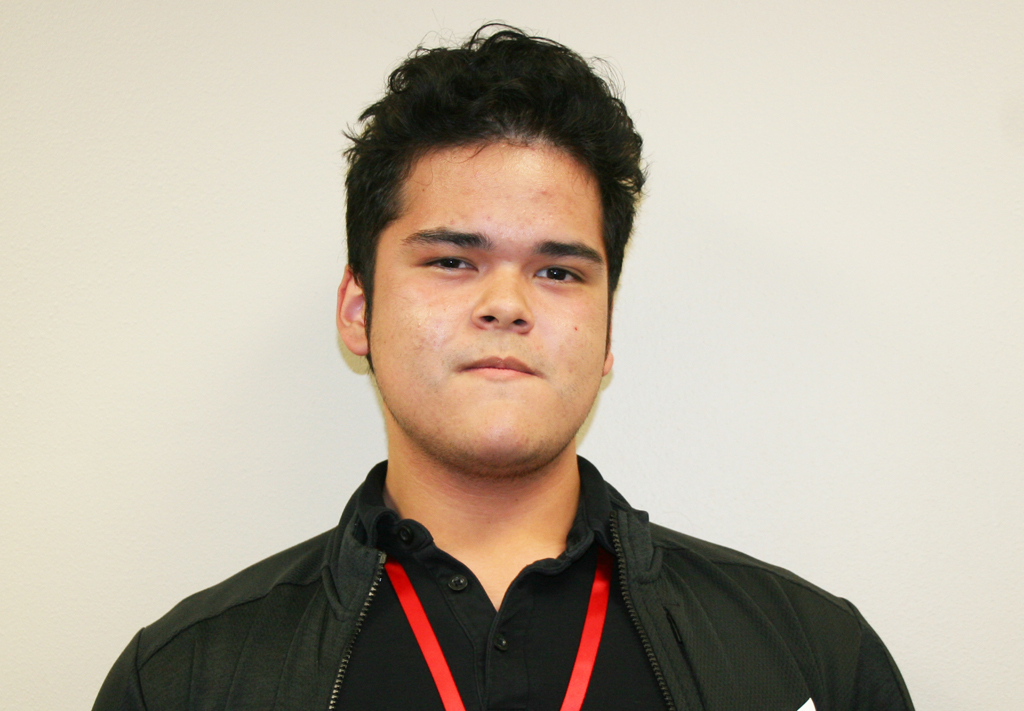 "No matter what happens, I feel incredibly grateful to be recognized by this program, and to represent St. Thomas High School on a national level," said Charles Boutte.