GAMEDAY CENTRAL
WEEK NINE – HOTZE FIELD INSIDE GRANGER STADIUM
San Antonio Central Catholic 19
Eagle Football 21
WHAT YOU NEED TO KNOW
Running back John Fontenot '21 left San Antonio Central Catholic defenders flailing on the ground like gored matadors on his way to 215 bruising yards and two short range touchdowns while a snarly, salty St. Thomas defense responded with two critical fourth quarter stops in a 21-19 win to keep the surging Eagles undefeated in the district race with their fourth consecutive victory.
TURNING POINT
The Eagles (5-3, 3-0) saw their commanding 21-0 edge shrink to eight with Central Catholic (4-4, 1-1) threatening again midway in the final stanza. Linebacker Vince Lee '21 forced a fourth down incompletion from the St. Thomas 25-yard line to turn the ball over on downs. On the next defensive series with less than 3:00 remaining, the margin was narrowed to 21-19 but the Eagles stoned the two-point conversion after a Central Catholic procedure penalty.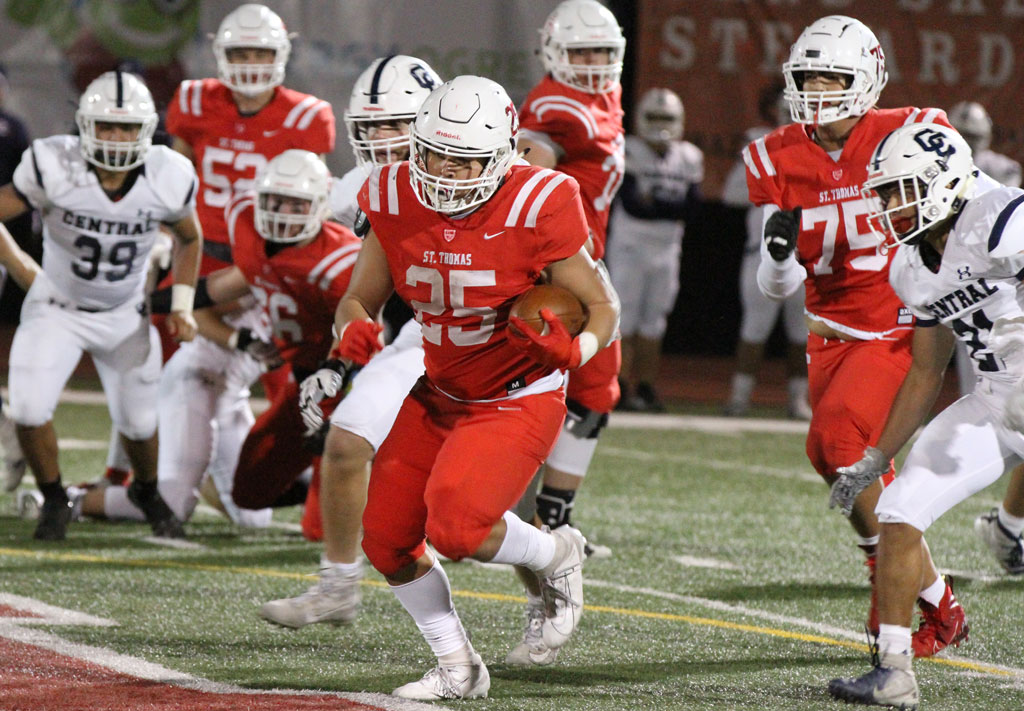 Fontenot then followed with rib racking runs of seven, 18, and 26 yards to complete his career best night.  St. Thomas killed the remaining seconds on the clock to cement the verdict, registered a sixth win in seven games, and rejoiced in a thunderous hallelujah chorus second only to Kanye's "Jesus Is King."
RAPID REACTION
ONE MAN WRECKING BALL
Fontenot flashed the best entrance since strutting James Hardin paired a Helmut Lang ensemble with a Lil Baby (featuring Meek Mill) singalong.
The first Eagle scoring session mandated seven physical touches worth 75 yards including an 18-yard gain on a pass in the flat and a 32-yard romp to the brink of the end zone. His touchdown on the first snap of the second quarter gave the Eagles a lead they would never relinquish.
Fontenot bulldozed for 29 yards to ignite the next Eagles' possession that quarterback Maddox Kopp '21 concluded with a third down scoring payoff to receiver Drake Martinez '21 for 14-0.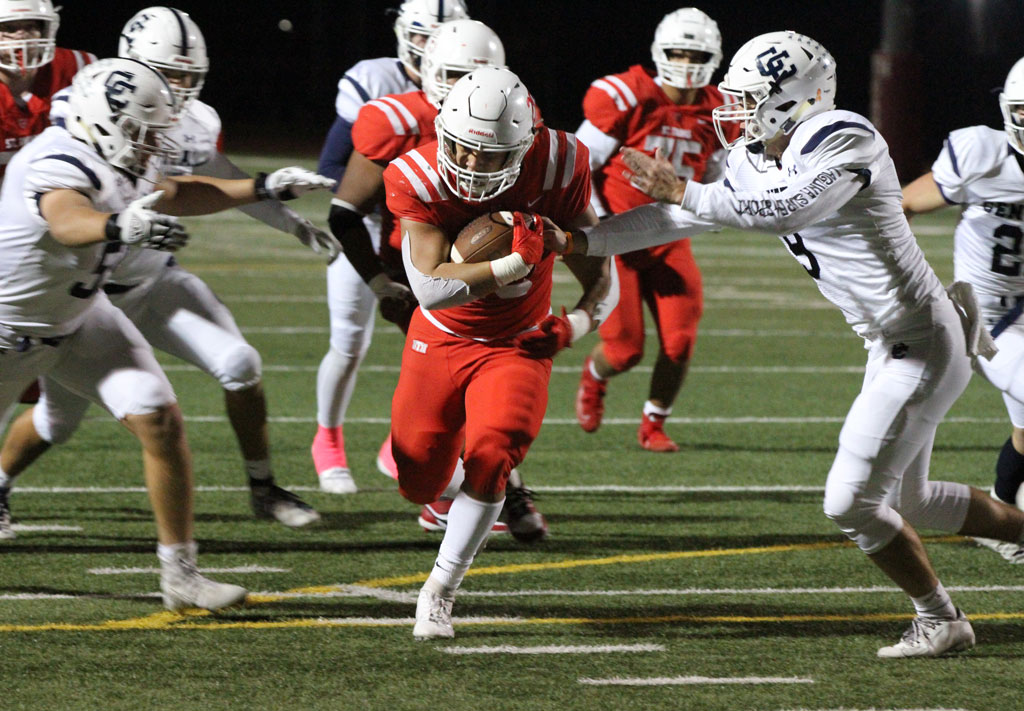 The Eagles pumped the count to 21-0 with Fontenot banging consecutive carries for 23 yards. After a one play reprieve, he crashed the goal line 90 seconds before the break for an insurmountable advantage.
TENACIOUS D AND ALL WITHOUT JACK BLACK
Headhunting linebackers Cooper Thomas '20 (Columbia University verbal) and Mason Richie '20 along with Charlie Hanna '20 led a suffocated assault that delivered a first half shutout for the third time in four games.  All-State safety Daniel Coco '20 capped the slamdance with an interception with 10 ticks left in the stanza.
¡UNO! ¡DOS! ¡TRE!
The Eagles dodged disaster on their first scoring series when Jackson Phillips '20 fell on a Kopp fumble at the St. Thomas 27-yard line. Seven plays later, Fontenot smashed the first points of the game.
Kopp connected with receiver Spencer Kryger '20 on a crossing pattern for 21 yards to jump start the third scoring series and later rolled away from pressure to find Martinez breaking away in the middle of coverage for 16 yards.
Receiver Cameron Bonner '21 contributed timely receptions if not the customary electric thrill show – a 16-yard catch for a first down in the initial scoring drive and a diving glue grip grab on the right sideline to the Central Catholic 14-yard line to set up Kopp's touchdown pitch to Martinez.
WEEK NINE || FIRST HALF
WEEK NINE || SECOND HALF
SENIOR SALUTES
Before the game, seniors from Eagle Football, TAPPS state runner-up Eagle Cross Country, and Eagle Athletic Training were recognized along with the senior members of the St. Thomas band and Eagle Cheer.
STATE OF PLAY
Eagle Football set an ominous tone for the regular season home finale with a ruthless precision that seemed like the stuff of sci-fi cyborgs. A dominant line and dynamic running game early, a doomsday defense late, a season best four-game win streak in the bank.  After a wobbly 0-2 entry to the campaign, the Eagles discovered adversity is a companion of the champion and an enemy of the weak. They have proceeded as honest and determined as Aldo Raine, rugged and ornery, and they play each possession as if their postgame pizza depends on it.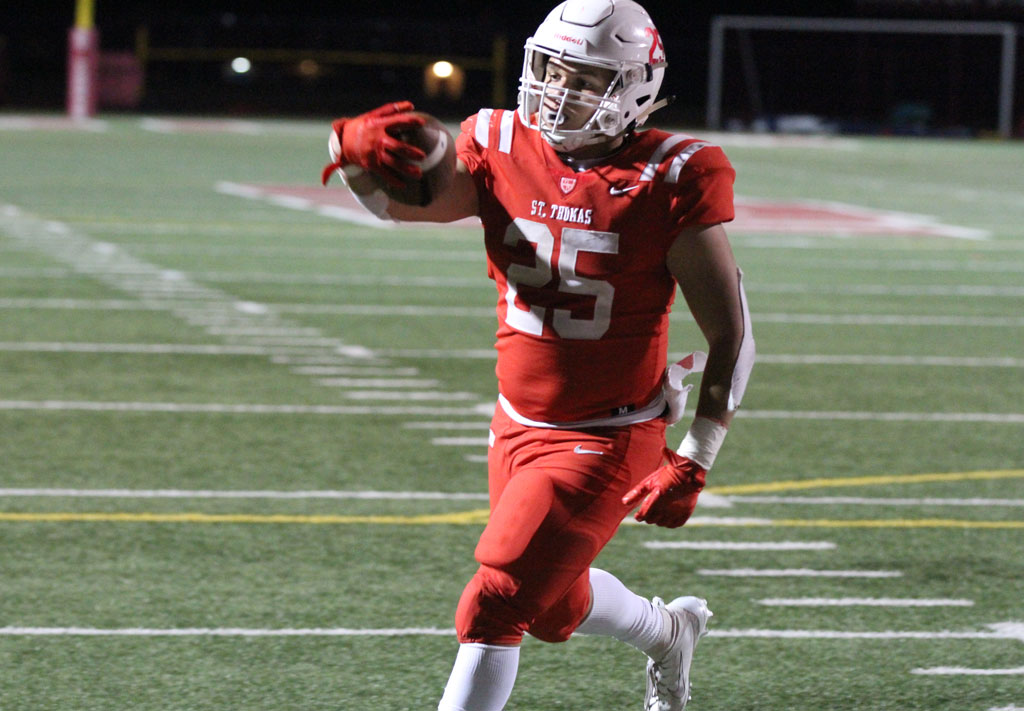 The success feels sustainable. The present holds a future worth watching.
UPCOMING
Following an open date, the Eagles will conclude the regular season at St. Pius X with an opportunity to repeat as district champions and collect their sixth title in eight years.
In 2018, quarterback Peyton Matocha '19 put on a dazzling display of talent, skill, precision, will, and want with seven touchdowns, including four in the third quarter when Eagle Football seized control to rally for a stunning 52-49 shootout.
From 2012-15, the Eagles captured four straight regular season finale showdowns with the district title at stake by a combined score of 144-62. In the stretch dating to 2011, Eagle Football enjoyed five straight head-to-head wins and six victories in seven games.
Eagle Fight Never Dies!