Director Dan Green embraced his sixth staging of A Midsummer Night's Dream with an inventive take, both saucy and sweet, worldly and enchanted, on William Shakespeare's fantasy comedy.
Dangerous and mysterious potions, fairy warfare, and crazy mixed-up love are the themes of this 400-year-old fusion of Greek mythology and cringe comedy. There was plenty of plot to manage and showcase during the October presentation in Cemo Auditorium at the Moran Fine Arts Center.
The mischievous fairy Puck is a reckless figure of anarchy and compassion played with zest by Jordan Navarijo '20. He and the king and queen of the fairies – Bishop Yokubaitis '21 as Oberon and Caroline King (St. Agnes Academy '20) as Titania – turn their enchanted wood into a magical place for mortals in love. But since this is a comedy of errors, they all fall for the wrong people. Chaos reigns. And hilarity ensues.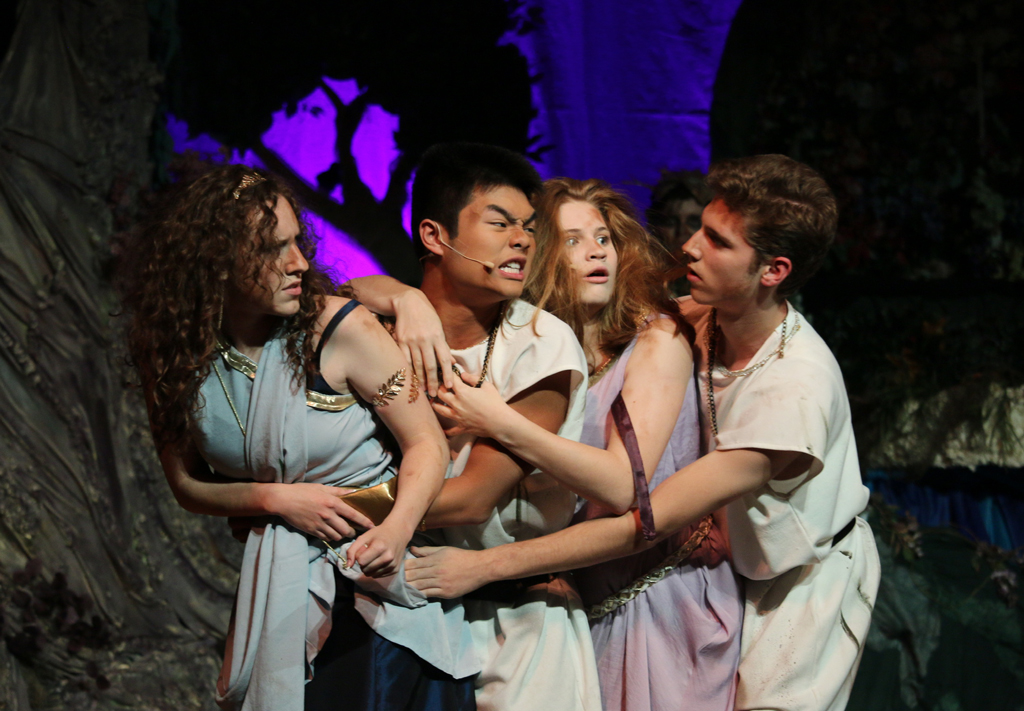 In this case, the wrong people include Robert Frank '20  as Bottom, who becomes the object of Titania's affection.  Audrey Moffet (Incarnate Word Academy '20) plays feisty Hermia. She's taken with Lysander, played by Patrick Pham '21, but is promised in marriage to Demetrius, played with gusto by Gus Boettcher '21. And Caitlyn Gilliam (SAA '20), as the desperate pursuer of Helena, is after Demetrius, even as he lures for emotionally wayward Hermia.
Got it? Good.
"There was a willingness from the entire program to accept the challenge of William Shakespeare and exceed all of our expectations," Green says. "Everyone surprised everyone with commitment and execution. There wasn't a single weak link. The four lovers were wonderful … the fool's play within the play brilliant … the fairies poetic and intoxicating."
Green and his creative team including co-director Kim Shipman embraced these busy, discordant elements wholeheartedly and crafted an immersive production with stunning set design, costuming, musical accompaniment and, most importantly, captivating performances.
"The actors brought so many of their own ideas to this story," Green says. "The lovers' fight with Patrick and Gus was very physical, a natural and logical sequence. Bishop brought a great physicality and strength to Oberon. He and Jordan and Caroline worked to give those fairy characters an otherworldly quality. It was suggested that Jordan's Puck was imitating (Marvel Comics character) Deadpool when in fact it was Deadpool imitating the natural writing of Puck. And Jordan identified the playfulness and ran with it. Gus's snooty, snobby quality made us all truly dislike Demetrius. He was tremendous. It was grand fun."
The sprightly cast was alive with spot-on comedic timing, fully in sync with Shakespeare's dazzling wordplay while creating energy infused chemistry onstage. In a play filled with scene stealers, no one pulls off a great heist. But it seems clear that all the performers here were inspired by Frank's bottomless passion to take on any role and to turn every thought and impulse into theatrical action.
"Frank provides the heart and soul of the play, a fool with great ambition," Green says. "He played the part better than I ever did. He had the arrogance but also a vulnerability right under the surface, and neither was obtrusive that you wouldn't laugh."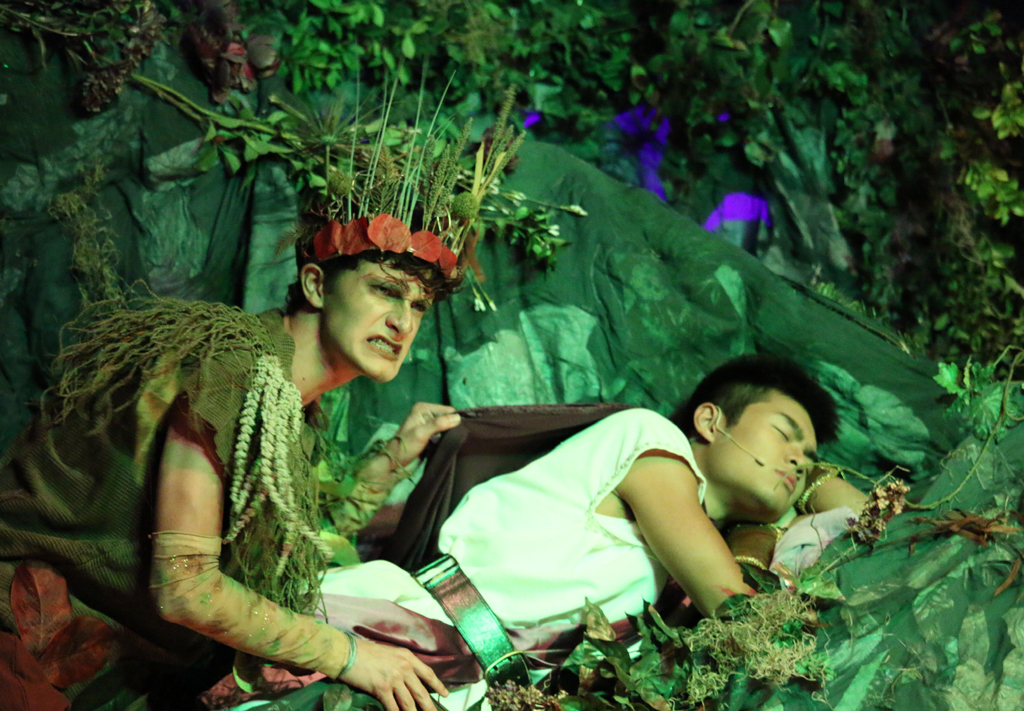 The production encouraged confidence from the outset, starting with scenic designer Phil Gensheimer's set, assisted by Daniel Bryant '93. Superb collaboration from audio/visual coordinator Chris Hodge and lighting manager Benjamin Haworth helped create the worlds of real and metaphysical. Essential contributors included stage manager Katy Neaves and St. Thomas Choir Director Josh Wilson, who was involved in his 16th STH production.
"It was the grandest set we've ever had and I've loved every set we've had without exception," Green says. "We knew what we wanted but didn't know how we were going to get there. The finish was beyond what we expected. There was so much mobility and interaction on stage. Slides and trampolines. It was a playground."
A deep personal connection to Midsummer continues to return Green to what is thought to be Bard's family-friendliest comedy.
"This is the first Shakespeare play I ever laugh at," Green says. "A PBS showing from New York City (1982) with William Hurt (as Oberon), Christine Baranski, Ricky Jay, and five-year-old Emanuel Lewis running around. It was so amazing. I was then cast in a role at Spring Hill College.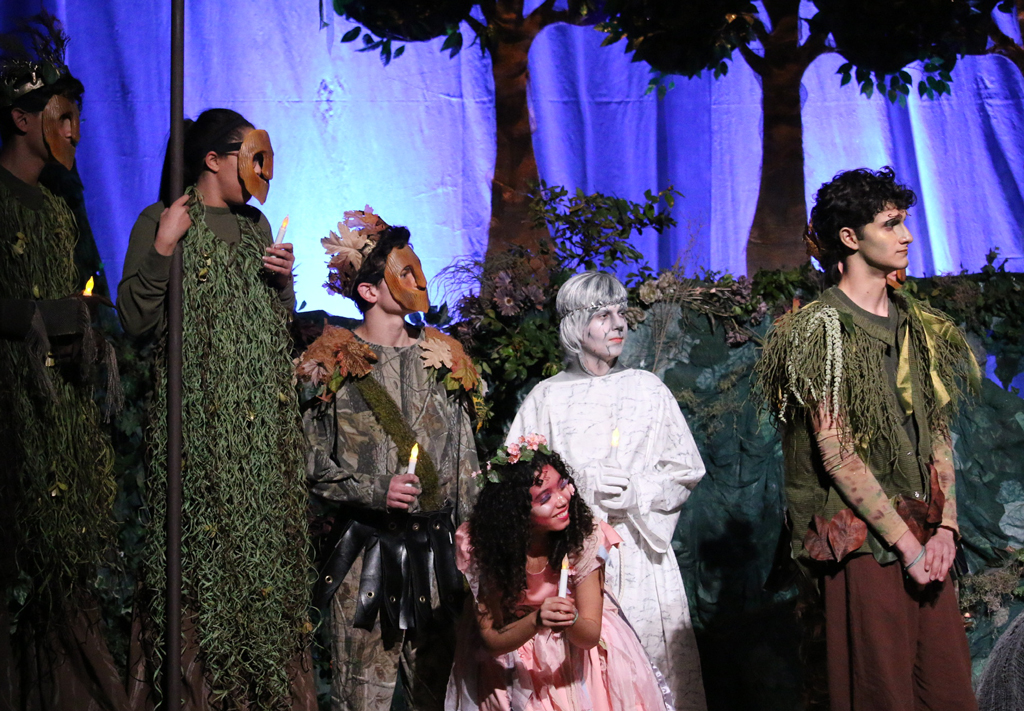 "I believe this is the play that most teaches actors to love Shakespeare. There are other works that students read to understand and appreciate the Renaissance. But I want to give students something they naturally like and this is one part Animal House, one par "Love Stinks" (think J. Geils Band), one part Greek mythology, one part screwball comedy, all with assorted Bunny/Daffy Duck antics. I had always thought Shakespeare to be inaccessible but then I discovered Midsummer hits initially like The Three Stooges, and then on a second viewing The Three Stooges with some profound meaning."
In the hands of Green's thespians, the Shakespeare tale of potions and potent feelings, of love lost and found in an enchanted forest became a gleeful tribute to the joys of losing and finding yourself through acting, and not merely the silly show-off antics that were on display.
"With Guys and Dolls (spring 2019) or The Addams Family (spring 2017) the tone for the actors is established by the music, that's the emotional suggestion on how to act," Green says. "With Midsummer, you have to first translate the language and discover what the characters are saying. Then they have to learn how to act, both vocally and physically. The missing element is always the audience telling them it's funny. By the end of rehearsals, they knew this was funny."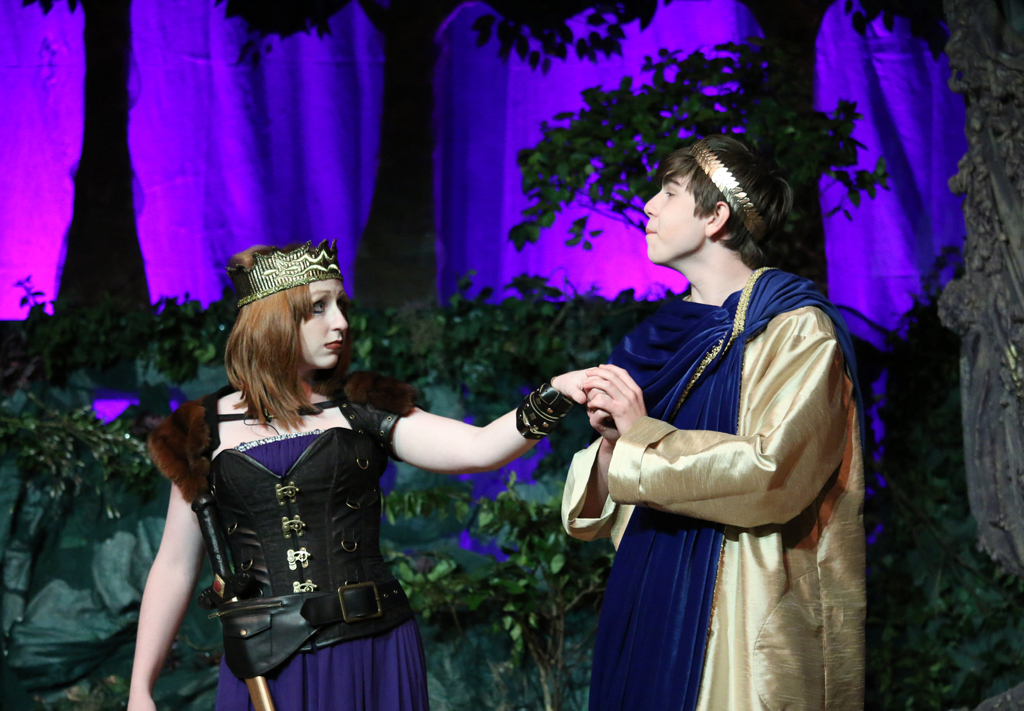 Whatever the countless translations for Shakespeare's most malleable play, all audiences ever seek is magic and a sense of joy. Without question this thoughtful, relatively risky St. Thomas take on a familiar classic was well worth experiencing. If Shakespeare were always as much fun as this mounting, the kids would all demand to see it.
Catholic. Basilian. Teaching Goodness, Discipline and Knowledge since 1900.