COUNTDOWN TO KICKOFF
WEEK 12 – TAPPS DIVISION I REGIONAL PLAYOFFS || EAGLE STADIUM, RUSK, TEXAS
WHAT YOU NEED TO KNOW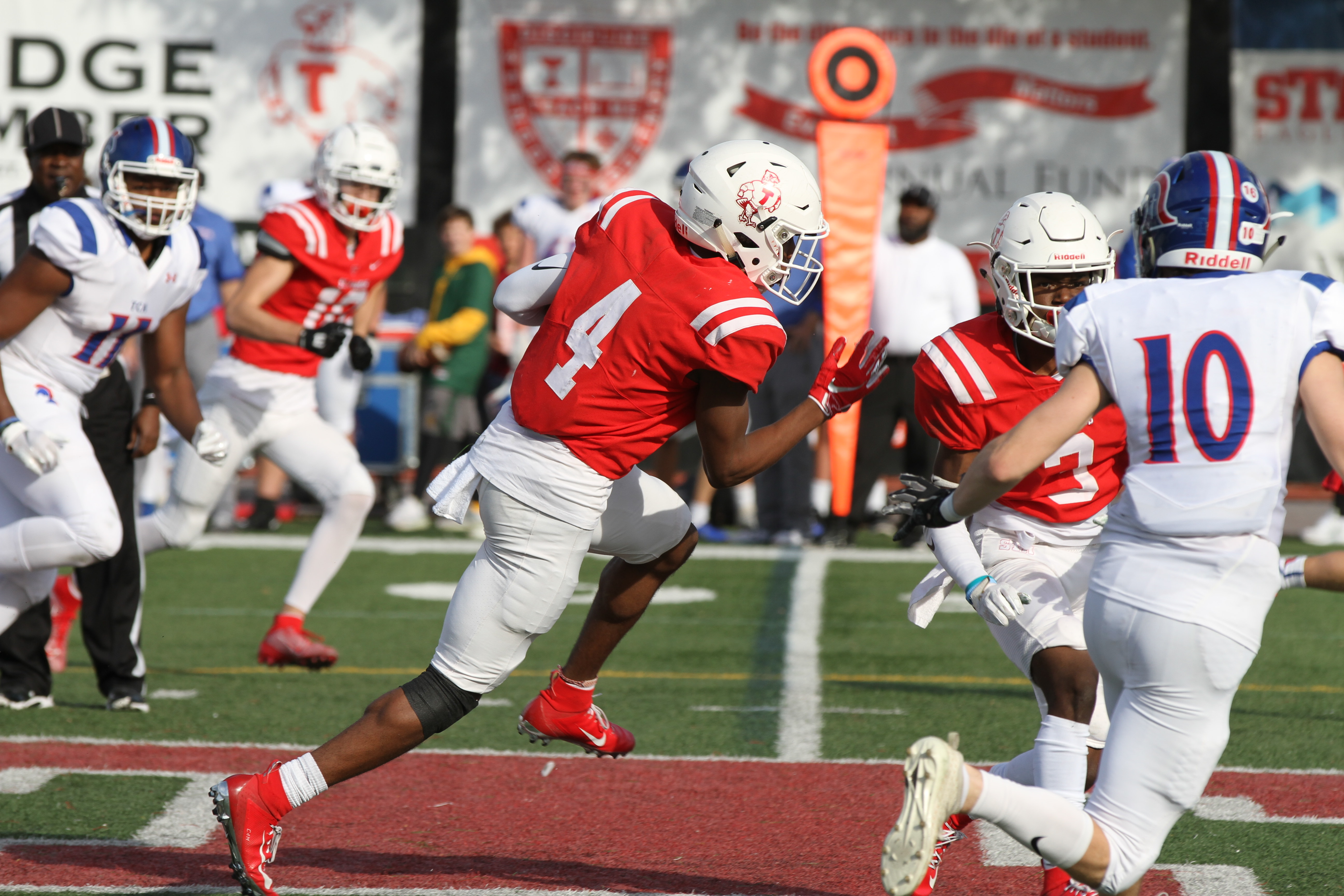 Sizzling St. Thomas (8-3) faces Dallas Bishop Lynch (5-6)  November 23 at 6:00 p.m. A win advances the Eagles to the state semifinals for the first time since consecutive appearances in 2014 and '15.  
The Eagles have rallied from a staggering 0-2 out of the gate for six straight wins and eight victories in nine  games. With quarterback Maddox Kopp '21 stretching seams and defeating schemes, game breaking receiver Cameron Bonner '21 emerging as the offensive player with the highest ceiling, and a defense capable of long stretches of shutdown swagger, St. Thomas has averaged more than 40 points per outburst in their blitzkrieg to the district title and beyond.
Bishop Lynch defeated Fort Worth All Saints 21-14 in the area playoff, a salve if not a solution after five losses in six games.  The Friars are one year removed from the state title tilt with a fresh head honcho and vastly revamped roster.
SETTING THE SCENE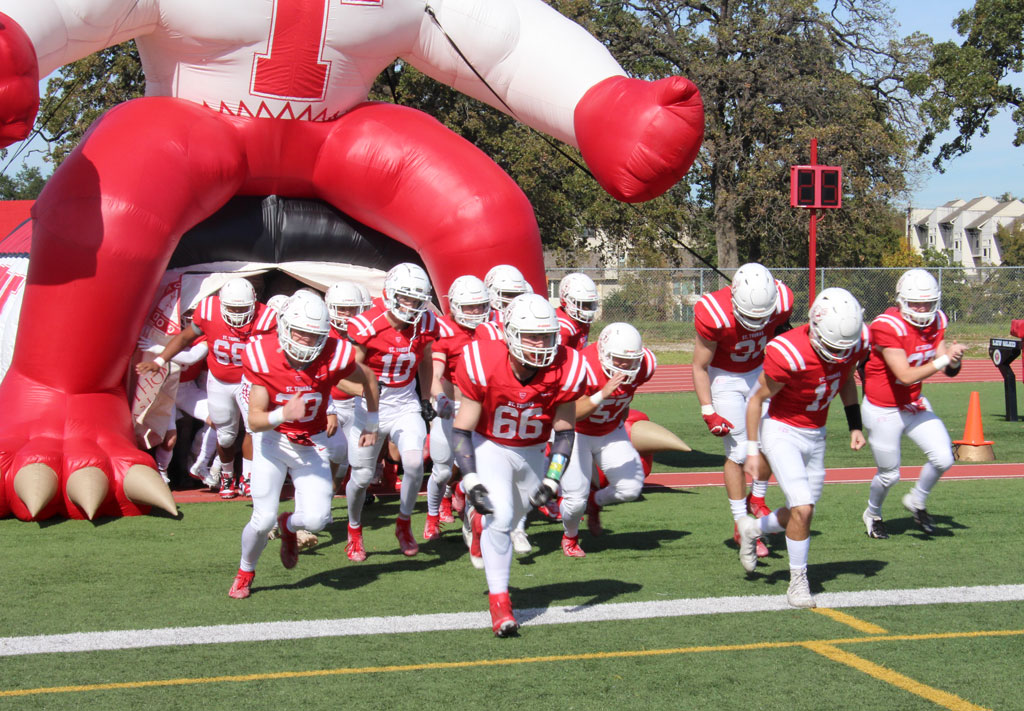 The two programs are on a familiar collision course in the TAPPS postseason.  They face off in the Division I regional for the second consecutive year, the fifth playoff match since 2012.
In 2018, four touchdowns from quarterback Payton Matocha'19 (University of Miami) including a pair of pitch-and-catch scoring tosses with running back Ian Wheeler'19 (Howard University) were not enough in a 42-35 defeat in Fairfield that ended the Eagle season at 6-6.
In 2016, the Eagles led 23-21 in the second half of the area playoff on their home turf. But the game's sixth lead change fueled a Friar 42-23 runaway for the eventual state champions.
In 2013, Eagle Football followed is first undefeated regular season since 1939 with a 47-28 home playoff knock to avenge a 27-11 season ending loss the previous year in Teague.
 PREVIOUS INSTALLMENT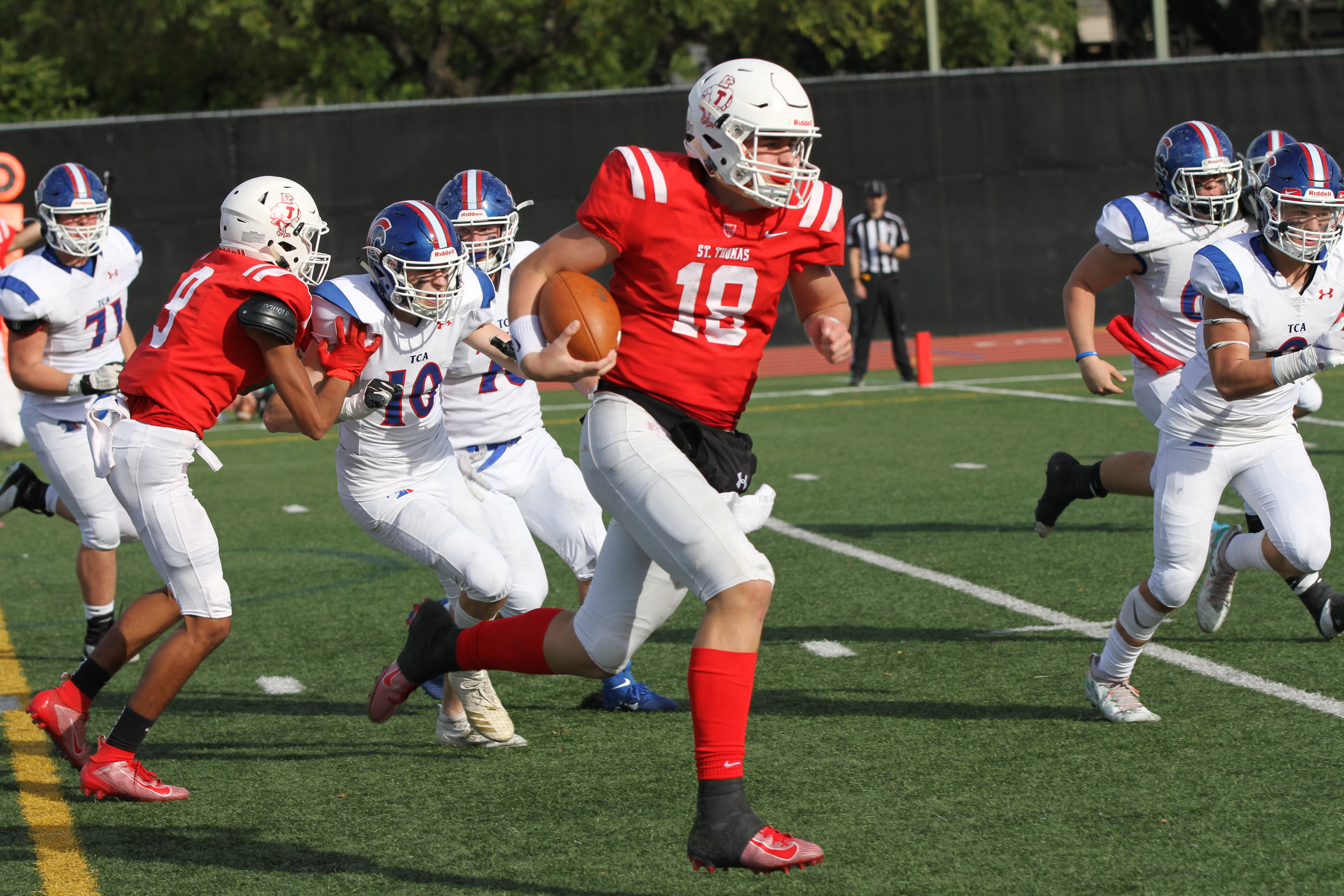 Quarterback Maddox Kopp '21 continued to catapult to outsized folk hero status.  
After blistering St. Pius X for five touchdown passes to clinch an undefeated district championship in a Surge Knight beatdown so devastating it required an autopsy, Kopp feasted on a succulent scoring buffet of seven touchdowns and 419 all purpose yards in his starting playoff debut against Addison Trinity Christian.
Kopp (26-36 and 345 passing yards) took a Ginsu knife to the Trojan defense, connecting on scoring strikes to receivers Josh Crissmon '20 in the first period, Spencer Kryger '20 in the second stanza, and twice with Drake Martinez '21 in the fourth quarter.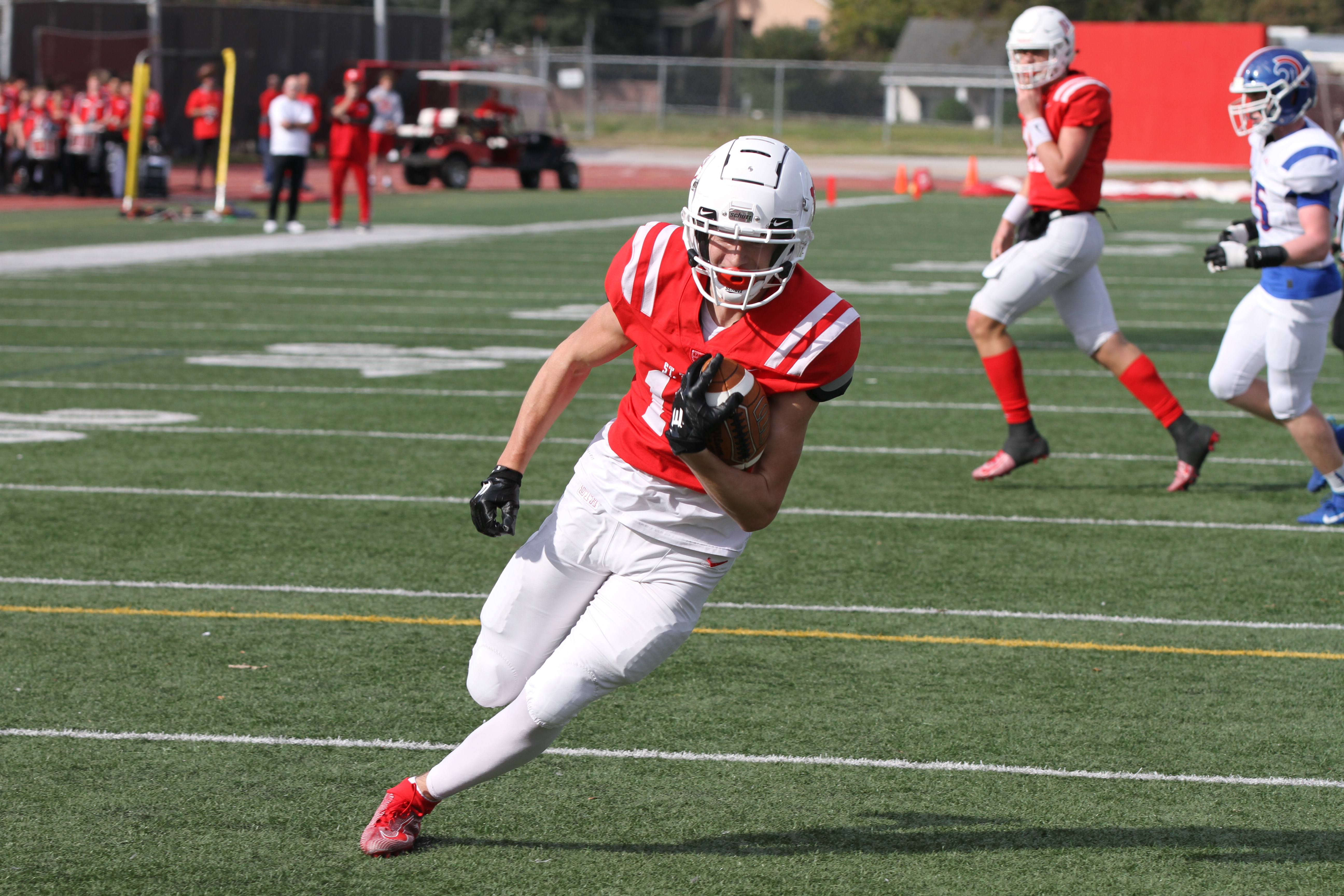 Kopp's swashbuckling epic afternoon included capping the Eagles' second series with a scoring sneak following a TCA fumbled punt. He expertly orchestrated a primo perfect 2:00 drill to close the half with a payoff to Kryger for a commanding 28-10 lead at the break. His 24-yard romp to the end zone in the first 90 seconds of the second half pushed the Eagles out front 35-10. Another mad scramble positioned thunder foot Paul Langemeir '20 to hit from 34 yards for a 28-point cushion.
The running throwing devastating array included a Super Bowl-like "Philly Special" reception midway second period.   Kopp took a direct shotgun snap, handed off to running back John Fontenot '21 moving left, who then flipped the ball to reversing receiver Kryger.
Kryger didn't try to run the ball. He didn't even pause. He simply rolled right and lofted a short pass to the front right corner of the end zone, where Kopp cradled the first touchdown reception of his varsity career. The trickeration was reminiscent of the Eagles antics with quarterback Nick Foles in their pasting of the Patriots in Super Bowl LII.
It was Kryger's fourth completion of the season. In four attempts. With all four resulting in touchdowns. Seriously.
 WEEK 11 || FIRST HALF
WEEK 11 || SECOND HALF
 STATE OF PLAY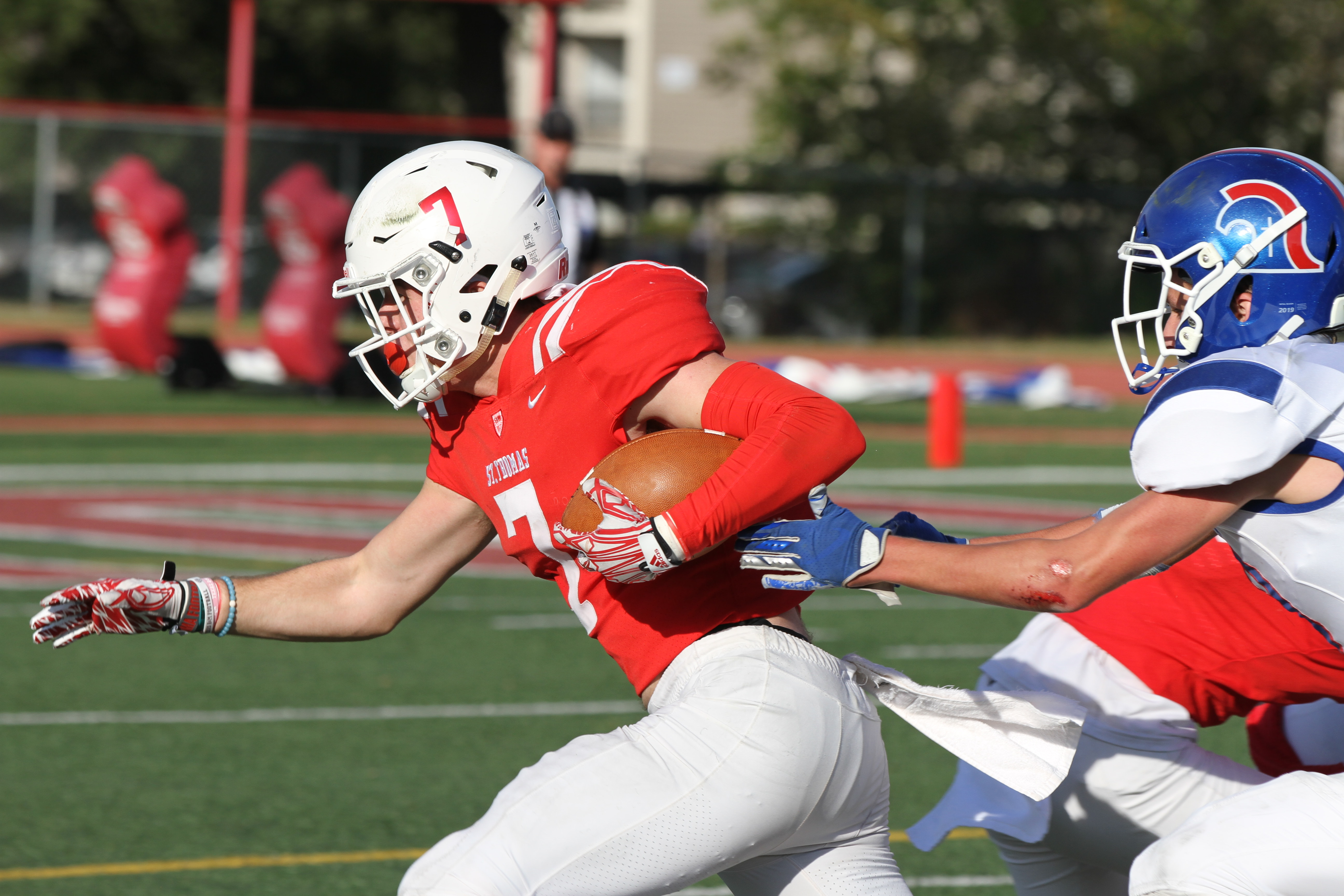 Since suffering an ugly midseason reality check at home, Eagle Football has rallied with the strongest proof of life since Meg Ryan entered into dangerous liaisons with Russell Crowe.
The gravity of the Cedar Hill Trinity Christian outcome had the potential to pull the Eagles' season under.  But a team that couldn't have gotten much worse has gotten better, without much debate. The offense has delivered with gusto.  The defense featuring linebacker Cooper Thomas '20 (verbal Columbia University), Jackson Phillips '20 and Chidera Umeh '20 in the trenches plus uber active All-State safety Daniel Coco '20 and defensive back Charlie Hannah '20 has developed a mean streets identity.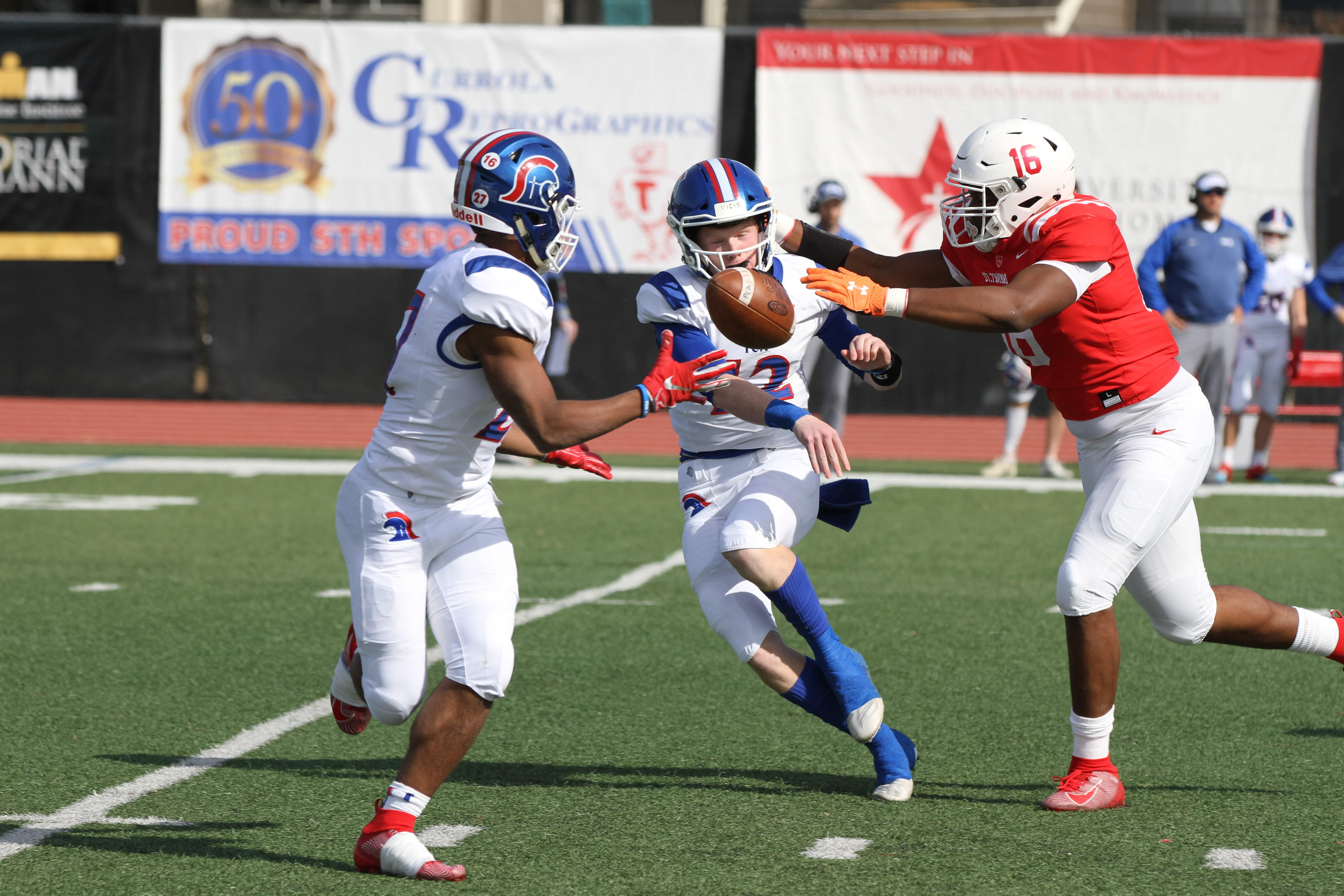 At the fulcrum of the turnaround tour was a collective maturation.  A group that refused to panic and splinter discovered how to seize their preparation and have it translate into game day performance.  Focus in practice is imperative but without consequence unless the switch is flipped at kickoff. 
The Eagles now surge further into money month with urgency and immediacy, searching for something audacious and achievable, simultaneously.
As The Heavy might ask … "How You Like Me Now?"
So how you like me now?
How you like me now?
How you like me now?
UPCOMING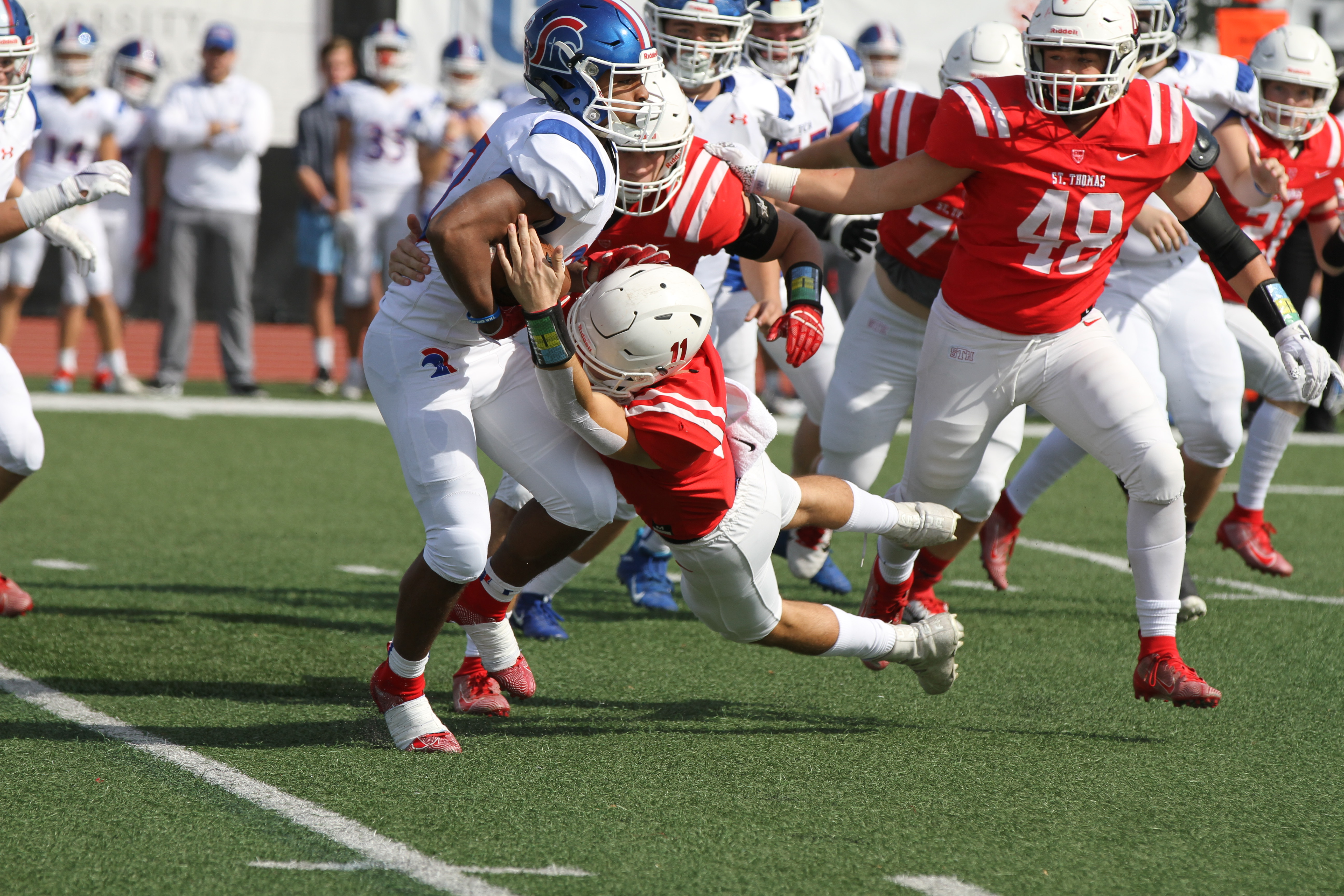 A victory over Bishop Lynch would move Eagle Football to the state Final Four November 29 against the winner of Dallas Parish Episcopal and Midland Christian.
Eagle Fight Never Dies!