Hope Arive is convinced there was almost a destiny or fate or cosmic power in her only son finding his way to a Basilian institution well into its second century with a deep legacy for academic rigor in the classroom and ethical living in every arena. "I was aware of St. Thomas even before Eli was born. I drove past the campus every day to the Medical Center for work. Then a co-worker told me her son graduated from St. Thomas. Tuition assistance made it happen. She was so proud of her son, what he became, a college graduate with a master's degree, now with his own family. She believes it was all because of St. Thomas. That's what I wanted for Eli. After two years I knew I had to make the sacrifice to give him the best possible education in the best possible place. And look at the results."
Those results were in full glory on the brink of a holiday season synonymous with giving and appreciation. Eli Carter '20 embraced the belief that the greatest gift is packaged in an opportunity, the chance to identify true self worth and advance through merit.
Carter's Christmas arrived two weeks early in a celebration cementing his decision to continue his track and field career at Stephen F. Austin State University throwing the shot put and discus.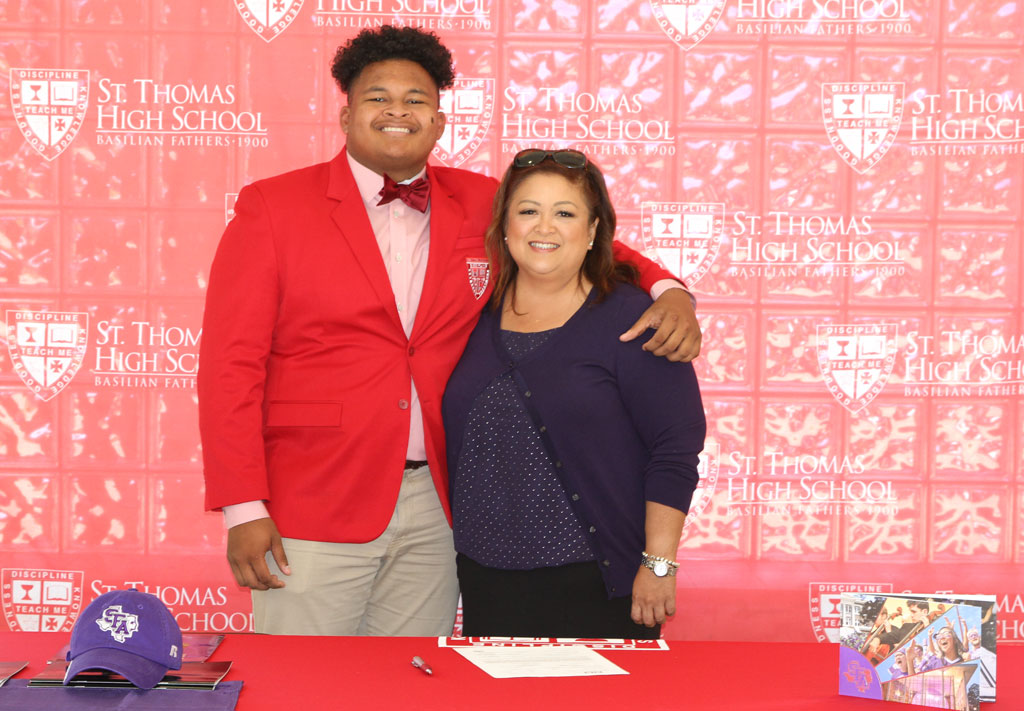 "My mother is my biggest motivation," Eli says. "From day one she wanted me to go to college and be successful. The financial resources to make that happen were not a given. I knew I had to find a way. And this is my way. So much hard work has made this dream come true. My dream and my mother's."
Hope held back tears from the emotions bombarding her amygdala. "My heart is overflowing. This is the crowning glory of his life so far. For both of our lives."
Carter is a two-year two-sport dynamo, the muscle man in the middle of the offensive trenches for Eagle Football during a resurgent 9-4 season that reached the TAPPS Division I state semifinals.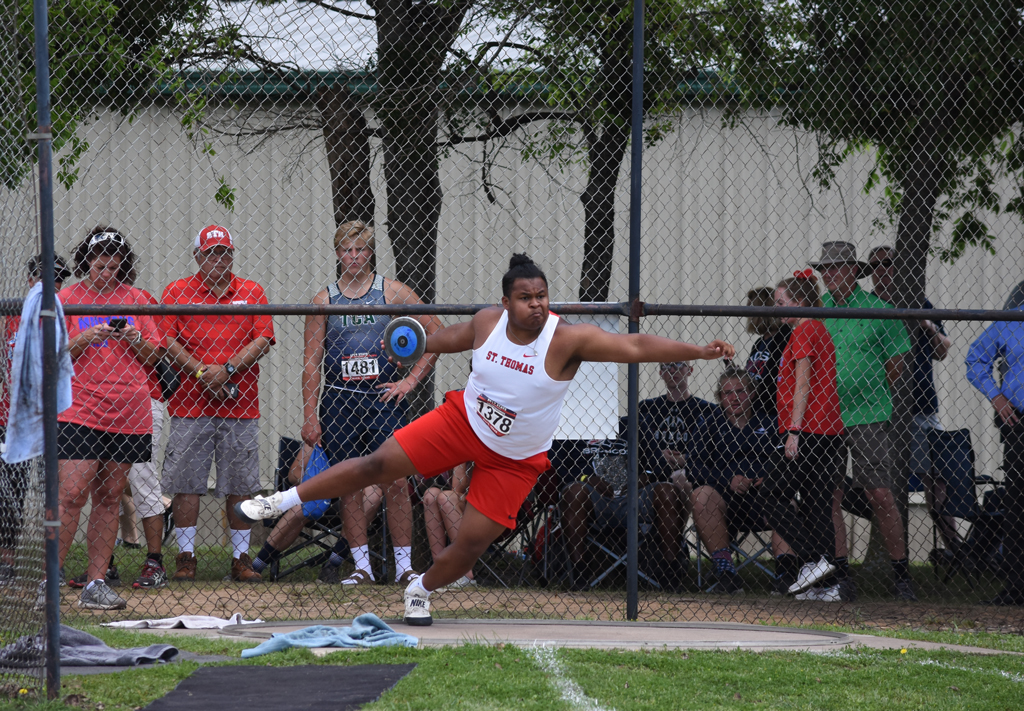 But the mammoth 6-2 280-pound Carter is at his ferocious best as a full frontal force for Eagle Track and Field. And he was never better than when igniting a fast and furious St. Thomas surge to capture the 2019 6A state title.
The seismic shift in the championship landscape began with Carter twisting, turning, hurling the discus 152-02 to stake first place on the state stage in Waco. He then moved to the shot put ring and applied a simple physics equation of angle and velocity. Carter muscled a throw of 50-08.25 for his second gold medal in a matter of minutes. The tide had turned and was ready to engulf.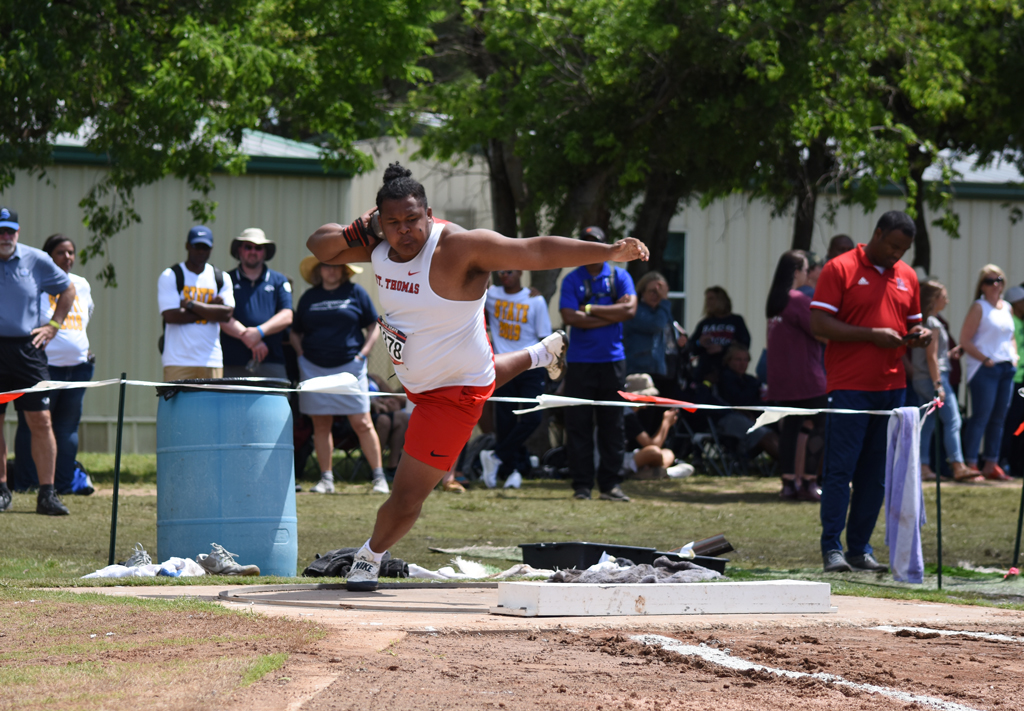 St. Thomas eventually clinched the crown when high jumper Peyton Matocha '19 provided the pivotal exclamation point that pushed the Eagles into command position in the final event. A delightfully dizzy conclusion in the way Howard Finster's paintings or Sonny Landreth's slide guitar solos are enjoyably insane. And Carter served as the catalyst.
"Before that state meet I would look at my numbers, look who I was throwing against, and say to myself, 'I'm not that good,'" Carter says. "But ever since, I have had the confidence of a champion, that I'm one of the top throwers in Texas. I realize my talent and the potential to achieve even more. That's what pushes me every day."
Carter began his high school career at UIL Cypress Park before making the bold move to St. Thomas before his junior year. His was a deep dive into a vast unknown. The demanding transition academically was in many ways a culture shock for Carter not without pains in growing. But he paired purpose with passion into daily due diligence bookmarked by miniature triumphs – authentic self esteem not reflected in selfies gradually emerged.
"I got a fresh start with a chance to show who I really am," Carter says with obvious assertion. "This is a demanding environment but I was determined to make it work, to shine, and make this school mine. What I've accomplished is because of one-on-one work with teachers and counselors. I wouldn't be in this position without them."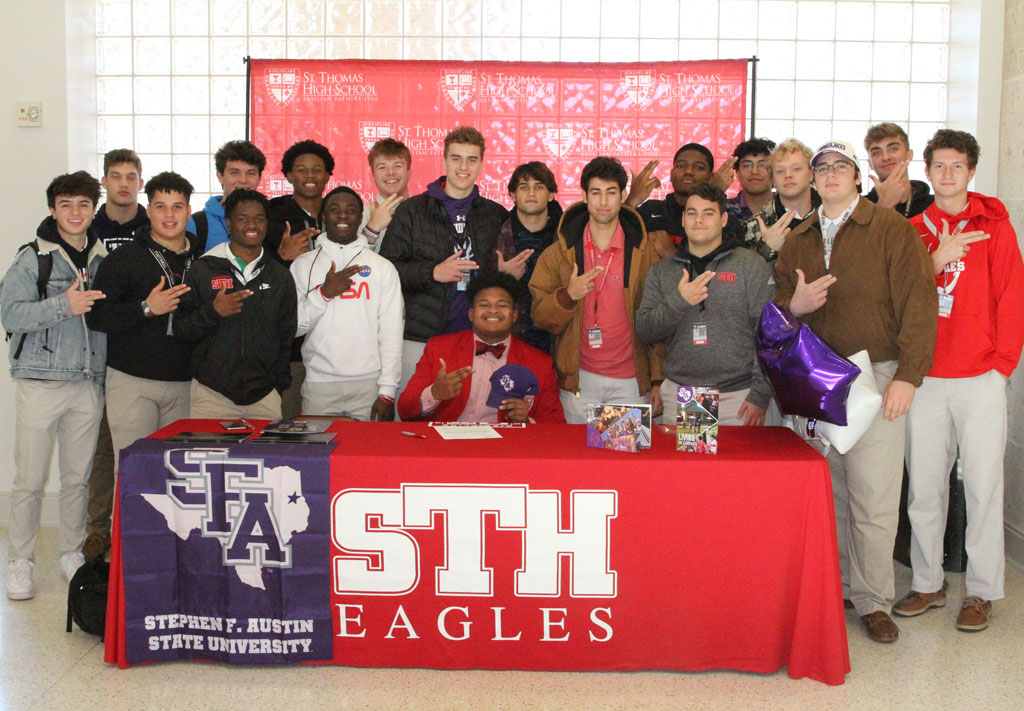 Carter is now poised for a spectacular senior sendoff before his journey sends him to SFA. Hope trusts that he is properly prepared for his next unknown, equipped with an internal joy and infectious personality to be an agent of change no matter what he encounters. "Because of what Eli has learned here … the goodness, discipline, and knowledge … that will allow him to move on wherever his life leads him. He has that foundation. He's a Man of St. Thomas."
Catholic. Basilian. Teaching Goodness, Discipline and Knowledge since 1900.