The 2019 gold rush for Eagle Football and Eagle Cross Country bore a mother lode of postseason acclaim for nearly two dozen key contributors after deep state championship contention.
The annual Fall Sports Banquet again celebrated significant St. Thomas team and individual success. Nicholas Chander '20 was named Eagle Cross Country's most valuable performer after leading a TAPPS 6A runner-up result. He clocked the 5,000-meter layout in Waco in 17:10.3 to capture sixth place after a top-20 state finish in 2018. The commended scholar athlete added Academic All-State to his first team All-State distinction.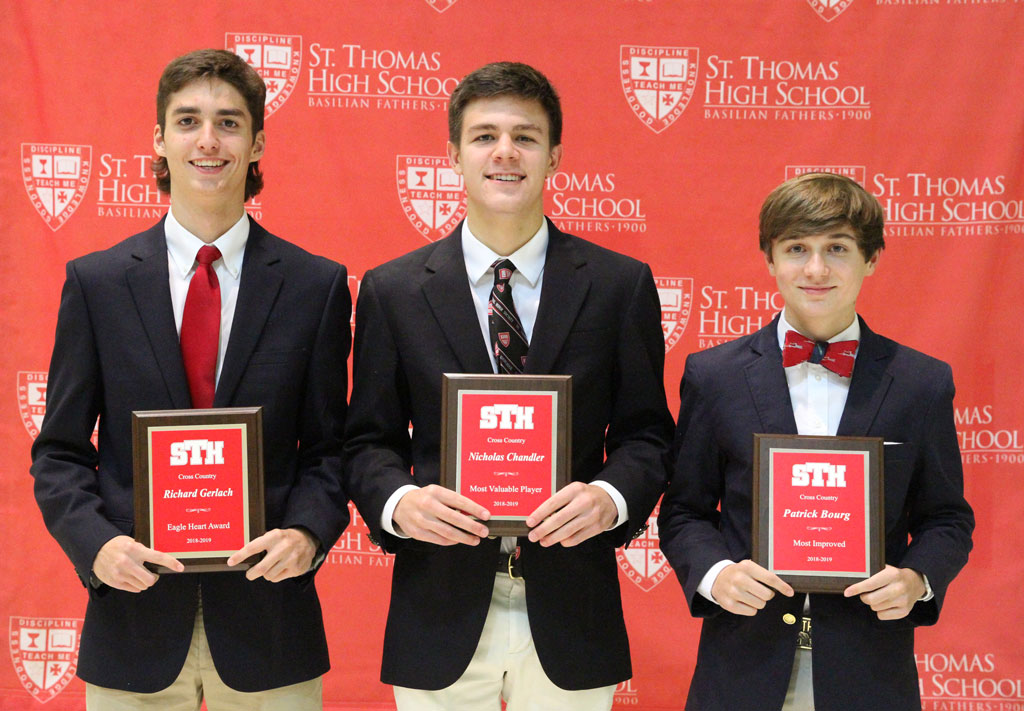 Richard Gerlach '20 was presented with the program's Eagle Heart Award and Patrick Bourg '23 was named most improved. The latest team accomplishment concluded a commanding season in the 15th campaign for Nathan Labus who has been associated with the program for a near quarter century.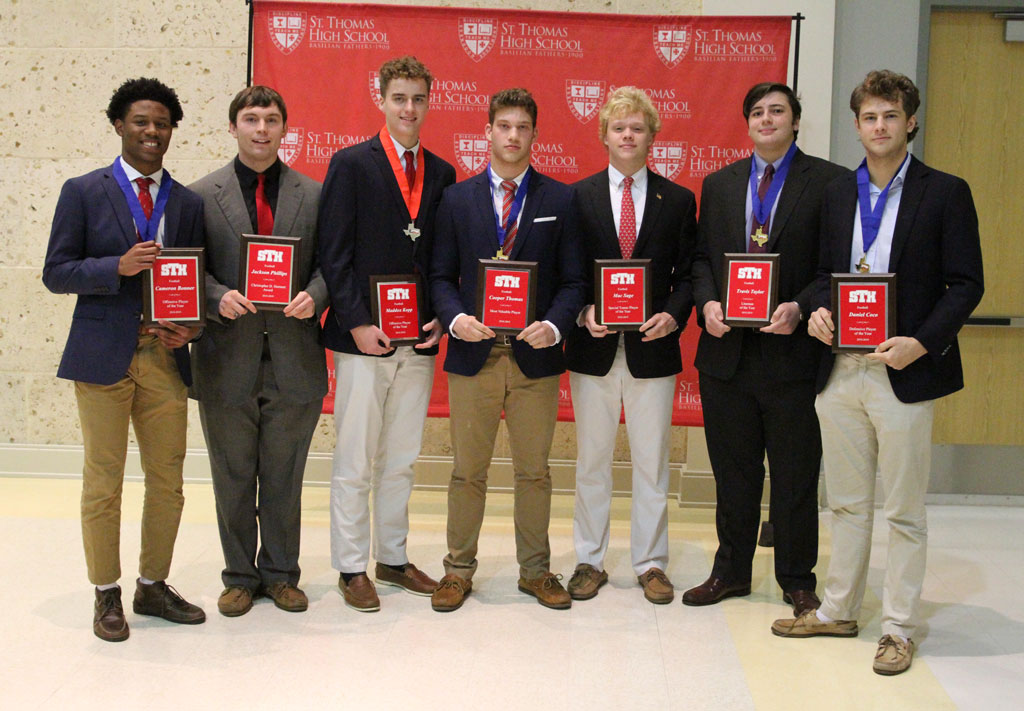 Relentless linebacker Cooper Thomas '20 was selected as Eagle Football's MVP and joined 14 teammates to collect Division I All-State distinction. Uber active safety Daniel Coco '20 earned first team status for the second straight season. He joined Thomas in the exclusive company along with receiver Cameron Booner '21, defensive lineman Max Garcia '20, kicker Paul Langemeier '20, and St. Thomas Lineman of the Year Travis Taylor '20.
The second team included quarterback Maddox Kopp '21, receiver Josh Crissmon '20, and running back John Fontenot '21. Offensive lineman Ryan Hanks '21, receivers Spencer Kryger '20 and Drake Martinez '21, linebacker Vince Lee '21, defensive back Aidan O'Hare '21, and defensive lineman Chidera Umeh '20 received honorable mention.
Defensive MVP Coco and Thomas were recognized as Academic All-State with Kryger, Lee, and defensive back Cameron McCurry '21.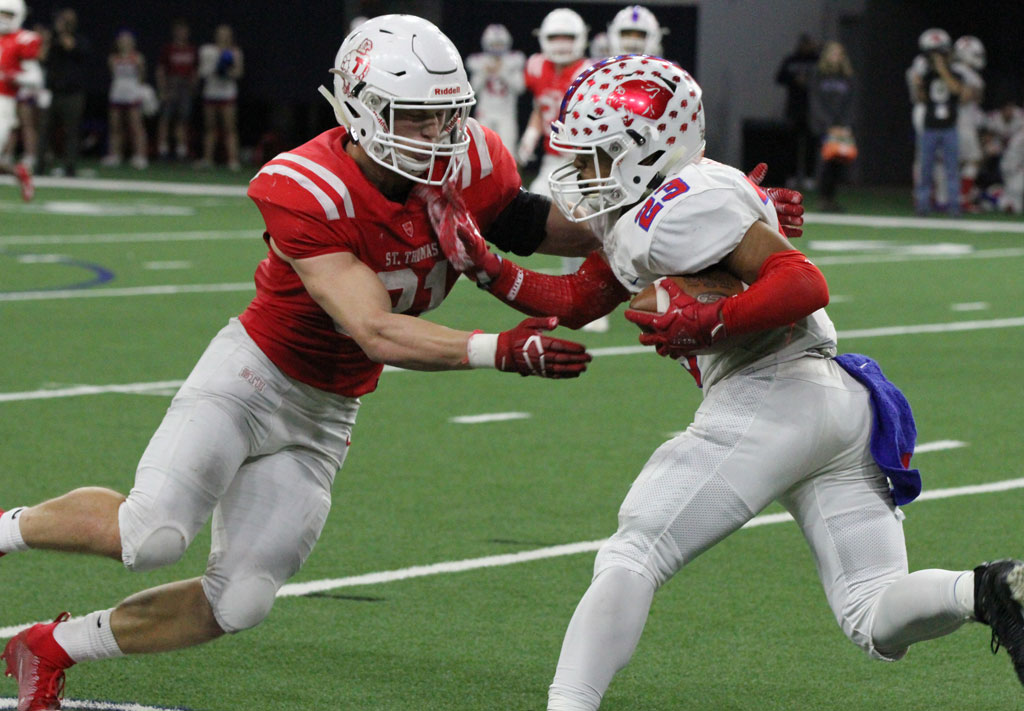 The marauding Thomas was a menace throughout his stellar senior campaign. He racked an outrageous 63 individual tackles and shared in 96 others including 19 for loss.
With Kopp detonating in his first starting season for more than 3,100 yards and 28 touchdowns, the Eagles had more guns in the sky than INXS. The connection with Bonner was the boldest new sensation seen since Live Baby Live rocked Wembley Stadium producing 1,208 yards, an average of 27 yards per catch, and 12 touchdowns.
The combo shared the team offensive MVP and was most lethal in the TAPPS 6A playoff that produced 94 and 79-yard scores. The 21-7 knockout over Dallas Bishop Lynch secured the first St. Thomas regional title since 2015.
The Crissmon-Martinez tag team generated 1,254 yards and 13 reservations for six. Kryger added 637 yards with five scores and flashed the stat line for the ages – four completions in four attempts for four touchdowns. As a receiver. Seriously.
Mac Sage '20 was the Eagle Football's Special Teams Player of the Year while Jackson Phillips '20 was honored with the program's prestigious Hartnett Award given each year to a senior performer who best exemplifies the characteristics of leadership, dedication, and courage.
Previously Langemeier was named Specialist of the Year by the Touchdown Club of Houston at the 8th Annual Private High School Awards Dinner, presented by the Hildebrand Foundation and Houston Methodist Orthopedics & Sports Medicine. He converted 12 of 16 field goal attempts, all 44 of his extra points, and had 33 of 69 kickoffs result in touchbacks.
Crissmon was nominated for Touchdown Club Offensive Player of the Year, Coco and Thomas for Defensive Player of the Year, and Umeh for Lineman of the Year. Rich McGuire was a finalist for Coach of the Year after leading Eagle Football to seven straight wins, nine victories out of 10, and the TAPPS Division I Final Four in his third season.
Eagle Fight Never Dies!