This story was originally published in July 2016.
Beloved St. Thomas alumnus, forever Eagle ambassador, and famed Houston restaurateur Frankie B. Mandola '65 passed away July 8 at the age of 68 from complications following a heart attack.
"The Houston community, and in particular the St. Thomas community, has suffered a great loss," Vice-President for Advancement Mark deTranaltes '83 said. "Our thoughts and prayers are with Frankie's immediate and extended family. I am overwhelmed at the outpouring of love displayed this week. Frankie was a larger than life individual, yet treated everyone like family, and was always ready to swap a story or two about St. Thomas. He loved his classmates, his teammates and supported the mission of the Basilian Fathers. He was a true original who will be deeply missed.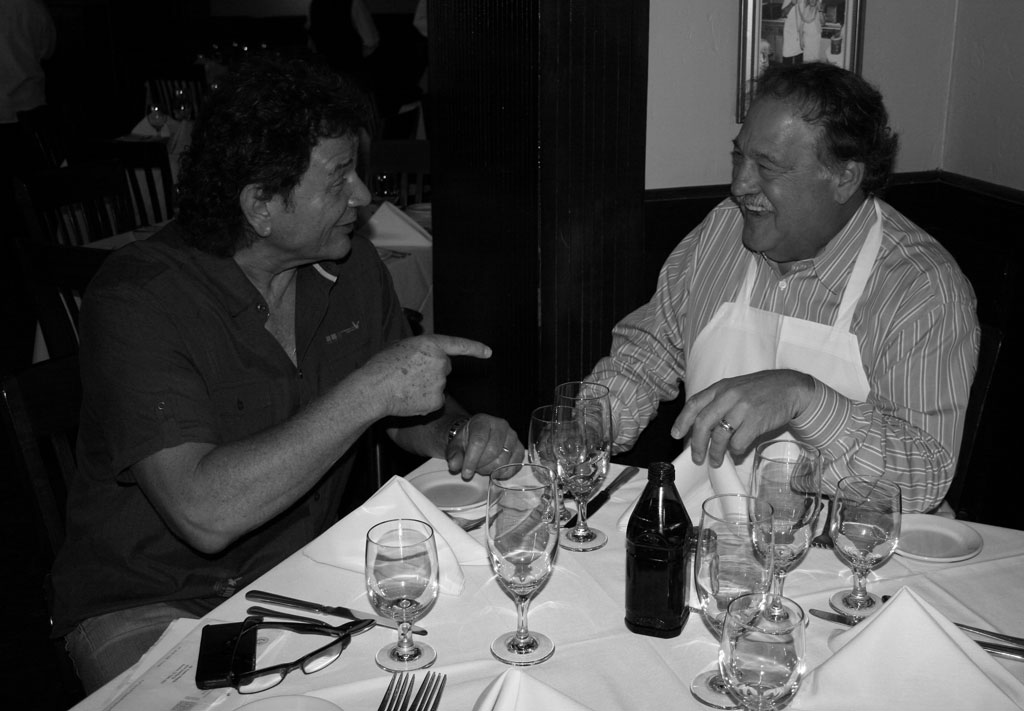 Long known for his gregarious and infectious authentic personality, the co-owner of Damian's Cucina Italiana and co-owner of Frankie B. Mandola's Catering first distinguished himself as an Eagle state champion and high school All-American scholar-athlete later to be inducted in the St. Thomas Sports Hall of Fame. He packed his two-sport talents for Rice University and later rose as a pillar among the first families of Houston food.
But Mandola perhaps earned his greatest acclaim living daily the Basilian motto of Teach me Goodness, Discipline and Knowledge.  He was a loyal and consistent force in his lifelong dedication to St. Thomas and contributor to civic causes, none more cherished than leading the Texas Italian-American Sports Foundation while working closely with former Eagle teammate Dan Sessions '65 to make college scholarship dollars available to a host of well-deserving student-athletes.
Mandola was eulogized during a Wednesday night visitation and rosary service which filled Cemo Auditorium and spilled into the Hall of Honor.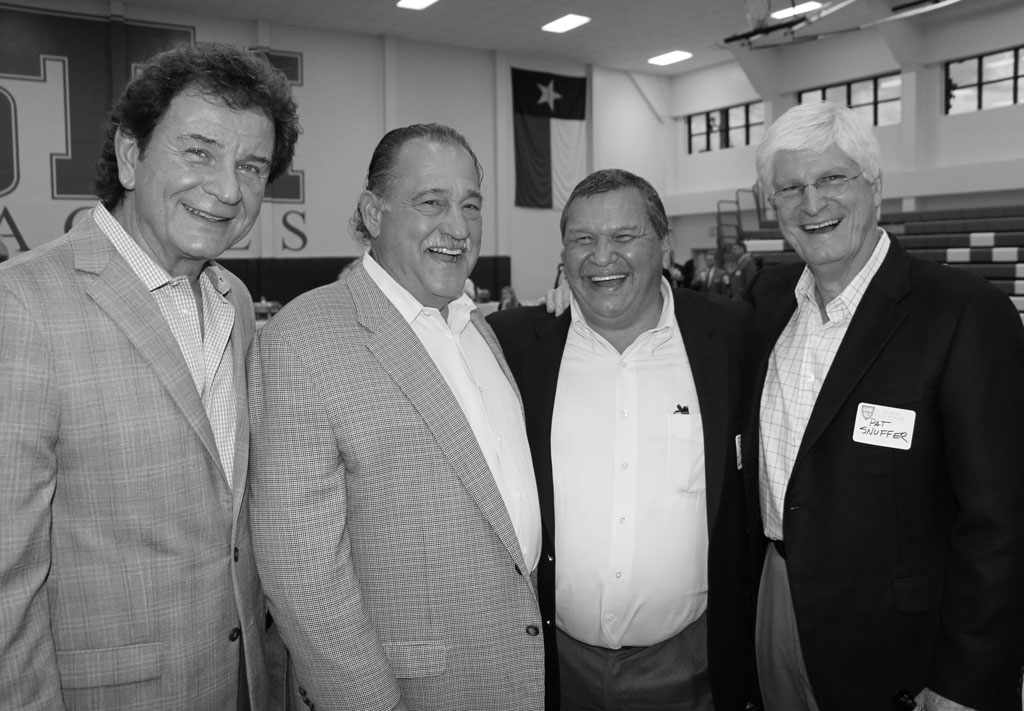 Life-long friends and former Eagles state championship teammates Jimmy Raley '65 and Pat Snuffer '65 paid emotional tributes, with Snuffer remembering Mandola as "a fun-loving kid, always smiling, always up for the challenge, what's next … His athletic success was just another means to connect with people … When the time came for him to turn in his cleats and spikes, Frankie carried that same intensity to every stage and phase of his life, the constants always the same, his strength of character and his love for people … I love you, Frankie. We all love you. You're home now."
As of 2015, Raley shared with Mandola St, Thomas Hall of Fame status and "through the years at St. Thomas (as students) we formed an irreversible bond. Frankie was the leader of our group … You couldn't love Frankie B. and be jealous or possessive. He belonged to many people … Everyone wanted to know and be around Frankie B. And I'm so thankful to God for my part (with him) … No one loved better, or was loved more than Frankie B."
Mandola's Thursday morning Funeral Mass again drew a standing room only crowd of support to the St. Thomas campus. President Fr. Kevin Storey, CSB presided with Fr. Roy Oggero, CSB serving as the homilist.
A passionate testimony detailing the depth of the Mandola legacy was delivered by Bubba Butera, whose relationship with Mandola measured much deeper than co-ownership of Damian's.
"Frankie loved being Italian in Texas. He lived it. He breathed it every day," Butera said. "And your name didn't have to end in a vowel. You could be a Raley, a Snuffer, a Stegent or a Sage. Or any of the thousands he welcomed into his world, loved you and anointed you like family, our family … I don't know anyone with a heart as big as Frankie B. His love for his fellow man went above and beyond anyone I've ever known. When it came to helping others he was always batted 1.000 … His third passion was baseball. His second passion was football. And his number one passion was family and friends, where he shined brighter than anyone else, that's the Frankie B. I've known and loved my entire life."
The celebration of Mandola's life continued with Grammy Award-winning vocalist Steve Tyrell '63 following Butera with a stirring rendition of "Smile."
Mandola's influence and impact within the St. Thomas ranks were consistently felt even a half-century removed from the graduation.
"I had the pleasure of working very closely with Frankie on all of the capital campaign events," deTranaltes said. "If we needed catering, Frankie was there. And not just to feed us, on numerous occasions when we would be talking about the campaign and what it would mean for the student body, Frankie would chime in about his experience at St. Thomas, about the bond and fellowship that forms between the students and of his love for the school. He talked the talk and he walked the walk. I am so lucky to have had the time I had with him, and I will miss him dearly. "
—
Mandola grew up in his family's Houston grocery store where traditional Italian meals were prepared for 50 or 60 people, a site which eventually became Mandola's Deli, which remains open on Leeland Street in East Downtown.
Mandola partnered with his brother Luke and their friend Ray Hay to open Ray Hay's Cajun Po-Boys on Richmond Avenue in 1974 later to be rechristened the now Ragin' Cajun
Frankie B. sold out his share in 1981 and was later affiliated with the Confederate House turned State Grille and Mandola's Steaks and Burgers on Kirby Drive.
But the prized Mandola presence was created in the early 1980s when he teamed with four additional investors (Damian Mandola '71, Vincent Mandola '61, Ciro Lampasas '51, and Johnny Carrabba Sr.) to launch his signature Damian's, a rustic Italian setting specializing in Tuscan-style food still serving customers today on Smith Street in Midtown, the longtime host to the city's power lunches, the restaurant that generations of Houstonians call home and where many of the city's future culinary stars such as Johnny Carrabba '77 and Bryan Caswell '91 laid their foundation for gastronomic success.
—
The immediate outpouring of emotion in the wake of Mandola's passing provided but a sliver of his impact to so many who enjoyed his company and friendship and was evident throughout social media.
Johnny Carrabba '77, founder and owner Carrabba's, Grace's and Mia's restaurants
The one thing that I have always told people about Frankie B., he always made you feel better about yourself, made you want to be a better person, an inspiration of sorts. He always found something positive in everyone he knew.
When I was a kid coming into St. Thomas I knew I had some tough shoes to fill … everyone knew I was Frankie B.'s cousin. He was a great Eagle athlete and I was never quite able to fill those shoes. Even to this day, I'm looking up to him, wanting to fill those shoes, knowing that I can't. He just left a mark on you … the most memorable person in my life. I haven't taken a death this hard since I was 12-years-old and my grandfather passed away.
Al Clay '61, principal, Clay Development and Construct
Frankie never knew a stranger. And his commitment to St. Thomas knew no boundaries. We always clicked when it came to his school. In an unofficial way, he was Mr. St. Thomas. So genuine, authentic. He was built for greatness regardless of where he went to school.. We're just fortunate he was an Eagle for life.
Bubba Butera, co-owner Damian's Cucina Italiana
Frankie was big and bold with just a huge caring heart. A couple of weeks ago he met a young guy out in front of convenience store who was obviously in need. They started talking. Frankie took him home, got him cleaned up, took him to an AA (Alcohol Anonymous) meeting. He called me and I said, 'You don't know his name?' He said, 'No. I'll be in later at two o'clock." He gets here and I said, 'Where the hell you been?' He said, "That kid needed some help, and I was going to get him some help.'"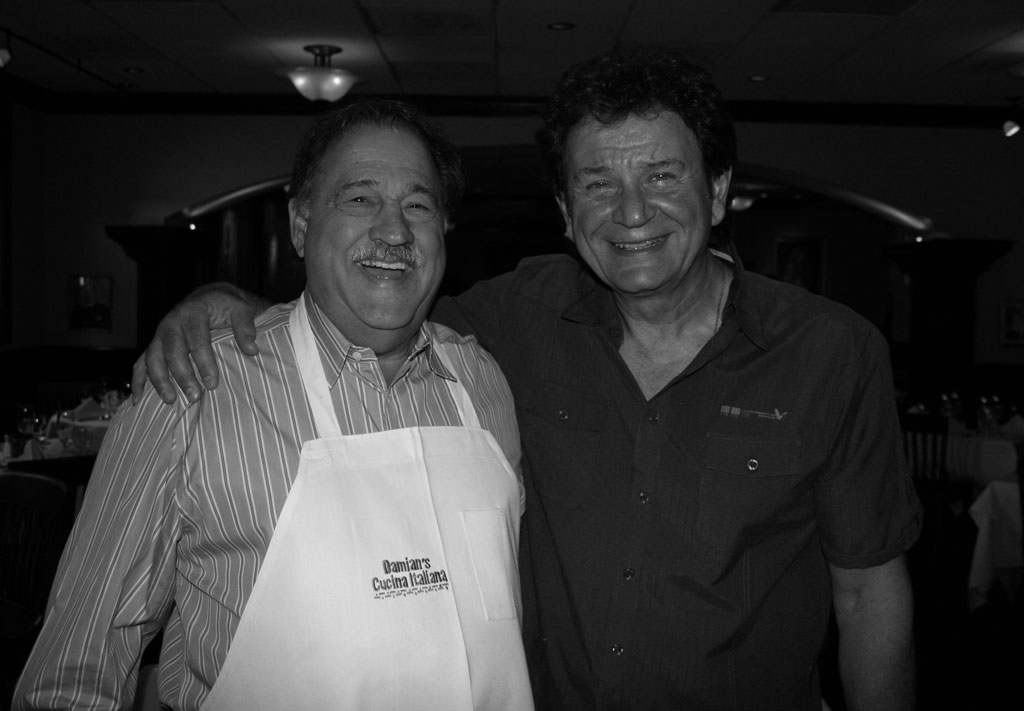 Dan Sessions '65, audio and video producer, Dan Sessions Productions
The beauty about Frankie … no pretentiousness. Several years ago at the Italian Festival when it was held downtown, our organization was in charge of the pasta eating contest. And we were two contestants short. Frankie turns to me and says, 'We have to fill these seats. Let's go.' We walk off the grounds at Tranquility Park and there are two homeless guys sitting there. Frankie asks them in their hungry. 'Then follow us.' We put them in the chairs. They end up winning the contest. That's the guy Frankie B. was … like a comet. Rare.
Steve Tyrell '61, Grammy Award winning-vocalist and acclaimed musical producer, song writer and performer
Frankie made everyone feel as though they were his best friend and that is a wonderful, glorious gift. It was just in his character. There's no better. You meet someone and you think, 'Wow, I'm Frankie's best friend. And then you soon learn he had 20,000 other best friends. I loved him. He was the closest I ever came to having a younger brother.
Dan Pastorini, former Houston Oiler quarterback
Frankie reminded me so much of my father, same mannerisms, played with people, made them laugh. When I first came to Houston, Italian background, I knew no one, and he brought me into the Italian community, embraced me. I'll forever be grateful for that. And he's part of the reason I've remained in Houston. He introduced me to so many great people (that) I never wanted to leave.
David Bailiff, Rice University head football coach
Frankie was special because he made everyone else feel special. He had this innate ability, when you walked into the room, he made you feel as though you were the most important person. He was so generous with himself. He valued people and you could see that in his spirit everywhere that he went.
—
In place of flowers, the family asks that donations be made to the Texas Italian American Sports Foundation Scholarship Fund or P.O. Box 130163, Houston, TX 77019-0163.
Catholic. Basilian. Teaching Goodness, Discipline and Knowledge since 1900.