This story was originally published in May 2016.
With a purpose of finality aided by an eye toward the profound, the St. Thomas Class of 2016 gathered for a final triumphant celebration and the school's 116th commencement ceremony.
Assembling with joy in the shadows of threatening weather that forced the festivities inside to Reckling Gymnasium from the annual Granger Stadium venue, students, their families, and supporters along with St. Thomas faculty and staff saluted achievements and journeys to be embarked beyond campus – to love and lead, teach and serve, chase a dream, find a calling, make a family, discover a true identity.
Graduates took pause to appreciate the priceless opportunity of the St. Thomas experience, perhaps turning childhood traumas into private triumphs, creating real works of art, building skills through years of practice, all while embodying the value of a formative education rooted in the Basilian tradition of Teach Me Goodness, Discipline, and Knowledge. The assembled audience was privileged to hear Houston Texans head coach and committed Catholic education advocate Bill O'Brien deliver the commencement address.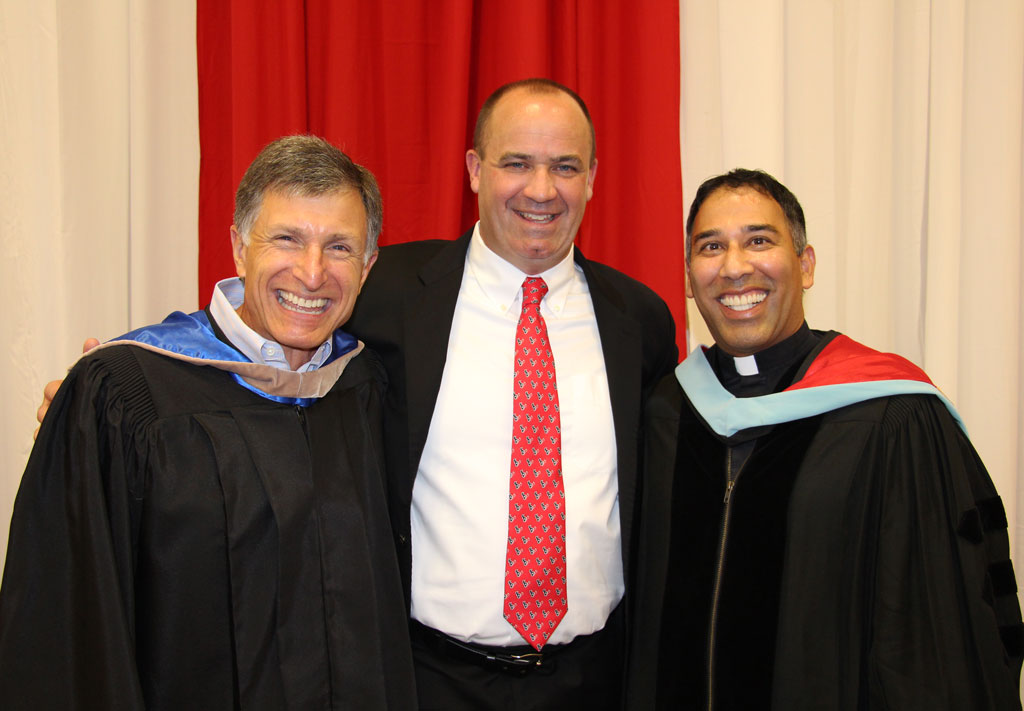 In the midst of turbulent societal times, O'Brien stressed the importance of "leadership … and the guiding characteristics behind great leadership. Communication … don't ever lose the face-to-face … the ability to go eyeball-to-eyeball. People skills … love being around people … from all different backgrounds. Character and honesty. Confidence … form a good heart with perspective. Courage while knowing the difference between right and wrong. And be a risk taker … to do something extraordinary … the only way to move ahead.
"Finally, acknowledge the people who have helped you along the way. Your parents, your siblings, your teachers, your guidance counselors, your principal, your coaches. Look them in the eye, shake their hand, and say thank you."
O'Brien's Catholic roots trace to his graduating from Danvers (MA) St. John's Preparatory School, an all-boys institution founded by Xaverian Brothers in 1907 with a commitment to faith, service and brotherhood, ideals very much in accord with the Basilian educational tradition of teaching goodness, discipline and knowledge.
O'Brien graduated from Brown University in 1992 with a Bachelor of Arts double major in Political Science and Organizational Behavior Management and then studied toward a master's in Public Policy while a graduate assistant coach at Georgia Tech.
In one of his first public appearances after becoming only the third head coach in Texans history, O'Brien contributed a stirring speech during a 4500Forever capital campaign event in June 2014.
"I believed in this type of Catholic education," O'Brien said following the ceremony of his ongoing relationship with St. Thomas. "And I really believe in what (president) Fr. (Kevin) Storey is trying to do (with the Joplin Campus expansion) to make (St. Thomas) even better than it is right now. What struck me today was the great support here for this Class of 2016 … the gathering of families and friends. You feel a great bond … a closeness with this group of seniors. And as they now move forward … discovering a passion will be essential as they pursue their dreams."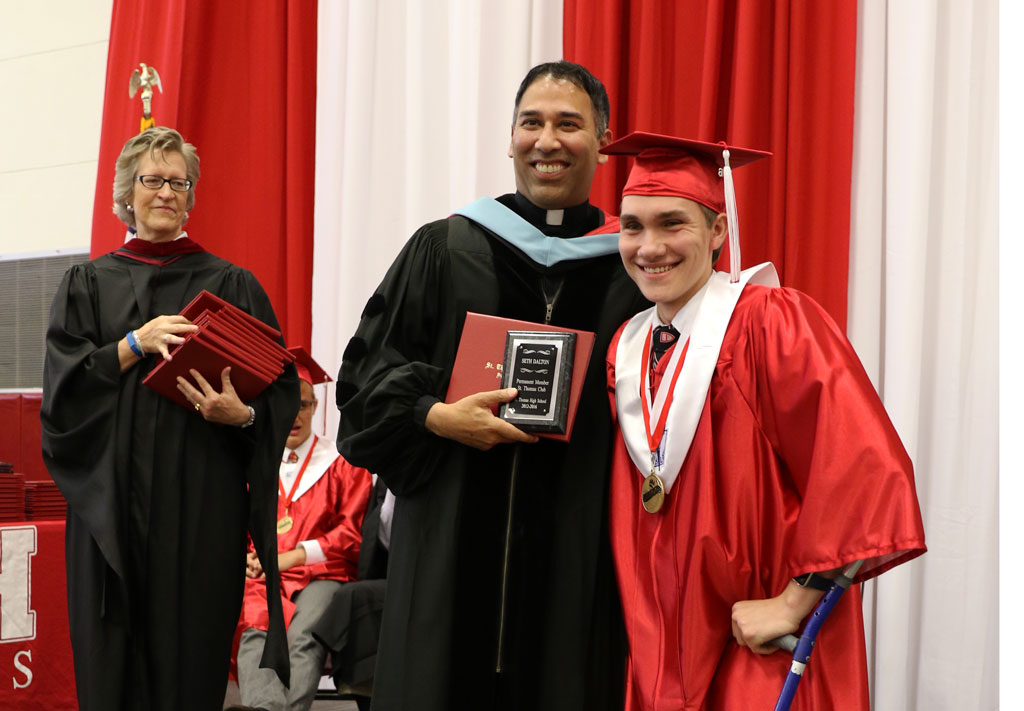 Valedictorian and National Merit Commended Student Seth Dalton '16 will study Biological Sciences along with Music Theory and Composition after accepting the University of Rochester Frederick Douglas & Susan B. Anthony Scholarship.
Dalton recognized "the friendships that we have made over the past four years are not going to expire … the values we have developed and the memories we have made will stay with us for as long as we live. This graduation is really about what we are going to do with the rest of our lives.
"When we die our final resting place will be marked with a tombstone … engraved with a name … the date of our birth and the date of our death. But by far the most important thing is that dash between the two … (it) represents our entire life … choices … dreams … longings … accomplishments. So as we go out into the world having graduated from St. Thomas I ask all of us … what are we going to do with our dash."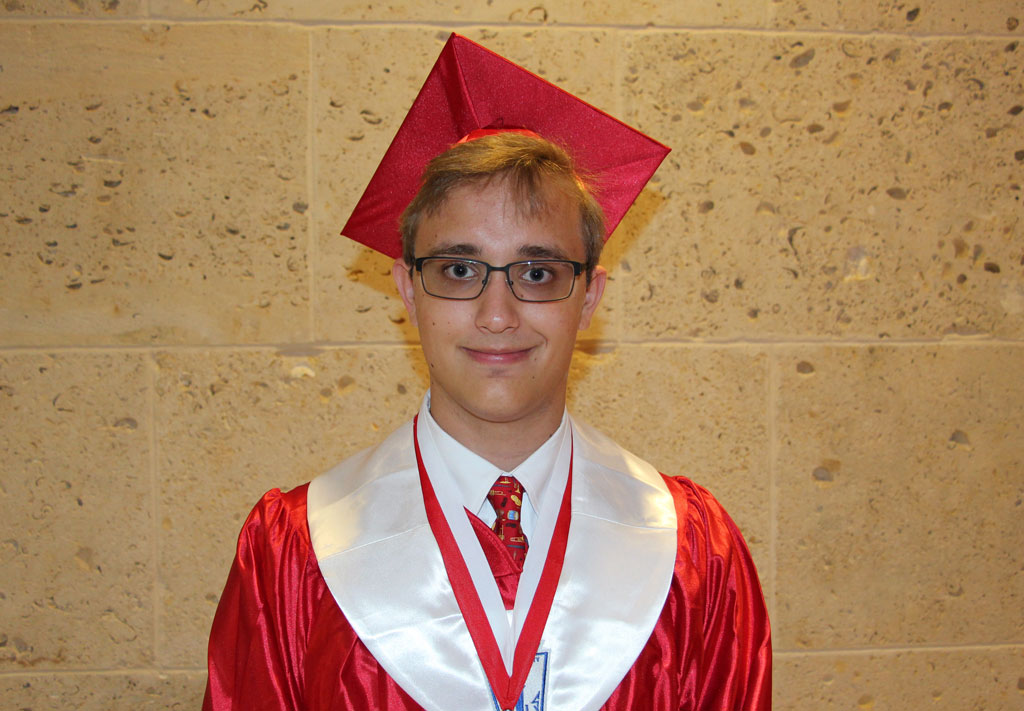 Salutatorian and National Merit Finalist Josef Lawrence '16 will next attend Yale University with a focus on Chemistry or Biochemistry as he weighs a potential future at medical school.
Lawrence confidently reflected on "one of the largest St. Thomas incoming freshmen classes of recent time … surpassing $500,000 our senior year at Round-Up. We were witnesses and contributors to the historic 4500Forever campaign. But most importantly it was our class that began and continued the streak of defeating Strake Jesuit (four consecutive years in football).
After the thunderous response, Lawrence paid tribute "to the all the faculty members and parents who through their sacrifice and unyielding faith and moral support transformed us from fish to Eagles."
Lawrence then concluded that "most of all we should thank God for each and every opportunity and path he has given us … to bring us together for the final steps of our St. Thomas careers. We are now prepared to take on the world … the Class of 2016 … we made it."
The Class of 2016 leaves a legacy of academic acclaim which includes National Merit Finalists Lawrence, Wayne Babineaux '16, Cameron Parker '16, and Anton Poral '16; 11 National Merit Commended Students, 39 members of the National Honor Society, and nine National Hispanic Scholars.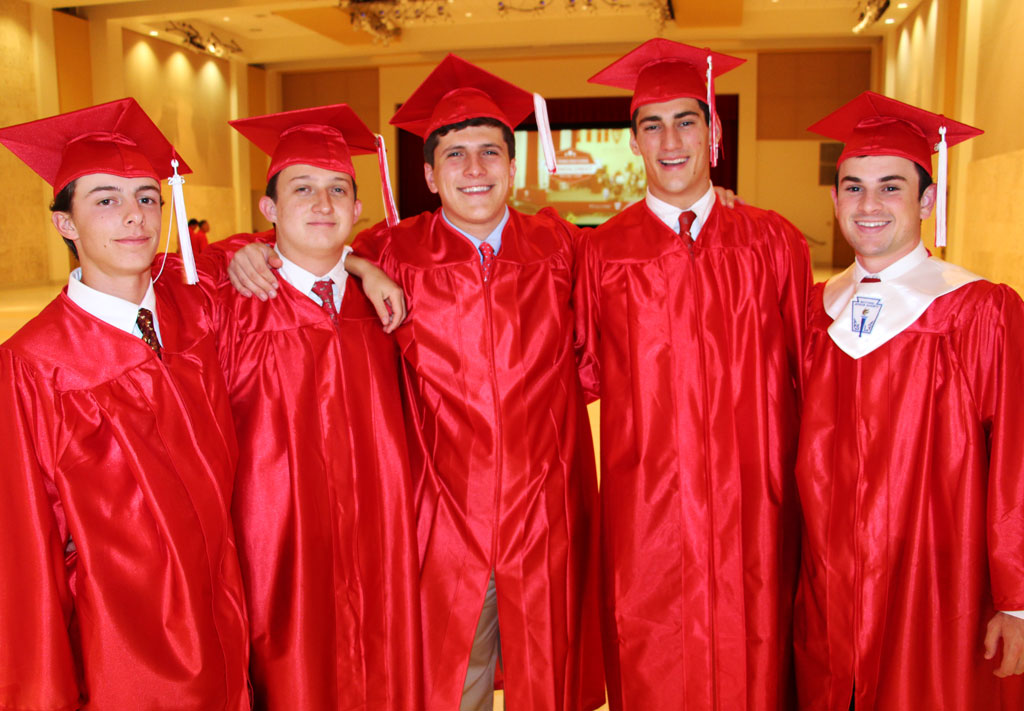 The Class of 2016 also demonstrated exceptional active volunteerism in their communities led by Joseph Mercier '16 who accumulated 527 service hours supporting Memorial Hermann Hospital, St. Elizabeth Ann Seton, the Boy Scouts Eagle program and the Math ACES program; Dalton with more than 420 hours involved with Holy Family Parish, St. Thomas Campus Ministry / Music Ministry, and the DECATS program; St. Thomas National Honor Society president and National Merit Commended Student Matthew Ashbaugh '16 with 335 hours at the Depelchin Children's Center; and Harris Rosenblad '16 with 300 hours primarily at St. Luke's Summer Camps and the Christian Community Services Center.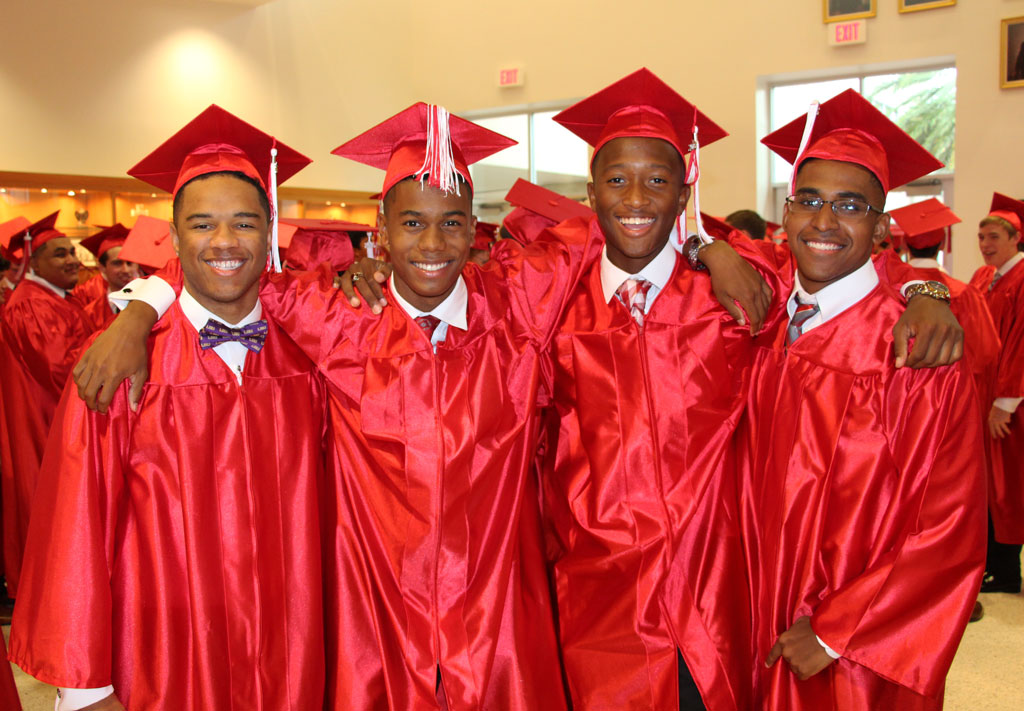 Members of the Class of 2016 were accepted into more than 100 universities and colleges from across the United States including Georgetown University, the Georgia Institute of Technology, Purdue University, Rice University, the University of Southern California, Vanderbilt University, Villanova University, and the University of Virginia among many prestigious institutions.
Multiple Eagle graduates will next attend Baylor University, Texas A&M University, Texas Tech University, the University of Texas at Austin, the University of Houston, Louisiana State University, and the University of Mississippi among others.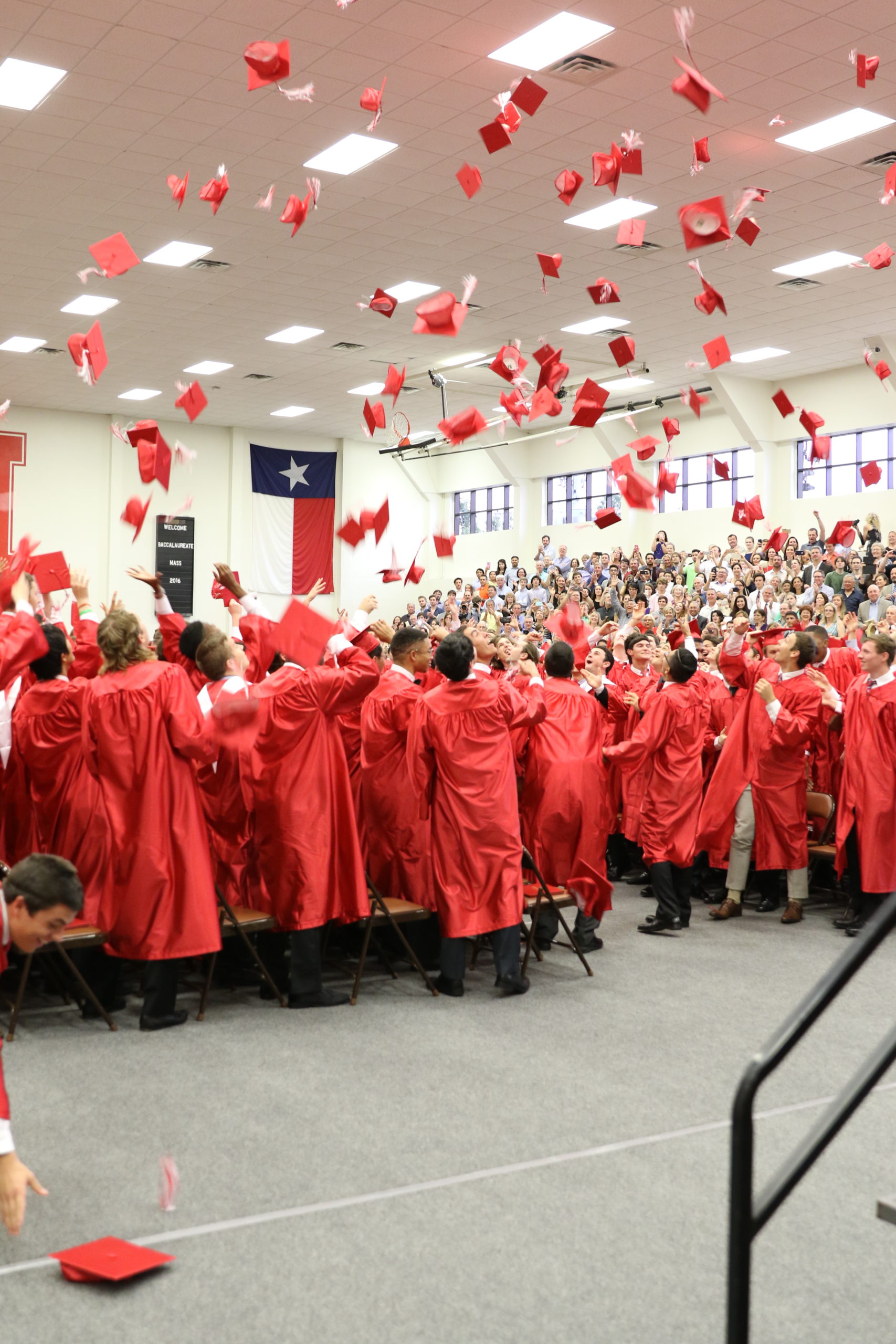 In addition, more than two dozen scholar-athletes embraced opportunities to extend their careers at the university level including six Eagles from the nationally ranked baseball team that reached the program's sixth TAPPS 5A state tournament in seven years, five members of Eagle Football who played critical roles in extending the home field win streak at Hotze Field inside Granger Stadium to 26 straight games while reaching the state semifinals for the second straight season, and three members of Eagle Track and Field which recently secured the 100th state title in the proud and rich tradition of Eagle Athletics.
Catholic. Basilian. Teaching Goodness, Discipline and Knowledge since 1900.