This story was originally published in May 2014.
It's more than fitting, if not fateful, that Ben Condara `14 became the poster boy for the 23rd state baseball championship in the proud and prestigious history of the St. Thomas program.
Condara will be remembered for his tenacity and perseverance, his calm and composure through adversity, as much as his dramatic season-saving and title-clinching hits. He was the out front catalyst for a team that routinely found itself surrounded by harsh real world circumstances, yet accepted no excuses for anything other than the laser focus required to meet the daily demands.
"I think these guys got a lot of perspective about life this season," Eagle Athletic Director Mike Netzel said in the aftermath of the TAPPS 5A title victory. "They all saw first hand how fast things can change. They developed an attitude of 'let's grab this' because you never know if you're going to get another opportunity to make it happen. And they did exactly that."
Condara made it happen with a seize-the-moment style perhaps outside even the vivid imagination of Disney's saccharine soaked screenplays.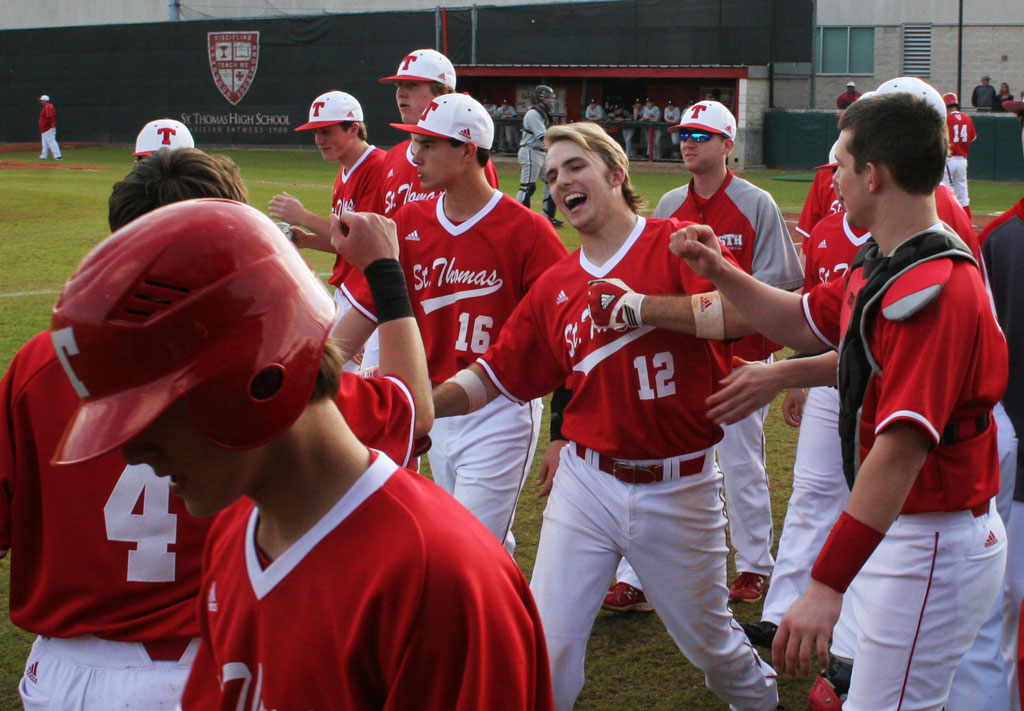 In the area playoffs, St. Thomas was down to its last two outs of the season when Condara blasted a three-run home run deep into the night at Fr. Wilson Field to secure the series with Plano Prestonwood Christian Academy.
In the championship final against Tomball Concordia Lutheran, Condara was playing through the latest in a series of season-long injuries – a swollen left knee that forced him out of the lopsided state semifinal win over a St. Pius X program that had eliminated the Eagles the previous two postseasons.  In stunning yet almost expected Kirk Gibson-like fashion, he then stood and delivered a two-out two-strike walk-off single to score Rawlings Elam `14 with the run that beat TCL 2-1 and guaranteed the program's third state title in five years.
Eagles athletic trainer Chris Valdez said Condara was "literally playing on one leg. You look at him and wonder why he is not in the hospital. A severe bruise. We iced it as much as we could and kept it elevated. That pad and wrap for the game was just to protect it. Only because I believe in God that I believe that happened."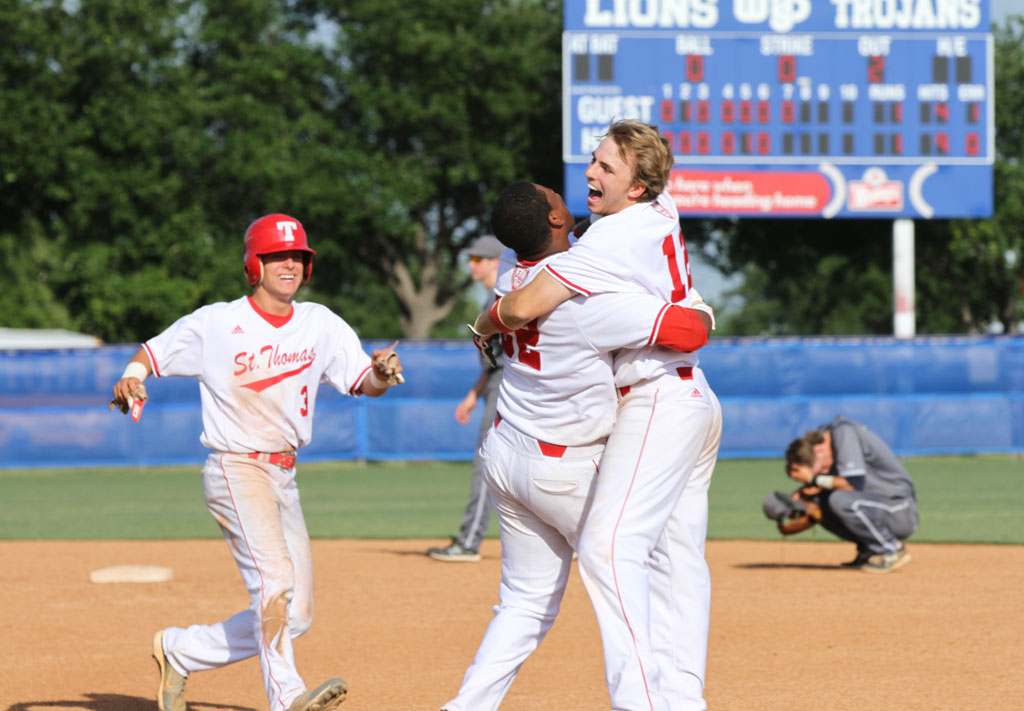 "It's crazy … all this," Condara said. "Issues throughout the season … good pitching … not so good pitching … ups and downs … on and off the field. But we always had each other's back. That's what matters most. We chose "23" to be our goal … the 23rd state title for St.Thomas. Nothing less. We weren't going to be denied."
No doubts from a team minus 13 seniors from 2013 and readily accepting the season-long lead from first time head coach Ryan Lousteau. But just weeks into establishing his own identity replacing the city's eternal Astro icon Craig Biggio, Lousteau's personal life was rocked when his wife Lauren was diagnosed with breast cancer. Yet, Lousteau consistently provided an unwavering steadiness which allowed his team to develop and mature into title-contending form.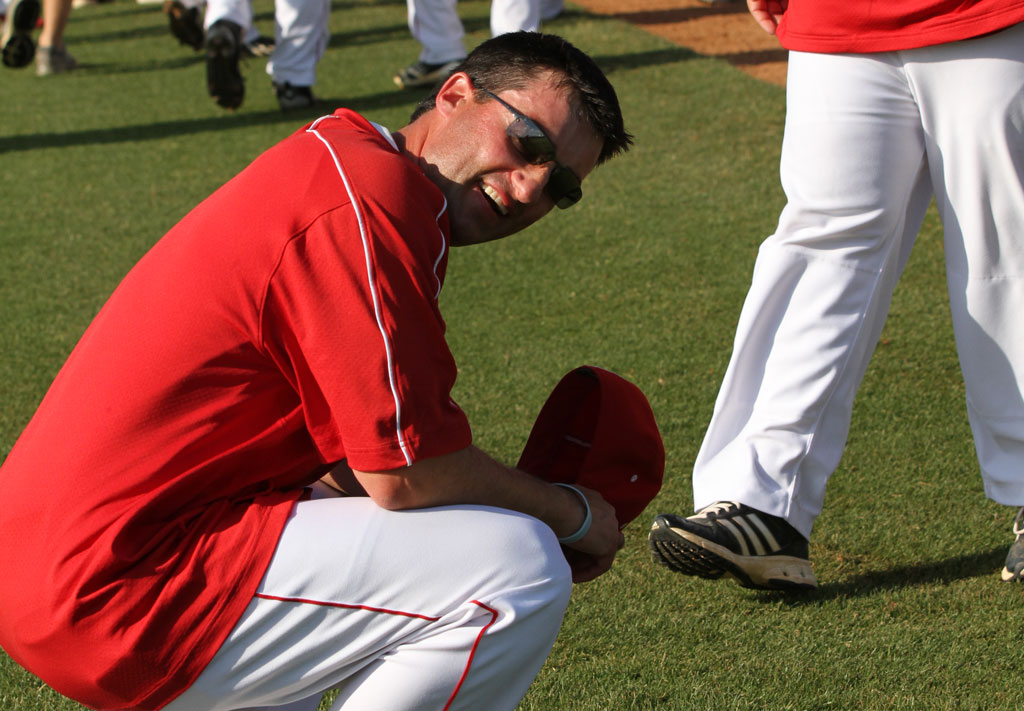 "I think this team was my outlet," Lousteau said. "When I had my three hours with them every day, that was my focus. I let that be the number one thing in my mind. Lauren is an amazing person. She would tell me, 'I'm OK … that's your team … that's your job … concentrate on that … and when you're home we'll deal with what we have to deal with.' This team helped me as much as I may have helped them."
The Eagles blazed like Usain Bolt out of the blocks to start the season. But the surge of 16 wins in the first 19 games was tempered when junior catcher Tucker Redden was suddenly uprooted from the St. Thomas community. His father Tim contracted kidney cancer and moved from Houston after his operation and initial treatments.
"Tim made a decision that he wanted to be back in Rockport which is his home," Netzel said. "So he moved his family in the middle of the season. Our team kept Tucker's jersey hanging in the dugout after he left. He was back wearing it with us in Waco (at the state tournament) and walked away with a (state championship) medal. He'll get a ring as well."
Eagle Baseball provided a haven if not championship hardware to Jake Lagasse, a Chicago high school student who spent portions of the spring in Houston while undergoing his own treatment at M.D. Anderson, the youngest Stage 4 lung cancer patient in the United States.
Netzel was contacted about an opportunity for Lagasse to keep his baseball skills sharp in the midst of his intense Med Center appointments. St. Thomas immediately welcomed him into the program and provided Lagasse with a temporary escape as well as much needed camaraderie while he fought his life-threatening battle.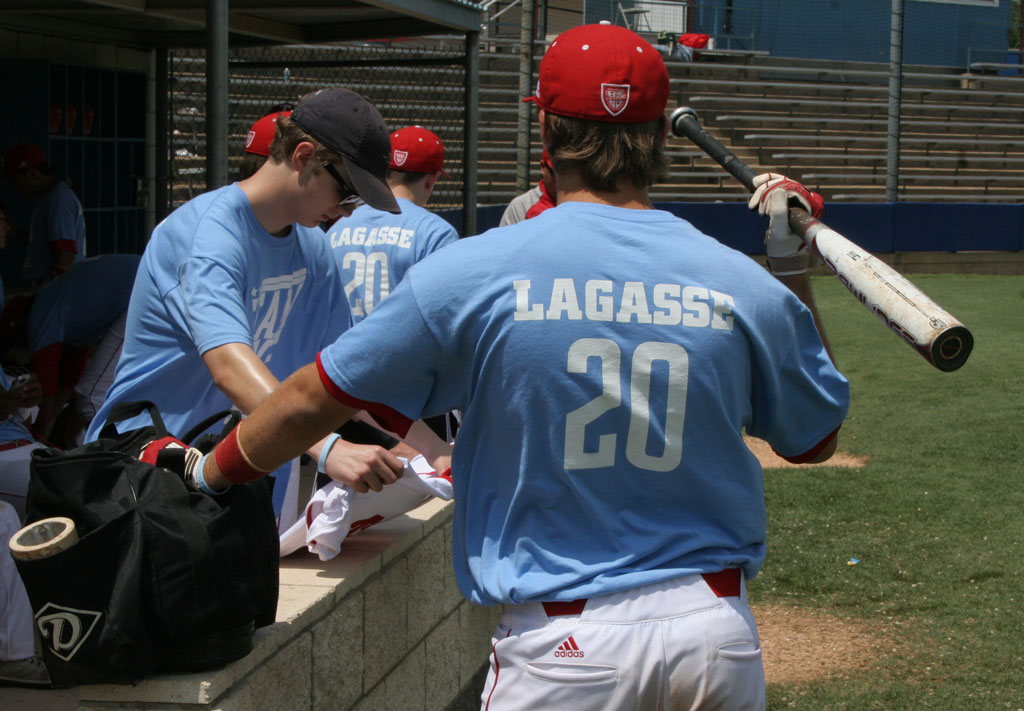 And even though Lagasse returned to Chicago, he was with his adopted teammates in spirit at the state tournament. Powder blue Team Jake t-shirts with Lagasse's name and number 20 on the back were standard Eagle pre-game attire for the finals and semifinals.  Jake and his mother Liz were following the season ending results from their home and reached out to Netzel once the championship was cemented.
Your St. Thomas varsity baseball team was a Godsend to get Jake through the grueling treatments and gave him the support he needed so much … You are an amazing group of staff, coaches, and boys. We will be forever grateful to you all … We arrived (from Chicago) scared and alone, not knowing anyone, and left with our spirits lifted and lifelong memories of friends there at St. Thomas High School … As I have told Mike, it was meant to be that you all are all in our lives, this connection was certainly not just by chance.
The tribute to Jake served as just one visible sign that the Eagles became a group that bonded beyond baseball, a brotherhood carrying a valuable intangible x-factor. Those inside the team are convinced that three one-run wins in the seven-game playoff drive were no coincidence, rather a by-product of a unity that emerged in the wake of star-crossed reality.
This latest state championship means that Jordan Bautista-Rosales `14 and Michael Rodgers `14 go out as seniors exactly how they entered as freshmen, appreciative to have contributed to a legacy larger than self, knowing there's more to be gained than individual acclaim.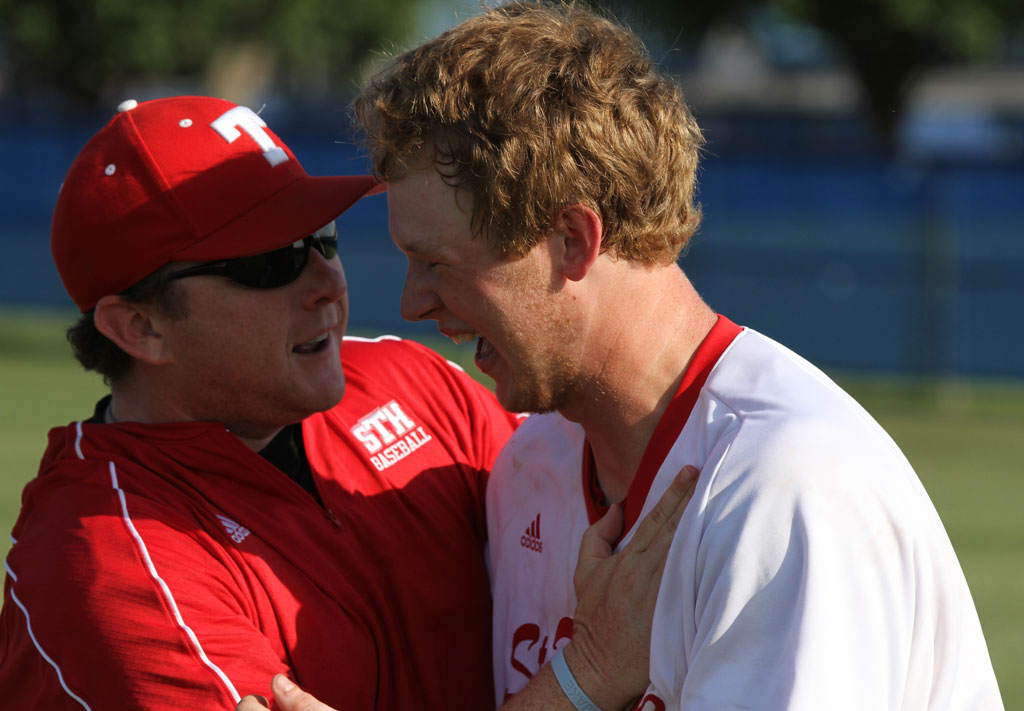 "I'm so thankful to give back to the school after everything they've given me, athletically and academically," Rogers said. "St. Thomas is the reason I'm able to move on and get such a great chance at Rice. And to have my name on the (championship) board here, have this team's picture in our Hall of Honor, have 2014 added to the list of state titles outside our dugout … to be associated with all that means so much. What a way to finish off my career."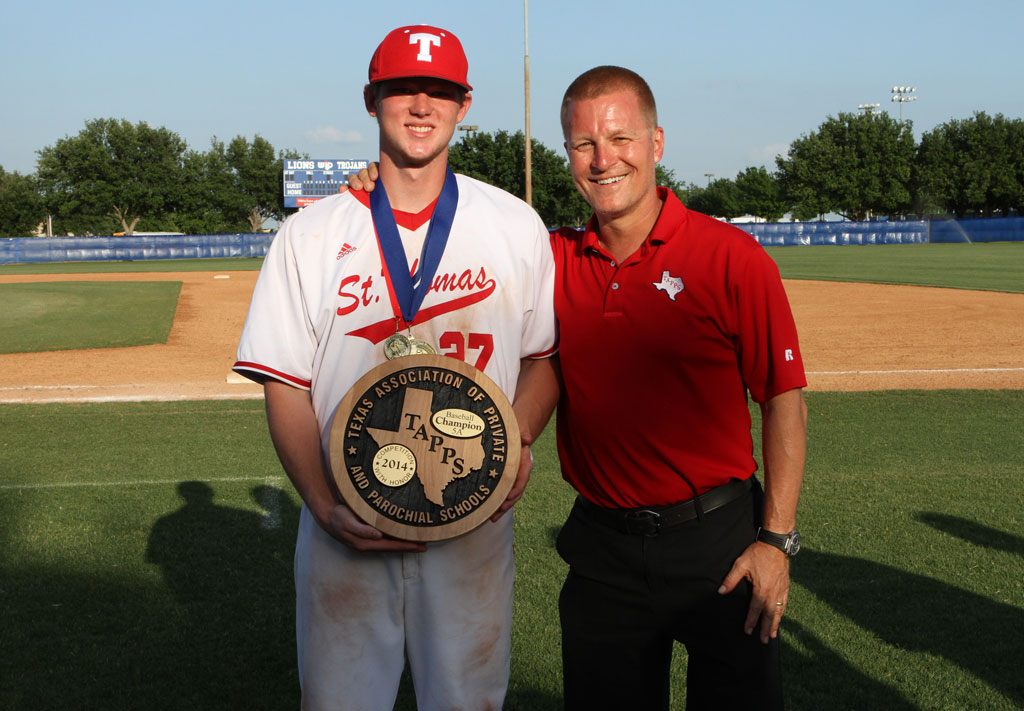 Eagle Fight Never Dies!