Dylan Michaels '21, Sebastian Ortiz '20, and Patrick Geaney '21 paced defending state kingpin Eagle Swimming to a dominant TAPPS Eastern Regional championship at the University of Houston CRWC Natatorium.
The Aqua Eagles combined first, second, and third-place relay results with two individual firsts, five runner-up finishes, and superior depth in piling 179 points for its third straight regional title and fifth in six years.
Michaels (16 points), Ortiz (16 points), Geaney (10 points), and Aiden Brelinsky '20 set the early tone for a Red & White runaway with a 1-2-4-5 finish in the 200 yard freestyle. St. Thomas posted a first place margin of 42 with 179 points to easily outdistance The Village School, the British School of Houston, and Lutheran South Academy.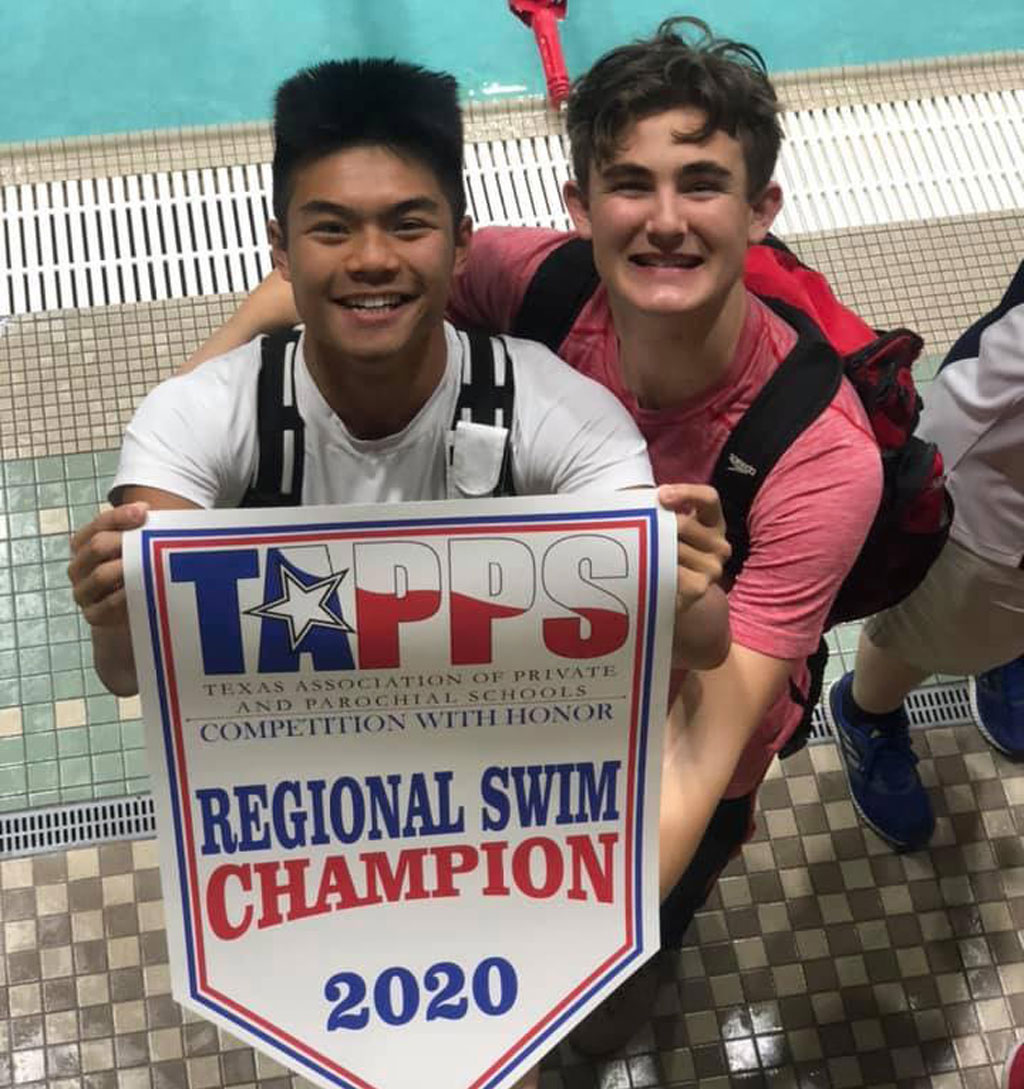 Among the notable results …
Josh McLean '22, Griffin Gregory '21, Patrick Pham '21, and Michaels finished second in the 200 medley relay (1:41.20)
McLean and Charlie Ramirez '22 finished 2-5 in the 200 individual medley
Carrick Brogan '22 and Dylan Sandrock '22 finished 2-5 in the 50 free
Pham, Greaney, and Ramirez finished 3-4-5 in the 100 butterfly
Michaels and Gregory finished 2-5 in the 100 free
Ortiz, Ethan Armenta '20, and Brelinsky finished 1-4-5 in 500 free
McLean, Brogan, Michaels, and Ortiz captured the 200 yard free relay (1:30.78)
Pham and Brogan finished 3-5 in the 100 backstroke
McLean and Gregory finished 2-3 in the 100 breaststroke
Rameriz, Sandrock, Greaney, and Brelinsky closed the rush with a third in the 400 free relay (3:36.42)
Eagle Swimming qualifies a dozen competitors to the state championship meet February 7 at the Josh Davis Natatorium in San Antonio.
Eagle Fight Never Dies!