Pause if the resounding Round Up refrain sounds more than familiar.
Riveted scholars rack another outrageous total in raffle ticket sales – $525,370.
Crashing the half-million-dollar mark for the fourth consecutive year.
Raising a raucous seven-year sales spike to more than $3.6 million.
Yes, $3.6 million.
All proceeds benefiting St. Thomas tuition assistance. Eagles rallying to support future Eagles, a Basilian practice that dates for nearly a century.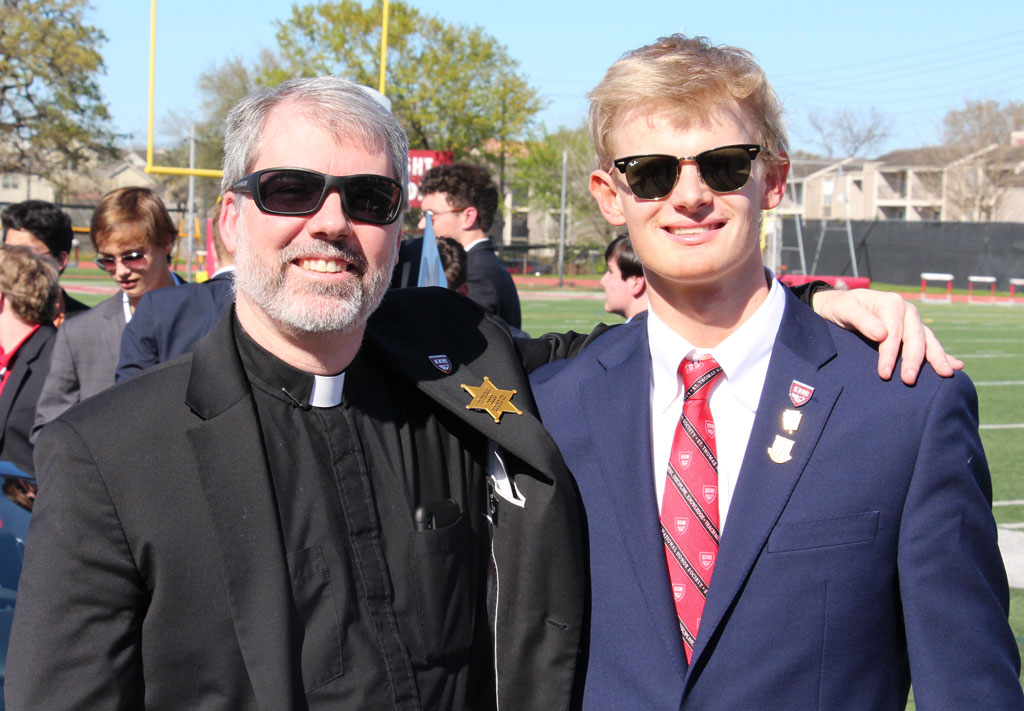 Zach Kroencke '20 crushed one of the absolute resolute single-best individual totals in school history – $35,960 – to front a sensational six-pack of sellers who generated nearly $100,000.
As The Von Bondies would suggest, c'mon. C'mon c'mon.
And for the first time in seven years, the heaviest Round Up hammer wasn't swung by a Hotze after brothers David '17 and Brendan '21 took turns as the resident teen titan.
David proved Goliath during a staggering four-year result cycle posting $132,490. Brendan immediately seized the torch with two-year tallies of $22,469 and $23,240. His $19,760 encore ranked as the 2020 runner-up after Kroecke flipped their 1-2 2019 finish.
Yet, perhaps more and more, such statistical wonders do more to camouflage the Round Up spirit, with those on the periphery made immune to these sorts of magnificent benchmarks.
The signature St. Thomas enterprise has become a metronome into the first Sunday of March. The Changing of Grenadier Guards at Buckingham Palace … James Bond and Jason Bourne escaping the clutches of evil … off the bounce James Harden smiling through a bushy beard after endless dribbles, zero passes, one deep stepback bomb after another … a weekend reprise of Rush Hour ("Do you understand the words that are coming out my mouth?").
The conversation can occupy too much brain and not enough heart. As if explaining the taste of chocolate (sweet, bitter, delicate) … or the raging Puget Sound surf (breathtaking) … or a newborn's first cry (magical, moving, heartwarming). Each description adept but failing to properly enhance the actual experience.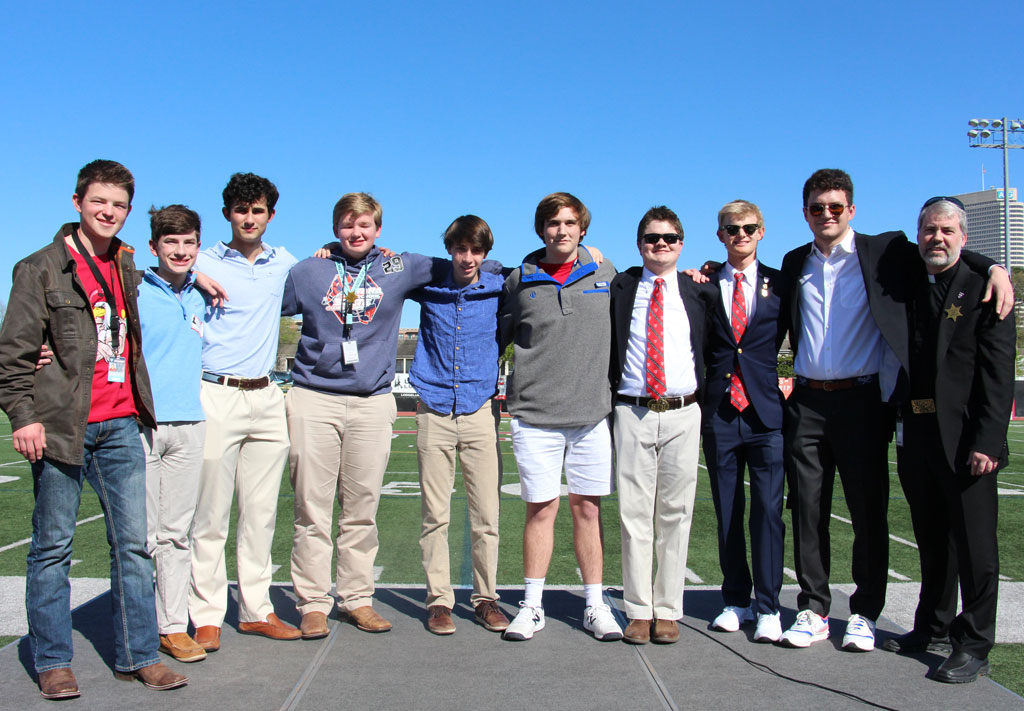 Kroencke and Hotze relentlessly steered a senior student board as seven sizzling sellers repeated into the top-10 elite. Nicolas Prodoehl '20 scaled the summit for the fourth consecutive year. He was the third overall sales king with $11,010. In 2017 he led his freshman class with $6,500 for fifth, then followed as the only top-10 sophomore with $6,600 before generating $9,000 in 2019.
The robust Round Up ringleaders included Joey Johnston '20 who was fourth in the lineup with $10,300, plus a powerhouse threesome to join Hotze  from the Class of 2021 for the second year in a row – Aaron Schlosser ($10,100), Aidan Kelley ($9,020), and Rory Gremillion  ($7,060), joined by Pablo Tager '21 (ninth with $4,060).
Peyton Woodlief emerged again as the lone top-10 rep from the Class of 2022 with $7,110 after an impressive $7,605 debut. William Serrett '23 fronted the freshman class with $3,920.
And so it goes with a double down of data dashboards and stacked spreadsheets, all the more dizzying and at times overwhelming to properly appreciate the totality of the impact. Perhaps a Frank Stella minimalistic approach is required to reveal the Round Up soul.
Four-word clusters.
An unmatched student initiative
Incredible, genuine, and organic
Men of St. Thomas
President Father James Murphy, CSB:  This student group grasped early on that this was not just them bringing in the money but providing an example, teaching the underclassmen how and why the process works. It goes to the standard that David and Brendan have set, establishing a plan and organization, embracing persistence. We saw that from Zach and Nicholas and Joey and many others. They've been grinding since the first semester. Our top sellers all brought in more than $10,000. That's absolutely incredible. But it's mostly about the method behind the madness.
Four words, courtesy Kroencke.
Wanting to give back
I cannot express how thankful I am for what St. Thomas has done for me, how the school has shaped me during my four years. I would not be the person I am today without St. Thomas. It's that simple. And this was not my choice for high school (after Presbyterian School of Houston). My parents said St. Thomas is where you're going. And I'm so grateful for that decision. The teachers, the care, the love, the nurturing – an incredible experience.
Another four words from Zach Attack. After all, business is business.
I am extremely competitive.
I contacted about a half dozen alumni or donors who have bought big from me in the past to match dollar for dollar or half of whatever I raised. I got 'no' from all but one. He would match half after I sold my first $3,000. I had that running for me from the start and then I hustled – sold to anyone, anywhere whenever I could. I talked to strangers. I sought contacts. I approached mothers, mothers who didn't have sons at St.Thomas, mothers of my middle school friends. You have to have a good pitch, short and to the point, or you lose their attention. If you make the prospect believe this is important to you, the better your odds they will want to help you. I reached out to the mayor today to see if he would buy and never got a hold of him. Moved on.
To the top of the leaderboard.
Whether it's $20 or a quota (15 books of 20 tickets), every single ticket matters. We saw that (on the final reveal). Amazing how the senior board and our student body responded. Total team effort.
Advancement Gift Officer Johnny Misleh '00 and faculty member Josh Hooten proved to be the duo of driving forces who inspired, prodded and cajoled the committed student body to an ab fab finish.  The like-minded and aspirant again harnessed a collective and aggressive late surge to ignite an outburst of transactions into the final Friday afternoon.
Business as usual.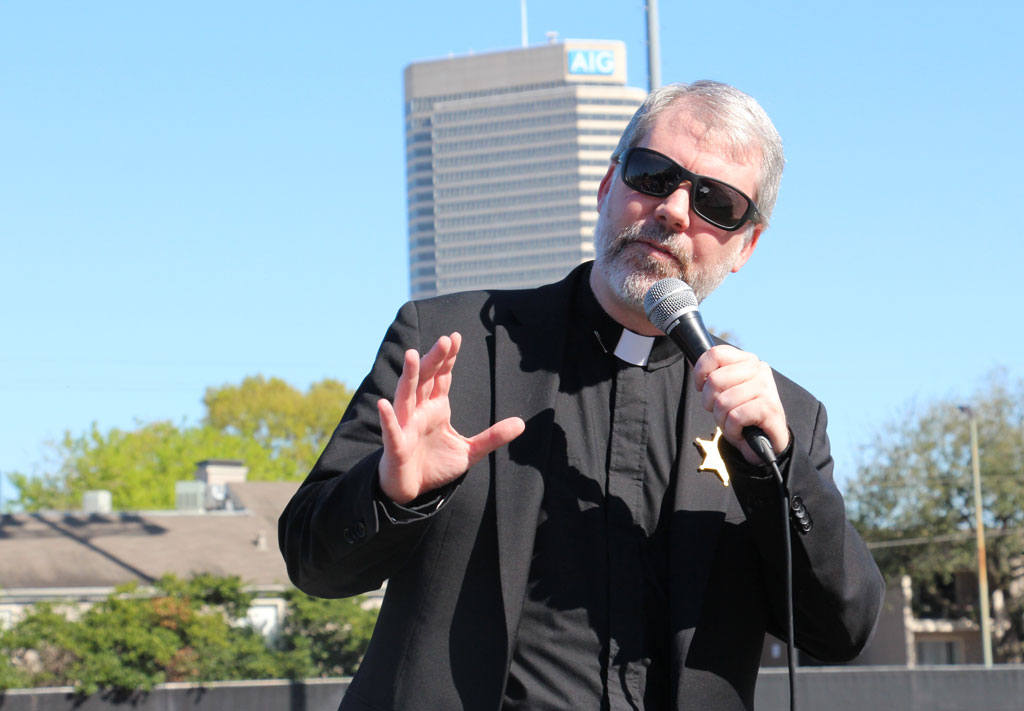 Fr. Murphy:  This means that what we're trying to teach within our culture matters. Our alumni responded on a number of levels – first, endorsing the quality of the education, but just as importantly, that it's difficult to solicit money, to make that ask as a 15-18-year-old high school student. Those who support this effort absolutely understand how our students are learning to break from their comfort zones, hearing 'no' and not quitting, hearing 'no' again and again and remaining determined, particularly because in so many areas of life today there is no hearing 'no.' But in the business world, in adult life, there's a lot of 'no.'

Round Up is developing skills that immediately translate as our scholars transition to a wider world. And they are motivated largely for the sake of something larger than themselves. That identifies within our alumni, our broader support community, and even those who are approached and know nothing of St. Thomas. It's why St. Thomas enjoys such a rich and diverse history of entrepreneurship in a world class city. Students are challenged beyond academics. This is a generational reality.
The resonant essence of Round Up. In four final words.
Goodness, discipline, and knowledge
[CLICK HERE FOR THE SUNDAY GALLERY]
Catholic. Basilian. Teaching Goodness, Discipline and Knowledge since 1900.