A fab four of St. Thomas scholar athletes assembled and celebrated commitments to extend their late-charging careers to the university level.
Kingpins who closed out fueling state championship contention for Eagle Football and Eagle Cross Country.
Young and restless talents who are proving relentless, projecting promise that would dwarf their already acclaimed successes.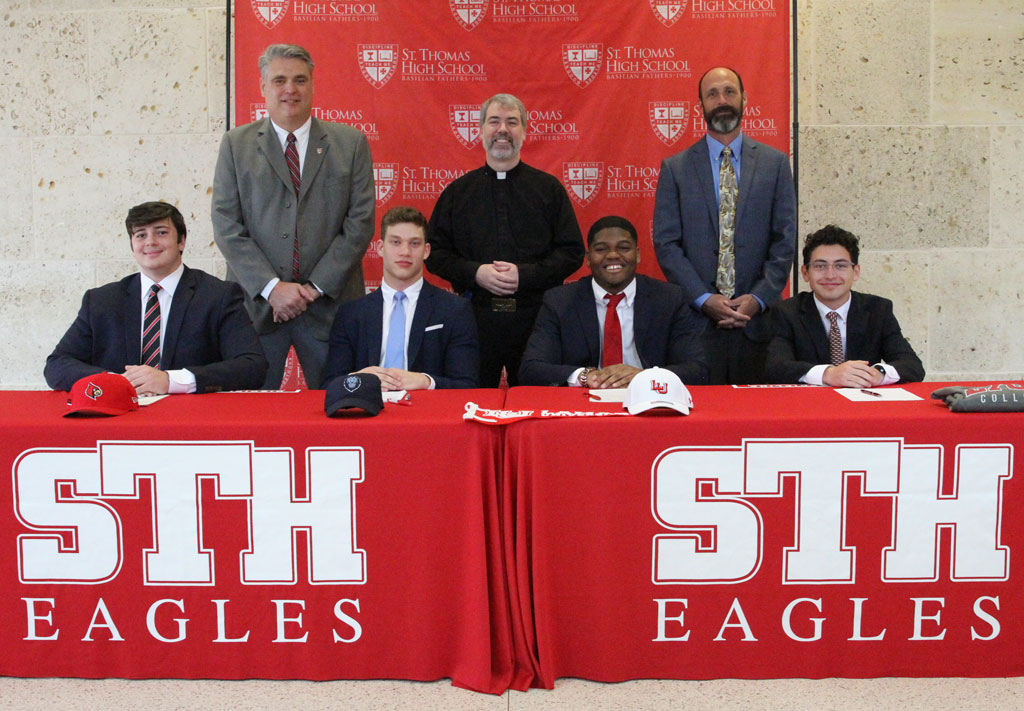 Defensive end Chidera Umeh '20 teamed with offensive tackle Travis Taylor '20 and linebacker Cooper Thomas '20 one final time in the St. Thomas Hall of Honor, flanked by cross country/track and field runner Blazek Skucius '20. The pomp and circumstance included family and supporters saluting the past but with a sharper collective focus fixed on the future.
"I'm just getting started. It's going to be a movie. I'm telling you that right now."
The bold but never brash Umeh is emphatic that Lamar University football is the proper stage to lift his sizable 6-5, 200-pound chase-down potential.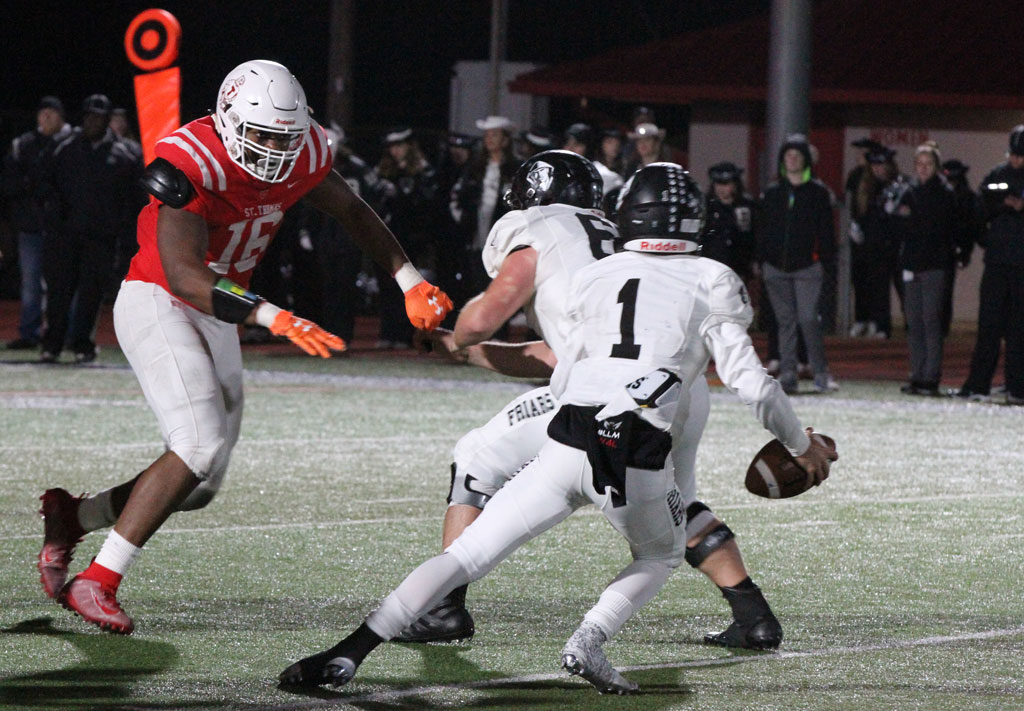 "My first sport was basketball. I wanted to be the next LeBron James," Umeh says. "But in high school, you try new things and football became my passion. This means the world to me, to give back to my family for all the sacrifices they have made."
Umeh represents an off the radar prize that fits a program marking a fresh start with Blane Morgan. He was named head coach in December 2019 becoming the third since the university re-established the program before the 2010 season.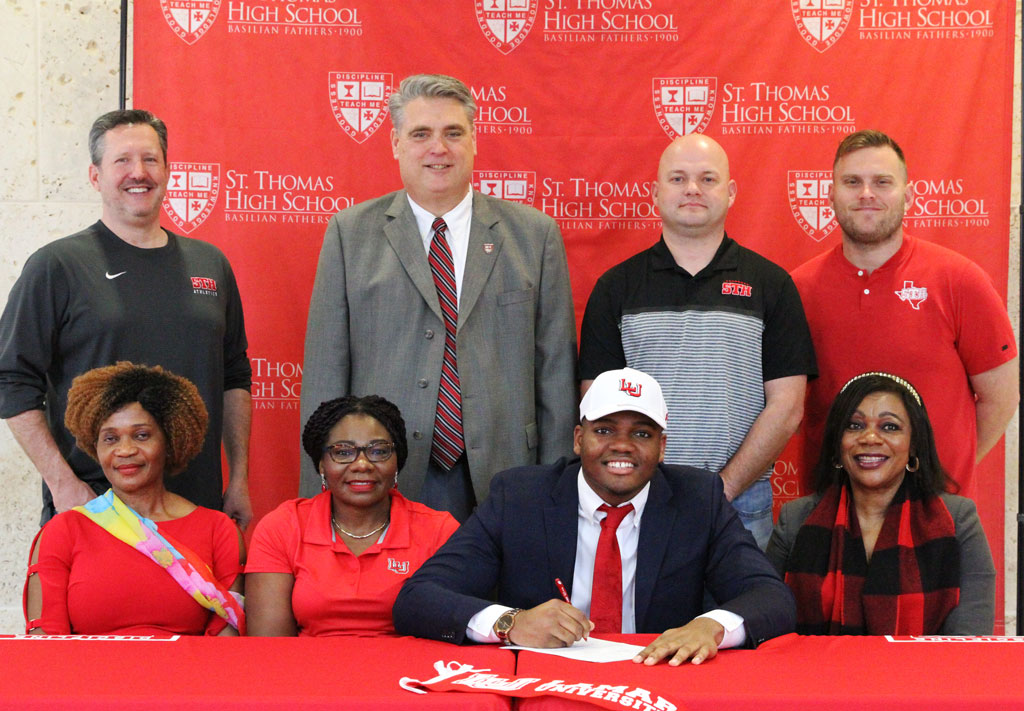 "The Lamar coaches sat me down during my official visit and talked me through the details," Umeh says. "I plan on being a completely different player in college, dedicating myself fully to the game, and continuing to learn what it takes to become great."
Thomas was a marauding menace throughout his stellar senior campaign that ended in the TAPPS Division I semifinals. At 6-2 and 215 pounds he raced sideline to sideline to rack an outrageous 63 individual tackles and shared in 96 others including 19 for loss. His All-State and Academic All-State status served as a testament to intelligence plus work ethic plus intensity plus desire to accentuate the skill set and ability.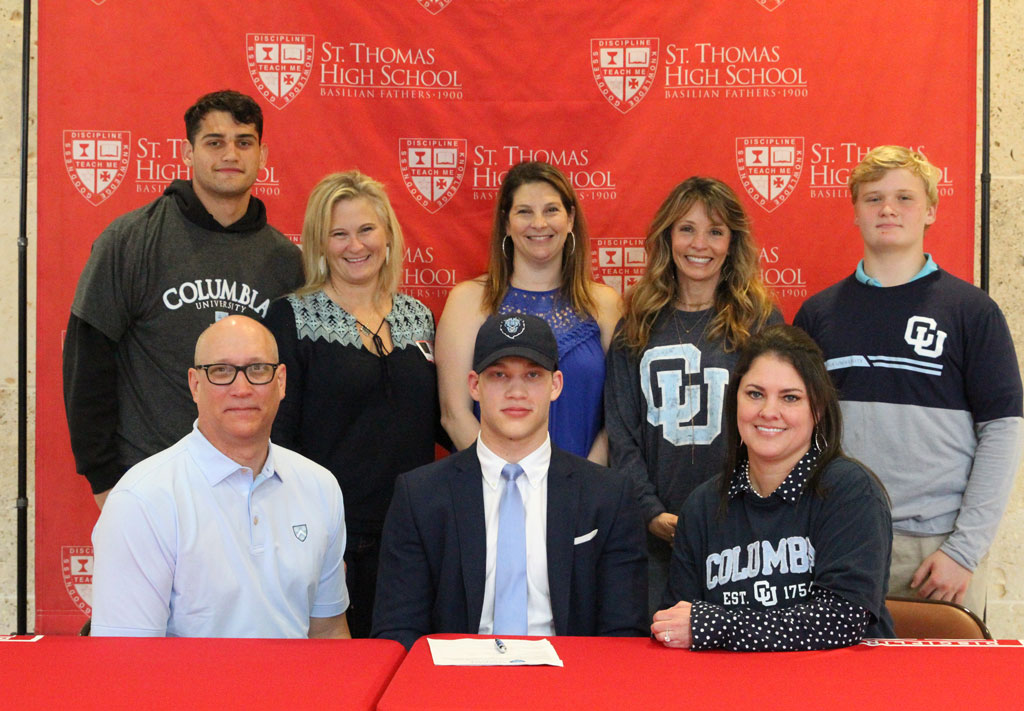 "From a young age I fell in love with not just football but the process – the weight room, conditioning, the video study," Thomas says. "When you think about it, the actual games are such a small percentage of your investment. The relationships with teammates and coaches are what make football so rewarding. I've worked so hard to use the game to provide a great education. The Columbia coaching staff was awesome and New York City is a great culture for discovery. There isn't a better environment to develop and grow as a young man."
The 6-3, 285-pound Taylor accepted a preferred walk-on position with the University of Louisville. The decision registers deeply within his family given their history with Cardinal athletics. Cousin Chris Thieneman was a 1985 Associated Press Honorable Mention All-American defensive lineman for Howard Schnellenberger. Grandfather Steve Riley was a distinguished LU basketball-baseball performer in the mid-1950s. He died in September 2019 at age 84.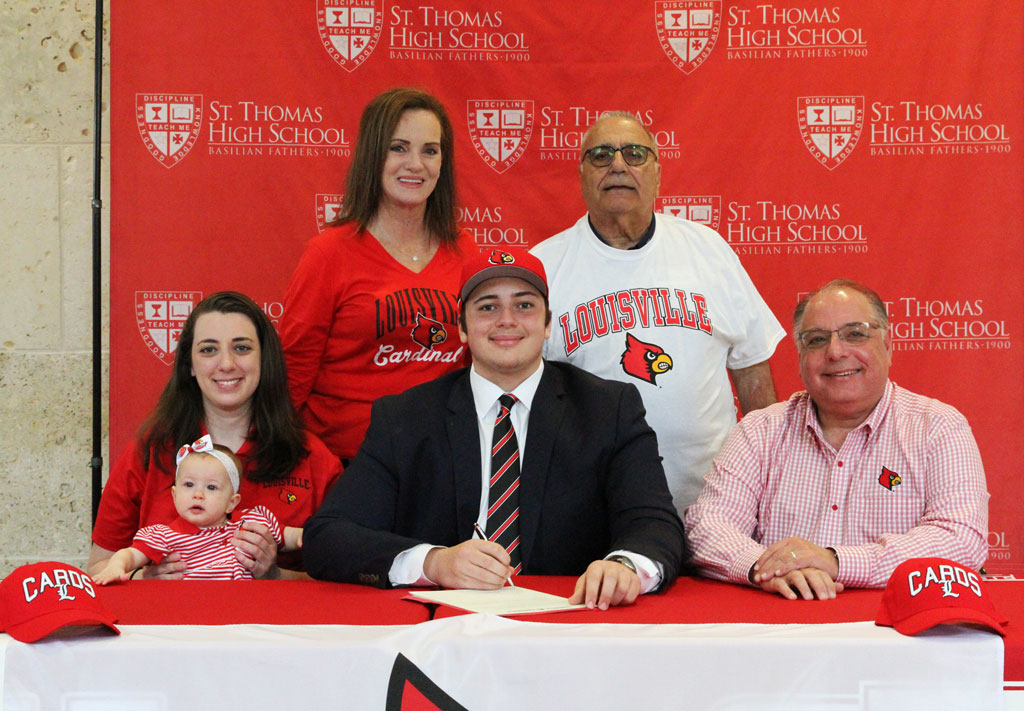 "It means the world to me to continue the legacy," Taylor says. "When my grandfather passed, it changed my outlook on football and life in general. I became more determined and serious. I wish he was here today to see and share in this. One great bonus about Louisville is my mother's family is in the city. My cousin is the superintendent of the Catholic high schools. Faith, family, and football are what this represents."
Taylor joins a program in an accelerated turnaround orchestrated by head coach Scott Satterfield. The 2019 Atlantic Coast Conference Coach of the Year guided the Cardinals to the largest win increase of any ACC team and a second-place finish in the Atlantic Division after a winless conference season in 2018.
"College football in a Power Five conference is an entirely different world than high school," Taylor says. "Coaches emphasized that to me throughout the off-season, that this is a business and players have to understand that. My mindset as soon as I get (to campus) is to work as hard as I can regardless of the role, any aspect of the program. It's time to kick it into another gear and be prepared to compete."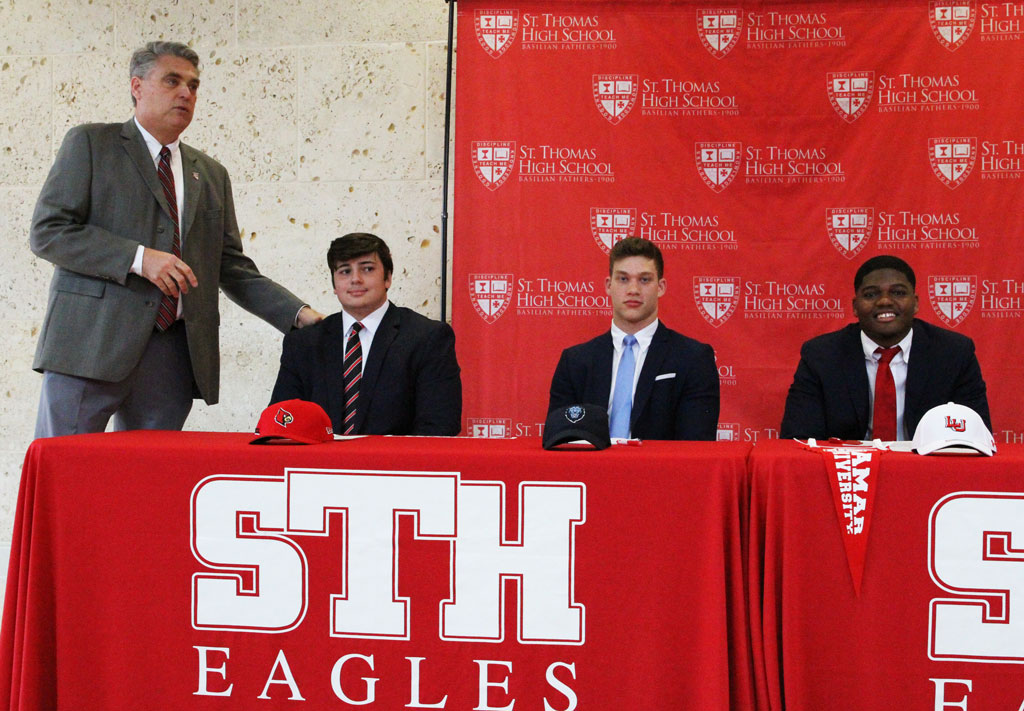 Eagle Football head coach Rich McGuire acknowledged the ties that bind his three still developing Eagles and that college coaches are often just as interested in "who the person is because that's ultimately going to determine what type of player you get. Travis, Cooper, and Chidera all bought into the demands of our program, made the adjustments, and as seniors were leaders on the field and off, making sacrifices, getting stronger and faster. There was no hesitation with their intent. All will be extremely tough to replace. We couldn't be more thrilled for what is coming up next for them."
Skucius was immediately off and running as a consistent four-year contributor for Eagle Cross Country and head coach Nathan Labus. Skucius' top-10 finish in 2018 keyed the first of two consecutive second-place results at the TAPPS 6A state championships. And he's positioned for one final lasting hurrah in track and field as the Eagles aim to defend their 2019 state title. Skucius' sendoff season includes a personal record in the 3200 meters at the Episcopal Dick Phillips Relays.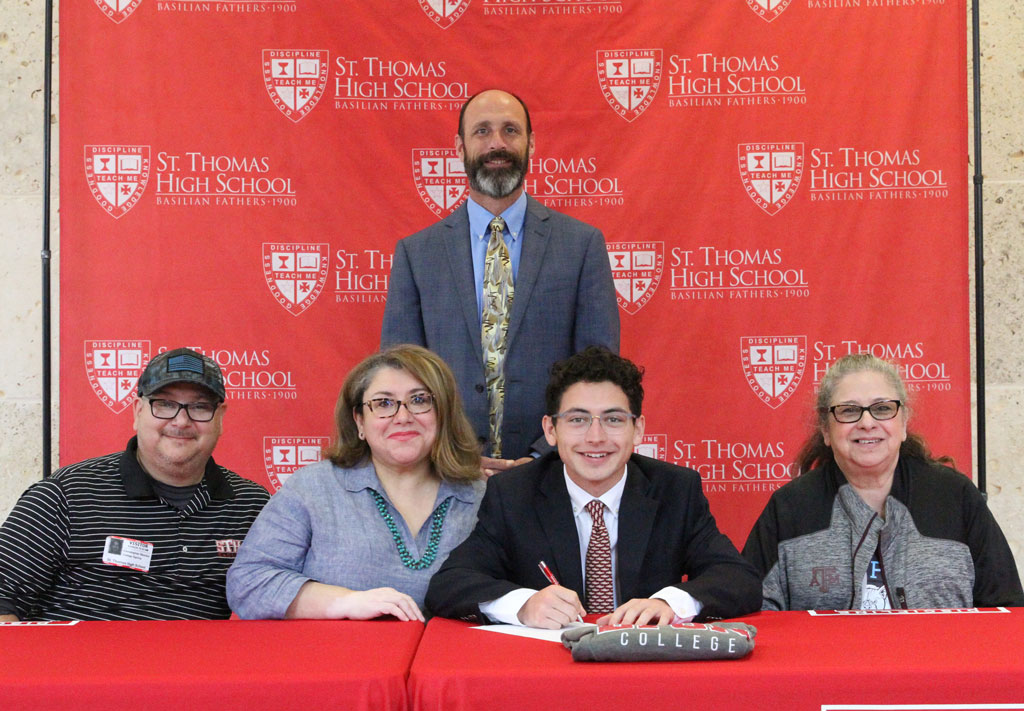 The next stop is Lyon College, an NAIA liberal arts institution in Arkansas affiliated with the Presbyterian Church.
"This opportunity means more than I could have imagined," Skucius says. "I've been running since I was eight and it didn't hit me until my senior year that I wanted to continue competitively. When the chance was there, it was an easy decision. Lyon represents the same kind of brotherhood that I've had at St. Thomas. This is such a blessing."
Eagle Fight Never Dies!