First, they were friends in kindergarten. Then classmates at Roosevelt Alexander Elementary School in Katy. And Beckendorff Junior High.
When choosing his high school destination, Grant McCoy '20 exercised a bold decision to not follow his sister's path to a macro public experience. He opted for the rich heritage of Basilian education at St. Thomas. The move sparked a curiosity in Grayson Drinkard '20, and he and his parents soon decided to pursue the same holistic curriculum.
Four years later, the once upon a time youth basketball tag-teamers emerged as the most acclaimed students in their graduating class. They became sterling examples of champion scholars who think critically and succeed while serving others.
McCoy presented the valedictory address during the 120th Commencement Ceremony. Drinkard spoke as the salutatorian to the assembled faculty, family, and friends celebrating distinguished Eagle contributors to scholarship and community. Together, the two were the highest-ranked members of their class based on the calculation of their four-year grade point averages.
"What means the most is knowing how much work over four years went into that honor," McCoy says. "All the hours past midnight and 1:00 a.m. finishing assignments and projects. The goal of my freshman and sophomore years was to do the best I could but then the specific objective of being tops in my class gradually kicked in. I realized it was a definite possibility if I stayed on track and applied myself."
Drinkard relates directly to the same due diligence meeting exhausting demands. As a multi-year, multi-sport scholar-athlete, he would routinely move from the track and field workouts to the rugby or soccer practice fields, not returning home until 8:00 p.m. The doubling down would extend deep into the night before the next day's 5:30 a.m. alarm signaled another rousing round of results.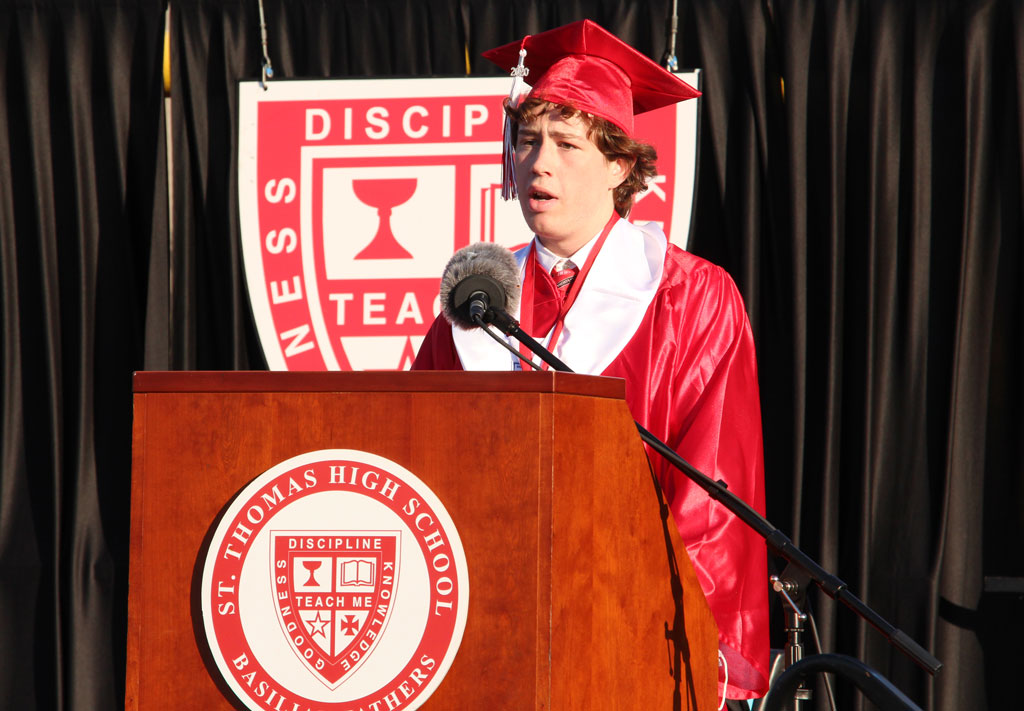 Drinkard's crowning salutatorian distinction ignited a flashback to those early days as a freshman when the transition to rigorous college preparatory wasn't without a dose of self-doubt.
"I wasn't completely convinced after classes started that St. Thomas was the right choice for me but my parents insisted I give it at least one semester, then it was my option if I wanted to leave," Drinkard says. "That fall I knew almost no one but I kept my head down and went to work. In December, my parents asked me if I wanted to move to Seven Lakes (High School) and I said, 'No way.' I became comfortable with the smaller classes, the teachers, the brotherhood. It all made for a great fit. I never looked back."
The array of superlative scholastic achievement for Drinkard and McCoy was as broad and deep as their rapport. The two were among the 14 latest permanent members of the St. Thomas Club, elite senior scholars with a minimum 4.0 grade point average for seven consecutive semesters.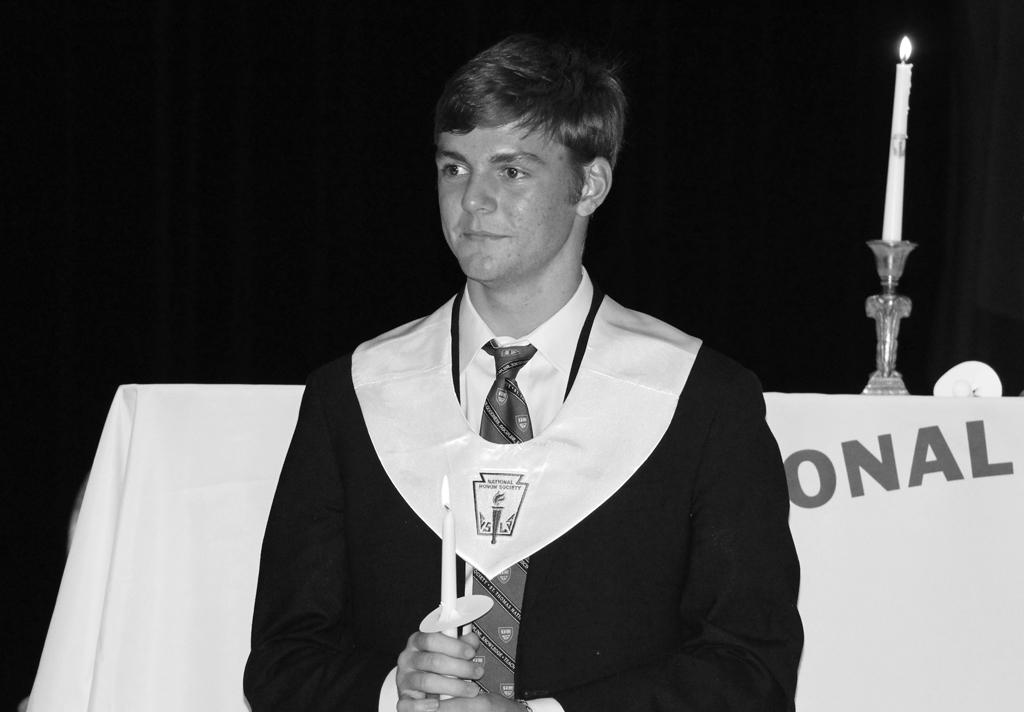 McCoy was a National Merit Finalist and the recipient of the Rev. Albert R. Gaelens, CSB Goodness, Discipline & Knowledge Award, given to the senior student who best embodies the school motto of Teach Me Goodness, Discipline, and Knowledge. Seniors are nominated by their peers for this distinction and the faculty then votes on those receiving the most nominations. McCoy was also the 2020 president of the St. Thomas Chapter of the National Honor Society.
Drinkard was a National Merit Commended Student and AP Scholar with Distinction, including exclusive recognition in Spanish I, Spanish II, and Spanish III. The National Honor Society member is now studying at the University of Texas at Austin, Cockrell School of Engineering which is ranked 8th best nationally by U.S. News and World Report and No. 10 in the Electrical / Electronic / Communications Engineering specialty.
Drinkard earned the Southern Methodist University Mustang Scholar Award, the Clemson University Merit Scholarship (one of only 40 offered to out of state students), a prestigious Phi Beta Kappa Scholarship, and the Frederick Douglass and Susan B. Anthony Award from the University of Rochester.
McCoy was also an AP Scholar with Distinction and received St. Thomas Academic Department Awards awarded to one student for outstanding performance in the course – AP Government/Advanced Economics, AP Calculus AB, AP English Language, AP U.S. History, AP Physics 1, Advanced Pre-Calculus, Advanced Chemistry, Advanced English 1, and Theology 1. His prestige extended with silver recognition within the National Spanish Exam for Spanish IV and Spanish III and bronze in Spanish II.
McCoy is attending Creighton University where he received the Magis Award based solely on academic achievement. He entered Heider College, among the top 2 percent of business schools worldwide to be accredited in both business and accounting by the Association to Advance Collegiate Schools of Business International, and ranked among the top 100 business programs in the United States by the U.S. News and World Report. McCoy plans to concentrate his undergraduate studies in business then pursue a Juris Doctorate to propel a passage in politics.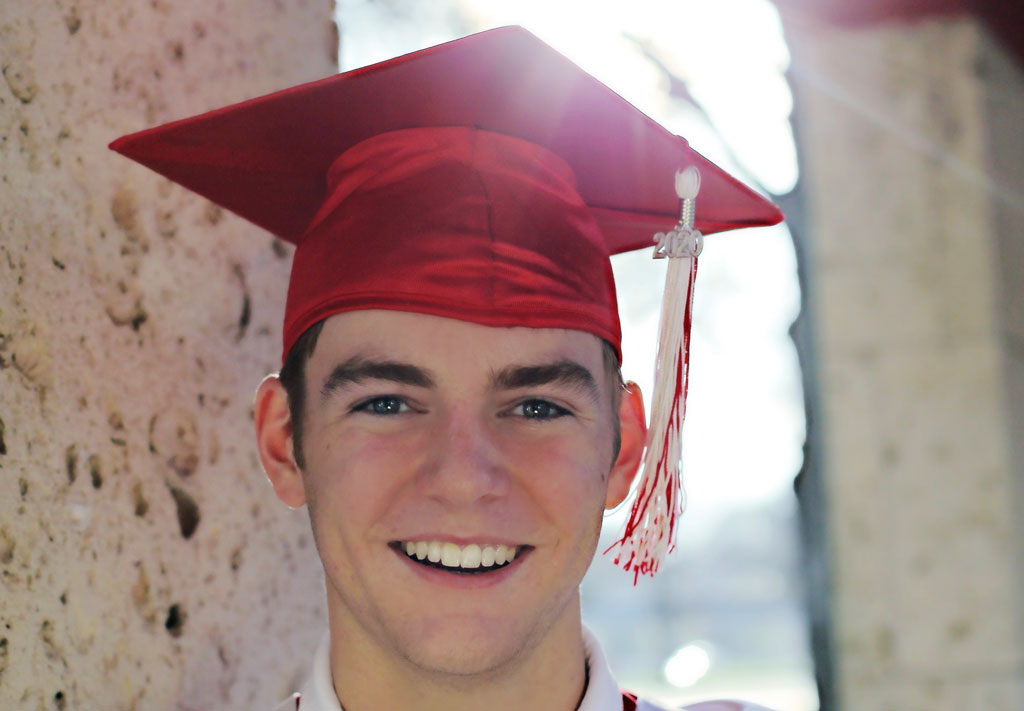 "I locked into Creighton after a visit during spring break my junior year," McCoy says. "My mother (Sarah) had already gathered some information before I started looking at schools so that destination was always on my radar. The business school is very impressive and the internship programs within and outside the city are promising. The campus is a two-minute walk to downtown Omaha. I'm excited for all the opportunities Creighton represents."
McCoy also received the Loyola University Chicago Presidential Scholarship, the Butler University Academic Scholarship, the University of Tulsa Academic Scholarship, the Southern Methodist University Provost Scholarship and Distinguished BBA Scholarship, and the University of Oklahoma National Merit Finalist Scholarship and Presidential Community Scholar. He balanced twinned endeavors as a four-year golf letterman. The two-time team captain was the 2018 Eagle Spirit Award winner, the 2017 Newcomer of the Year, and closed with the 2020 Jackie Burke '40 Award for his accomplishments and contributions.
"I was looking for a different experience from a 4,000 student public school," McCoy says. "During the decision process and the touring, I felt a belonging, that teachers and staff cared about me as a person. Community. Brotherhood. That's what pulled me into St. Thomas. The most unexpected bonus was the all-boys environment, a much different learning model. I think it was a real benefit."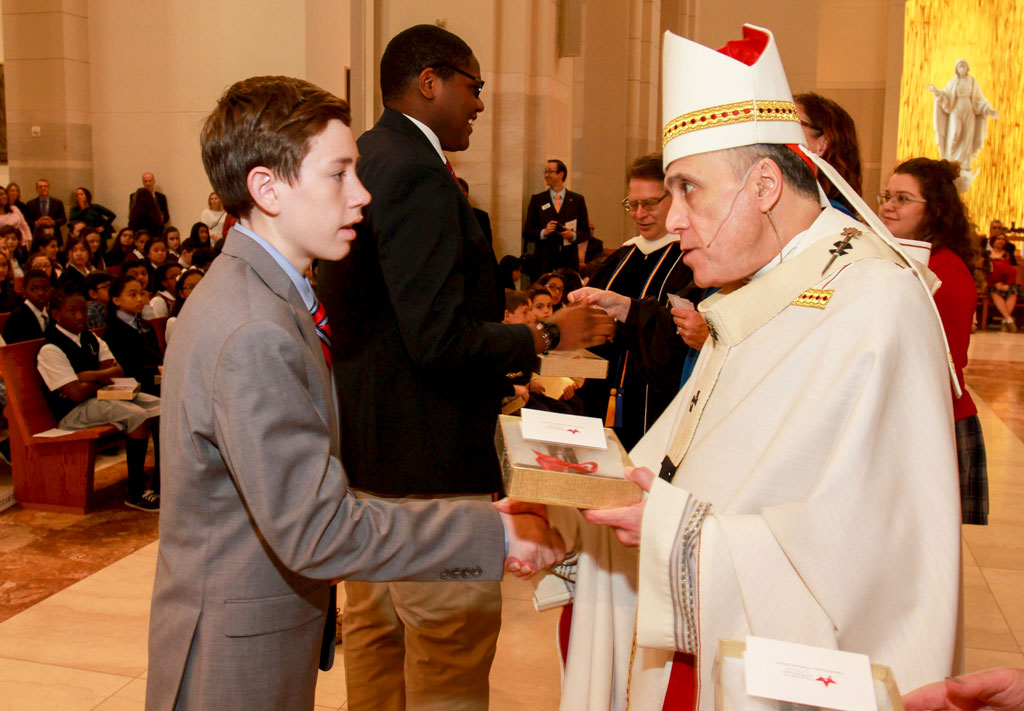 Drinkard built early momentum for his academic ascent, earning a second-place result as a freshman at the 13th annual University of St. Thomas / Archdiocesan Essay Contest. He became a three-year competitor at the TAPPS Academic Championships. Staking claim for the grand honors among the Class of 2020 morphed into a mano-a-mano intellectual match with McCoy.
"It was a friendly rivalry," Drinkard says. "Our junior year we saw a printout of the GPAs … would calculate how the other was performing … could see how it was playing out. There was some good-natured talk back and forth but it never got nasty. We probably brought out the best in each other and that's only a good thing."
The St. Thomas Basilian mission is designed to not only prepare scholars for academic accomplishment but also have them assume roles in leadership, responsibility, and service to society.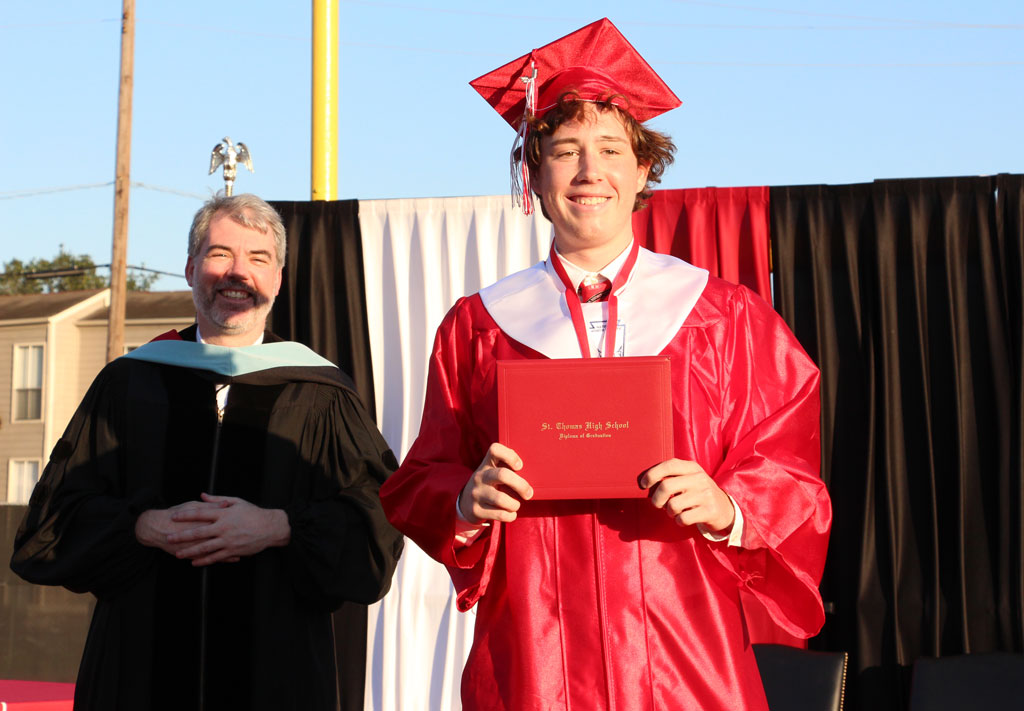 Drinkard was a four-year Eagle Ambassador and member of St. Thomas Student Council. He devoted more than 200 hours to volunteer organizations, including Special Olympics, the Houston Food Bank, Katy Christian Ministries, The Brookwood Community, as well as academic tutoring and mentoring through the Katy Neighborhood Kidz Club.
Off-campus, McCoy was extensively involved within the Katy chapter of Young Men Service League which was chartered by his mother and two associates in December 2015. He was a member of the inaugural class as a rising eighth-grader and spent five years with Sarah as volunteers devoted to philanthropy while nurturing commanding life skills.
For generations, Eagles are united by strong values and tradition and have proven fearless in their pursuit to make a difference in the world, no matter where they are.
McCoy and Drinkard are linked forever beyond that compelling St. Thomas legacy and their collective college prep acclaim. They are part of the Class of 2020 that became the class of COVID-19, born into a world without Facebook, exiting St. Thomas amid online remote learning mandated by a global pandemic, their final months upended in ways tiny and profound, academic and economic, social and emotional. Theirs was a sendoff of sheltering in place, rushed goodbyes, and an enduring sense of camaraderie shared with every corner of America.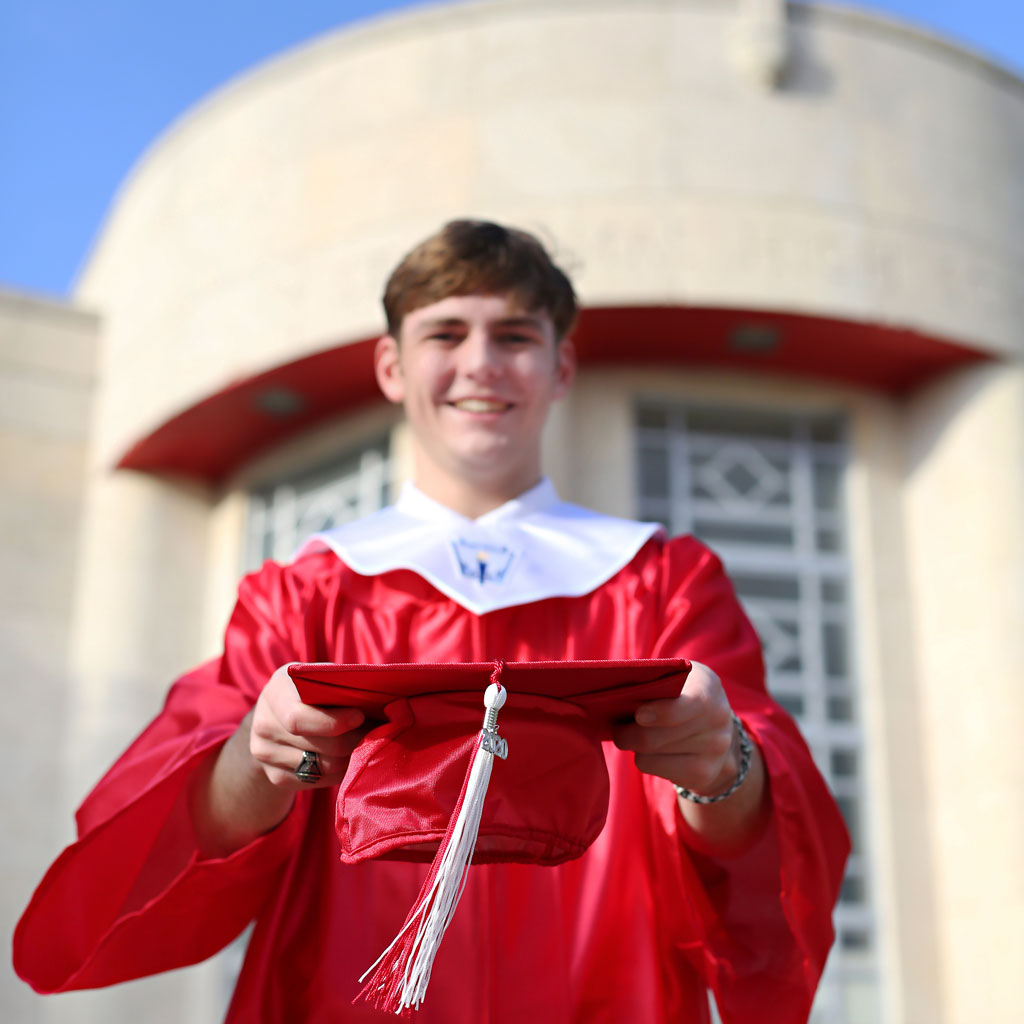 "I think seniors all over the country had this great anticipation for the end of their high school careers and then it was shifted away in a moment's notice," McCoy says. "We all missed the finality of that last day on campus, that closure to a four-year journey. As it turned out, I left St. Thomas on a Thursday afternoon in March for a golf tournament. And that was it.
"The lasting impact (of the coronavirus) might be understanding that you can have a plan but there's only so much certainty in that plan. Seniors everywhere had to rely on resilience. We had to fight through the unknown and unpredictable, and find that burst of energy to close out the right way."
Catholic. Basilian. Teaching Goodness, Discipline and Knowledge since 1900.