Throughout the novel pandemic, American lives have changed in ways never anticipated. And the St. Thomas campus community continues to rally in ways consistent since the institution's Basilian birth in 1900.
As Houston and the rest of the nation grapple with the unprecedented and ongoing consequences of COVID-19, the Alumni Association has awarded thousands of scholarship dollars to select students from the 2020 junior, sophomore, and freshman classes. The annual Scholarship Contest honored Zach Wilson '21, Diego Ramos '22, and Caleb Davis '23, representatives who responded to specific topics with wisdom that has been stirred into flames by their Eagle experience.
Juniors were asked to describe how the St. Thomas brotherhood, spirituality, and the Basilian motto Teach Me Goodness, Discipline, and Knowledge have transformed them during their three years, and how they planned to put these attributes into practice moving forward as Men of St. Thomas.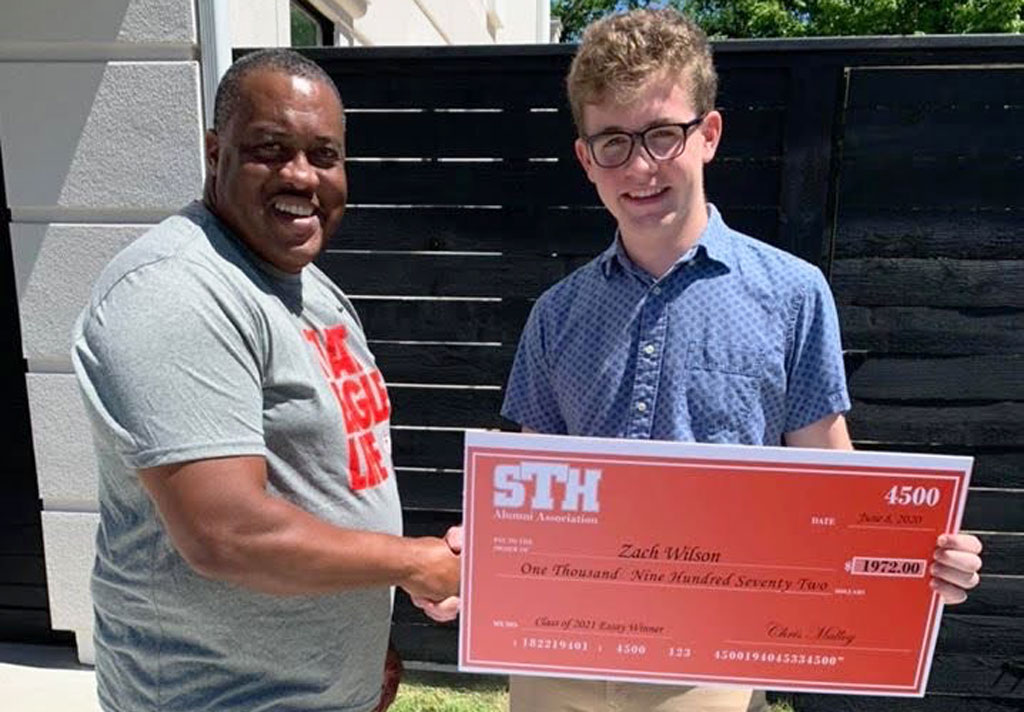 Wilson had no intention of attending St. Thomas. He was on a path to follow his older brother through public school in Kingwood until the onslaught that was Hurricane Harvey forced his parents to relocate their residence to the Rice Military neighborhood off Memorial Drive. Wilson enrolled a month into the 2017 fall semester.
It felt like everyone had already made friends and I was just going through my day talking to no one … and feeling almost entirely alone. One day (I was asked) to sit with (a classmate at lunch) … and they invited me into their friend group. I was no longer depressed … I can truthfully say that the Eagle brotherhood truly saved my life and has changed me for the better. Now when I see one of my classmates down, I help him to get back up. I plan to practice these actions of helping others for the rest of my life.

Now I hardly recognize the person I was in middle school. (St. Thomas) has helped me grow into a better person. I plan to use this experience … to help others become better. I am now thankful for the tragedy that brought me to St. Thomas as it made me a better person with a desire to help others.
Wilson wrote that his unintended route to St. Thomas began after "the lowest point in my life … many dark thoughts, actions, and nights where I cried myself to sleep." He was convinced to stay after a series of life-affirming experiences.
"I was coming from a public school where there were some social issues and those who were not concerned with my overall best interests," Wilson says. "St. Thomas is a much better fit. I was surrounded by more serious students, and more involved faculty and staff. I'm definitely comfortable inside the community with a variety of organizations, student council, and the Eagle Ambassador program."
Ramos and his fellow sophomores were asked to identify growth during their first two St. Thomas years, sharing challenges as a result of the coronavirus outbreak, and describing how to place Teach Me Goodness, Discipline, and Knowledge into action.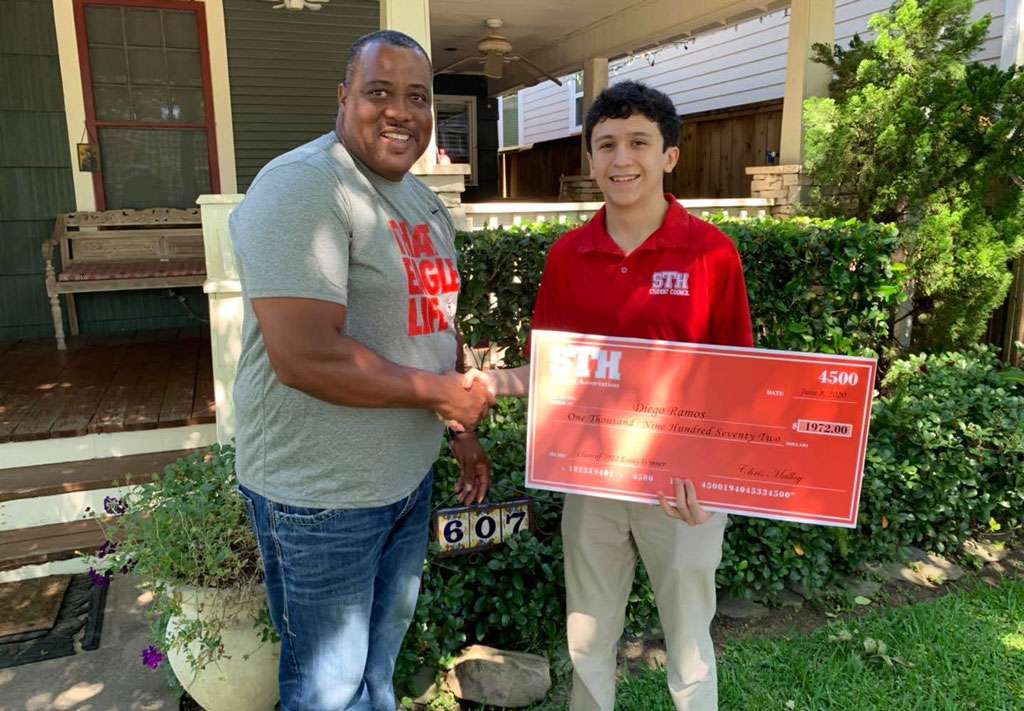 I had always been a good student, but I had yet to become a great one. I was, and still am, a student on the All-Advanced track, maxing out as many advanced courses I can take in a year. After very rigorous long-nights, book annotations, and trips to the LEC, I ended my Freshman year with a 4.62 GPA.

I continued through the end of my sophomore year … establishing my own Be a Friend Project, a private 501(c)(3) non-profit organization through the State of Texas (to address) senior-isolation in assisted living homes, and try to scientifically track the impacts of the isolation and what happened after prolonged visits with the groups of St. Thomas students. This, coupled with the fact that I was, and still am, learning how to be a better person in Theology classes, gave me great morale and drive to be good.

If I could tell my freshman self anything, it would be this. You are going to undergo many trials. You are going to feel like you are not where you are supposed to be. But you know you have inside of you what it takes to be the best version of yourself – to give yourself a fighting chance. Never victimize yourself. You are a fighter, and it is only up from where you are standing. … Continue to work hard. This is your home. You are the Eagle Fight.
Davis and the Class of 2023 were asked to describe how their freshman experience was impacted by COVID-19.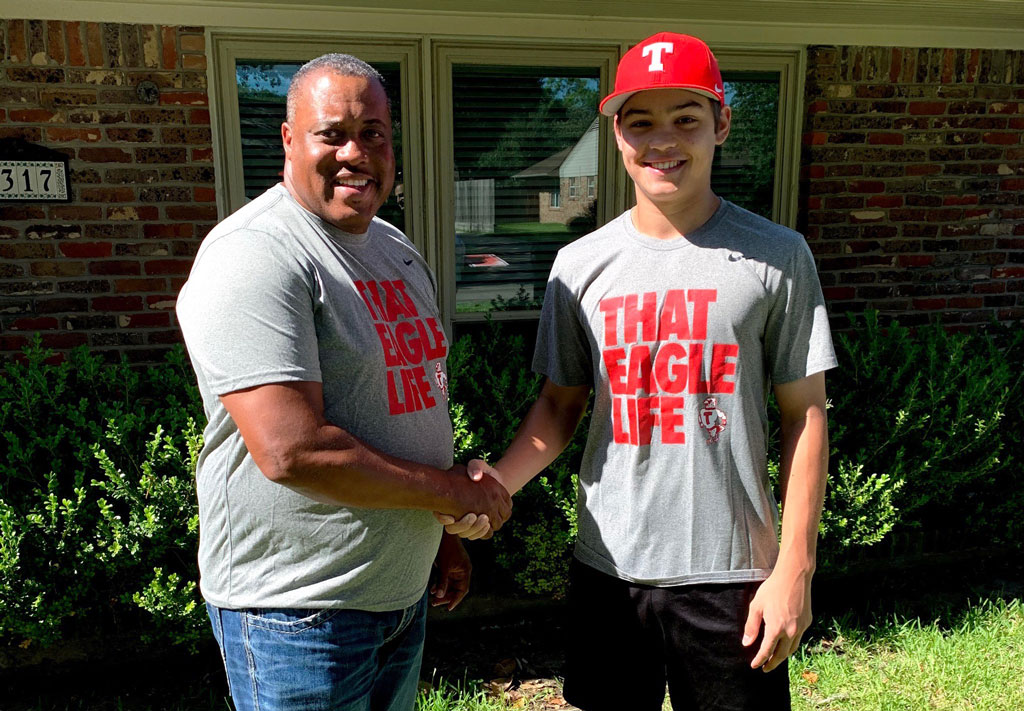 The St. Thomas community is one that encourages friendships and camaraderie. … Academically, I have been challenged more than ever before. However, my most valuable experience has been the strengthening of my Catholic faith. Daily Mass, confession, and rosary opportunities have helped me to keep God present in my daily life.

… because of COVID-19, my daily interactions with friends and teachers, as well as athletics, have severely diminished. Thankfully, St. Thomas was prepared for this situation, which allowed for a smooth transition into online learning. … My teachers have been just as available as ever … frequently stay after class if students need help, or even volunteer their time on the weekends if necessary. Athletically, both the football and baseball coaches have invested their time into creating workouts … even meeting with us on Zoom to check-in and to go over film. Their encouragement helps me to stay motivated and feel connected. All in all, the teachers' and coaches' actions throughout this unfortunate time have helped me to stay focused on keeping my grades up and motivated me to finish this year strong.
Chris Malloy '86 is concluding his first year as alumni president. He can readily relate to Wilson's thriving transition. Malloy transferred to St. Thomas following his freshman year at HISD Westbury. He advanced from college prep to earn his Bachelor of Science in Business/Finance at Hampton University and his MBA from the University of Virginia Darden School of Business. He is now Director of Operations at Crag Energy Services LLC.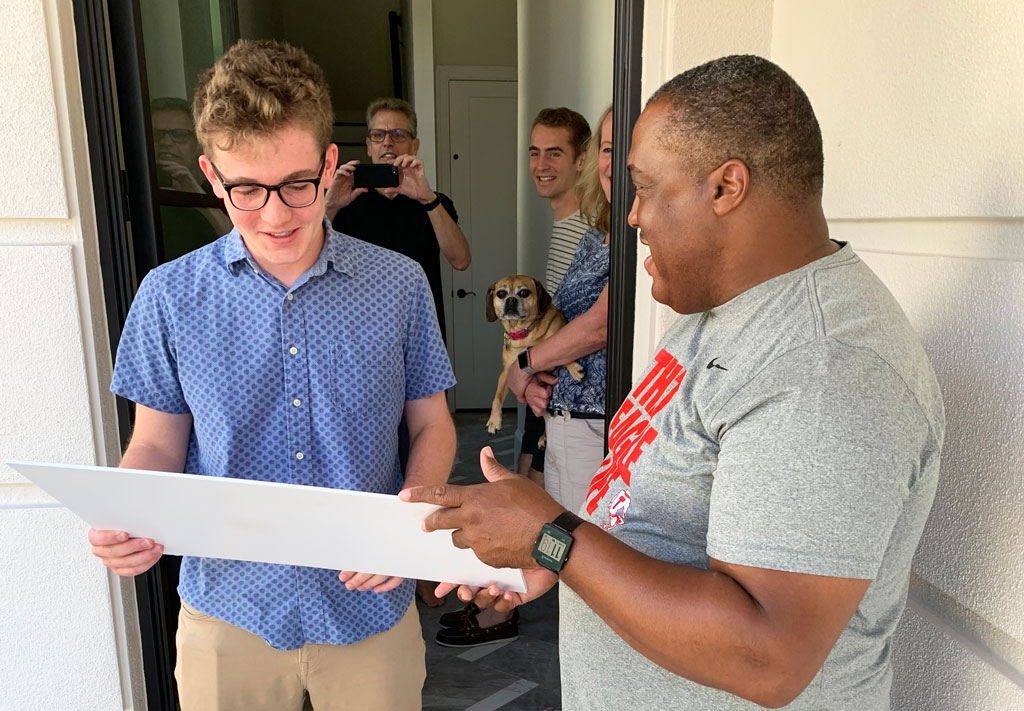 "My academic and personal development at St. Thomas is what I still find most relevant," Malloy says. "I value those relationships from high school and have had Zoom calls with many of my classmates during the shutdown. It's exciting to see how St.Thomas continues to impact young lives, from curriculum to our expanding STEM program to our award-winning fine arts and athletics. I'm proud to bridge these current Eagle scholars to more than 8,000 alumni that call St. Thomas home."
Catholic. Basilian. Teaching Goodness, Discipline and Knowledge since 1900.