Rising from an unprecedented lockdown to a promising liftoff.
Maddox Kopp '21 has earned a coveted invitation to the Elite 11 Finals, the nation's premier quarterback camp and competition. Kopp was included among 20 top-rated high school performers, gripping the game's most exacting position, convening for a three-day showcase in Nashville that begins June 29.
"It's a dream come true," Kopp says "As a little kid I would watch all the videos on ESPN and wanted to be a part of it when I grew older. It's a great honor but I want to prove that I belong. It's the best in the country and everyone there can make the throws. I want to challenge and show that I can execute and also think the game on and off the field."
Kopp emerged from an original Elite 11 prospect list of roughly 100 candidates. He sealed his inclusion through an application and scripted video workout after the regional qualifying camps were shuttered and shattered under the hammer of the novel pandemic. Kopp confirmed a clean, consistent, and repeatable throwing motion, delivering catchable throws in every setting, plus an approach to the position that signals significant potential.
"It's a great opportunity for Maddox to compete at a level that honestly few people expected him to reach," head coach Rich McGuire says. "He told me that when he was in the eighth grade he put an Elite 11 poster on his wall, hoping he would have a chance to make it, and here he is after three years of intense work."
In his first starting season, Kopp orchestrated Eagle Football to a resurgent 9-4 record and the 2019 TAPPS Division I state semifinals. He was named second-team all-state after throwing for more than 3,000 yards and 28 touchdowns, sharing much of that production with receivers Cameron Bonner '21 (multiple Power 5 offers) and Drake Martinez '21 (Colorado St. verbal).
Kopp now weighs in at a more muscular and athletic 6-foot-5 and 210-pounds. Yet he'll arrive at Elite 11 with far less hype than the more celebrated quarterbacks in attendance, most of whom have cashed haughty individual rankings and rich reputations into a wide variety of verbal commitments to the most storied and valuable programs from coast to coast.
Kopp is a two-sport scholar-athlete who hasn't taken the typical Generation Z route to acclaim. His previous springs and summers were often dedicated to AAU hoop circuits rather than the Quarterback Industrial Complex featuring personal instruction, daily dealings of two-deep coverage on YouTube, and high-level 7-on-7 leagues. His gaining momentum in the current recruiting cycle was stifled through the COVIDsphere and all the White House briefings and the Dr. Fauci updates and the monitoring of the all-powerful curve.
McGuire believes the Elite 11 exposure will reveal Kopp's superior ability to control the team, read the defense, know the play, and what option maximizes the play. "He's got the arm strength, the frame, the footwork. He'll attack the playbook and have it down as fast as anyone there because that's who he is. He's a natural leader. He'll galvanize the huddle, build a bond with his teammates, and they'll push each other to be the best that day."
Offensive assistant Matt Hudson is in his fourth season with Eagle Football and has seen Kopp mature mightily since his initial days on campus. "The Elite 11 invitation doesn't surprise me at all. He absolutely belongs. He's got all the arm talent and the physical tools. I've told him and will continue to reinforce, when you're there, don't play the comparison game. You'll see some guys who will be better than you in some ways. And you'll be better in some other aspects. Just be true to who you are. And for Maddox, that's a smart, even keel operator, always in command. He knows plenty of football and is hungry to learn so much more."
Hudson relates to the prestige and allure of Friday Night Lights. He led Jackson Christian in Jackson, Tennessee to the 2006 Class A state championship as a junior, the only title in the city's history, and then signed with Central Arkansas.
Much of Hudson's tutorial with Kopp is rooted in the experience developing alongside his father. Doug Hudson was the career passing leader at Nicholls State University for more than thirty years with 7,670 yards until the mark was broken in 2018. He was selected in the seventh round of the 1987 NFL Draft by the Kansas City Chiefs.
When college football power brokers quiz Matt on Maddox, the reply is swift and relevant. "They're not interested if he doesn't have all the measurables so that's a given. First and foremost, I tell coaches that Maddox brings the absolute highest character who will represent your program well, regardless of how the playing time shakes out. Second, he's a fast learner and makes everyone around him better. The epitome of the position is not how good is the player, it's how far he can propel those around him. Maddox has that contagious quality that breeds team success."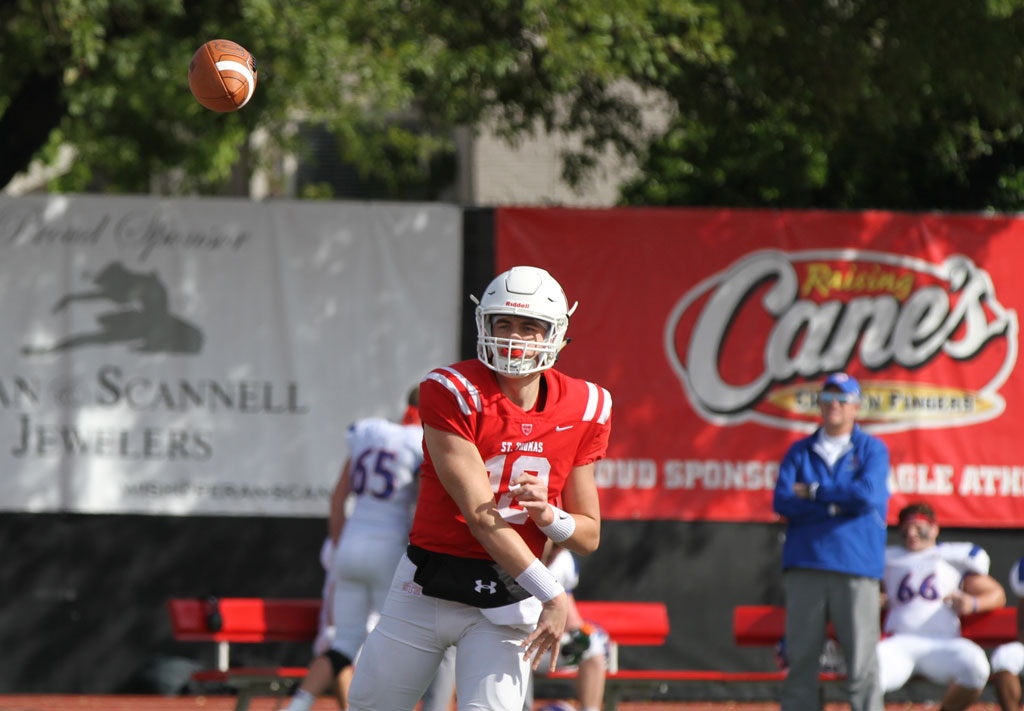 Kopp quarterbacks with a commanding calm in the tsunami storm of defensive duress. His bloodlines and gut burn to be great moxy project encouraging outcomes. Three brothers extended their scholar-athlete careers to the Division I level. Anderson '19 was the leading force and scorer for Eagle Basketball while leading St. Thomas to the 2019 TAPPS 6A regional finals. He made an immediate impact at Lamar University where he was named Male Freshman of the Year. Miller was the leading scorer as a sophomore for Northwestern basketball in 2020. Braden Kopp played tight end at Vanderbilt where he was a three-time All-SEC Academic Honor Roll member.
Maddox now joins a deep Elite 11 legacy that counts alumni such as Houston natives Andrew Luck and Vince Young plus Texan supreme Deshaun Watson. Twelve of the previous 13 quarterbacks to win the Heisman Trophy and 15 of the top 20 NFL passers in 2019 attended the Elite 11 Finals or an Elite 11 Regional.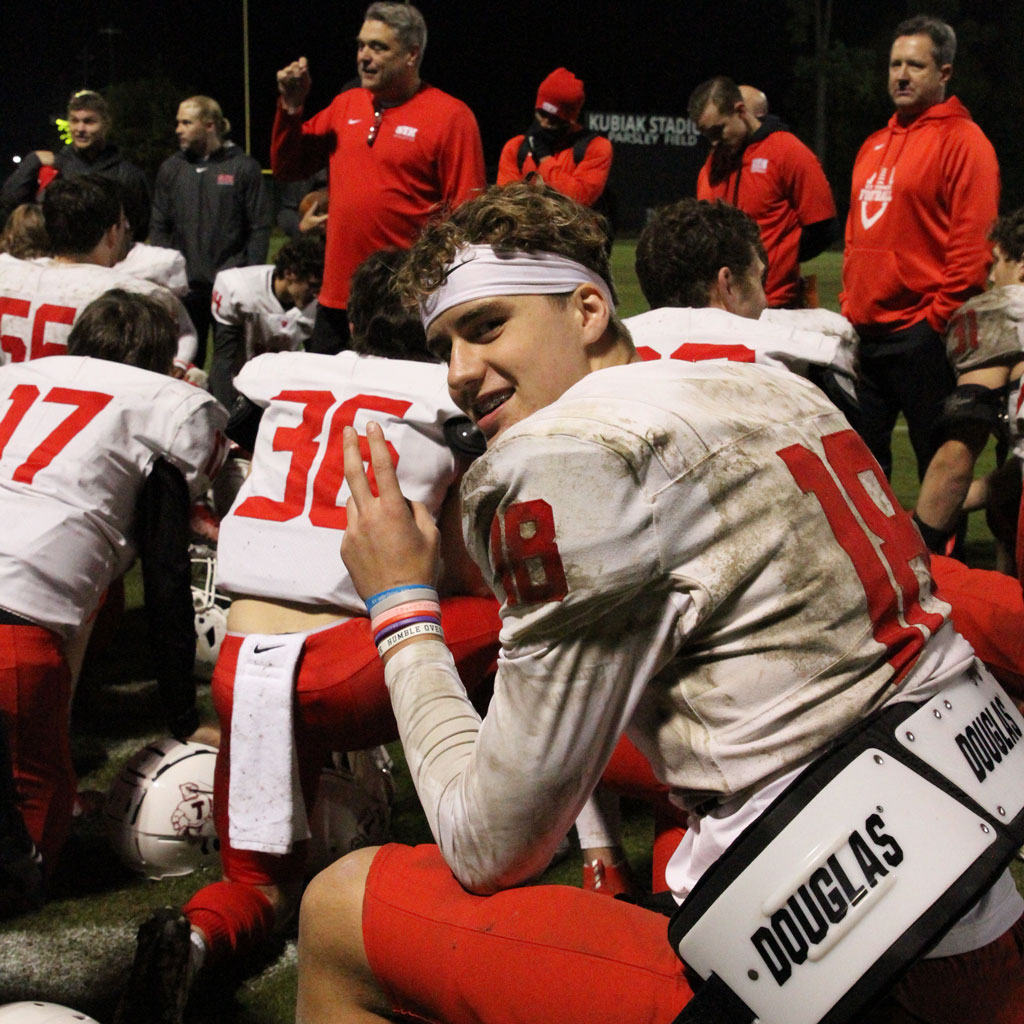 Kopp is one of seven Elite 11 quarterbacks in the Class of 2020 from Texas, including Grayson James from Plano John Paull II. Their introduction in Nashville will serve as a prelim of sorts before the two share Hotze Field inside Granger Stadium the second week of the upcoming season. The high octane encounter scheduled for September 4 has morphed into a massive marquee match-up given the sudden Elite 11 association.
Eagle Fight Never Dies!