St. Thomas has announced a 2020 football scheduling model in response to the COVID-19 pandemic that will offer eight regular-season games beginning September 25 at Hotze Field inside Granger Stadium.
The reboot includes six district contests and two non-distinct match-ups with no open dates. The October travel date to San Antonio remains, as does the move of the annual series with St. Pius X away from the traditional regular-season finale.
"Our decision was made after thoughtful planning by numerous individuals and presents a path, if public health guidance allows, to move forward with competition throughout the season," President Dr. Aaron Dominguez '96 says.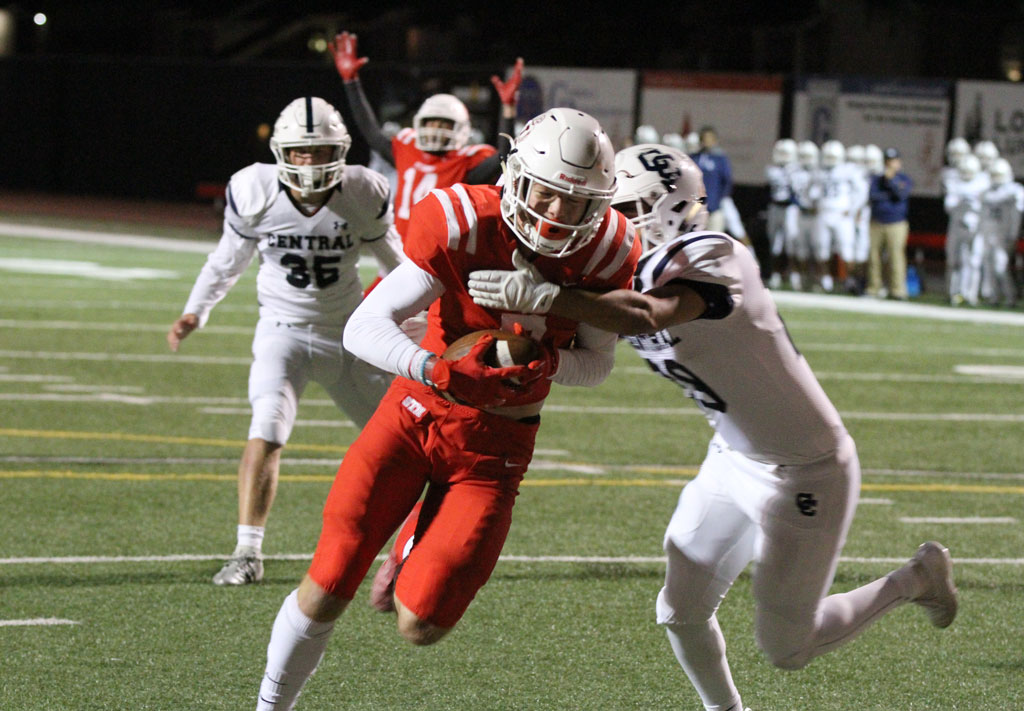 The Eagles are aiming to maintain measurable momentum after finishing 2019 with nine victories in 11 games and reaching the TAPPS Division I state semifinals for the first time since 2014 and '15.
"We're committed to taking the necessary measures to facilitate the return of athletics in a safe and responsible manner," Athletic Director Mike Netzel says. "We recognize that we may need to make adjustments as medical information evolves in conjunction with local and state health guidelines. We will be as prepared as possible should that need arise."
SEPT 25 • El Campo
For openers Eagle Football will contend with a super freak staple of running backs who ran over and past a slew of opponents during a surprising 10-3 season that reached the 2019 UIL 4A Division 1 regional semifinals.
Johntre Davis earned honorable mention All-State while racking 1,732 yards and 26 touchdowns. Honorable mention defensive back Charles Shorter added 1,141 yards and 15 scores with enough carries left for speedy freshman Reuben Owens to total 808 yards with eight touchdowns.
OCT 2 • at ST. JOHN XXIII
The Eagles will begin district competition resuming a brief series that flashed a 49-0 Red & White rout in 2014 followed by a 40-0 wipeout the next season.
OCT 9 • SAN ANTONIO CENTRAL CATHOLIC
The only home stop in three weeks will be a contest that has pivoted from non-district to district competition since 2017 with Eagle Football owning three consecutive wins.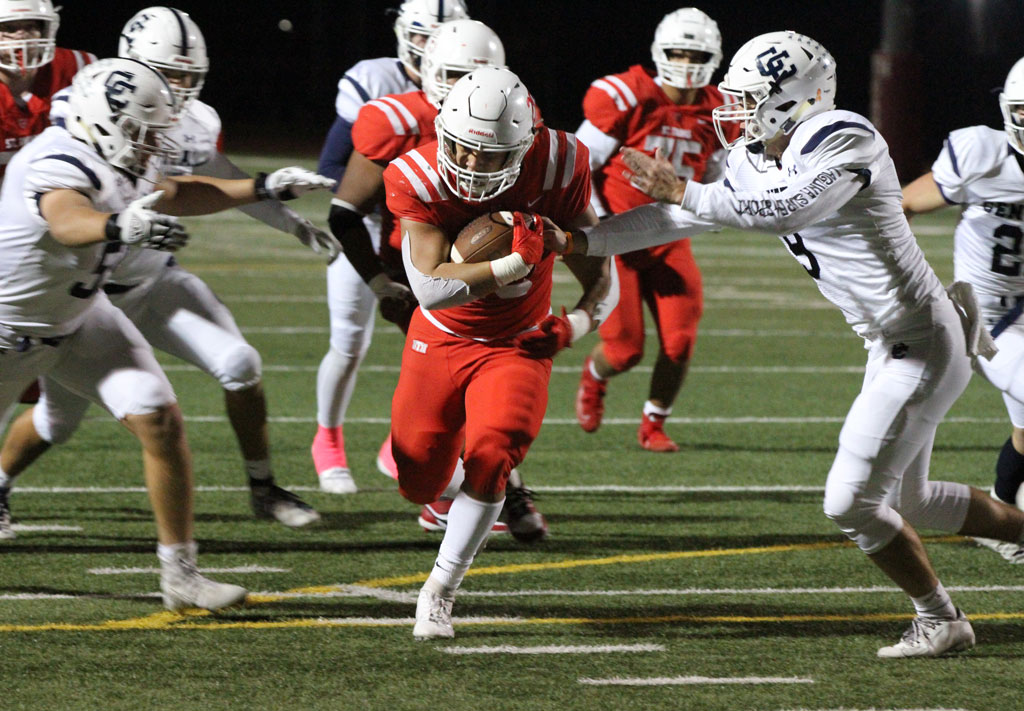 Last season running back John Fontenot '21 left Central Catholic defenders flailing on the ground like gored matadors on his way to two short range touchdowns while a snarly, salty St. Thomas defense responded with two critical fourth quarter stops in a tight 21-19 victory that kept the surging Eagles undefeated in the district race.
OCT 16 • AT SAN ANTONIO CHRISTIAN
The first-ever meeting with the private, non-denominational Christian school established in 1972.
The Lions are coached by former NFL receiver Henry Ellard who stared for 16 seasons with the Los Angeles Rams, Washington Redskins, and New England Patriots. He was a two-time All-Pro and three-time Pro Bowl selection who finished his career with 814 receptions for 13,777 yards and 65 touchdowns. Ellard later was part of the Rams coaching staff during their stunning Super Bowl XXXIV season. He spent 14 seasons as an NFL assistant including stints with the New York Jets and New Orleans Saints.
OCT 23 • SAN ANTONIO ANTONIAN COLLEGE PREP
The Eagles will return home to face another 2019 TAPPS state semifinalist looking for a decided dose of deja vu for a third straight victory over the Apaches.
In 2019 Kopp riddled Antonian for 314 yards and two touchdowns in a first half detonation where St. Thomas plastered points on its first four series. The Eagles coasted to a convincing 41-27 dismantling in a game not nearly as close as the final indicated.
OCT 30 • ST. PIUS X
The clash that has routinely determined at least a share of the district championship. Last season Eagle Football used an avalanche of 40 consecutive points for a commanding 47-21 verdict to cement a second straight undefeated title, the sixth crown in eight years.
Kopp blistered SPX for a career best five touchdown passes, three in the final 2:27 of the first half, as the Eagles shook free from a shaky start to face plant the Panthers with an outcome so devastating it required an autopsy.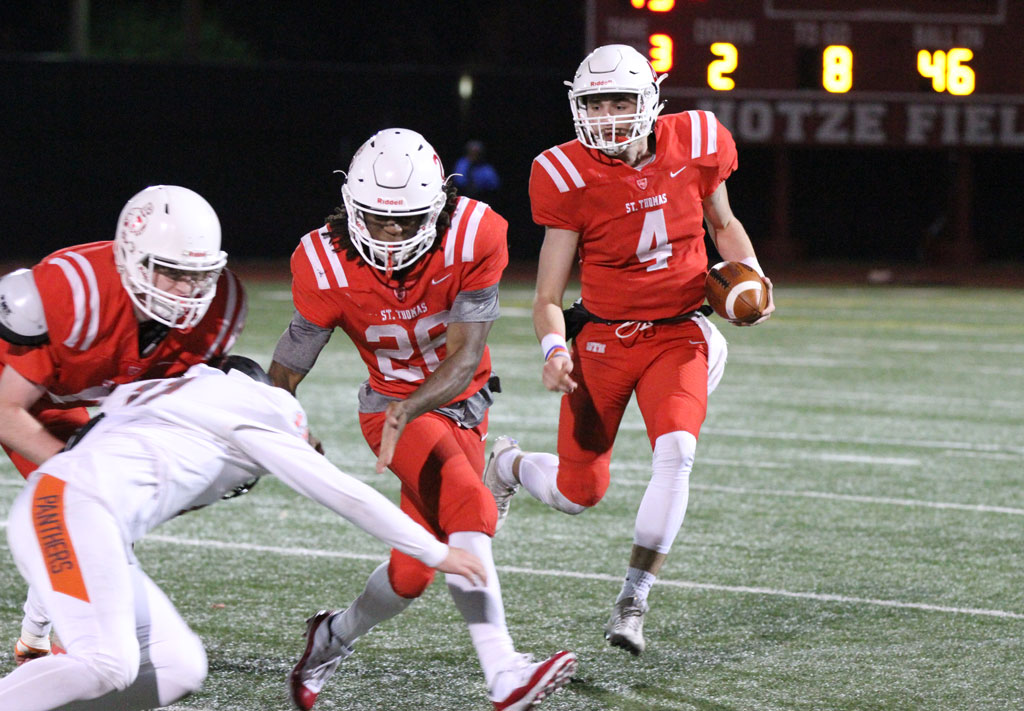 In 2018 quarterback Peyton Matocha '19 put on a dazzling display of talent, skill, precision, will, and want with seven touchdowns including four in the third quarter when Eagle Football seized control to rally for a stunning 52-49 shootout to reclaim the crown.
From 2012-15 the Eagles captured four straight showdowns with the district title at stake by a combined score of 144-62. In the stretch dating to 2011, Eagle Football enjoyed five wins in a row and six in seven games.
NOV 6 • at BEAUMONT MONSIGNOR KELLY
Eagle Football revisits the one-time district set last staged in 2017 when Matocha threw for three touchdowns and ran for two others in a first-half blitzkrieg. The overwhelming 41-22 rout wasn't nearly as close as the final score indicated. St. Thomas owns nine straight victories in an overmatched head-to-head by a combined score of 456-77.
NOV 13 • at TOMBALL CONCORDIA LUTHERAN
The Eagles will conclude the regular season with a duel they have dominated in recent years. St. Thomas has collected nine knocks in 10 tries by a combined margin of 292-100.
Last season Kopp connected twice with Bonner for touchdowns and added another with Drake Martinez '21 two seconds before halftime as Eagle Football dominated a name-your-score 31-7 destruction.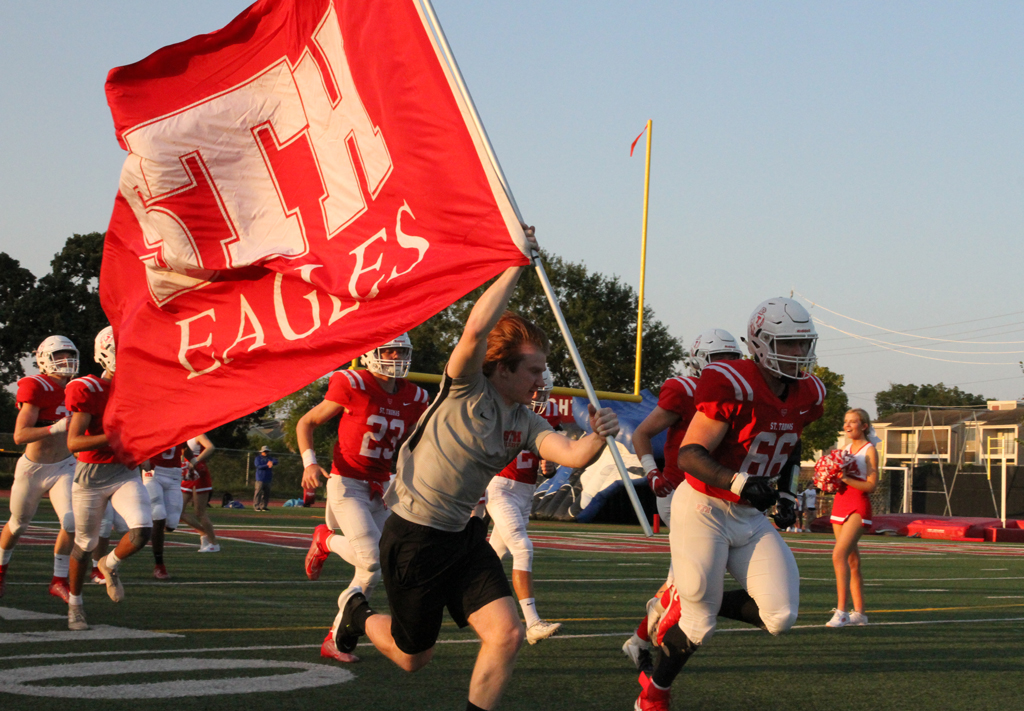 Eagle Football was previously set to open the 2020 campaign at Needville August 28, followed by home dates with Plano John Paull II and Kinkaid before a visit to Houston Christian.
St. Thomas announced earlier in 2020 that Eagle Football would not be competing in the annual clash with Strake Jesuit.
"(Head coach) Rich McGuire received a phone call from Strake to inform us they were canceling the series," Netzel says. "The decision wasn't a surprise because in recent years Strake has gradually and systematically reduced their participation with St. Thomas. First, they eliminated the yearly baseball game, then the basketball and soccer games were terminated. Football was the proverbial last shoe to drop.
"We are disappointed that more than 50 years of history and tradition is not being preserved. But it wasn't our decision."
The football series which launched in 1964 ends with St. Thomas holding the overall advantage 29-26-1. In 2015, Netzel and director of football operations Kenny Martin negotiated a bold move making NRG Stadium, the home of the NFL Houston Texans, the St. Thomas home venue for the showcase. The inaugural event drew a spirited crowd of nearly 10,000 as Michael Keating '16 connected with Drew Guidroz '16 in the final maniacal moments for a wild 42-35 scoring fest. The raucous win was the Eagles' fourth consecutive victory in the rivalry with three coming in the game's final six seconds.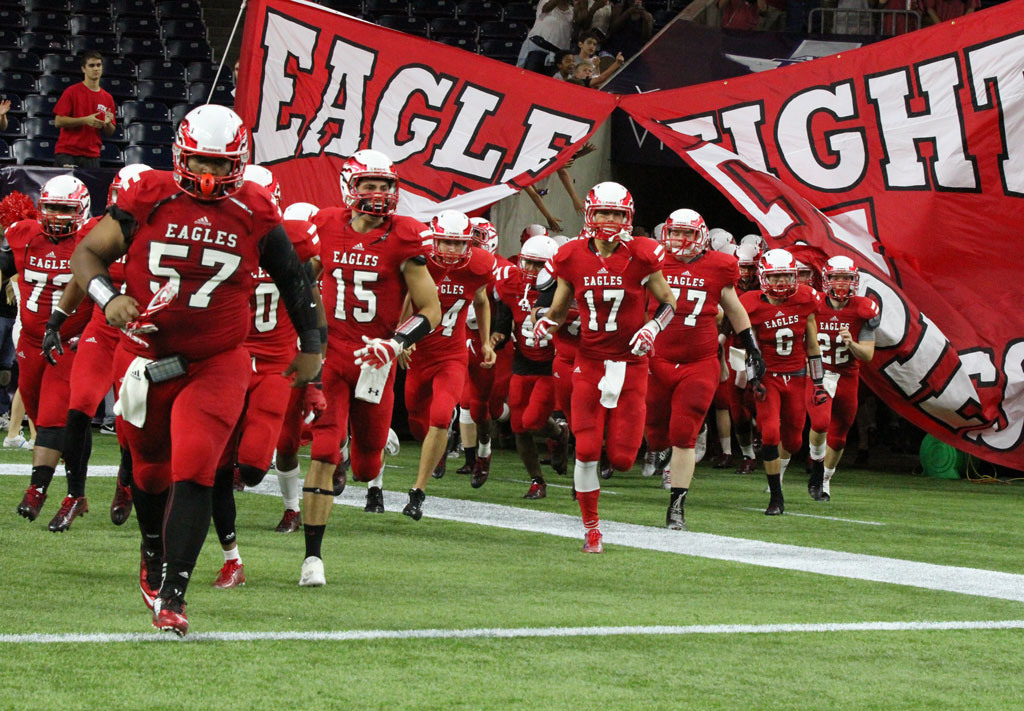 "St. Thomas has always embraced the athletic relationship with Strake even after their shift to the (public school) UIL," Netzel says. "It was much more than the competition. It was a celebration of Catholic education in Houston. But moving forward Strake has sided with a different set of values and priorities within its athletic department. We've adjusted and are aggressively asserting ourselves to be stronger than ever. And St. Thomas will always hold great respect for the generations of graduates who have represented our institution and helped forge the singular identity that exists today."
2020 St. Thomas Football Schedule
(Home games bolded)
Sept 25: El Campo 7:00 p.m.
Oct 2: at St. John XXIII 7:00 p.m.
Oct 9: SA CENTRAL CATHOLIC 7:00 p.m.
Oct 16: at SA Christian 7:00 p.m.
Oct 23: SA ANTONIAN COLLEGE PREP 7:00 p.m.
Oct 30: ST. PIUS X 7:00 p.m.
Nov 6: at Beaumont Monsignor Kelly
Nov 13: at Tomball Concordia Lutheran 7:00 p.m.
Eagle Fight Never Dies!